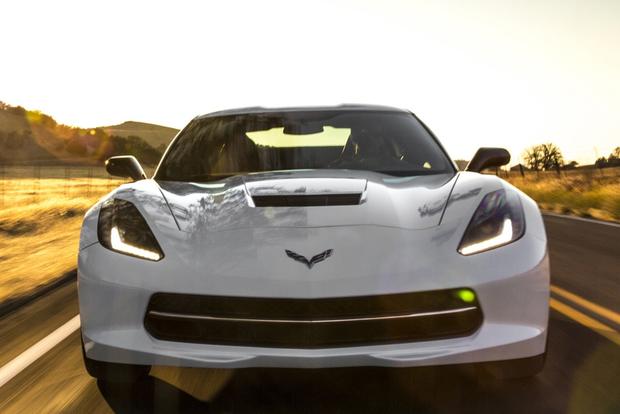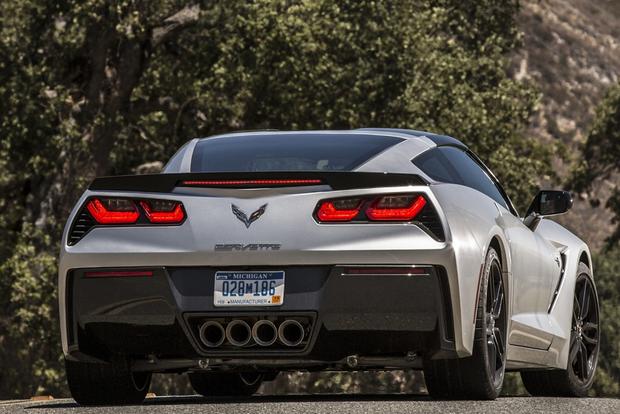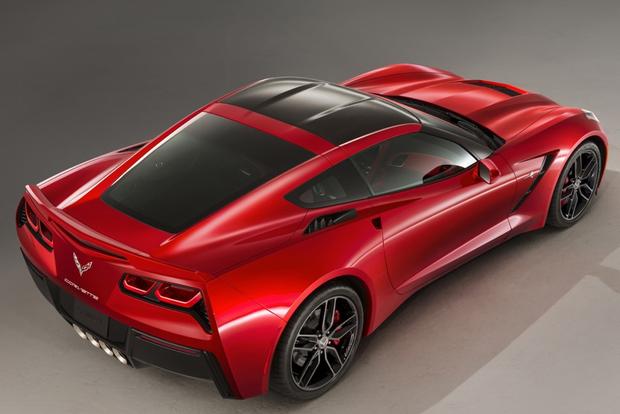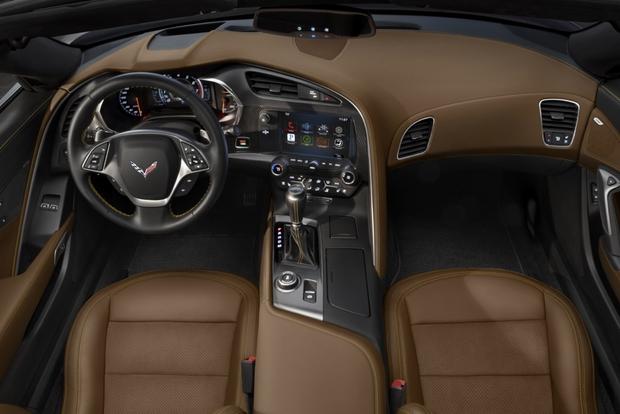 The 2014 Chevrolet Corvette -- beg your pardon, Corvette Stingray -- is the first all-new 'Vette in nearly a decade, which is a pretty big deal in itself. But there's more going on here than just a typical redesign. When the outgoing C6 Corvette debuted in 2005, it was basically an evolutionary step forward from its C5 predecessor. The new C7, however, charts a decidedly different course for America's favorite sports car.
It all starts with the radical exterior styling, which has little in common with Corvettes past. Gone are the iconic circular taillights, replaced by square ones more evocative of the current (pre-2014) Camaro. The blacked-out rear fascia is vaguely reminiscent of the Lexus LF-A supercar, while the angular canopy, zigzag side vents and elongated headlights whisper "Nissan GT-R." The overall effect, it must be said, is stunning, particularly in person. But if that Stingray badge had you hoping for a retro vibe, the 2014 Corvette will take some getting used to.
One thing everyone can agree on, though, is that the C7's interior has improved by leaps and bounds. Materials quality is finally worthy of a premium sports car, as are the supportive new seats, while the standard dual 8-inch color displays make the dashboard a veritable festival of modern technology. Aside from some overwrought graphics in the multi-mode LCD gauge cluster, it's hard to fault anything Chevy has done on this front.
And when it comes to performance, the 2014 Corvette is an absolute beast. Output from the overhauled 6.2-liter V8 is up to 455 horsepower, enabling a dizzyingly quick 3.8-second sprint to 60 miles per hour, according to Chevrolet. The handling, meanwhile, is sharper than ever, and the compact new steering wheel drives home the feeling of enhanced control.
But the kicker is the bottom line: At just $51,995 to start, the 2014 Corvette is simply the best high-performance value on the planet. You can certainly pay a lot more for rival sports cars, but it's hard to imagine wanting more than what this revolutionary C7 'Vette provides.
What's New for 2014?
The Corvette is all-new this year.
What We Like
Unimpeachable V8 power; world-class handling; much-improved seats and interior quality; excellent fuel economy; amazing value
What We Don't
Engine shakes at idle (but maybe you like that); gaudy graphics on the instrument panel
How Much?
$51,995-$73,005
Fuel Economy
The rear-wheel-drive 2014 Corvette is powered by a 6.2-liter V8 rated at 455 hp (460 hp with the optional performance exhaust) and 460 lb-ft of torque. A 7-speed manual transmission is standard, with a 6-speed automatic available at additional cost.
Fuel economy is a remarkably good 17 miles per gallon city/29 mpg hwy with the manual and 16 mpg city/28 mpg hwy with the automatic.
Standard Features & Options
The Corvette is a 2-seat sports car offered in coupe (with a removable carbon fiber roof panel) and soft-top convertible body styles. There are three trim levels: 1LT, 2LT and 3LT.
The 1LT coupe ($51,995) and 1LT convertible ($56,995) come standard with staggered-size alloy wheels (18-in front, 19-in rear), a carbon fiber hood, keyless entry with push-button start, leather upholstery, power seats, two 8-in color displays (one in the gauge cluster and one on the dashboard), a rearview camera and a 9-speaker Bose audio system with iPod/Bluetooth integration and satellite radio.
The 2LT coupe ($60,415) and 2LT convertible ($65,415) add color-matched console and door panels, heated and ventilated seats with memory settings and additional power adjustments (lumbar and side bolsters), Corvette seat emblems, a universal garage-door opener, auto-dimming mirrors, a color head-up display, a 10-speaker Bose audio system with dual subwoofers, a cargo net and a luggage shade (coupe only).
The 3LT coupe ($68,005) and 3LT convertible ($73,005) tack on a full leather interior with Nappa leather seating surfaces, a navigation system (optional on lower trims) and a color-matched instrument panel.
The popular Z51 package ($2,800) adds bigger wheels (19-in front, 20-in rear) with Michelin Pilot Super Sport ZP summer tires, a dry-sump oil system, an electronic limited-slip differential, more aggressive gearing, bigger front brakes (13.6-in discs versus 12.6), sport-tuned suspension components and lift-reducing aerodynamic tweaks.
Other notable options include adaptive magnetic-ride dampers with a track-oriented stability control system (Z51 only), sport seats, carbon fiber interior trim, a suede steering wheel and a transparent roof panel (coupe only).
The coupe's hatchback trunk can hold 15 cu ft of your favorite items, while the convertible's traditional trunk maxes out at 10 cu ft.
Safety
The 2014 Chevrolet Corvette comes with standard stability control, 4-wheel anti-lock disc brakes and four airbags (front and side). It had not been crash-tested as of this writing.
Behind the Wheel
In our interior evaluation, we loved the cockpit-like feel of this Corvette. The door panel and central controls seem to wrap around the driver, creating an intimate sports-car atmosphere that was largely missing from the previous car. The vastly better seats are supportive in all scenarios, and either of the two available Bose stereos will keep the tunes cranking. This is a pretty cool place to spend some time.

Under the hood, the 6.2-liter V8 is mandatory for now, and it's all the engine most folks will ever need. Power is massive, torque equally so, and the sounds are straight out of a drag-strip fantasy. The only part that gives us pause is how the engine shakes the whole car at idle; it's far from the refinement offered by overseas rivals, though some will appreciate the added "character." The novel 7-speed manual transmission's active rev-matching feature is a neat parlor trick, and if you want to match your own revs, don't worry -- there's an off button.

On the road, the Corvette combines astonishingly athletic handling with genuine long-distance comfort, a combination that few cars at any price can match. Road noise is reasonable, and highway pit stops should be infrequent given this near-supercar's 30-mpg potential. The coupe's standard removable roof panel means that all Corvette drivers can have some fun in the sun, even those who forgo the convertible with its fast-acting power soft-top. The C7's gaudy performance numbers may get all the headlines, but it's the remarkable versatility of this car that gives it such broad appeal.
Other Cars to Consider
Ford Mustang GT-- Don't laugh. The current 420-hp Mustang GT may be on its last legs, but it has a glorious V8 engine of its own, and it's a lot cheaper than the 'Vette.
Dodge Viper-- The attention-grabbing Viper is as outlandish as ever, though its high cost and edgy character limit its appeal.
Porsche Cayman-- Considerably smaller than the Corvette, the Cayman boasts ultra-precise handling and exceptional engine refinement. It's not nearly as fast, however, even in S trim.
AutoTrader's Advice
The 2LT is the sweet spot, adding desirable luxuries such as power side bolsters without inflating the price to 3LT levels. As for the Z51 package, it's up to you, but we'd have a hard time saying no to all that extra performance for $2,800.