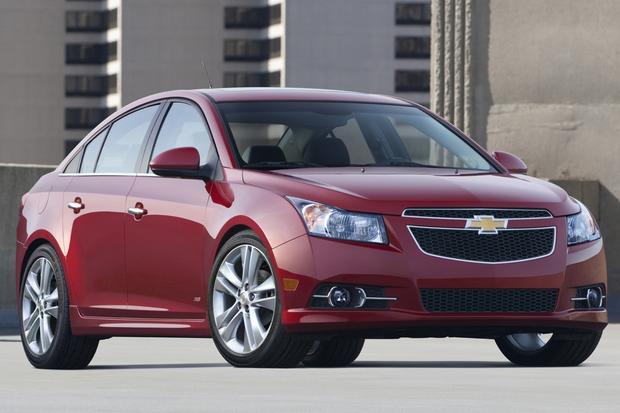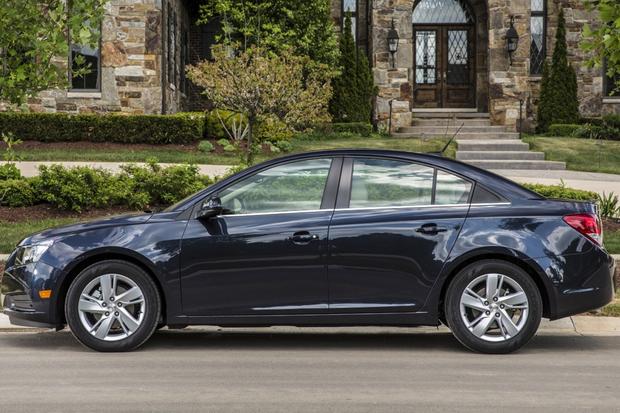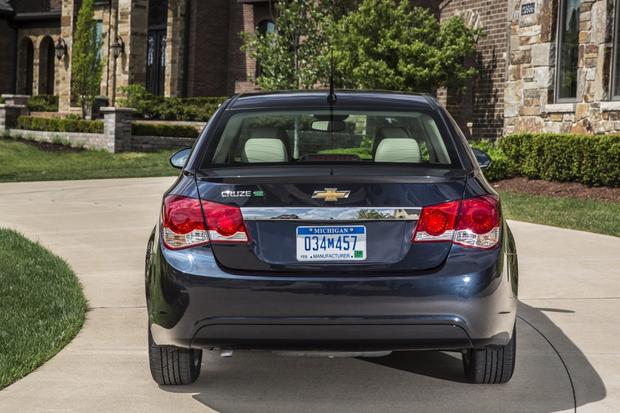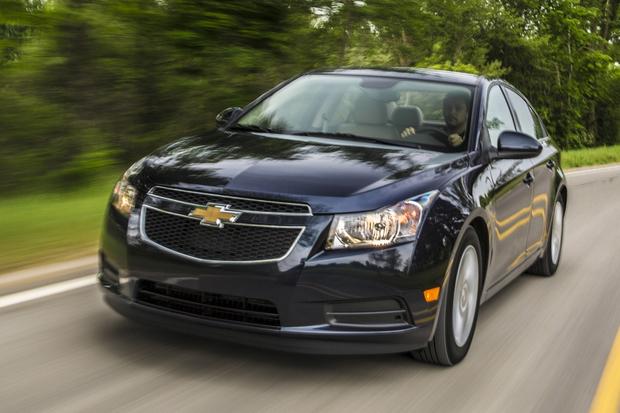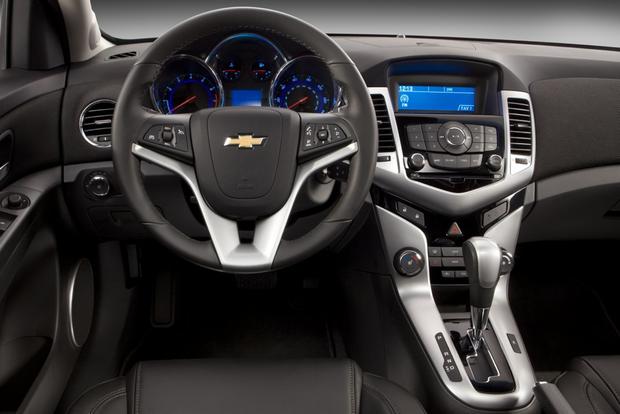 The 2014 Chevrolet Cruze is so refined and well put together that many believe it transcends its status as a compact car. Along with the Ford Focus, the Cruze inspires confidence that American automotive brands can make an efficient, well-built, smooth-driving car for the masses. From a quality standpoint, the Cruze is on par with popular offerings from Honda and Hyundai, two brands that consumers tend to trust most. It offers a wide range of models to fit just about anyone shopping in the compact category. And it's a standout thanks to its turbo engine and Eco model, both of which help to make the Cruze a distinctive offering in its segment.
What's New for 2014
The Cruze is mostly unchanged for 2014, with one major exception. The 2014 model year sees the addition of an all-new Cruze Diesel, which uses a 151-horsepower 2-liter turbodiesel engine. Fuel economy is rated at 27 miles per gallon in the city and a whopping 46 mpg on the highway.
What We Like
Solid, well-connected ride; spirited turbo; 40-mpg highway fuel economy; refined interior; abundant cargo space; good list of features
What We Don't
Bland styling compared with that of some foreign competitors; poor seat positioning; relatively pricey at the top end
How Much
$18,000-$25,500
Fuel Economy
The Cruze offers a choice of three engines. The base engine is a 1.8-liter inline-4 producing 138 hp and 125 lb-ft of torque. Output is managed by either a standard 6-speed manual transmission or an optional 6-speed automatic. The Environmental Protection Agency estimates fuel economy at 25 mpg city/36 mpg hwy with the manual or 22 mpg city/35 mpg hwy with the automatic.
A more intriguing powerplant is the 1.4-liter turbocharged inline-4, mated to the same two gearboxes. Output is still 138 hp, but torque goes up to 138 lb-ft, and peak output is across a broader range of engine speeds. Fuel economy is an impressive 26 mpg city/38 mpg hwy with either transmission choice.
The Cruze Eco model is propelled solely by the 1.4 turbo but also adds a series of aero upgrades and low-rolling-resistance tires to optimize efficiency. Its fuel economy tops that of virtually all subcompact cars and even some hybrids. It's rated at 28 mpg city/42 mpg hwy with the manual or 26 mpg city/39 mpg hwy with the automatic.
Finally, the new Cruze Diesel uses a 151-hp 2-liter turbodiesel 4-cylinder engine. Offered only with a 6-speed automatic, the Cruze Diesel returns 27 mpg city/46 mpg hwy.
Standard Features & Options
The 2014 Chevrolet Cruze is available in five trim levels: LS, LT, Eco, LTZ and Diesel.
Base-level Cruze LS models ($18,500) offer a surprisingly long list of standard equipment. Such items include air conditioning, Bluetooth, a USB port, steering-wheel-mounted audio controls and satellite radio.
Shoppers who step up to the Cruze LT ($19,500) find two versions: the 1LT and the 2LT. The 1LT adds alloy wheels, cruise control and a leather-wrapped steering wheel. Fuel-saving Cruze Eco models ($20,500) are equipped like the 1LT.
Drivers who step up to the 2LT ($22,000) add a power driver's seat, leather upholstery with heated front seats and Chevrolet's MyLink 7-inch center-mounted touchscreen. The Cruze Diesel ($25,500) is equipped like the 2LT.
The range-topping Cruze LTZ ($24,500) brings automatic climate control, push-button start and a rearview camera. Key options include a sunroof and a premium audio system.
Safety
The Cruze offers 10 standard airbags -- a compact car rarity. Aside from front, side and head curtain airbags, the Cruze puts airbags at the knees of the driver and front passenger and adds two side airbags for the rear outboard positions. The Cruze also has ABS and stability control. And the optional safety package adds some features usually found on pricier models, such as parking sensors, blind spot monitoring and rear cross-traffic warning.
The Cruze boasts a 5-star overall safety rating in National Highway Traffic Safety Administration crash tests. The Cruze earned that rating after getting a perfect 5-star score in frontal and side impacts, as well as a 4-star score in rollover protection.
Behind the Wheel
The Cruze offers a driving experience evenly balanced between a smooth ride and sharp handling. On one hand, it offers a solid and comfortable feel that's ideal for virtually any type of driving. Road noise is almost nonexistent, thanks to a deliberate effort to buffer the cabin with advanced sound-deadening materials.
On the handling front, the Cruze is confident in corners, showing off a decidedly sporty character when pushed to its upper limits. Calling it nimble might be going too far, but the Cruze is definitely well composed through fast turns.
Both gasoline engines are adequate for normal driving, but the 1.4-liter turbo has a more spirited feel. The diesel's performance largely mirrors that of the 1.4-liter turbo, though the diesel offers a little more power.
Other Cars to Consider
Ford Focus -- The Focus is the Cruze's most direct competitor. Both vehicles represent a turnaround for their respective carmakers. The Focus has slightly better handling and offers more youthful styling.
Hyundai Elantra -- The Elantra beats the Cruze with a more stylish exterior and a richer equipment list, but the Cruze is more fun to drive.
Honda Civic -- The Civic and the Cruze are comparable in fuel economy and road manners, but the Cruze actually feels more solid inside and out. Believe it or not, the Chevy beats the Honda in the refinement test.
AutoTrader's Advice
We think the best Chevrolet Cruze for cruising is the Eco model with a manual transmission to manage its 1.4-liter turbo. This combination makes the Cruze truly fun to drive while offering exceptional highway fuel economy, as well. And while the Eco's gas mileage isn't quite as strong as the Cruze Diesel's, the Eco is less expensive to buy. In other words, the Cruze Eco is smooth, quick-footed, well equipped and efficient. With credentials like those, it's no wonder its competitors are starting to feel a little uneasy.