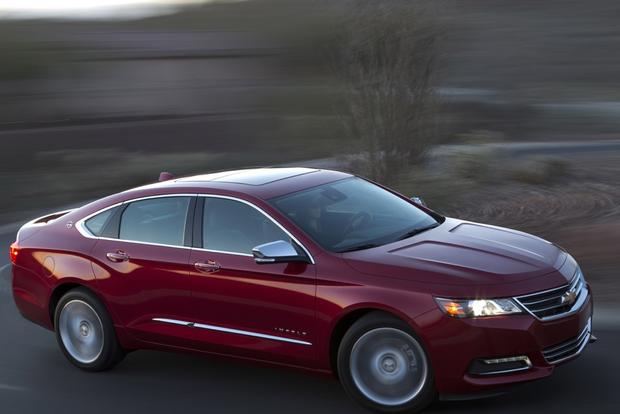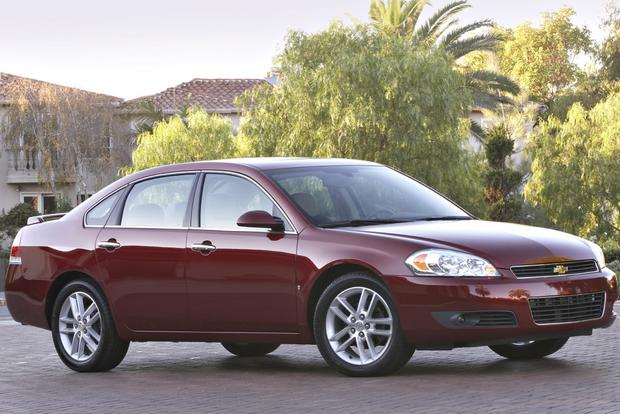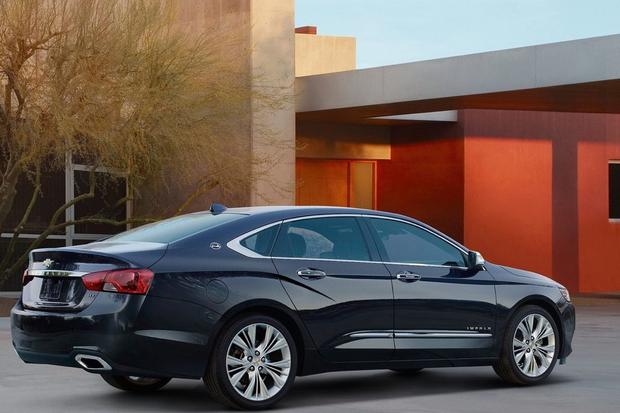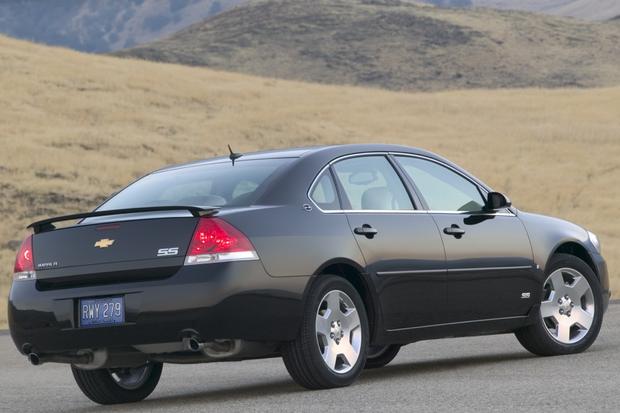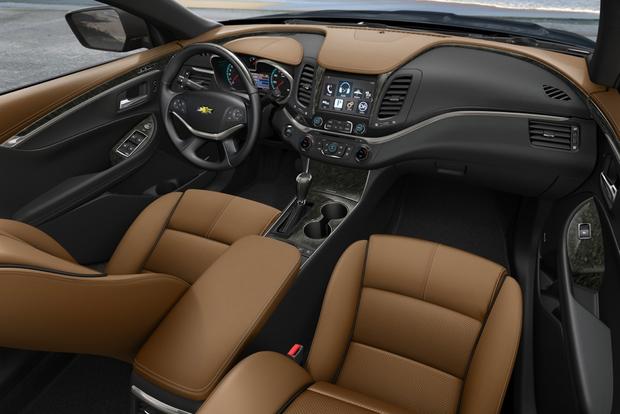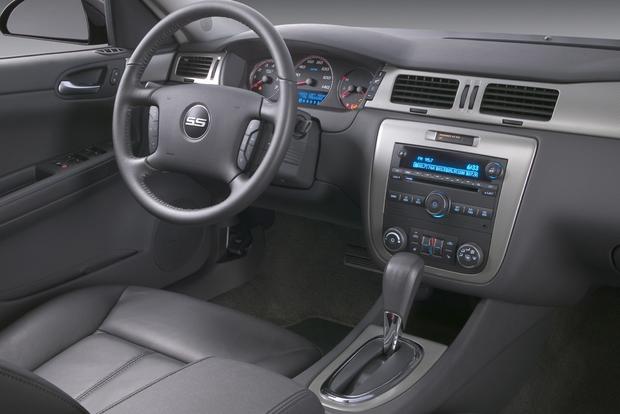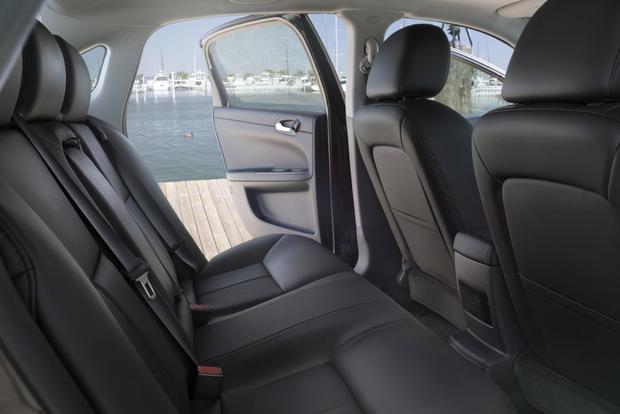 Introduction
A new Chevrolet Impala is about to go on sale, redesigned for the first time since the turn of the century. Riding on the same platform that is used for the Buick LaCrosse and the Cadillac XTS, the 2014 Chevrolet Impala provides more interior space and a larger trunk than the car it replaces, as well as modern infotainment and safety technologies. Offered in LS, LT and LTZ trim levels, the stylish 2014 Impala also gives buyers a choice among 4-cylinder, gas-electric hybrid and V6 powertrains.
Meanwhile, the old Impala, which last saw a significant update in 2005 for the 2006 model year, continues as the Impala Limited, and will be sold to rental car fleets, businesses and government entities. Will Impala Limited buyers be missing out on the upgrades bestowed upon the new Impala, or will the old Impala's discounted price make up for the shortcomings between it and the redesigned 2014 Chevrolet Impala? Let's take a closer look.
Fuel Economy
The previous-generation Impala arrived for the 2006 model year, with the LS and LT models equipped with a 211-horsepower, 3.5-liter V6 and a 4-speed automatic transmission. This V6 could operate on unleaded gas or E85 ethanol blend, and was rated by the Environmental Protection Agency (EPA) to get 19 miles per gallon in the city and 29 mpg on the highway in 2011, the final year it was offered.
A 230-hp, 3.9-liter V6 and a 4-speed automatic were standard for the Impala LTZ, equipped with Active Fuel Management (AFM) technology starting in 2007 and E85-compatiblity in 2008. Active Fuel Management shut half of the engine's cylinders off under low-load driving conditions to improve fuel economy. In 2011, this engine's last year of availability, EPA expected the 3.9-liter V6 to get 17 mpg city/27 mpg highway.
An Impala SS model was sold from 2006 to 2009, equipped with a 303-hp, 5.3-liter V8 engine with Active Fuel Management technology, a 4-speed automatic and front-wheel drive. The Impala SS was rated to return 16 mpg city/24 mpg highway in its final year on sale.
For the 2012 model year, the Impala received a direct-injected 3.6-liter V6 engine and a 6-speed automatic transmission as standard equipment. This E85-compatible engine made 300 hp, which is plenty for a car weighing 3,555 pounds. Fuel economy ratings improved despite the power infusion, rising to 18 mpg city/30 mpg highway.
For the new 2014 Chevy Impala, all models will initially be available with only a direct-injected 3.6-liter V6 engine and a 6-speed automatic transmission. The V6 carries over from the old Impala, rated to make 305 hp and responsible for motivating a minimum of 3,800 pounds in the new car. Chevrolet expects the 2014 Impala V6 to get 19 mpg city/29 mpg highway.
After the first batch of 2014 Impalas goes on sale, the car will get a standard direct-injected, 196-hp, 2.5-liter 4-cylinder and a 6-speed automatic transmission. Chevrolet expects this car to return 21 mpg city/31 mpg highway.
The new 2014 Impala will also be sold with an eAssist gas-electric mild-hybrid powertrain. The eAssist system combines a 2.4-liter 4-cylinder gasoline engine with an electric assist motor and a small Lithium-ion battery pack to generate a combined 182 hp and deliver 25 mpg city/35 mpg highway.
Thanks to its new 2.5-liter 4-cylinder engine and available eAssist hybrid powertrain, the 2014 Impala is the more fuel-efficient full-size family car.
Safety
By the 2013 model year, the old Impala was equipped with six airbags, a traction and stability control system, 4-wheel-disc anti-lock brakes and an OnStar system with Automatic Collision Notification service. Nothing more exotic than these systems could be added to the car.
Despite the age of its underlying structure and its lack of safety technologies, the previous-generation Impala does a decent job of protecting its occupants. In crash tests performed by National Highway Traffic Safety Administration (NHTSA) between 2006 and 2010, Impala models with side-impact airbags received a 5-star overall crash test rating.
In 2011, NHTSA strengthened its procedures, making it harder for vehicles to excel in tests. When the Impala was tested again in 2012, the car received a 4-star overall rating, not bad for an aging car. Unfortunately, the 2012 and 2013 Impala models provide nothing better than 2-star protection for the driver in a side-impact collision. NHTSA does not rate the 2011 Impala.
In crash tests by the Insurance Institute for Highway Safety (IIHS), the Impala posts good, if not great, results. In a seeming refutation of NHTSA findings, the car does best in side-impact tests, receiving the top rating of Good for 2006-2013 models. Chevrolet also converted an Acceptable moderate overlap frontal-impact rating into a Good rating starting with the 2010 model year, a rating applied to all Impalas built after December 2009.
The 2006-2008 Impala models are rated Marginal for their ability to protect occupants against injury in a rear-impact collision, while the 2009-2013 Impala models rate as Acceptable in this regard. The Impala also receives an Acceptable roof crush strength rating for all models built after July 2010.
Fast-forward to the 2014 Impala, which is built on a stronger underlying structure and equipped with 10 standard airbags, and Chevrolet is offering far more safety equipment for its full-size family car. Options include a reversing camera, rear park-assist sensors, Forward Collision Alert with Collision Mitigation Braking, Lane Departure Warning, Side Blind Zone Alert and Rear Cross Traffic Alert technologies.
With the 2014 Impala's heavier curb weight, stronger and more modern structural design and long list of available safety technologies, we give the new model the nod for safety, even though crash tests have not been performed on the 2014 Impala as this article is written.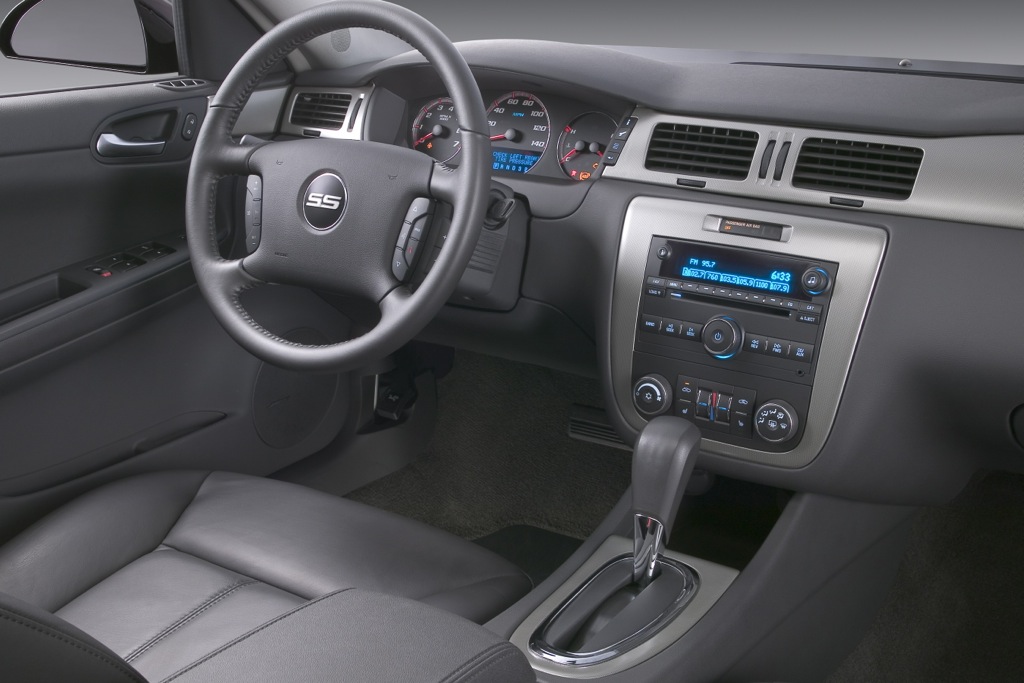 Reliability
Take a look at a Consumer Reports reliability chart for the 2014 Chevrolet Impala and prepare to see plenty of black. That's not good. Except for the 2011 model year, reliability is average or below average going all the way back to 2006. The good news is that engines and transmissions appear to be reasonably dependable.
General Motors does offer a comprehensive Certified Pre-Owned (CPO) vehicle program, which makes a used Impala more appealing. Each CPO Impala goes through a 172-point vehicle inspection, includes a vehicle history report and gets a 12-month/12,000-mile limited bumper-to-bumper warranty. Buyers also receive the balance of the original 5-year/100,000-mile powertrain warranty, which includes 24-hour roadside assistance for that same span of time and mileage.
If that's not enough, every CPO Impala also includes two years or 30,000 miles of free oil changes, tire rotations and vehicle inspections, as well as free 3-month trial subscriptions to OnStar Directions & Connections service and satellite radio service. Plus, if you decide you don't like your CPO Impala, you can bring it back within 72 hours and swap it for something else -- as long as you didn't amass more than 150 miles since purchase.
When buying a new 2014 Impala, you can't bring it back if you don't like it, but you do get a 3-year/36,000-mile standard warranty and a 5-year/100,000-mile powertrain warranty with 24-hour roadside assistance. If the car is in the shop for repairs related to the powertrain, a new Impala also comes with a Courtesy Transportation Program.
Comparing the 2014 Impala to the Buick LaCrosse, which shares its same platform, will help determine the 2014 Impala's reliability. Consumer Reports says the LaCrosse is expected to be worse than average, prompting us to recommend the less complex 2006-2013 Impala when it comes to reliability. Stick with a CPO model if you can.
Value
As this article is written, 5,407 certified-used Chevy Impalas are on sale around the country -- a large number reflecting the degree to which this car is cycled into and out of fleets. Prices range from a low of $10,600, for a 2008 Impala LS with nearly 72,000 miles, to a high of $28,500, for a 2013 Impala LTZ with 705 miles. Normally, when financing a used car, interest rates are higher. However, through April 30, 2013, General Motors is offering 1.9 percent short-term financing on its CPO vehicles.
Dealers are still clearing stocks of the 2013 Impala models, which start at $26,685 for the Impala LS and rise to $32,610 for the Impala LTZ with every factory option box checked. Currently, Chevrolet is offering buyers of the 2013 Impala $4,000 cash or 0 percent financing for 72 months.
The redesigned 2014 Impala models start at $27,535 for the Impala LS. Add every option to the Impala LTZ, and the car rolls off the showroom floor for $42,200. Chevrolet isn't offering official discounts or low-rate financing for the new Impala, as the car is launched.
Given the discounts on the outgoing 2013 Impala and the low prices on CPO Impalas, the previous-generation car offers compelling value, even if it's not nearly as sophisticated. (We found a 2012 Impala LT with 29 miles listed on AutoTrader for $16,359.)
Technology
There is no doubt that the 2014 Chevrolet Impala is a more technologically sophisticated machine than its predecessor, whether referring to its engineering, mechanical systems, information and entertainment systems or safety features.
Highlights, in addition to the safety-related technologies described above, include standard electric steering with Pull Drift Compensation, standard active noise cancellation and an optional Bose premium surround sound system. The 2014 Impala also offers keyless entry and push-button starting, heated and ventilated front seats, a heated steering wheel and a power tilt/telescopic steering wheel. An optional full-speed-range Adaptive Cruise Control system can bring the car to a complete stop and then resume the set speed with a driver command. LED running lights are included on LTZ models.
A next-generation version of Chevrolet MyLink technology debuts with the 2014 Impala, standard for LT and LTZ trim levels. This version of MyLink has an 8-in color touchscreen, smartphone connectivity, mobile application technology and natural speech recognition. Navigation is offered as an upgrade for the system. MyLink's screen works like a tablet computer, allowing the user to pinch, spread and swipe the screen, or drag icons to new locations.
AutoTrader's Recommendation
If you're looking for inexpensive, roomy transportation protected by a solid certified pre-owned vehicle program in the absence of a strong record for reliability, a CPO Chevy Impala offers strong value. The primary concern with this car, outside unimpressive dependability ratings, is its 2-star side-impact crash-test result for the driver after NHTSA strengthened its standards.
There is, however, more to consider in choosing a car than just great value. The new 2014 Impala is a dramatically improved vehicle, offering vastly superior safety and technology, a larger and more comfortable interior and more fuel-efficient engine choices -- all wrapped in more stylish sheet metal. If you can get into a new Impala instead of a used one, you'll likely be happier for it.