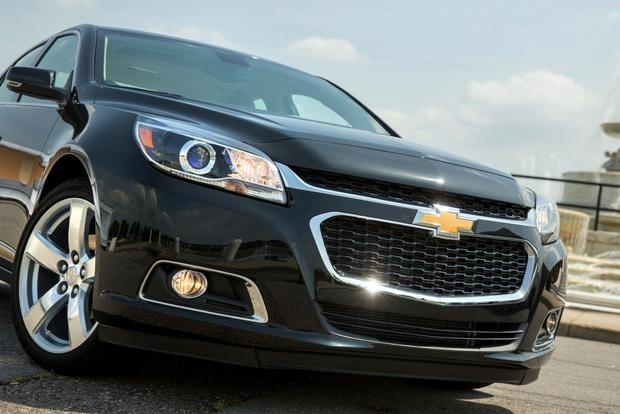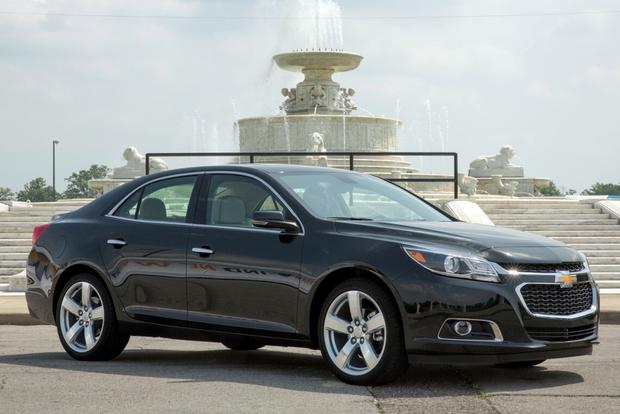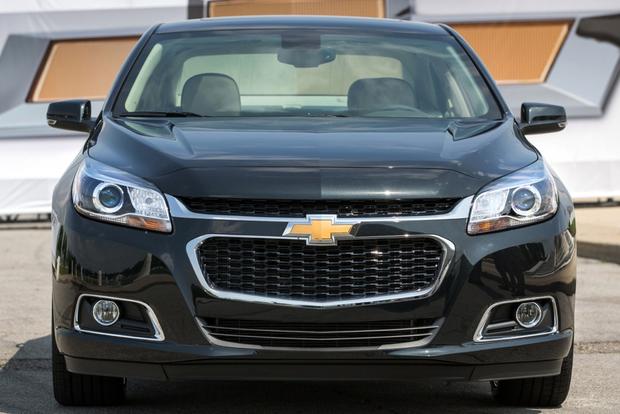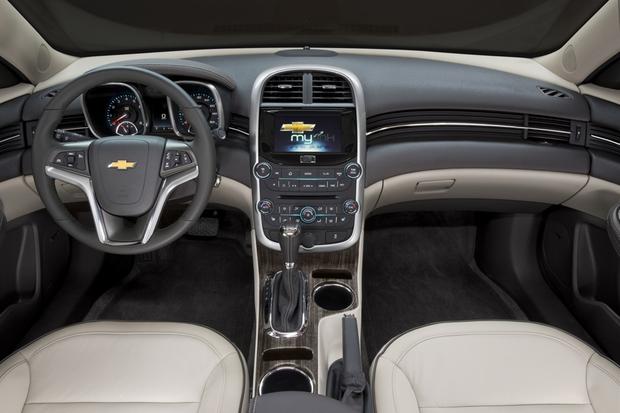 The Chevrolet Malibu, as some may recall, debuted in the 1960s as an unabashedly American car, decked out with rear-wheel drive and available V8 power in all sorts of body styles. By 1981, however, it had devolved into a generic-looking 4-door. A decade-and-a-half hiatus came next, during which the original Malibu convertible saw new life as an A-list celebrity car. And then, in 1997, the Malibu was improbably reincarnated as a front-drive family hauler similar to the popular Toyota Camry and Honda Accord. That more or less brings us to the current 2014 Chevrolet Malibu.
Now in its fourth generation as a family sedan, the Malibu continues to provide plenty of conversation fodder. From its swooping belt line to its Camaro-inspired taillights, the latest Malibu certainly makes an impression, and its cabin is no less memorable. Unlike past Malibu models, this one has plenty of technology, including available MyLink touchscreen integration. Also unlike previous models, the new Malibu is global in scope. As we speak, it's on sale everywhere from Shanghai to Sao Paulo. And the range of its three engines promises something for everyone, even if it doesn't always exceed expectations.
Warts and all, the current Malibu looks and feels intentionally American. In the crowded midsize-sedan segment, we think that's enough to set this Chevy apart.
What's New for 2014?
The Malibu is updated for 2014 with improved interior room, revised styling and a few important engine tweaks, such as better gas mileage for the 2.5-liter 4-cylinder and more torque for the 2.0-liter turbocharged 4-cylinder.
What We Like
Quiet at speed; attractive interior; good technology options with available MyLink; solid fuel economy in Eco trim; improved rear seat room
What We Don't
Mediocre fuel economy in non-Eco trims; Eco's trunk is small and irregularly shaped due to the battery pack
How Much?
$23,000-$30,800
Fuel Economy
For 2014, Chevrolet offers three engines. Fuel-efficient Eco models use a 182-horsepower 2.4-liter mild hybrid 4-cylinder, which returns 25 miles per gallon city/36 mpg hwy. That engine will be phased out early in the 2014 model year in favor of the Malibu's 196-hp 2.5-liter 4-cylinder. The 2.5-liter engine makes more power and torque than the 2.4, but it returns the same 25 mpg city/36 mpg hwy.
Drivers who want more power can upgrade to the 2.0-liter turbocharged 4-cylinder. It makes 259 hp and a whopping 295 lb-ft of torque, which is a huge increase over last year's torque figure. Fuel economy comes in at 21 mpg city/30 mpg hwy. All Malibu models use automatic transmissions.
Standard Features & Options
The Malibu is offered with seven trim levels. There's a base-level Malibu LS; a mid-level Malibu 1LT, 2LT and 3LT; and high-end Malibu 1LTZ and 2LTZ trims.
The base-level Malibu LS ($23,000) doesn't include much, boasting only alloy wheels, automatic headlights, power accessories, air conditioning, cruise control, OnStar, Bluetooth, a power driver's seat and a CD player. LS models include the 2.5-liter 4-cylinder as standard equipment.
Step up to the 1LT ($24,300) and you get premium cloth upholstery, Chevrolet's MyLink infotainment system with a 7-inch touchscreen, Bluetooth audio, and an auxiliary jack and USB port for music. The 1LT also adds the 2.4-liter eAssist mild hybrid, which will be discontinued this year in favor of the 2.5-liter.
Next up is the 2LT ($26,000), which adds dual-zone automatic climate control, a remote starter and larger alloy wheels.
Topping the LT range is the 3LT ($27,600), which is identical to the 2LT except for the engine. While the 2LT includes the Malibu's 2.5-liter powerplant, the 3LT boasts the 259-hp 2.0-liter turbocharged 4-cylinder.
Next up is the 1LTZ ($28,500), which adds leather upholstery, heated front seats, a power passenger seat and auto-dimming mirrors. The 1LTZ retains the 2.5-liter 4-cylinder engine.
Topping the Malibu range is the 2LTZ ($30,700), which includes the 2.0-liter engine and a sunroof.
The Malibu is available with a long list of options, which primarily involve features from higher trim levels. There's also an optional reversing camera, a Pioneer audio system and xenon headlights. Safety-minded drivers can add an Advanced Safety Package. (See the Safety section below for details.)
Safety
The 2014 Chevrolet Malibu features 4-wheel anti-lock disc brakes, stability control and a whopping 10 airbags. It also offers an Advanced Safety Package that includes forward collision warning, lane departure warning, blind spot monitoring and a rear cross-traffic alert system.
In government crash tests, the Malibu was close to perfect, garnering the top 5-star rating in the frontal, side and overall categories. (Like almost every passenger car, it received four stars out of five in the rollover category.) The independent Insurance Institute for Highway Safety, meanwhile, gave the Malibu its top rating of Good in every category except Small Front Overlap -- a new test in which the Malibu was deemed only Marginal.
Behind the Wheel
The Malibu is narrower than typical American-style family sedans, so it feels tighter and more nimble from behind the wheel. That's not to say that the Malibu likes twisty roads -- on the contrary, it's more of a highway cruiser -- but for day-to-day traffic maneuvers, it's a trusty companion. No matter what kind of cruising you're doing, the Malibu's cabin remains impressively quiet -- a welcome luxury at this price. The ride, too, borders on luxurious, as it filters out rough pavement without ever feeling floaty.
In our interior evaluation, we were impressed by the new Malibu's sense of style. In keeping with Chevrolet's recent trend, the dashboard flows smoothly into the door panels, which accentuates its curves. But that's not all: With the available MyLink color touchscreen aboard, the Malibu's cabin looks thoroughly modern, which is something we couldn't say of its predecessor.
In terms of substance, we weren't blown away by the quality of the interior materials, but they're satisfactory for this segment. Likewise, its ergonomics are middle-of-the-road. The controls aren't as large and foolproof as in a Camry or Altima, for instance, but most owners should have no trouble figuring things out within a week or two.
Other Cars to Consider
Ford Fusion -- If you're considering the Malibu, be sure to also check out the handsome Ford Fusion. It offers top-quality interior materials, several powertrain options and the latest in infotainment technology.
Honda Accord -- The latest Accord is a real return to form, as it boasts excellent fuel economy, a high-quality interior and the sporty driving dynamics for which older Accords were renowned.
Volkswagen Passat -- The American-built Passat is big and soft enough to woo Malibu shoppers looking for more space and cushion.
AutoTrader's Advice
We'd avoid the underwhelming hybrid 4-cylinder, which will be phased out during the 2014 model year. Since the 2.0-liter turbo isn't widely available, that leaves the satisfying 2.5-liter inline-4. Make ours a 1LT, please, because that would get us the 7-in touchscreen -- a must-have, in our opinion.