Car Comparison
2014 Chevrolet Silverado vs. 2014 Ram 1500: Which Is Better?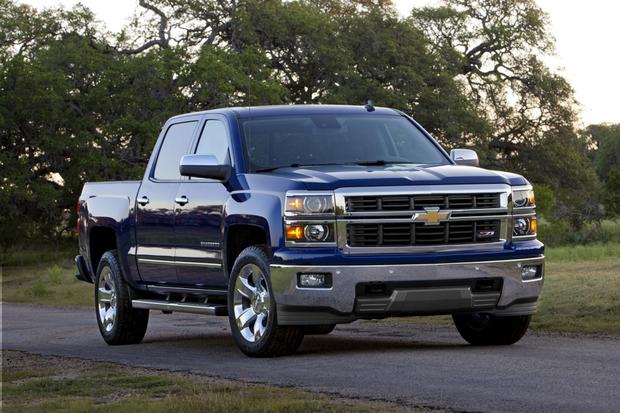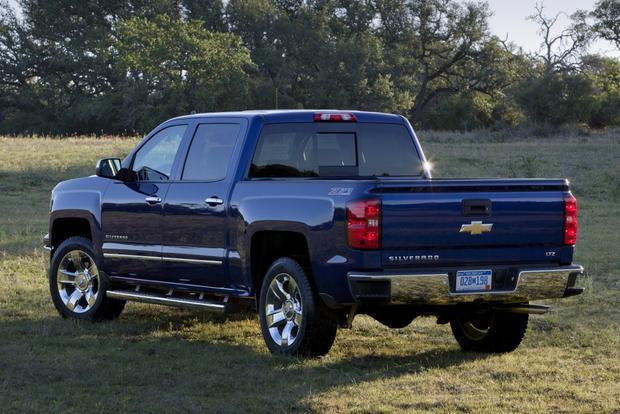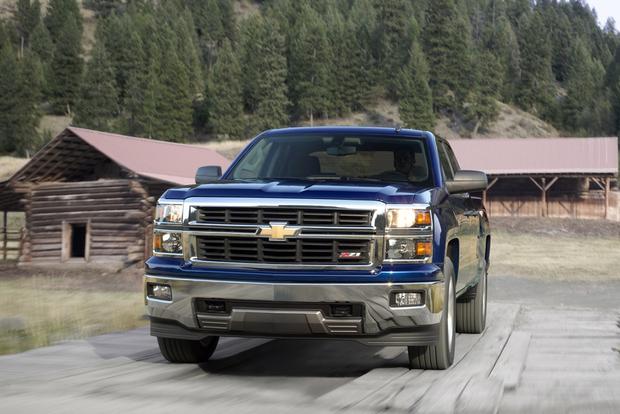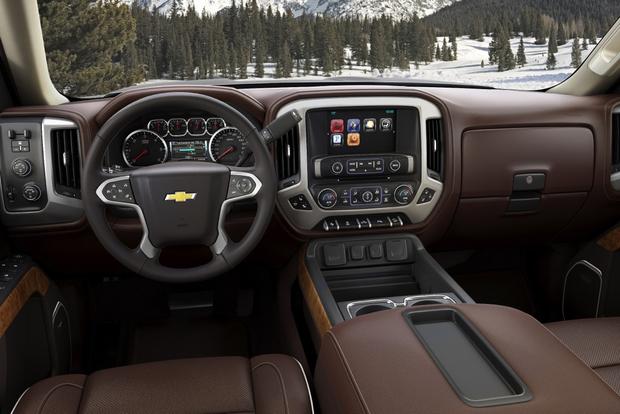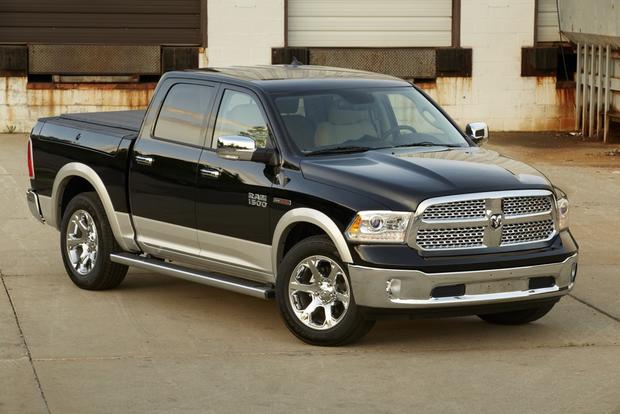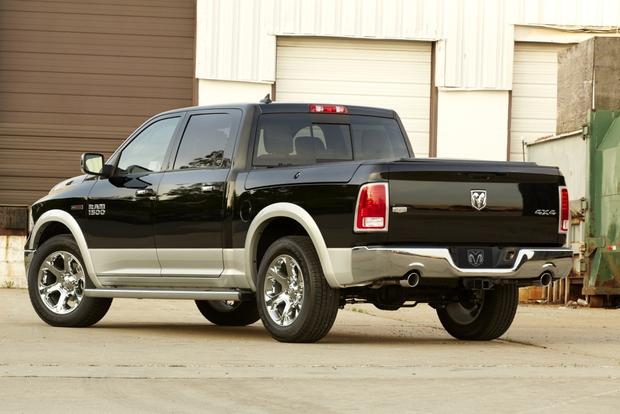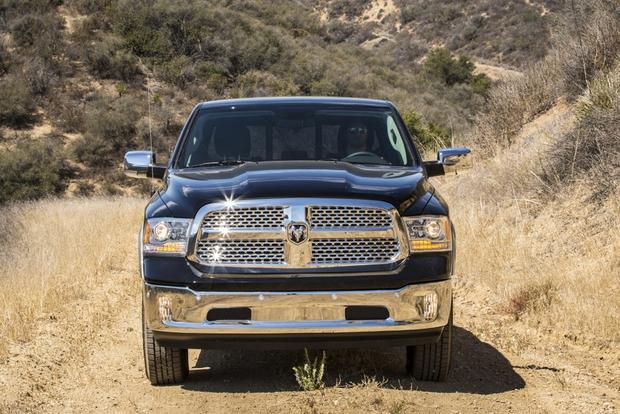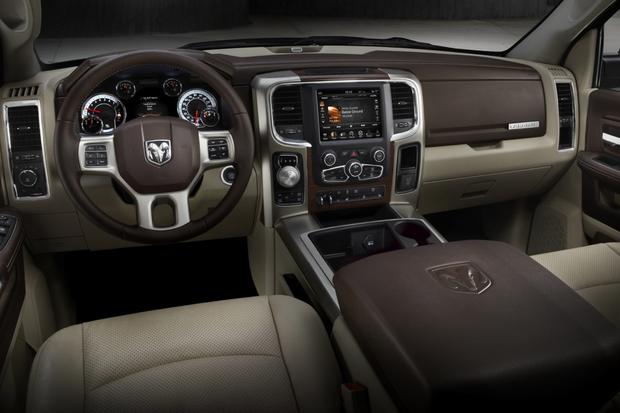 Right now, the 2014 Chevrolet Silverado 1500 is the newest light-duty, full-size pickup truck you can buy in terms of design and engineering.* Yet in March of 2014, the 2014 Ram 1500 outsold the completely redesigned 2014 Silverado 1500, and some analysts are predicting that Ram could actually outsell Chevrolet on a regular basis in the years to come.
Given the ascendancy of Ram, we thought it was time to determine which of these two trucks is better, based on those factors that are traditionally valued by new-vehicle buyers. We realize that truck buyers also care about a pickup's ability to haul stuff and tow weight, so we'll let you know right up front that the Chevy reigns supreme when it comes to payload and towing capacity.
If you're buying a truck for other reasons, read on to find out which one is better in a number of areas.
*We're not counting the GMC Sierra 1500, of course, which is basically the same thing dressed up in a different costume.
Reliability
Take a look at the reliability ratings on Consumer Reports, and you'll find that, historically, the Silverado and the Ram have proven themselves to be relentlessly average in this regard, with 2-wheel-drive models slightly less troublesome than 4-wheel-drive models. Data published by J.D. Power indicates that the Chevy is slightly better than average when it comes to quality and dependability, while the Ram is below average.
Given the existing data, we'll give the nod to the 2014 Chevrolet Silverado 1500, qualifying that selection by reminding you that the latest Silverado is an all-new truck with new engines.
Fuel Economy
Until Ram rolled out its new 3.0-liter EcoDiesel engine for 2014, the Silverado 1500 and Ram 1500 would have been evenly matched in terms of overall fuel economy across the powertrain lineup. With the addition of the thrifty diesel engine option, though, Ram emerges victorious when it comes to overall fuel economy ratings.
If you strip the EcoDiesel engine out of the equation, the picture changes a bit, depending on what kind of engine you choose. The 2014 Ram 1500 model's 3.6-liter V6 is more fuel efficient than the 4.3-liter V6 installed in the 2014 Chevrolet Silverado 1500. If you need the muscle provided by a V8 engine, Chevrolet tops Ram in this regard.
While choosing a victor in the battle for best fuel economy isn't a black-and-white decision, the Ram 1500 model's optional EcoDiesel engine is rated to return a whopping four extra miles per gallon on the highway compared to the most efficient setup offered by Chevrolet.
Safety
Structurally, the new 2014 Chevrolet Silverado 1500 is half a decade newer than the Ram 1500. It comes as no surprise, then, to discover that it gets better crash-test ratings from the National Highway Traffic Safety Administration. The Chevy receives an overall rating of five stars, while the Ram gets a 4-star rating. Both trucks receive the best score of Good in the moderate-overlap frontal-impact test conducted by the Insurance Institute for Highway Safety. This is the only assessment for which both trucks have been tested.
In addition to these crash-test ratings, both trucks are available with technology that automatically dials emergency services personnel in the event that the airbags deploy, thereby helping to speed rescuers to the scene of an accident. Chevrolet offers this feature on nearly all Silverado models as a part of a free 6-month trial subscription to OnStar services, while Ram includes it with a subscription to Uconnect Access services.
A reversing camera and parking-assist sensors are available on both the Chevy and the Ram. Additionally, Chevrolet offers a forward-collision warning system and a lane-departure warning system for the Silverado, yet the company's side blind-zone alert system -- which is arguably more useful -- is unavailable. Ram provides access to SmartBeam automatic high-beam headlights and rain-sensing wipers but otherwise offers no safety-tech upgrades.
When it comes to safety, the 2014 Chevrolet Silverado 1500 gets the win.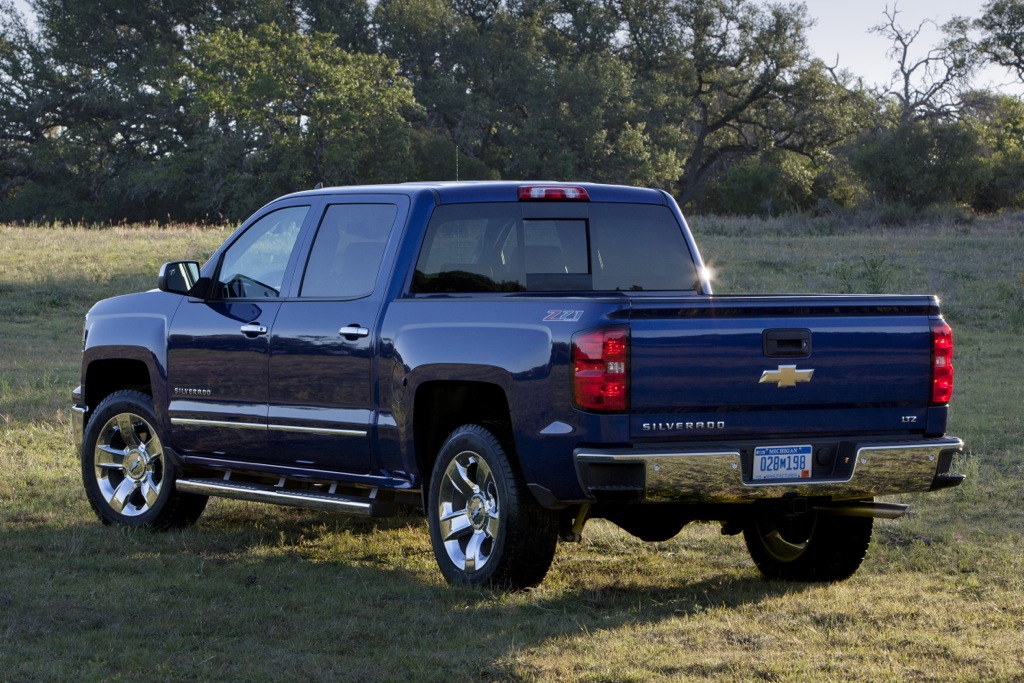 Technology
The Ram 1500 might not be as advanced as the Chevy Silverado 1500 when it comes to safety features, but it does offer a compelling menu of other upgrades that include a unique rotary transmission gear selector, active grille shutters designed to improve fuel economy, and a 4-corner air suspension that helps improve aerodynamics on the highway. Plus, the Ram's top-of-the-line infotainment system features a larger touchscreen display than the Chevy's MyLink system, and this truck's Uconnect Access technology includes voice texting capability, a Bing search engine, and the ability to transform the Ram 1500 into a mobile Wi-Fi hot spot.
Both Ram and Chevrolet include cylinder deactivation systems designed to improve fuel economy, the difference being that it comes standard on every Silverado engine, while Ram reserves it for its 5.7-liter HEMI V8. Each truck also includes hill-start assist and trailer-sway control and can be upgraded with a trailer-brake controller. Exclusive upgrades for the 2014 Chevrolet Silverado 1500 include automatic grade braking and LED under-rail bed lighting, and this truck offers natural voice and dialect recognition, y'all.
When it comes to technology, these two trucks overlap in many ways, though each provides exclusive features. Your choice between the two is dependent upon what you value. For the purposes of this contest, though, we're calling a tie.
Value
Compare the 2014 Chevy Silverado 1500 to the 2014 Ram 1500 using Kelley Blue Book (KBB), and you'll find that KBB ranks the Silverado higher for resale value and gives the Chevy a higher overall value score. Furthermore, the Ram generally costs about a nickel more to own than the Chevrolet for every mile traveled.
Consumer Reports agrees with KBB, predicting that Chevy Silverado will prove less expensive to own over time than the Ram 1500. Certainly, the Silverado's standard free scheduled maintenance plan, which pays for routine maintenance for the first two years or 24,000 miles of ownership, helps in this regard.
If you're looking for the truck that delivers the best value, it's the Chevy.
AutoTrader's Advice
Ram's encroachment on Chevrolet sales appears to have inspired General Motors to offer larger discounts on the redesigned 2014 Silverado, better matching the deals available not just for the Ram 1500 but also those offered for other full-size pickups. With that move to improve up-front appeal, truck buyers ought to easily determine that the Chevy is the better overall truck.
While a Ram 1500 with an EcoDiesel engine sure is appealing, and though Ram does a better job of packaging its light-duty truck to appeal to a broad cross-section of buyers, the Chevy Silverado tows more weight, hauls more payload, gets better gas mileage from its volume engines, is more reliable, is safer in a crash, and delivers better overall value. For now, anyway.