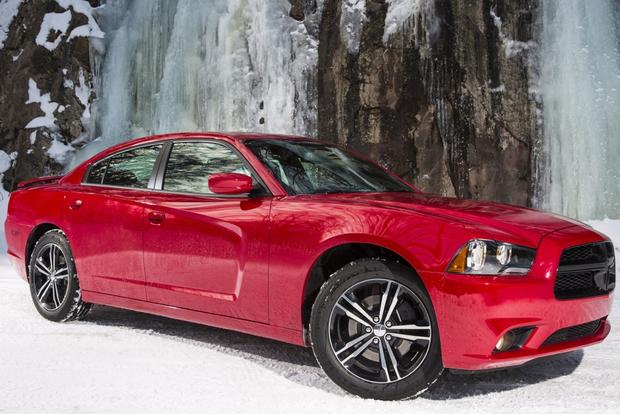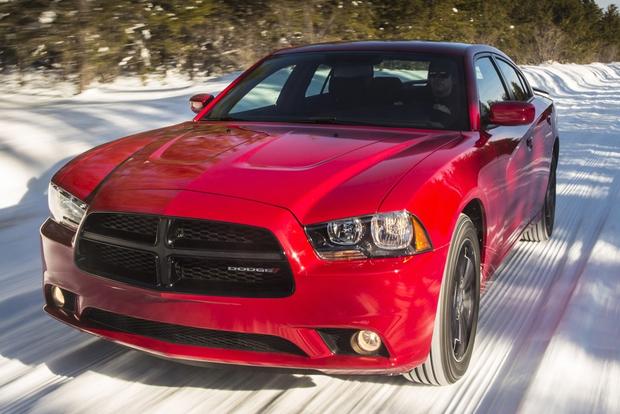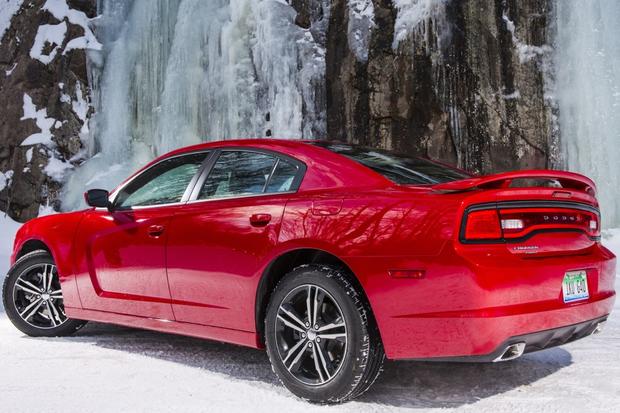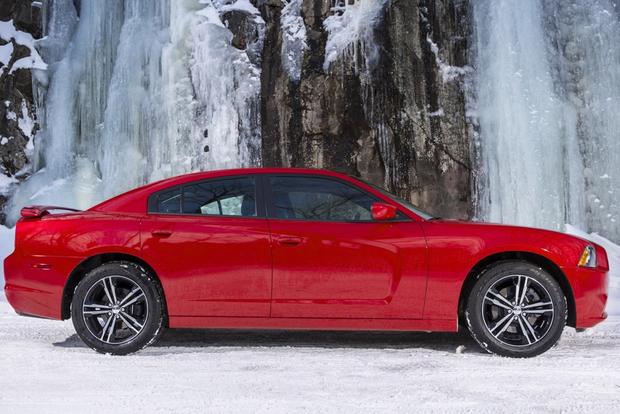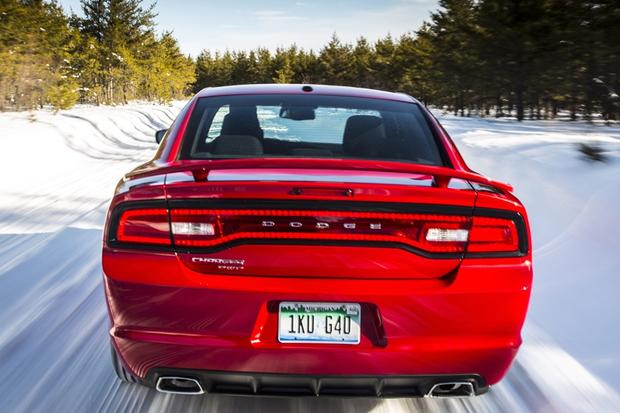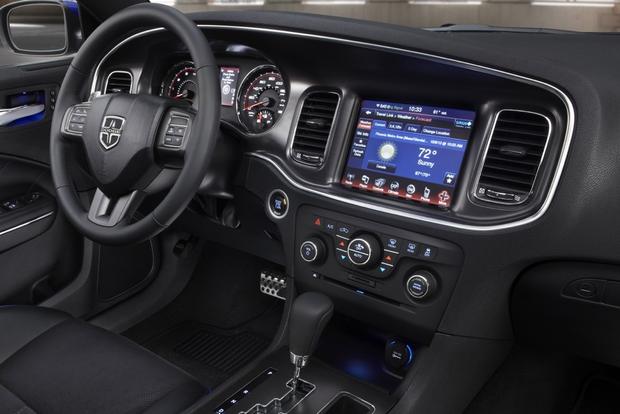 We really liked the 2012 Dodge Charger, which built upon the previous model's best qualities -- rear-wheel drive, full-size accommodations, high-performance optional V8s and bargain pricing -- and added world-class interiors, impressive technology, a strong V6 and improved styling. Quieter, quicker and more fuel efficient, the Charger had become worthy of its legendary name.
The 2014 Dodge Charger has not changed much from the 2012 model we liked so much. And, as the saying goes, if it ain't broke, don't fix it.
That said, we would fix one thing: the Charger's outdated 5-speed automatic transmission, which is the entry-level transmission for the V6 and the only one offered with the optional Hemi V8s. A component that was carried over from the previous-generation Charger, the 5-speed automatic's tall ratios and occasionally clumsy shifts make it feel like a problem that someone forgot to solve. Fortunately for V6 customers, a thoroughly modern 8-speed automatic is now available.
Otherwise, we find little to criticize in Dodge's full-size sedan. Whereas the previous Charger was more about muscle than manners, the new one is remarkably refined and tech-savvy, yet it still has that edgy performance and attitude that made the old one so endearing.
What's New for 2014?
The 2014 Dodge Charger is unchanged from the 2013 model, which itself was largely the same as the revised 2012 Charger.
What We Like
Available V8 power and all-wheel drive (AWD); nice interior; huge backseat; excellent 8.4-inch touchscreen; cool styling; unique upgrade packages
What We Don't
Outdated 5-speed automatic; styling not for everyone
How Much?
$27,000-$46,500
Fuel Economy
The Charger SE and SXT are powered by a 3.6-liter V6 that puts out 292 horsepower and 260 lb-ft of torque. Some models, including the new AWD Sport versions with the V6, produce an even 300 hp. A 5-speed automatic is standard on the SE only, while an 8-speed automatic is optional on the SE for $1,100 and comes standard on the SXT.
Fuel economy alone makes the 8-speed automatic a worthwhile upgrade, especially if you do a lot of highway driving. With the 5-speed, the Charger SE achieves 18 miles per gallon city and 27 mpg highway, while the 8-speed boasts 19 mpg city/31 mpg hwy.
The R/T uses a 5.7-liter Hemi V8 that cranks out 370 hp and 395 lb-ft of torque, while the SRT-8 is even stronger with a 6.4-liter V8 good for 470 horses and 470 lb-ft. Sadly, the aging 5-speed automatic is standard either way. Fuel economy is predictably poor: 16 mpg city/25 mpg hwy for the R/T or 14 mpg city/23 mpg hwy for the SRT-8.
Note that while rear-wheel drive is standard, a state-of-the-art all-wheel-drive system can be specified on the SXT and R/T models. It yields 18 mpg city/27 mpg hwy in the V6-powered SXT or 15 mpg city/23 mpg hwy in the V8-powered R/T. That makes the Charger an appealing option for people who live in colder, wetter climates.
Standard Features & Options
For 2014, the Charger comes in four basic trim levels: the SE and SXT (powered by the 3.6-liter V6) and the R/T and SRT-8 (powered by Hemi V8s). Several interesting variations are available within the trim levels, but for simplicity's sake we'll stick to the basics here.
Charger SE models ($27,000) start with 17-in alloy wheels, keyless entry/ignition, a power driver's seat, dual-zone manual climate control, cruise control, iPod/USB connectivity (Bluetooth is optional) and a 6-speaker audio system with a 4.3-in touchscreen display.
The SXT ($30,000) is a serious upgrade, boasting fog lamps, heated front seats, a 12-way power driver's seat with adjustable lumbar, dual-zone automatic climate control, Bluetooth, a 6-speaker Alpine sound system and an 8.4-in touchscreen display with voice-command capability and an SD-card reader.
The R/T ($31,000) features a 370-hp Hemi V8 and standard 18-in wheels but is otherwise equipped similarly to the SXT. However, there's a $2,000 Plus suite for SXT and R/T that tacks on a 12-way power passenger seat, leather upholstery and a bunch of other goodies.
In addition to a monstrous 470-hp Hemi V8, the Charger SRT-8 ($46,500) boasts intimidating styling, 20-in wheels, supportive Nappa leather seats, a 3-mode electronically adjustable suspension and a 900-watt, 19-speaker Harman/Kardon audio system with navigation.
Representing a serious performance bargain is the Charger SRT-8 Super Bee ($43,500), which brings all the SRT-8 model's brutal athleticism while leaving a bit of its leather-lined luxury behind.
Among the Charger's notable options are a navigation system, a sunroof, adaptive cruise control and several more packages that add their own custom flavors.
Safety
The 2014 Dodge Charger comes with standard stability control, 4-wheel anti-lock disc brakes and seven airbags (front, front-seat side, side curtain and driver's knee).
The Charger was almost perfect in government crash testing, with its 5-star overall rating marred only by a 4-star performance in the frontal-impact test. The independent Insurance Institute for Highway Safety rated the Charger as Good -- the highest possible rating -- in every category.
Behind the Wheel
Not surprisingly, driving the V6-powered Charger is less enjoyable with the 5-speed automatic than with the 8-speed. The 5-speed unit shifts abruptly at times, and its gears are spaced too widely to take advantage of the V6's capable power band, which features most of its power at mid-to-high rpm. With the 8-speed, on the other hand, the engine is allowed to access and stay in its sweet spot far more often.
Chargers with the Hemi V8s obviously offer more low-end torque than with the V6, but the 5-speed suffers from the same widely spaced gears as with the V6, making it easy to catch the Charger R/T flat on its feet. This is less true of the SRT-8, considering its monstrous output, but both V8s deserve a better transmission regardless. Still, the V8s deliver delicious acceleration and glorious V8 soundtracks, and that kind of performance has a way of making transmission gearing seem almost irrelevant.
The Charger is smooth and quiet on the highway, but it's happy to get aggressive in corners, especially with the SRT-8 model's 2-mode adaptive suspension. We like what Dodge has done with the steering, taking it from rental-car vague in the previous Charger to almost sport-sedan precise in this one. The only real downside is the Charger's bigness, which can make spirited driving on tight roads more stressful than entertaining. Provided you've got enough open space, this car's a hoot. Driven in a more relaxed manner, however, it is quite docile.
Other Cars to Consider
Chrysler 300 -- The mechanically identical Chrysler 300 ($29,995) is the Charger's uptown sibling, so you'll pay more, but you'll arguably get more -- as the 300 is more of a true luxury car than the Charger. Incidentally, it is also available with the high-performance SRT-8 treatment.
Hyundai Genesis -- The rear-wheel-drive Hyundai Genesis ($34,200) has crept up in price (and power) over the years in V8 form, but the Genesis V6 presents a more elegant alternative to upper-end Chargers.
Kia Optima SX -- There aren't many cars at this price point with memorable styling, ample backseats and power to keep up with the Charger, but with its potent, turbocharged 4-cylinder engine, the Optima SX ($26,800) surely qualifies. While it doesn't have rear-wheel or all-wheel drive, it can be considered a bargain-priced Charger V6 substitute.
AutoTrader's Advice
Unless you're a die-hard muscle car fan, we recommend the V6-powered Charger SXT with the new 8-speed automatic, particularly when equipped with one of the Charger's cool styling packages. It may lack the V8's punch, but it compensates with impressive refinement, high fuel economy and lower price. Our preference may change, though, if the V8s ever get a new transmission.