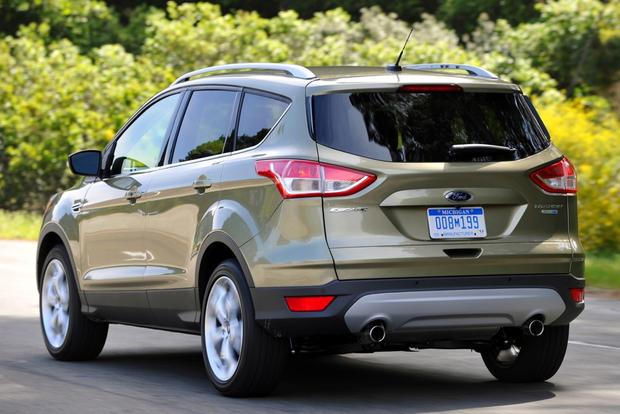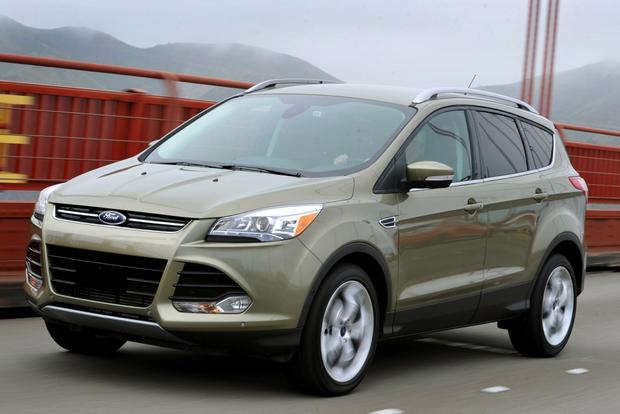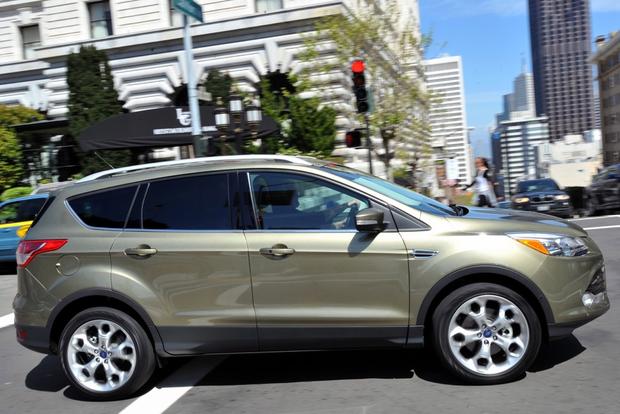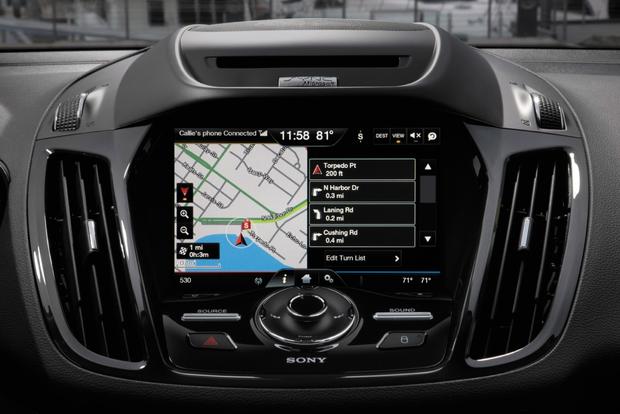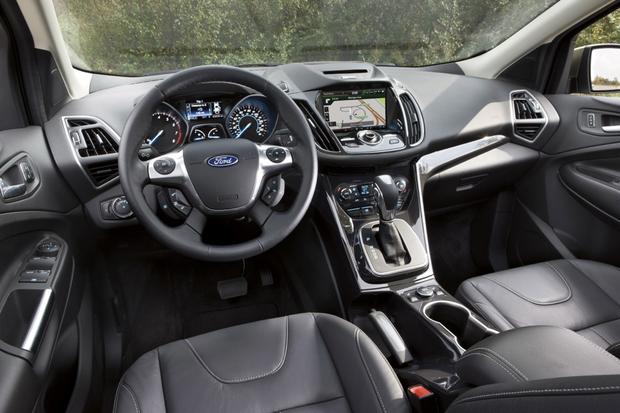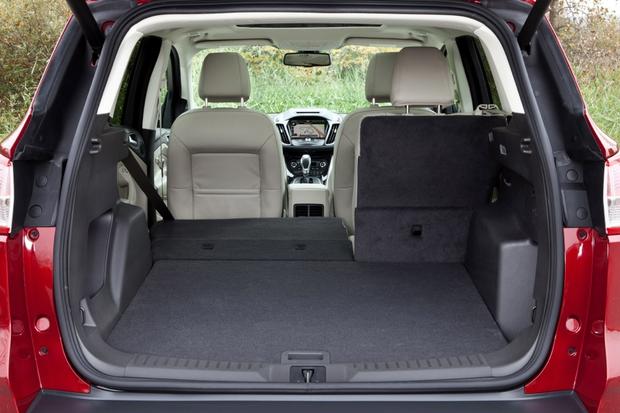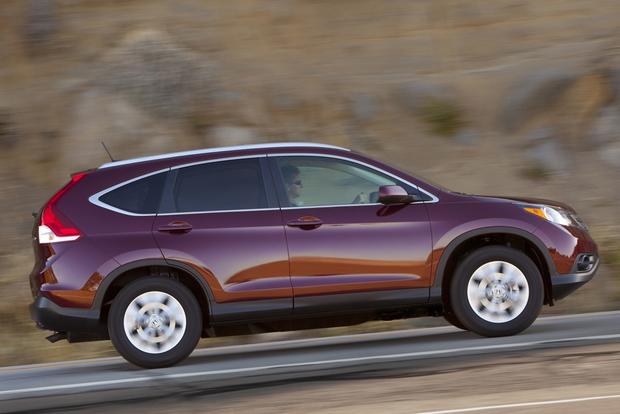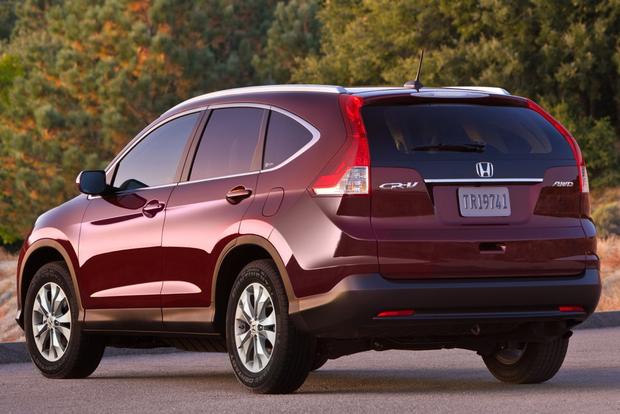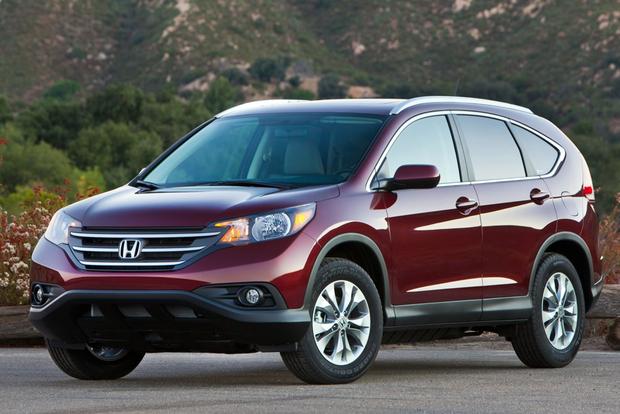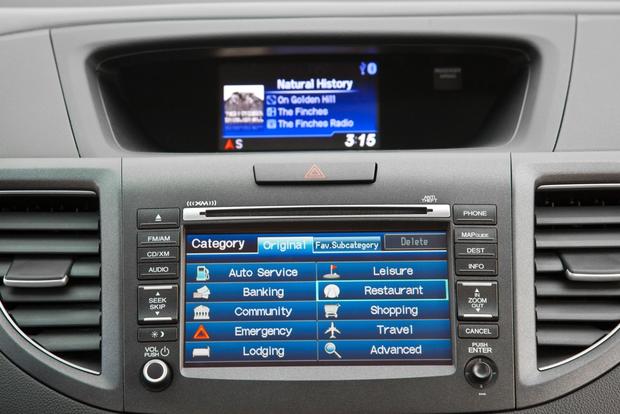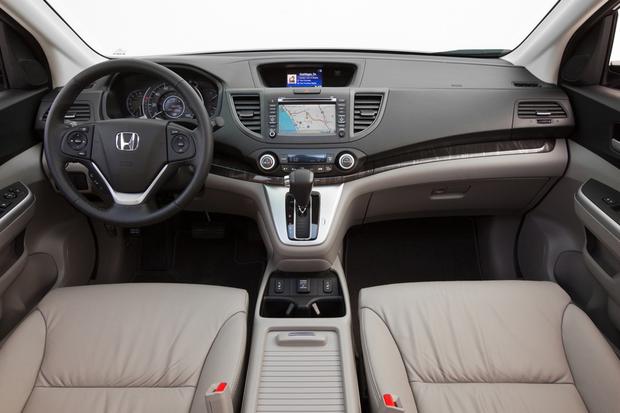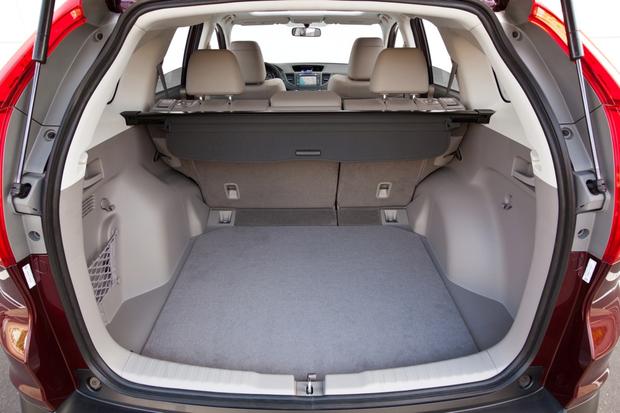 The 2014 Ford Escape and the 2014 Honda CR-V are the best-selling compact crossover SUVs in America. Both seat five people, have 4-cylinder engines and offer optional all-wheel drive. Naturally, consumers in the market for a small SUV may wonder: Which is better, the Escape or the CR-V? That's what we're going to find out. First, though, let's find out what is different for the 2014 model year.
2014 Ford Escape Highlights:
For 2014, Ford has discontinued the Escape SEL model, making its formerly standard and optional equipment available for the continuing Escape SE. Also, this year consumers can enjoy the convenience of the optional foot-operated power tailgate with the Escape's optional Class II trailer-towing provisions.

2014 Honda CR-V Highlights:
For the second year in a row since the CR-V was redesigned for 2012, Honda makes no changes to the popular compact crossover. It continues in LX, EX and EX-L trim levels, offered with a single engine and a choice between front-wheel and all-wheel drive.
Fuel Economy
The 2014 Ford Escape offers one of three engines, each paired with a 6-speed automatic transmission. The Escape S model comes with a 168-horsepower 2.5-liter 4-cylinder engine and front-wheel drive. The Escape SE and Titanium models are equipped with a 178-hp 1.6-liter turbocharged 4-cylinder engine from Ford's EcoBoost family of powerplants. The EcoBoost engine also makes additional torque (at lower rpm) compared to the Escape S model's engine, and can be optioned with all-wheel drive. Another option for the Escape SE and Titanium models is a 240-hp 2.0-liter EcoBoost 4-cylinder engine.
Compare the Ford's powertrain variety to what Honda offers in the 2014 CR-V. The only engine offered for the Honda is a 185-hp 2.4-liter 4-cylinder engine matched to a 5-speed automatic transmission. Front-wheel drive is standard, and all-wheel drive is optional.
Nevertheless, this lack of variety doesn't hurt the Honda when it comes to fuel economy. It returns 26 miles per gallon in combined city and highway driving with front-wheel drive, and 25 mpg with all-wheel drive. Those figures match the Ford's 1.6-liter EcoBoost engine, and best both the Escape's base engine and its powerful 2.0-liter EcoBoost option. Therefore, judged purely on fuel economy, the Honda squeaks out the smallest of victories. Had we been considering available horsepower and torque levels, though, the Escape would have come out on top.
Safety
Honda lands a more decisive win against the 2014 Ford Escape for safety. The Honda achieves a 5-star overall crash-test rating from the National Highway Traffic Safety Administration (NHTSA) and Good ratings from the Insurance Institute for Highway Safety (IIHS) in all assessments except the difficult new small overlap frontal-impact test, in which the Honda receives a Marginal rating.
Compare these results to the Escape, which receives a 4-star overall rating from NHTSA and Good ratings in all IIHS tests except the small overlap frontal-impact assessment, for which the Ford rates Poor. While Ford offers more safety-related technology to keep you out of trouble in the first place and installs features that can help speed rescue following a collision, the Honda better protects you during a crash -- and so, it is our victor.

Reliability
Ford redesigned the Escape for the 2013 model year, and the rollout was a little rough. The SUV suffered numerous recalls, including several campaigns to address potential engine fires with the most popular engine, the 1.6-liter EcoBoost. Not surprisingly, owners rated the 2013 Escape poorly for quality, according to J.D. Power, and for reliability, based on Consumer Reports survey data. Owner complaints about the Escape's optional MyFord Touch infotainment system certainly didn't help to lift the SUV's scores.
Comparatively speaking, a Honda CR-V is basically bulletproof, and has been for a long time. Take a look at survey results from Consumer Reports going back to 2004 and it is clear that these Hondas just don't break. This is also reflected in J.D. Power data regarding quality and dependability. That's why the clear reliability advantage goes to the Honda CR-V.
Value
If it's starting to look like a clean sweep for the Honda CR-V, the story changes when it comes to value. If you're leasing a new crossover SUV, the Honda results in a lower monthly payment thanks, in part, to an ALG depreciation rating of five stars. Right now, you can get a CR-V LX for $290 per month with nothing down. Simply drive away, make 36 consecutive payments and don't drive farther than 36,000 miles. Ford can't touch this deal with the Escape.
Most people buy a vehicle in this class, though. The 2014 Ford Escape is priced lower than the Honda, and Ford is offering rebates of up to $2,000. Zero-interest financing for 60 months is also available, combined with a $1,000 rebate. This means you're getting a discount from invoice price and you don't pay any interest. Honda can't touch this deal with the CR-V. Plus, since the Escape's ALG depreciation rating is a respectable four stars, it's not as though the Honda offers a significant benefit in retaining value over time.
Now consider that the Escape has a better warranty and includes free roadside assistance. These factors, combined with better deals when buying instead of leasing, let the Ford eke out a win on value. But if you're leasing, the Honda is the best bet.
Technology
Another area where Ford displays strength is with technology. Both crossover SUVs include standard Bluetooth connectivity and a reversing camera. While the Honda also includes Pandora Internet radio and a USB port, the Ford is ultimately offered with greater depth in standard technology by virtue of its Torque Vectoring Control system, SOS Post Crash Alert system, MyKey programmable vehicle safety features and a 911 Assist service that works whenever a smartphone is paired to the Escape's Sync technology.
While the company's optional MyFord Touch infotainment system has produced complaints by owners in customer satisfaction surveys, it is more sophisticated than the optional navigation system that Honda offers for the top-of-the-line CR-V EX-L model. Both SUVs are available with dual-zone automatic climate control, a premium audio system and satellite radio.
Also, the Ford can be fitted with rain-sensing wipers, Intelligent Access keyless passive entry with push-button starting, a 110-volt power outlet, a SecuriCode keyless entry system and front and rear parking sensors. Buyers can also opt for a Blind Spot Information System with Cross Traffic Alert, a power tailgate that can be opened by waving a foot underneath the rear bumper and an Active Park Assist system that steers the Escape into a parallel parking space while the driver operates the pedals.
The only unique option offered for the Honda is a DVD rear entertainment system, something that Ford dealers can install inside of an Escape as an accessory. Clearly, the technological advantage goes to Ford.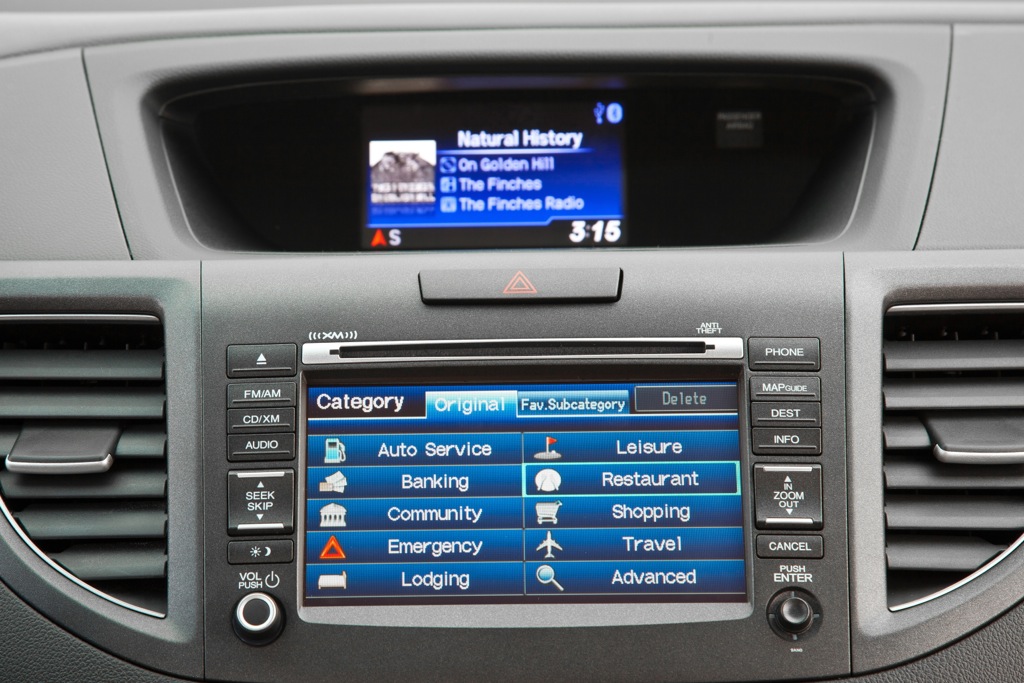 AutoTrader's Advice
Reliable, safe and fuel-efficient, the 2014 Honda CR-V is the better of these two crossover SUVs for simple practicality. However, the Ford delivers better value and greater technological sophistication, far more power from its optional EcoBoost engine and more variety in mixing and matching equipment. Plus, it nearly matches the Honda in combined fuel economy ratings.