Car Comparison
2014 Ford Explorer vs. 2014 Chevrolet Traverse: Which Is Better?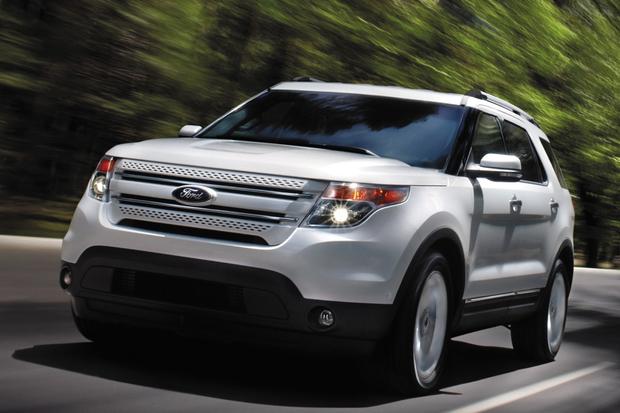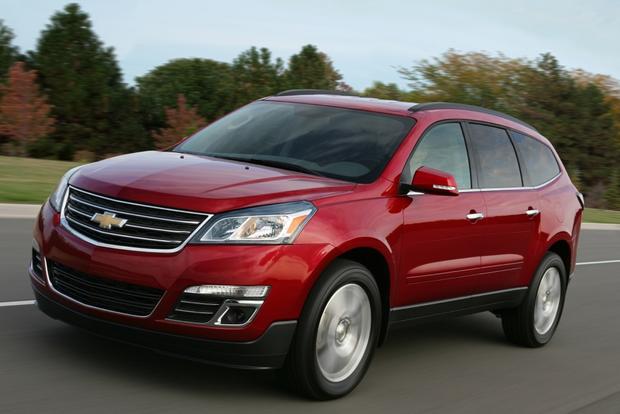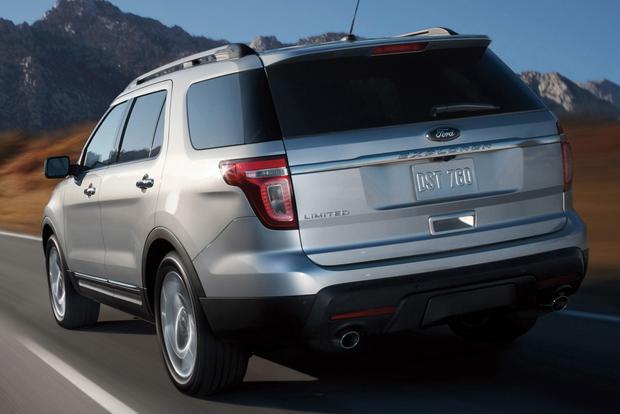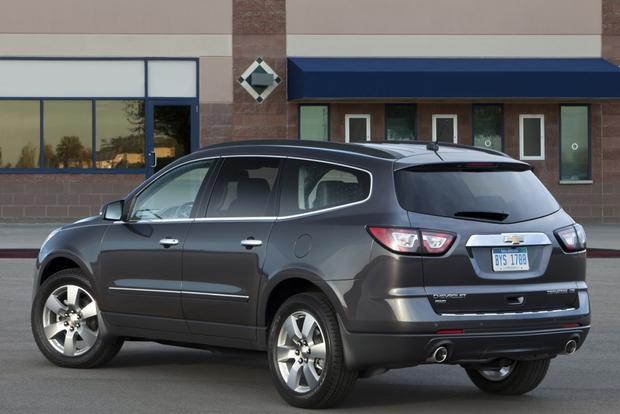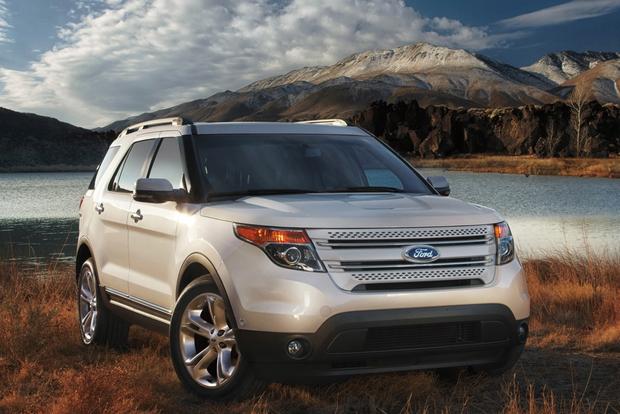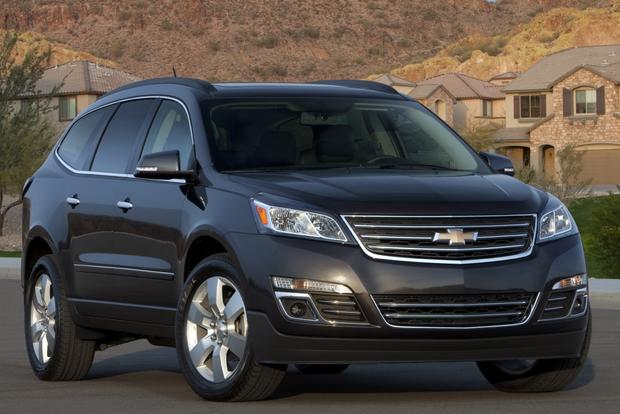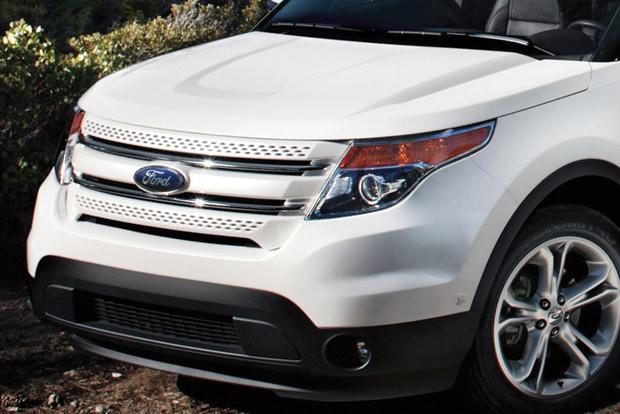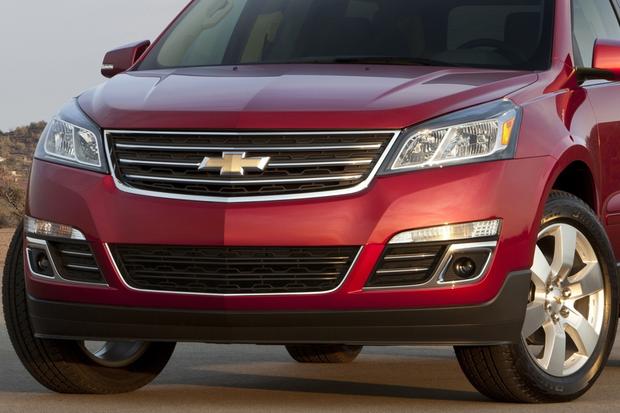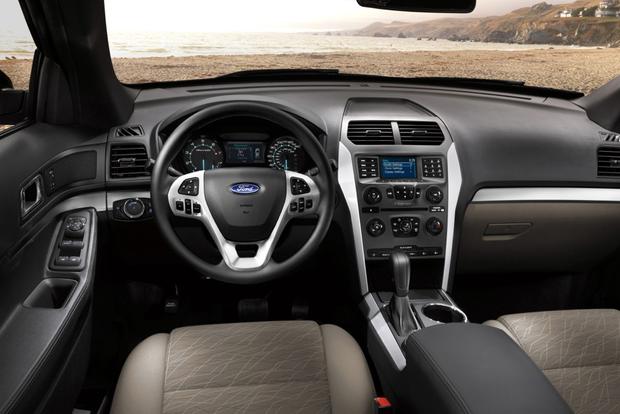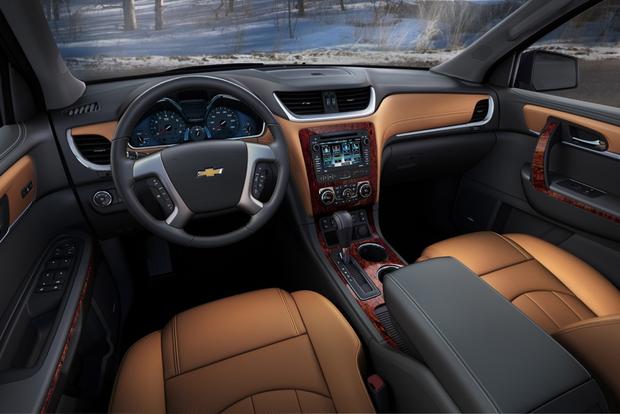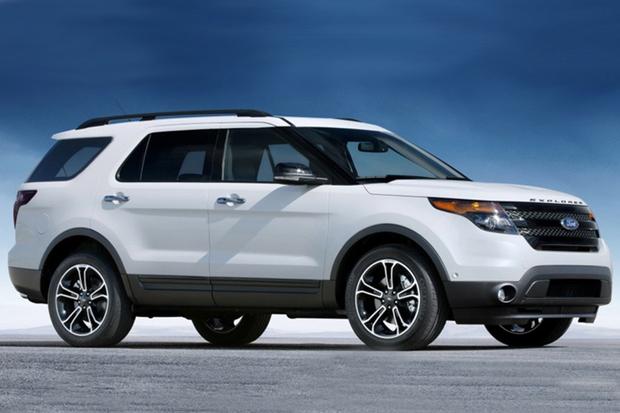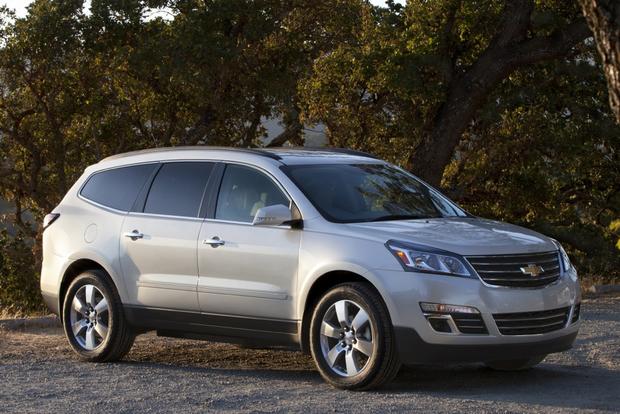 If you're interested in a new family crossover, the Ford Explorer and Chevrolet Traverse are most likely on your shopping list. Offering a long list of family-friendly features and a wide range of benefits, both models are among the most popular American-made family crossovers available today. Which is better? We took a detailed look at both SUVs to find out, but first, here's what's new with both 2014 models.
2014 Ford Explorer
The 2014 Ford Explorer has only minor updates, including newly standard automatic headlights and newly standard rear heated seats in Limited models.
2014 Chevrolet Traverse
After major updates to the 2013 model, the 2014 Traverse offers only minor changes. These include more charge-only USB ports and some newly standard safety features in the top-end LTZ trim.
Reliability
Both the Explorer and Traverse offer the same predicted reliability rating: three out of five circles in J.D. Power's Power Circle Ratings, which indicates average reliability. The Traverse takes a slight edge in terms of warranty coverage, however. In addition to offering a longer powertrain warranty (5 years/100,000 miles versus 5 years/60,000 miles), the Traverse boasts 2 years (or 24,000 miles) of free maintenance.
Fuel Economy
The Traverse is only offered with one engine: a 3.6-liter V6 that makes 281 horsepower and 266 lb-ft of torque. Mated to a standard 6-speed automatic, it returns 17 miles per gallon in the city and 24 mpg on the highway with front-wheel drive or 16 mpg city/23 mpg hwy with all-wheel drive. The Explorer, meanwhile, boasts a 290-hp 3.5-liter V6 that roughly mirrors those ratings: 17 mpg city/24 mpg hwy with 2-wheel drive or 16 mpg city/22 mpg hwy with all-wheel drive.
In regard to fuel economy advantage, the Explorer has a trick up its sleeve: an available 4-cylinder powerplant. Shoppers who choose that engine will get 240 hp and 270 lb-ft of torque, and they'll also see an Environmental Protection Agency (EPA)-rated 20 mpg city/28 mpg hwy. This gives the Explorer a slight advantage in terms of gas mileage.
Safety
When it comes to crash-test ratings, both the Explorer and Traverse earned a perfect 5-star rating in government testing carried out by the National Highway Traffic Safety Administration. In crash tests conducted by the nonprofit Insurance Institute for Highway Safety, both models also performed well.
As for actual safety equipment, the Traverse and Explorer are very similar. Both have nearly all the features that one might want, including lane-departure warning, an available backup camera and forward-collision alert. The Explorer takes things just a bit further than the Traverse, however, by offering forward-collision mitigation, which helps stop the car in the event of a crash, lane-keep assist, which steers you back on course if you start to drift from your lane, and adaptive cruise control, which can increase or decrease your speed depending on traffic conditions. As a result, we'd say that the Explorer has the safety section by a nose, although shoppers who don't plan to spring for all of the latest gadgets will probably be just as satisfied with the Traverse.
Technology
Both the Explorer and Traverse offer a wide range of high-tech gadgets, including two infotainment systems: MyLink in the Traverse and MyFord Touch in the Explorer. Additionally, both crossovers offer a wide range of safety gadgets, including lane-departure warning, a backup camera and forward-collision alert. If technology is your thing, we think you might prefer the Explorer.
As mentioned in the safety section, the Explorer has more high-tech safety features than the Traverse. These include a forward-collision system with brake priming, available adaptive cruise control, and a lane-departure feature that can actually help you stay in your lane. The Explorer also boasts several impressive convenience features not offered in the Traverse, including automatic high beams and power adjustable pedals with memory. These features, along with a slightly larger infotainment touchscreen, explain why we prefer the Explorer to the Traverse when it comes to technology.
Value
American-made crossovers are notoriously high on value, and the Chevrolet Traverse and Ford Explorer are no exception. In the end, however, we found that the Explorer has a slight leg up in terms of pricing and features per dollar. Not only is it a little less expensive than the Traverse, but the Explorer also includes more standard equipment and has a wider range of high-tech and safety gadgets. Owing to its larger size, the Explorer also offers more cargo volume and better interior dimensions, and that makes it our pick for drivers looking to stretch their dollar for the best possible family crossover.
AutoTrader's Advice
Although the 2014 Ford Explorer and the 2014 Chevrolet Traverse are highly competitive 3-row crossovers, we think that the Ford Explorer is a little better. It has more advanced technology, a larger touchscreen, and available comfort and convenience features that the Chevrolet just doesn't offer. It also has a wider range of safety equipment. Additionally, it's a little bigger inside and has a fuel-efficient 4-cylinder engine option for drivers who want to save money at the pump. These may sound like small advantages, but when you add them up, the Explorer beats the Traverse.
Find a Ford Explorer or a Chevrolet Traverse for sale