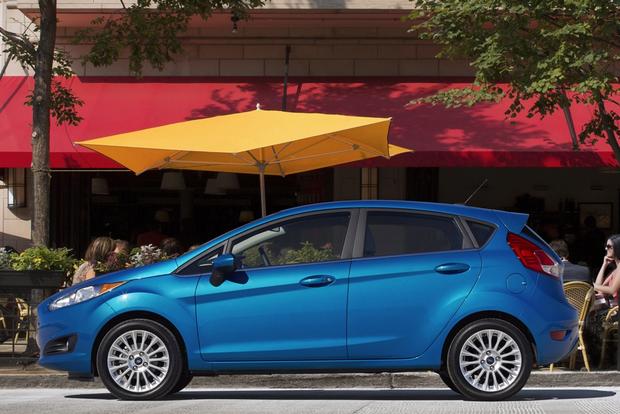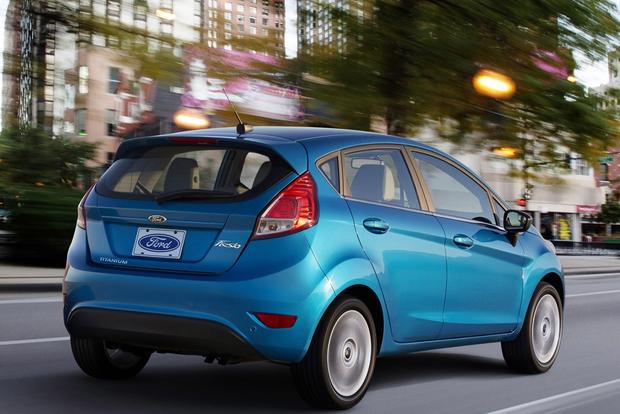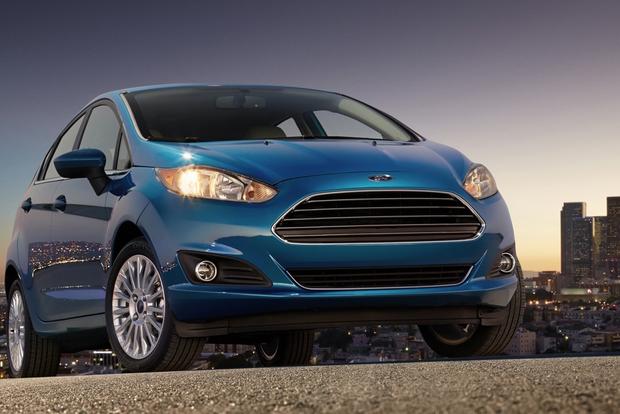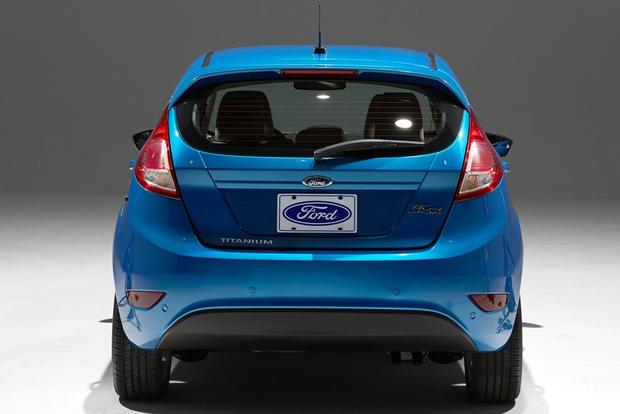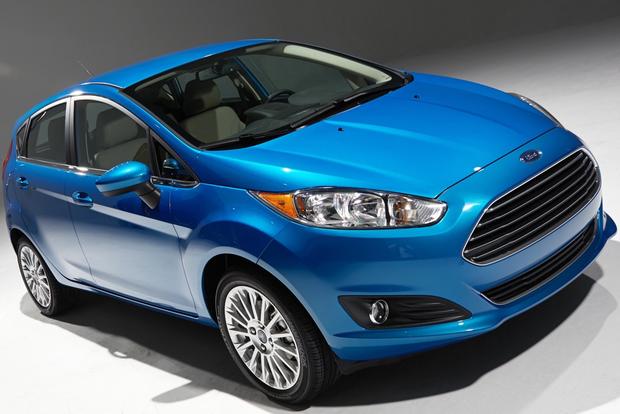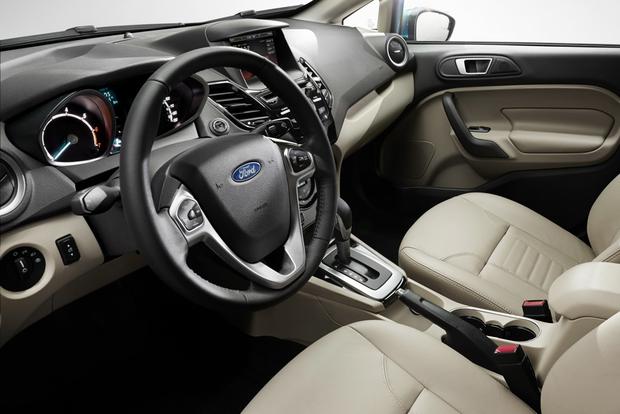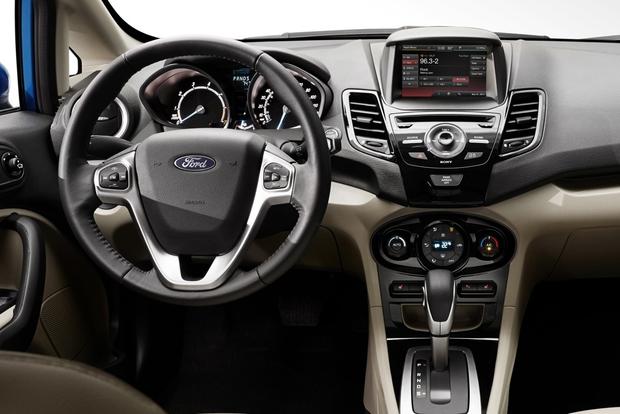 The 2014 Ford Fiesta subcompact is a 180-degree departure from the company's other attempts to enter the minicar market. Borrowed from Ford of Europe, the Fiesta is not only fuel-efficient but smartly styled and loaded with features befitting much more expensive cars. It's also a blast to drive, particularly in high-performance, turbocharged ST form. Not as quirky as the Honda Fit, the Fiesta's appeal is aimed at fashion-forward youth who demand elegant design.
In the Fiesta, Ford hasn't just changed the small-car image; it has brought a new level of style and sophistication to the game. The Fiesta comes in a dazzling assortment of colors both inside and out, and it offers some of the Ford's best audio and communications technology even on the more budget-minded trims. Plus, the Fiesta offers a novel, turbocharged 3-cylinder engine that's sure to drum up curiosity among shoppers in this segment.
What's New for 2014?
The Fiesta welcomes the high-performance ST model into the fold, as well as an optional 3-cylinder turbocharged engine that enhances fuel economy. Also, the Fiesta can be equipped with the MyFord Touch infotainment system, an extraordinary feature at this price.

What We Like
European-inspired styling; high-end interior and features; great gas mileage; strong resale value; go-kart-like handling; serious performance with the ST

What We Don't
Higher-end models can be pricey; rear seat is small; wind and road noise levels a bit intrusive

How Much?
$14,795 to $22,195

Fuel Economy
With only 120 horsepower and 112 lb-ft of torque under the hood, the base Fiesta struggles sometimes, especially with hills. However, the Fiesta's diminutive power ratings are offset by its ability to sip fuel, something the base car does exceedingly well with an Environmental Protection Agency fuel estimate of 27 miles per gallon city/38 mpg highway for the 5-speed manual transmission, and 29 mpg city/39 mpg hwy for the dual-clutch 6-speed automatic transmission. The SFE package (SE models only) bundles various aerodynamic tweaks with low-rolling-resistance tires, which bumps the mileage up to 30 mpg city/41 mpg hwy.
The ST has a turbocharger that increases output to 197 hp and 214 lb-ft of torque. You better like driving stick though, because a 6-speed manual is the only available transmission. Fuel economy is 26 mpg city/35 mpg hwy, an amazingly high rating for such a quick car.
Keep an eye out for the Fiesta's upcoming 1-liter, 123-hp turbocharged 3-cylinder engine as an option on mainstream models. Hard numbers were not available as of this writing, but we're told to expect a highway number of well over 40 mpg.

Standard Features & Options
The 2014 Ford Fiesta is available as a sedan or 4-door hatchback in S, SE or Titanium trim, while the high-performance ST is offered only in the hatchback body style.
The S ($14,795) starts with 15-inch steel wheels, power exterior mirrors and door locks, manual windows, air conditioning, the SYNC voice-command system with Bluetooth and iPod/USB connectivity, a tilt-telescopic steering column and a 6-speaker audio system with an auxiliary input jack.
The SE ($16,245) adds 15-in alloy wheels, power windows, cruise control, interior accent lighting, a trip computer, a center console with armrest and a leather-wrapped steering wheel. Options include the MyFord Touch infotainment system, which contributes a 6.5-in touchscreen display, dual USB ports, an SD card reader and an available integrated navigation system.
The Titanium ($18,995) adds the MyFord Touch system as standard, plus 16-in alloy wheels, fog lights, chrome exterior trim, keyless entry/ignition, an auto-dimming rearview mirror, a rearview camera with rear parking sensors, leather upholstery and a Sony audio system with satellite radio.
Finally, the ST ($22,195) comes with much of the Titanium's standard equipment, including MyFord Touch, but adds performance items like 17-in alloy wheels, a sport body kit, a 6-speed manual transmission, aluminum pedals and dual exhaust tips.
Some of these desirable standard features are offered on lower trim levels as options. A sunroof is optional across the board.
In terms of interior space, the little Fiesta is actually quite accommodating. It has room for four adults, though the front-seat passengers enjoy the lion's share of head- and legroom. Unfortunately, when compared with the Honda Fit, Nissan Versa and Toyota Yaris, the Fiesta comes up a few inches short on rear-seat legroom. Both body styles feature 60/40 split folding rear seats. But on the hatchback, this feature creates an impressive cargo hold big enough to fit in a couple of snowboards or a weekend's worth of gear.

Safety
The 2014 Fiesta is equipped with front-side impact and full-length side-curtain airbags, as well as a driver's knee airbag. Electronic stability and traction control are also standard, as is ABS.
The Fiesta performed very well in both National Highway Traffic Safety Administration and the Insurance Institute for Highway Safety crash testing. The former gave the Fiesta four stars out of five overall, while the latter deemed the Fiesta Good (the highest rating) in all impact categories.

Behind the Wheel

Who says you need horsepower to have fun behind the wheel? The Fiesta might not offer gut-punching acceleration in most forms, but it will have you smiling ear to ear as you push it through twisting back roads and around hairpin curves. The 5-speed manual transmission is a delight, with short, quick throws and fluid action, allowing for effortless gear changes. Most people are likely to opt for the 6-speed SportShift dual-clutch automatic, which allows for manual gear changes but isn't quite as fun as the traditional manual.
The Fiesta's suspension is firm and well modulated, absorbing enough road imperfection to make the ride comfortable but not too soft. Even the electric power steering unit does a good job of delivering reasonable feedback to the driver. We'll always prefer the feedback of a hydraulic system, but the electric-assist steering is tolerable since it saves on weight and fuel consumption. The only major complaint is sound-related: a noticeable wind whistle outside the Fiesta's driver's-side window and tire and engine noise inside the cabin.
As for the new ST, it's a true hot hatch, bringing nearly 200 turbocharged horses to bear on a genuinely engaging suspension setup. We can't wait to get one on the racetrack and pit it against established stars like the MINI Cooper S.


Other Cars to Consider
Honda Fit -- The Fit has a stronger resale value, more rear-seat legroom and vastly more cargo space.
Chevrolet Sonic -- With great fuel economy and available features, the Sonic is a natural rival to the Fiesta.
Kia Rio -- The Rio gives the Fiesta a run for its money in both the styling and performance departments, plus it has Kia's generous factory warranty.


AutoTrader's Advice
Although just about every Fiesta is a compelling little proposition, our pick for 2014 is the ST. It packs a big performance punch at a relatively low price.