Car Comparison
2014 Ford Fiesta vs. 2014 Chevrolet Sonic: Which Is Better?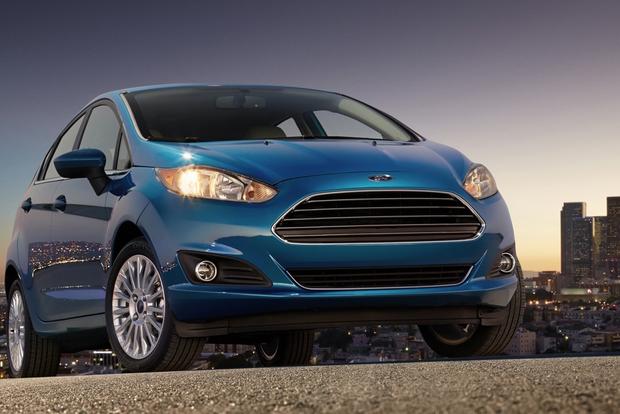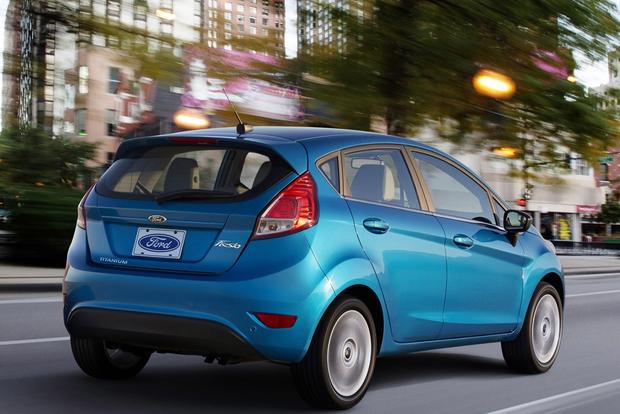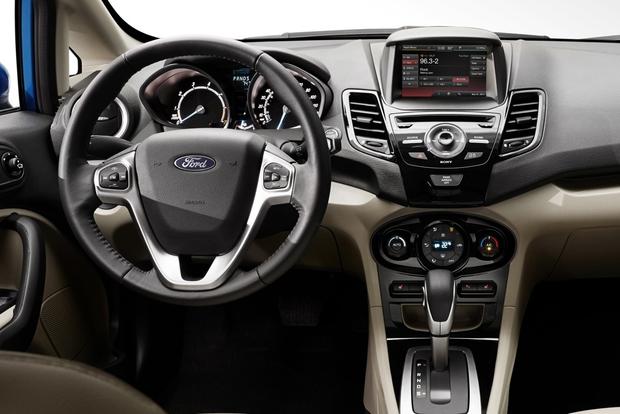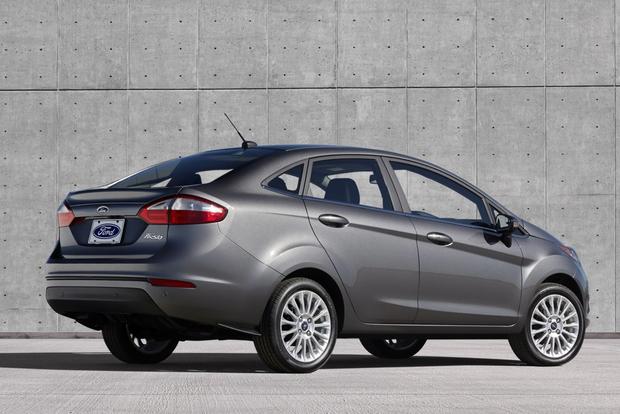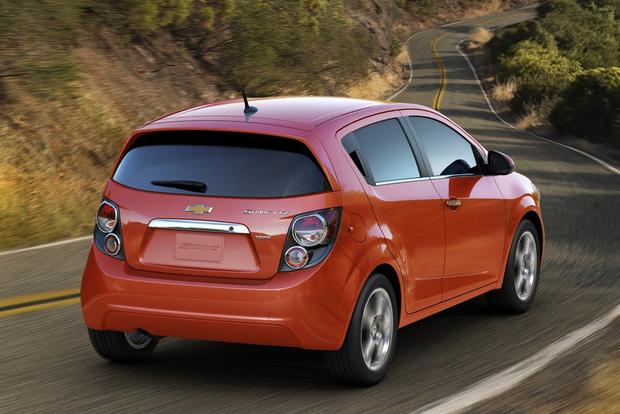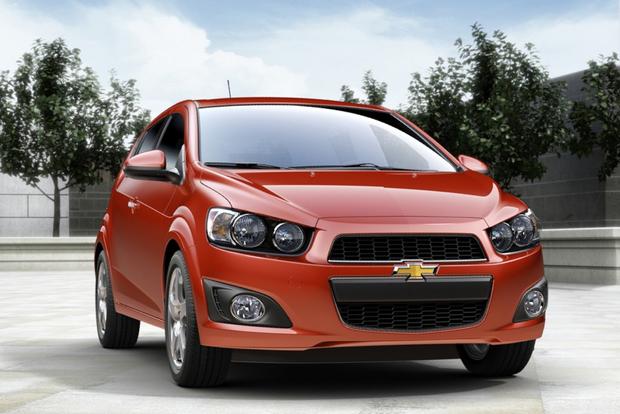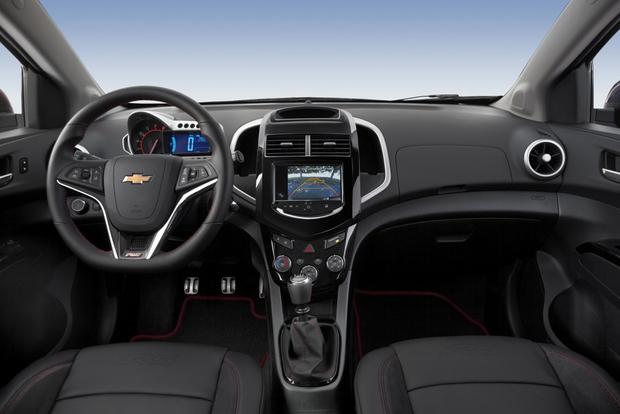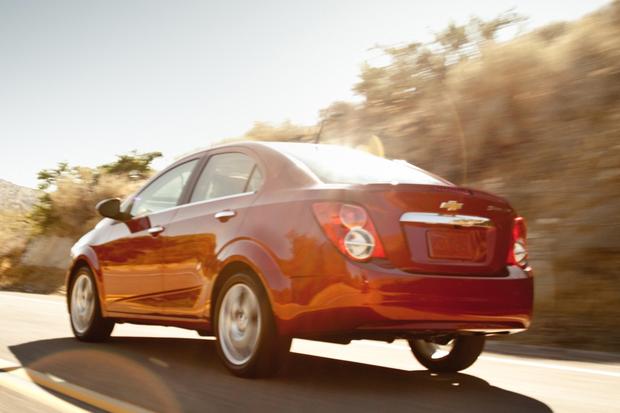 While the classic Chevy vs. Ford debate is most commonly waged over pickup trucks and muscle cars, fans of each brand can also take sides when it comes to the 2014 Chevrolet Sonic and 2014 Ford Fiesta. Each of these entry-level cars is offered in 5-door-hatchback and 4-door-sedan body styles, and each can be equipped with upgrades more commonly associated with more expensive vehicles.
Let's see what changed this year for each of these cars, and then we'll try to determine which one is better.
2014 Chevrolet Sonic
For 2014, Chevrolet adds sporty RS and upscale Dusk Edition versions of the Sonic Sedan to the lineup. New options include a package for LT models containing a power sunroof and the MyLink infotainment system, and an Advanced Safety package including forward-collision warning and lane-departure warning systems. Additionally, a new reversing camera is standard for the LTZ and RS models and optional for the Sonic LT. Three new colors also debut.
2014 Ford Fiesta
Ford reworks the Fiesta for 2014, refining the styling, introducing a new turbocharged 3-cylinder engine option, and adding a performance-tuned Fiesta ST model to the lineup. MyFord Touch technology debuts in Ford's least expensive model, and parents of young drivers will appreciate the new MyKey technology, which can limit the volume of the new Sony premium audio system, among other things. Colors are freshened up, too.
Reliability
Neither of these small cars is a reliability rock star, based on data from Consumer Reports and J.D. Power, but the Chevy Sonic appears to deliver a solidly average performance in this regard, while the Ford Fiesta ranks below average. Plus, the Sonic's warranty includes 40,000 extra miles of powertrain coverage and roadside assistance compared to the Fiesta. For both cars, though, the warranty is limited to five years.
Given these findings, the Chevy Sonic appears to be the more reliable choice.
Fuel Economy
With the debut of a new turbocharged, 1.0-liter 3-cylinder engine in the 2014 Fiesta, the Ford edges the Chevy in terms of fuel economy. Across the board, the lightweight Ford earns superior fuel economy ratings, ranging from a low of 26 miles per gallon in the city for the performance-oriented Fiesta ST to a high of 45 mpg on the highway for the new EcoBoost 3-cylinder engine.
Comparatively speaking, the heavier 2014 Sonic is less fuel efficient, rated to get 25 mpg in the city in sport-tuned RS trim, while maximum mileage rates 40 mpg on the highway. Therefore, victory goes to the 2014 Ford Fiesta when it comes to fuel efficiency.
Safety
While the Chevy Sonic's heavier curb weight proves detrimental to fuel economy, it works in the car's favor when it comes to safety. Up to about 4,000 pounds, the more a car weighs, the better it fares in a collision with larger vehicles. It helps that the Sonic includes 10 standard airbags, is equipped with a trial 6-month subscription to OnStar telematics with automatic crash notification, and can be optioned with a reversing camera, a forward-collision warning system and a lane-departure warning system. Chevy still hasn't installed a blind spot monitoring system, though.
That's OK, because the Fiesta doesn't have one, either. It does include seven airbags and standard blind spot mirrors. The Fiesta can also be upgraded with Ford's MyKey technology, which allows a parent to program vehicle speed and stereo volume limits, as well as seat-belt-usage warnings. A reversing camera, rear parking-assist sensors and Sync Services with 911 Assist are optional for the Fiesta.
As for how these cars perform in crash tests, the Chevy Sonic earns 5-star ratings for frontal- and side-impact protection from the National Highway Traffic Safety Administration, while the Ford Fiesta gets an overall 4-star rating. Unfortunately, the Fiesta's side-impact protection rating for the rear-seat passenger in a side-impact collision is just two stars. Both vehicles are rated highly by the Insurance Institute for Highway Safety, except for the small-overlap frontal-impact test, in which each car earned a Marginal rating.
All things considered, the Chevrolet Sonic is more likely to protect its occupants in a crash and to help avoid one in the first place.
Technology
As is sometimes the case, your choice between a 2014 Chevy Sonic and a 2014 Ford Fiesta might be based purely on the available technology offered as standard or optional equipment. In this regard, the Fiesta's new MyFord Touch infotainment system and its Sync AppLink and Sync Services systems match up well to the Sonic's MyLink infotainment system and OnStar services.
The Chevy includes Siri Eyes Free technology for iPhone users, but the Fiesta better supports incoming and outgoing text-messaging capability. You can even receive incoming tweets in the Ford. Plus, the Fiesta can be upgraded to a passive keyless entry system with push-button starting, a Sony premium audio system with HD Radio, automatic climate control, and a navigation system with real-time traffic and weather reports. The Sonic's larger touchscreen and lusher graphics sure are nice, though, and the car's inexpensive BringGo navigation app is compelling.
I'm going to call this one a tie. When it comes to technology, whether you choose the Chevy or the Ford is dependent on what you value the most.
Value
Now that the Fiesta's optional 1.0-liter EcoBoost 3-cylinder engine is available, Ford is putting some marketing muscle behind it, giving buyers an extra $1,000 as an enticement to buy this fuel-efficient option. The stack of Benjamins is on top of $1,250 in existing rebates. Alternatively, Ford will stash $500 in cash into your pocket and let you finance a Fiesta with a zero-interest loan for 60 months.
Currently, Chevrolet can't compete with these programs. While the Sonic is equipped with Chevrolet Complete Care, which gives the owner free scheduled maintenance for the first two years or 24,000 miles of ownership, further enticements amount to a $500 rebate or a 60-month loan at 3.9-percent financing, but not both. Plus, the Sonic wears a higher price tag in the first place.
Given that both of these cars receive average cost-of-ownership ratings from Kelley Blue Book and that each is expected to retain its value in average fashion, there's no denying that the Fiesta is the better value right now.
AutoTrader's Advice
These two small, entry-level cars are evenly matched up in general, but the 2014 Chevrolet Sonic is bigger, safer and more reliable, with only a slight penalty in terms of fuel economy. That's why we recommend getting the Chevy over the 2014 Ford Fiesta. But that Fiesta ST sure is cool, isn't it?