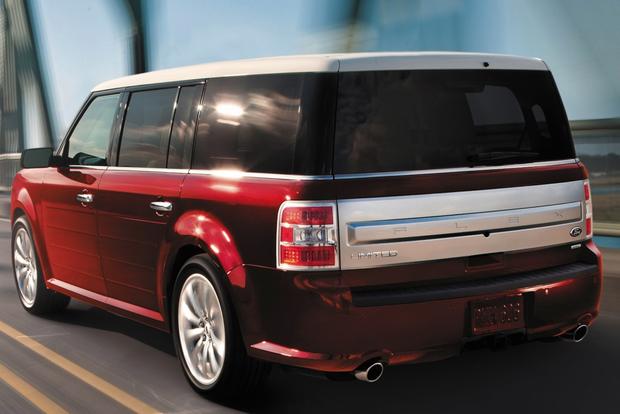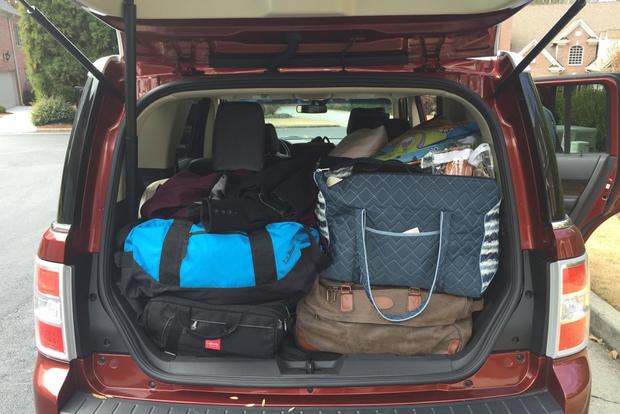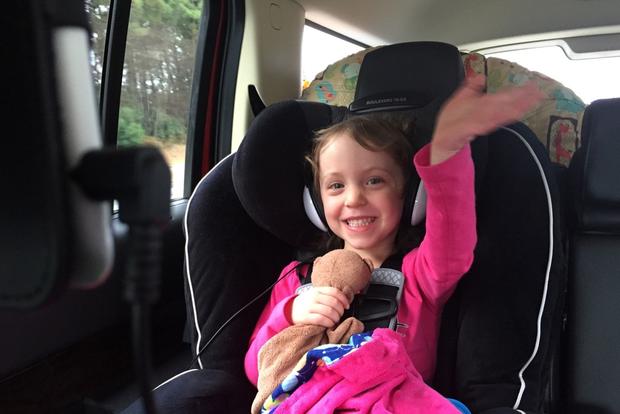 I've never felt more like one of the Griswolds than I did at the helm of a 2014 Ford Flex Limited AWD on our recent Thanksgiving road trip. Picture this: a 3-row SUV filled to the brim with suitcases, duffel bags, a stroller, a portable high chair, several bags of snacks, two pillows, tons of toys and a few other random necessities for a week-long vacation with children. Oh, and throw in three adults (me, my husband and my mother) and two car seats, complete with a 7-month-old and a 3-year-old.
Precious Cargo
Our cargo space was limited because my mom was sitting in the way back, using up half of the third row 50/50 bench. I now see why families with multiple kids opt for a minivan or something massive like a Chevrolet Suburban. Cargo space is crucial, especially on a road trip, and the Flex is definitely lacking a little in that department when someone is seated in the third row.
Another small gripe has to do with access to the third row. Our test car had the standard second-row 3-person bench seat, and we used the Flex's LATCH system to install two car seats -- one behind the driver and one behind the passenger. In order for anyone to get into the third row, my son's infant carrier had to be removed from the installed base so that we could lift the lever on the side, slide the seat forward slightly and crawl into the back. I would absolutely recommend opting for two second-row captains chairs in the Flex if you have small kids in car seats and will be using the third row on a regular basis. Or if you really like bench seating (and the option of seating for seven), you can explore Nissan's EZ Flex system in the 2015 Pathfinder.
Features and Functions
The intuitive Ford SYNC information and navigation system estimated our trip to Kiawah Island, South Carolina, from Atlanta would take us 5 1/2 hours (ha!). We got on the highway, and I was immediately impressed with the Flex's quiet ride. Adaptive cruise control was easy to use and very necessary for alleviating driver fatigue (which triples when you have a little person's voice incessantly asking "Are we there yet?" from the back seat). The 3.5-liter V6 EcoBoost engine packed a nice punch when passing and merging, and overall the Flex is really easy to drive, despite its large size.
From an aesthetic point of view, the Flex is a really good-looking car. It's different than anything else you'll find on the road, with its white 2-toned roof ($395 well spent, in my opinion) and low, boxy shape. The Flex looks much cooler than a minivan does, but ultimately may be less capable when it comes to hauling a combination of people and cargo.
Seven hours later, we arrived in South Carolina, happy to be off the open road. Yes, we were packed in pretty tight due to the number of people we had with us and the sheer volume of stuff it takes to go away with two small children for a week, but that didn't negatively impact my opinion of the 2014 Ford Flex. I might choose to road trip in something a little bigger next time (I'm looking at you, Honda Odyssey), but the Flex (with captains chairs) would definitely be on my list of great family-friendly SUVs to consider.
For the purposes of evaluation, the vehicle's manufacturer provided AutoTrader.com with a car, free of charge.