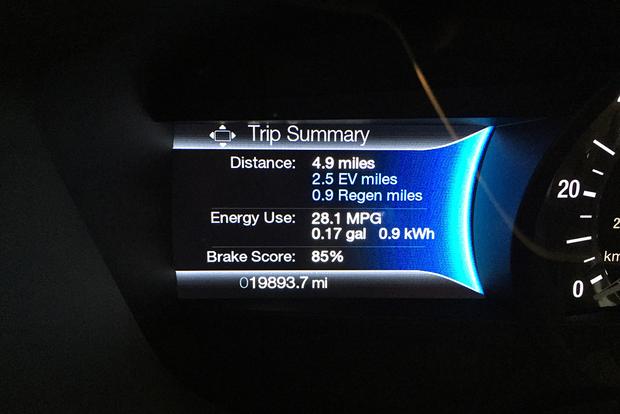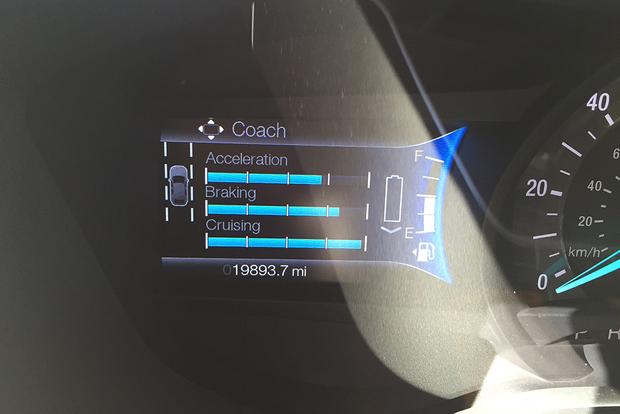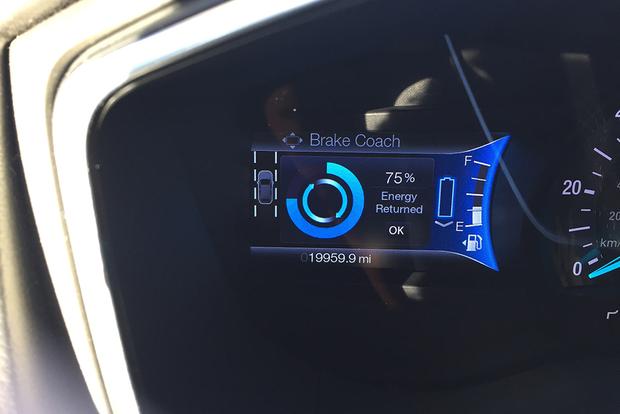 If you're looking for information on a newer Ford Fusion Energi, we've published an updated review: 2018 Ford Fusion Energi Review
AutoTrader is spending 100 days living with a plug-in hybrid version of the Ford Fusion. The vehicle's main driver is our managing editor, a young, working mother of two. Our goal is to see if the Ford Fusion Energi is easy for an average family to use on an everyday basis.
I've been driving the 2014 Ford Fusion Energi for more than a month now (37 days, to be exact), and while space is still an issue for my family, I have to say that I really like this car.
Gassing Up
The Energi arrived at the AutoTrader office with a full tank of gas, and since I'm mostly driving this in electric-vehicle (EV) mode, there's still over a quarter of a tank left. I bet we'll only have to fill it up once during our 100 days. If you're shopping for a hybrid or a plug-in hybrid such as this Ford Fusion Energi, you may only have to buy gas once a month or less depending on your commute. This is awfully nice considering the freezing temperatures in Atlanta right now. And we all know how much fun it is to stop for gas with two small children in the back seat.
Impressive Interior
We've spent a lot of time talking about the sleek, chic exterior of the Fusion Energi, but it's important to note that the interior is just as impressive. The seats are comfortable, the dashboard is modern and the overall vibe inside is pretty luxurious. For a family sedan, I'd say the Energi is a step up from your average Toyota Camry or Honda Accord. Then again, it probably should be, considering the cost of our test car: $44,620. That's a good chunk of money for a family sedan, but Ford has upgraded the car's interior so that the car looks and feels more appropriate for an over-$40,000 price tag. See the 2014 Ford Fusion Energi models for sale near you
Make the Grade
While I appreciate the ability to customize my displays within the car, one thing that I'm on the fence about is the EcoGuide gauge cluster. One of the options is a Brake Coach that's intended to help you optimize the Energi's regenerative braking system. The problem, though, is this: When you're a perfectionist like me, getting anything less than a score of 100 percent is crushing. This may seem silly, but I swear it brings me back to my high school days. Once I got a score of 67 and just about had a heart attack. This is way too much pressure for me on a daily basis.
We're more than a third of the way through our 100 days with the 2014 Ford Fusion Energi, and while it might not be the most practical choice for a family with young kids based on space alone, it's already clear that this plug-in hybrid sedan is a key player in the marketplace for a reason. Find a Ford Fusion Energi for sale