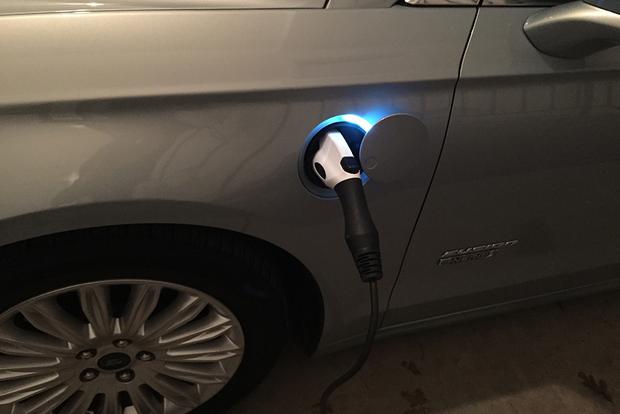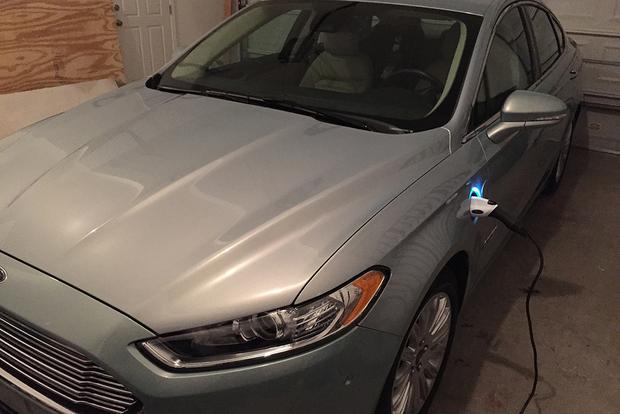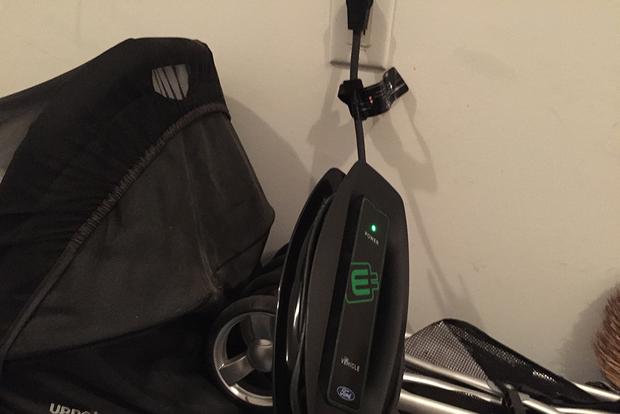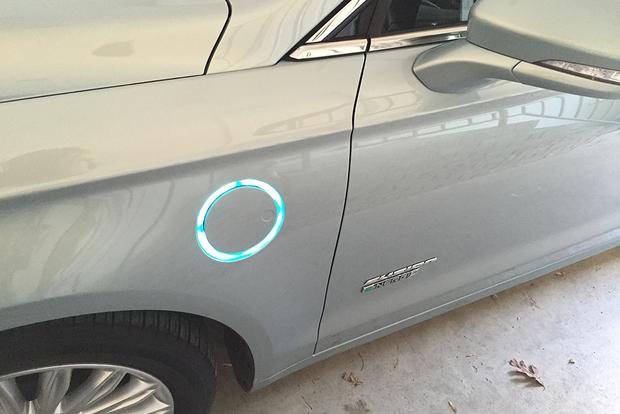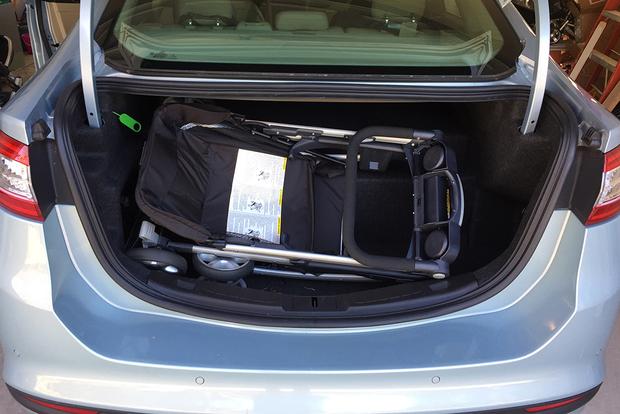 AutoTrader is spending 100 days living with a plug-in hybrid version of the Ford Fusion. The vehicle's main driver is our managing editor, a young, working mother of two. Our goal is to see if the 2014 Ford Fusion Energi is easy for an average family to use on an everyday basis.
Moms have a lot of stuff. And as much as I loved the thought of driving a plug-in hybrid for a few months to see how it would work for my family, my first thought was, "Where am I going to put all my stuff?"
Everything but the Kitchen Sink
I'm like a modern-day Mary Poppins. Toting around a 3-year-old little girl and an 8-month-old baby boy means that my car is typically filled to the brim with car seats, strollers, toys, snacks, sippy cups and anything else two kids might need on their short car ride to or from school. (Goldfish? Here you go! Princess Band-Aids? No problem!) So when I popped the trunk of our long-term 2014 Ford Fusion Energi to find that the cargo area was basically cut in half due to its clunky battery pack placement, I got a little nervous.
My son is still in an infant carrier, which I snap into a stroller base to take him in and out of day care. When I first tried to collapse the stroller and place it in the trunk, it wouldn't fit. It took AutoTrader Site Editor Brian Moody a few minutes to figure out that the handlebar had to be collapsed as well and the stroller had to be positioned in a certain way to fit. Oh, and it takes up the entire trunk, which means I can't put anything else back there with it. Not exactly the best start to my 100 days of driving the hybrid Ford Fusion.
A Slippery Slope
Aesthetically, the 2014 Ford Fusion is one of my favorite midsize sedans. (It's tied with the 2014 Mazda6.) Its sloping roofline makes for a really good-looking vehicle, but I never thought about what that would be like for a mom with two kids in car seats. First of all, getting the seats latched properly was challenging. Car seats aren't easy to install in the first place, let alone when the doorframe slopes downward and cuts off a good portion of your space to maneuver. SUVs have boxier door openings, making them prime for car seat installation. One more thing: My daughter bumps her head almost every single time she climbs into her seat. If anything, we're starting to see why so many young moms opt for SUVs or minivans instead of sexy-looking sedans like the Fusion.
Charge It
I think most people are under the impression that in order to have an electric vehicle (EV) or plug-in hybrid, you have to install a fancy (i.e. expensive) charging station in your home garage. Luckily, that's not the case. Our Fusion Energi comes with a 120-volt portable charging cord that plugs into any ordinary outlet. I've been leaving this cord at home and charging the car every night.
With the cold weather (it's been below freezing here in Atlanta), I've been averaging about 17 miles when fully charged. Now, blasting the heat, listening to the radio and using the seat warmers does use up a good portion of the battery, but if I charge the car at both work and home, I can use the Energi almost exclusively like an EV during the work week because my commute is so short (15 miles from home, to daycare, to work and back).
I love the idea of going green, plus not having to stop for gas in the cold weather sounds very appealing right now. I'm not sure how long I'll last without enough trunk space for all of my "stuff," but I'm definitely willing to give it a try.