Car Comparison
2014 Ford Fusion Hybrid & 2014 Ford Fusion Energi: New Car Review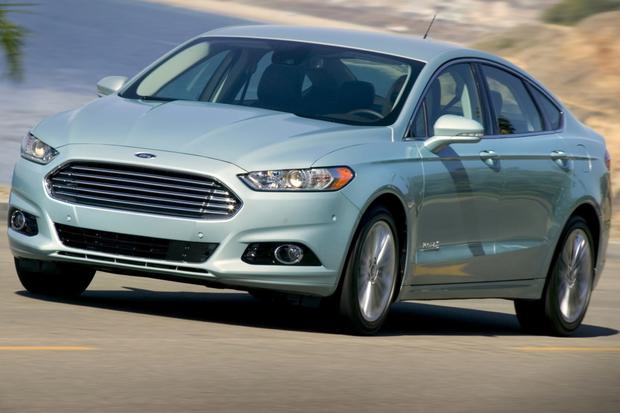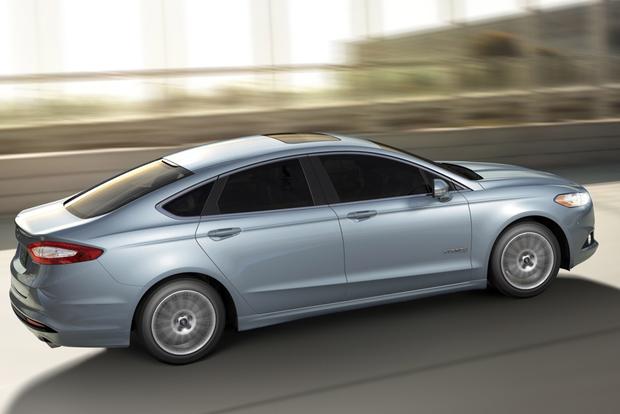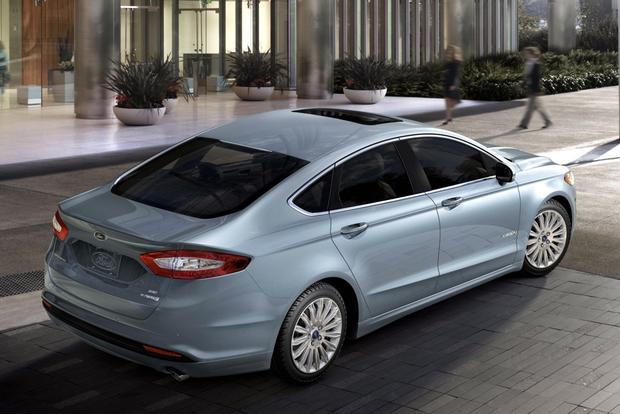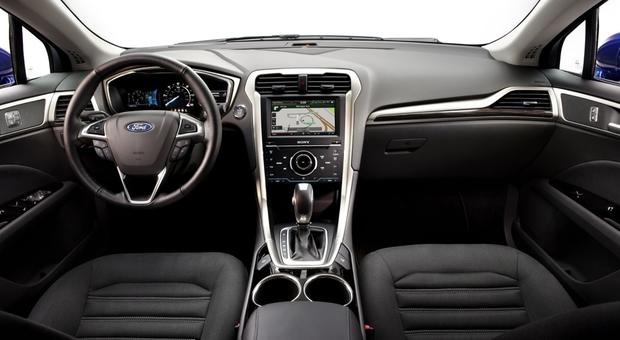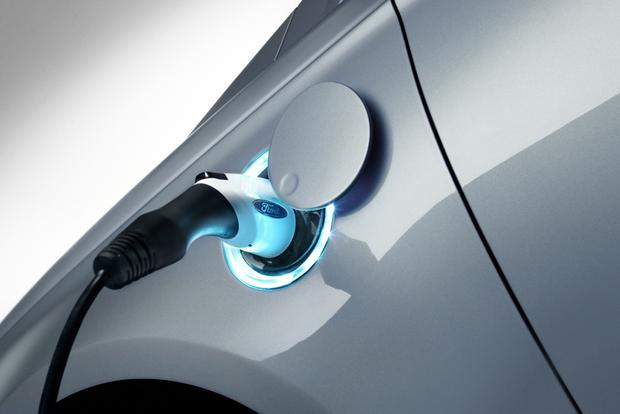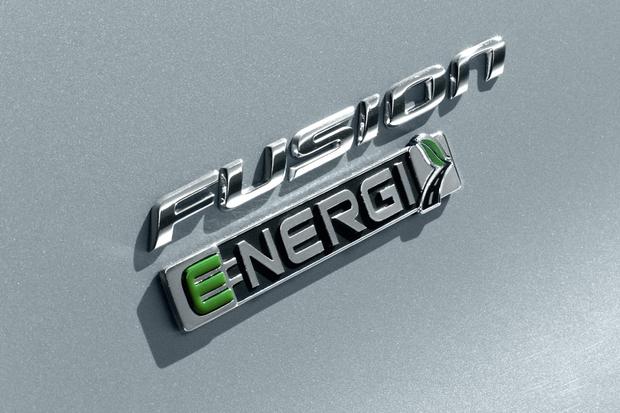 Suppose you're interested in the 2014 Ford Fusion, but you're not sold on its maximum of 37 miles per gallon on the highway. That's pretty good for a family sedan, of course, but you wouldn't mind a little more, or maybe you'd prefer to use no gasoline at all.
Fortunately for Fusion fans like you, Ford offers two additional variants with impeccable green credentials. The 2014 Fusion Hybrid delivers a whopping 42 mpg combined, while the 2014 Fusion Energi plug-in hybrid provides full electric propulsion for up to 20 miles on a single charge. And other than their reduced trunk capacity (hey, the battery pack's got to go somewhere), these eco-friendly Fusions are basically the same as their conventionally powered siblings.
But the best news of all may be the pricing. The Hybrid starts at just over $27,000, and even the top-of-the-line Energi Titanium model starts well under $40,000. That's a lot of technology for not a lot of coin. If you're looking for efficiency in this segment, these Fusions are a great place to start.
What's New for 2014?
Both the Hybrid and Energi get automatically inflating rear seat belts for enhanced crash protection, and the Energi also offers a heated steering wheel.
What We Like
Looks great; handles smartly; highly energy efficient; serious technology; family-sedan convenience
What We Don't
Narrow front seats; compromised trunk capacity due to hybrid/electric hardware; limited outward visibility
How Much?
$27,095-$37,325
Fuel Economy
The Fusion Hybrid employs the one-two punch of a 2.0-liter 4-cylinder engine and an electric motor (AC-synchronous type). Total system output is rated at 188 horsepower. The transmission is a continuously variable automatic. Fuel economy is estimated at a class leading 44 mpg city/41 mpg highway.
The Fusion Energi has the same powertrain, but it does the Hybrid one better by adding plug-in functionality. That means you can charge it up like a smartphone and run exclusively on electric power for up to 20 miles, thanks to a much larger battery pack in the trunk. After that, the gas engine kicks in, effectively turning the Energi into a regular hybrid. The Environmental Protection Agency gives the Energi a combined efficiency rating of 100. Once those 20 electric miles are up, however, it drops to 38 mpg combined -- slightly worse than the Hybrid model.
Options & Standard Features
The Fusion Hybrid and Fusion Energi are offered in three trim levels: S, SE and Titanium.
The Hybrid S ($27,095) starts with 17-inch alloy wheels, LED taillights, dual-zone automatic climate control, cruise control, dual LCD EcoGuide displays, a tilt-telescopic steering wheel with auxiliary controls, a height-adjustable manual driver seat, a trip computer, MyKey parental control capability, Sync voice-command functionality with MyFord mobile-app support and a 6-speaker audio system with an auxiliary input jack.
The Hybrid SE ($28,105) steps up to SecuriCode keypad access, heated exterior mirrors with puddle lamps, a 10-way power driver seat and satellite radio. It's also eligible for some options that don't apply to the base S: the Appearance package (18-in alloys, rear spoiler, fog lights, sporty interior trim) and Luxury package (leather upholstery, heated front seats, power passenger seat, memory functions, trim upgrades).
The Hybrid Titanium ($33,425) boasts 18-in wheels, fog lights, keyless entry with push-button ignition, leather upholstery, heated front seats with power passenger adjustments, rear parking sensors, a rearview camera, a leather-wrapped steering wheel with paddle shifters, an auto-dimming rearview mirror and an exclusive 12-speaker Sony audio system with the high-tech MyFord Touch interface.
The plug-in Energi SE ($35,525) is equipped similarly to the Hybrid SE, while the plug-in Energi Titanium ($37,325) is equipped similarly to the Hybrid Titanium.
Unfortunately, cargo capacity is compromised by the rather crudely installed battery pack, which creates an unsightly bulge in the trunk floor. To be fair, the Hybrid's trunk of 12 cu ft is pretty decent by hybrid standards, but the Energi drops to just 8.8 cu ft due to its larger battery pack.
Safety
The 2014 Ford Fusion Hybrid and 2014 Fusion Energi come standard with 4-wheel anti-lock disc brakes and eight airbags (front, front side, front knee, full-length side curtain). Crash-mitigating inflatable rear seat belts are optional.
Available electronic driving aids include a radar-based adaptive cruise control system with forward collision mitigation.
In government crash testing, the 2014 Fusion Hybrid received five stars out of five overall, including five stars for front impacts and four stars for side impacts. Oddly, the structurally similar 2014 Fusion Energi received five stars all around, including side impacts.
Behind the Wheel
In our interior evaluation, we were impressed with the sleekness of the Fusion's dashboard and controls. This is a technologically advanced vehicle, and it's got a cabin to match. Our slimmer staffers enjoyed the narrow, supportive front seats, but if you're broader of beam, you might find them a bit confining.
Rear passengers will likely have few complaints. Although the fastback rear roofline presents a challenge, Ford's engineers were up to the task, as there's enough headroom for 6-footers. Legroom is generous, as well. But given how long the Fusion looks from the side, you might expect even more.
Under the hood, the hybrid powerplant makes both the Hybrid and Energi feel quicker than they are, thanks to its always-on electric torque. The continuously variable automatic transmission is surprisingly responsive: When you floor it, these cars get up and go. The gas engine is rather noisy, though, especially at full throttle. With the Energi, of course, you may never have to listen to that gas engine if your commute is sufficiently short. It's a cool experience to be whisked along silently by the Energi's electric motor, and the all-electric acceleration is satisfying in its own right.
On the road, the Fusion Hybrid and Fusion Energi share the sporty demeanor of their conventional platform-mates. Corners are taken in stride, and the steering is sharp and direct. Around town, the Fusions ride a bit firmly but never harshly. Overall, there's a taut European feel here that's a nice bonus in this eco-conscious class.
Other Cars to Consider
Honda Accord Plug-In Hybrid -- New for 2014, the plug-in Accord is drawing rave reviews for its hybrid technology and frugal performance.
Toyota Camry Hybrid -- Although the Camry Hybrid can't quite match the Fusion Hybrid's fuel economy, it comes close. And it's still the standard by which other midsize hybrids are judged.
Toyota Prius -- Available as both a regular and a plug-in hybrid, the Prius' popularity speaks for itself. However, the plug-in version isn't as capable in full electric mode as the Fusion Energi.
AutoTrader's Advice
These are both excellent cars. If we had our druthers, though, we'd spring for the versatile Energi, as it isn't much more expensive than high-end versions of the regular Hybrid.