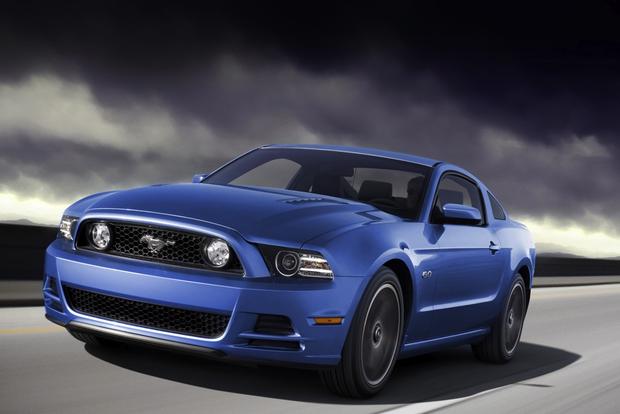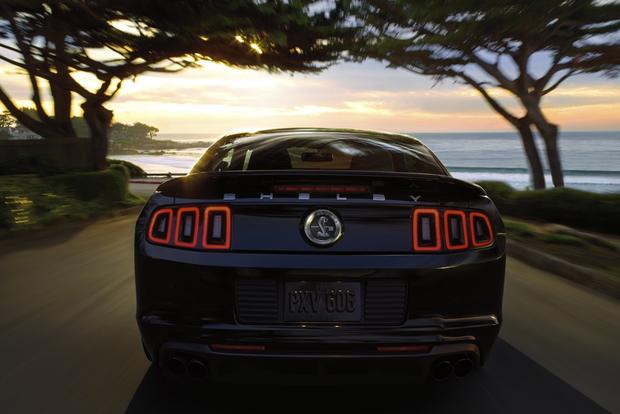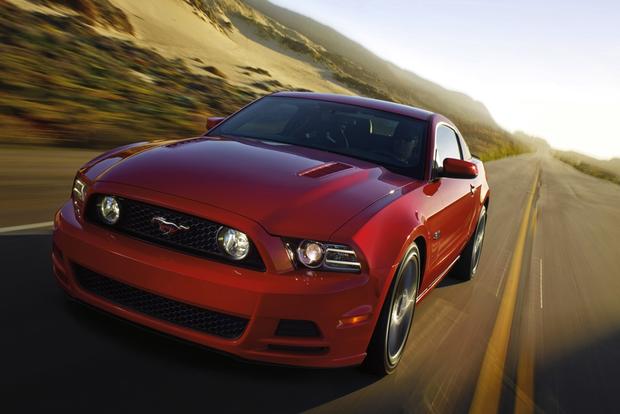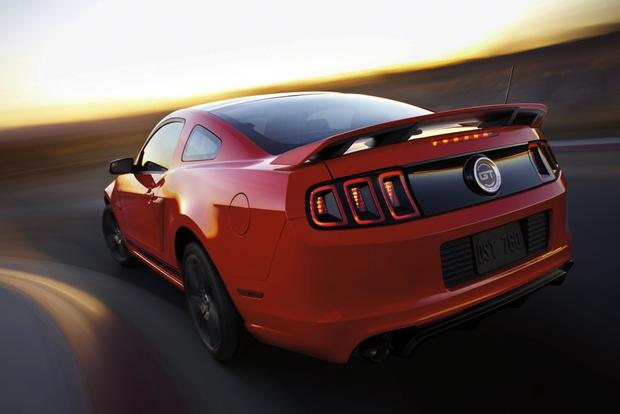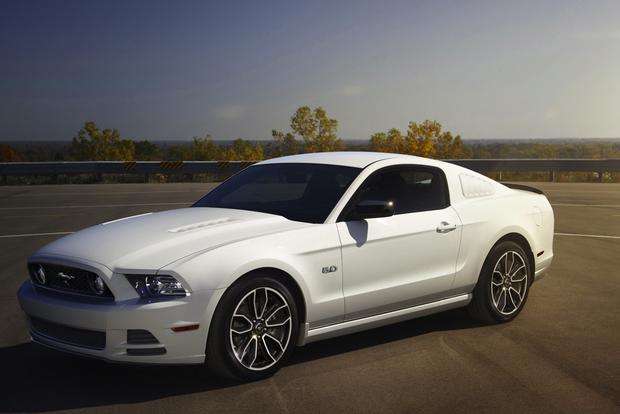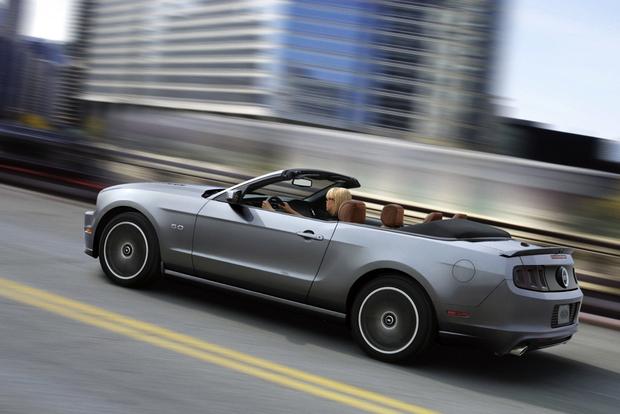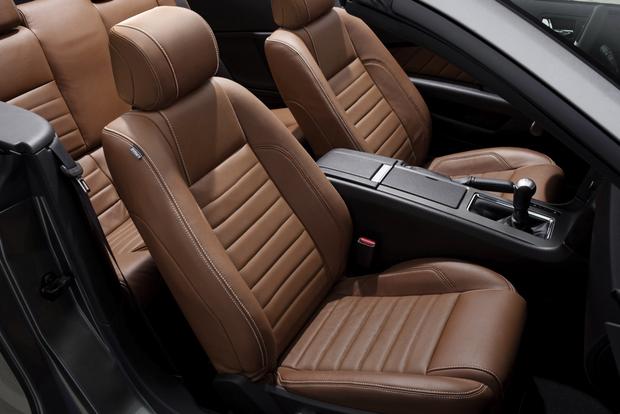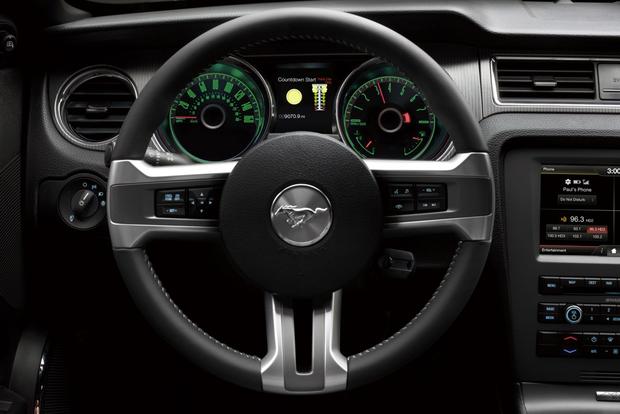 While no one will argue that the 2014 Ford Mustang is as refined as the Porsche 911 or BMW 3 Series, it delivers a raw driving experience unique to American motoring. The Mustang is younger, edgier, more defiant -- it's a muscle car for the modern age. It offers great value, too, whether you're talking about the 305-horsepower Mustang V6 for less than $25,000 or the 420-hp GT for just over $30,000.
In all fairness, the Mustang is not for everyone, especially if you require a real back seat. But otherwise, you may find it hard to resist the original pony car's charms.
What's New for 2014?
The Mustang is basically unchanged aside from the Boss 302 model's discontinuation. It will be completely redesigned for 2015.
What We Like
Numerous models and options; impressive power and fuel economy from the V6; quality interior and electronics
What We Don't
V8 models can be pricey; convertible has noisy interior; rudimentary live rear axle
How Much?
$22,995 to $60,595
Fuel Economy
That a V6 engine can produce 305 hp and 280 lb-ft of torque is impressive by anyone's standard but to have it deliver fuel economy of 19 miles per gallon city/31 mpg hwy is something the original Mustang designers could never have imagined. These ratings are for the 6-speed automatic transmission, but those for the 6-speed manual are nearly as good, at 19 mpg city/29 mpg hwy.
Equip the Mustang with the 5.0-liter V8 and horsepower and torque jump to 420 hp and 390 lb-ft (requires premium fuel). But for all its power, the V8 returns fuel ratings of 15 mpg city/26 mpg hwy with the 6-speed manual and 18 mpg city/25 mpg hwy with the 6-speed automatic. The Mustang's automatic doesn't feature a manual shift mode, but it does incorporate a Hill Mode function that extends the time a gear is held on uphill climbs and provides engine braking on steep descents.
In a class of its own, the GT500 has a supercharged 5.8-liter V8 that generates 662 hp and 631 lb-ft of torque. The only transmission offered is a 6-speed manual that returns fuel economy figures of 15 mpg city/24 mpg hwy.
Standard Features & Options
The 2014 Ford Mustang is offered as a coupe or soft-top convertible in five trim levels -- V6, V6 Premium, GT, GT Premium and GT500.
The V6 ($22,995) kicks things off with 17-inch alloy wheels, xenon headlights, power windows and locks, cruise control, air conditioning, a tilt steering wheel and a 4-speaker audio system with an auxiliary audio input.
The V6 Premium ($27,095) adds different 17-in wheels, leather trim, a power-adjustable driver seat, the SYNC voice-command system, Bluetooth, a color driver-information display and an 8-speaker Shaker stereo with iPod/USB connectivity.
The GT ($31,695) goes without much of the V6 Premium's equipment but gains a V8 engine, 18-in wheels, the signature GT front fog lights, a rear spoiler, a unique grille and a front splitter.
The GT Premium ($35,795) pairs the V6 Premium's luxuries with that honking V8, special 18-in wheels and various styling flourishes.
The GT500 ($55,595) is a whole new ballgame, sporting a world-beating supercharged V8 and all manner of performance and luxury upgrades, including staggered-size wheels (19-in fronts, 20-in rears) and exclusive sport seats.
Convertible Mustangs are equipped similarly but cost more than their coupe counterparts.
Notable options include various high-performance rear axles, a GT Track package, an even more powerful Shaker sound system, dual-zone automatic climate control, a navigation system, Recaro front seats and a panoramic glass roof.
Safety
The Mustang has standard 4-wheel ABS, electronic traction and stability control, and integrated blind-spot mirrors. The passenger cabin is protected by four airbags, including front and front-side airbags.
In government crash tests, the Mustang received an overall score of four stars out of five, including four stars each for frontal and side impacts.
Behind the Wheel
We've spent ample time in both the base Mustang V6 and the V8-powered GT, and we came away impressed by both. If you're not all about the muscle and the horsepower bragging rights, the V6 Mustang with the manual transmission is a great driver's car. There's plenty of power and the handling seems more responsive, while the interior seems quieter without the rumbling V8. As a daily driver, the V6 Mustang would be our choice, but as a weekend brawler there's no getting around the neck-snapping acceleration of the 5.0-liter V8. The GT has a beefier suspension, and bigger wheels and tires; you'll also feel the difference in the improved cornering but also in the rougher ride.
As for the GT500, it's insane in a very good way -- the sound, the feel and above all the face-flattening acceleration are just plain addictive. If you've got the cash, this kind of performance is a sweet reward.
The Mustang corners well, but if you push it hard that back end, with its live rear axle, will cause the traction control to come online in a hurry. With the traction control shut off, the rear simply breaks free and fishtails like Mustang models of old. But this is half the fun of driving a muscle car.
Convertible models perform much the same, except for added body flex due to the absent hardtop. We found the convertible models loud inside, owing to the top's lack of insulation.
Other Cars to Consider
Chevrolet Camaro -- The Camaro's exterior design is cleaner than the Mustang's, but its interior can't compare. The Camaro also has more horsepower than the Mustang V6 and V8 GT, and it features an independent rear suspension.
Dodge Challenger -- The Challenger R/T can't match the Mustang GT's horsepower ratings or its handling. But the Challenger offers a smoother ride and a more family-friendly back seat.
Hyundai Genesis Coupe -- The Genesis Coupe might not have the V8-powered muscle to compete with the GT, but its turbocharged 4-cylinder and 3.8-liter V6 engines are a good match for the V6 Mustang, and its more sophisticated suspension delivers better handling. Additionally, the 10-year/100,000-mile warranty trumps the Mustang's warranty by a wide margin.
AutoTrader's Advice
As good as the Mustang V6 is, we couldn't go without the delectable V8. Make ours a base GT, because it gives you just enough good stuff without breaking the bank.