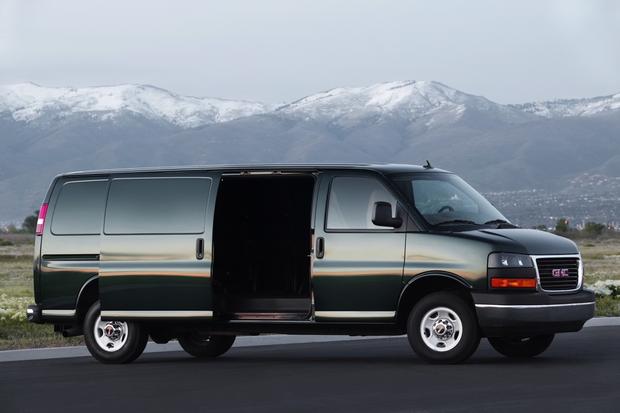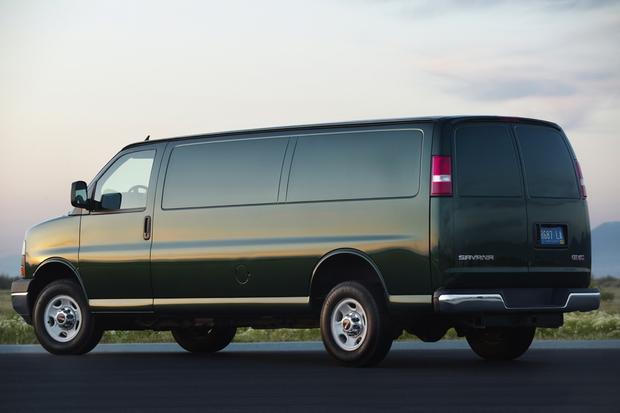 Piloting a model from GMC's Savana line is like taking a drive backwards in time. The full-size van architecture underpinning the 2014 GMC Savana 1500 dates to 1996, a long run for any platform. In fact, if the Savana's Chevrolet sibling, the Express van, sees a next-generation model soon, we suspect that it could be a standalone, leaving GMC to focus on its upscale SUV, crossover and pickup truck models.
In the interim, the GMC Savana soldiers on as both a passenger and cargo van. The full-size Savana may be old, but a seemingly endless need for huge people-hauling and cargo-carrying capability keeps the Savana relevant.
The list of van choices available to the prospective Savana owner is equally huge. You can choose one of two lengths and three capacities, with either 2- or 4-wheel drive. The Savana 1500 has a gross vehicle weight rating (GVWR) of 7,300 pounds, while the 2500 is listed at 8,600 pounds. The 3500 comes in at either 9,600 pounds with a gasoline powertrain or 9,900 pounds with GM's Duramax diesel. GMC even offers the van buyer a compressed natural gas package.
What's New for 2014?
The Savana is largely unchanged for the 2014 model year.
What We Like
Great capability; proven reliability as a cargo hauler; worthy workmate
What We Don't
Architecture and platform reminiscent of 1976; somewhat expensive for what you get
How Much?
$28,000-$35,000
Fuel Economy
While the Savana 2500 and 3500 offer a wider range of engine choices, the Savana 1500 is limited to just two: a 195-horsepower 4.3-liter V6 or a 310-hp 5.3-liter V8. They're both mated to GM's 4-speed automatic transmission.
As expected, neither engine offers exceptional fuel economy. The 4.3-liter V6 is rated at 15 miles per gallon city/20 mpg highway, while choosing the 5.3-liter V8 drops those numbers to just 13 mpg city/17 mpg hwy.
Standard Features & Options
Though the Savana offers a wide range of engine and drivetrain choices, trim levels are relatively simple. Cargo models are offered in one trim, dubbed Work, while Passenger versions offer two choices: a base-level LS model or a higher-level Savana LT.
The Savana Work ($28,000) doesn't offer much. Yes, you'll find an AM/FM stereo, but there's no CD player or auxiliary jack. There are bucket seats, but they're trimmed in vinyl, not cloth. And there are no power windows, power locks, power mirrors or keyless entry. However, nearly all of those upgrades are on the van's options list.
The Savana LS ($32,000) adds a few items. The most important are seats, as it's the base trim level of the passenger-hauling Savana. It also includes power locks, though keyless entry is still relegated to the options list. Also optional is multi-zone air conditioning, though the van keeps front air conditioning as standard equipment.
The Savana LT ($34,000) adds several more convenience features, ranging from keyless entry and cloth seats to rear air conditioning and cruise control.
The Savana offers several options, including high-end features such as a navigation system, a rearview camera and rear parking assistance. All-wheel drive is also offered for drivers in snowy climates.
Safety
Thankfully, GM has given consideration to elements of both active safety (accident avoidance) and passive safety (the ability to survive a crash should one occur). Power-assisted rack-and-pinion steering and 4-wheel disc brakes with ABS and dynamic rear proportioning can reduce the hassle of piloting and the drama of stopping a loaded truck. Also standard on all GMC Savana models is StabiliTrak, which is GM's electronic stability control. An optional backup camera and rear parking sensors take the guesswork out of low-speed maneuvering. Available head-curtain side airbags and lap and shoulder belts for center-seat passengers (standard) wrap up the Savana's safety menu.
Behind the Wheel
Driving a GMC Savana, as with most other vehicles in the full-size van segment, is a bit like steering a boat. Its ponderous proportions typically make for ponderous handling, and in this regard the 2014 GMC Savana 1500 delivers as expected. That said, GM engineers have done an admirable job of massaging the "beast" out of this beast. When equipped with its standard V8, it goes about its business with a degree of eagerness not found in a similar vehicle 20 years ago.
The driving experience in the passenger version is helped by almost 360 degrees of visibility. The driver's hip point is high, and the field of vision is almost unobstructed.
Despite its age, the Savana keeps up pretty well with technology-driven equipment. A new radio navigation system recently became optional, and audio offerings include CD/MP3 capability, a USB port and SiriusXM satellite radio. Bluetooth is available, as is dealer-installed Wi-Fi capability. Two standard 12-volt power outlets (mounted inside on the engine cover) maintain the workload when carrying a laptop, and a remote vehicle starter system allows the driver to warm up the van in cold climes and cool it off in warm ones. Perhaps the ultimate built-in technology is OnStar, which provides emergency response, turn-by-turn navigation and concierge service.
Other Cars to Consider
Chevrolet Express -- The Savana's mechanical twin is like GMC's van in every way. But depending on inventory levels, you might be able to find a better deal on the Express.
Ford E-Series -- Ford's full-size van is a lot like the Savana, offering an aging design, available all-wheel drive and passenger and cargo configurations.
Nissan NV -- Like virtually all full-size vans, the NV comes in many configurations and body styles to give shoppers exactly what they want. There's also a high-roof version, which GMC doesn't offer.
RAM ProMaster -- Chrysler's latest entrant into the full-size van segment offers diesel engines, an enormous cargo area and several configurations and body styles.
AutoTrader's Advice
We'd equip an 8-passenger 2014 Savana 1500 with available all-wheel drive and just enough comfort and convenience accessories to make it livable for a 3-week grand tour. With room for everything a family of four could possibly carry, along with bike storage inside rather than on top of the van, the Savana would make a great base camp for any weekend -- or weeks-long -- adventure. With the top LT trim, navigation, rear parking sensors and a backup camera, you'd still be out the door for well under $40,000.