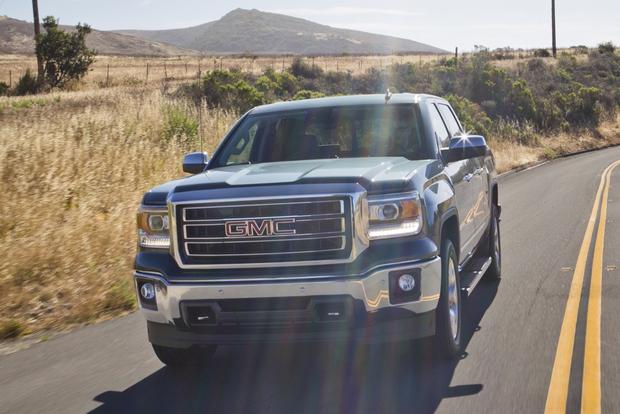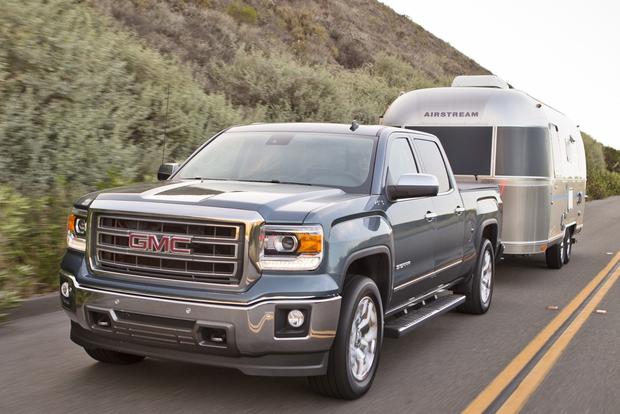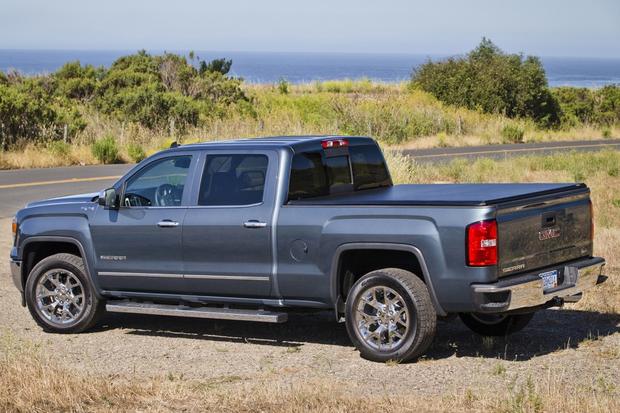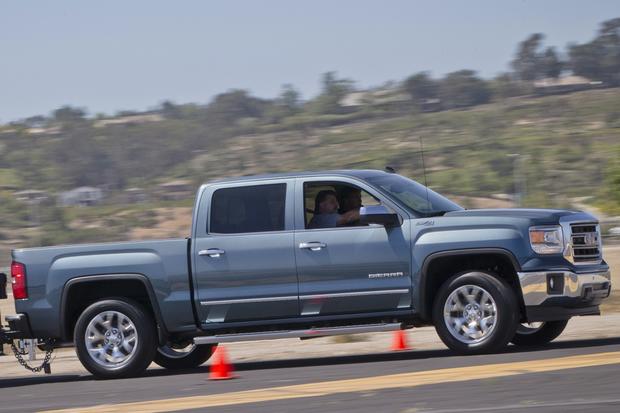 We don't often see an all-new pickup. In fact, the 2009 model year was the last time we saw anything new from the full-size truck world, and that came in the form of a redesigned Dodge RAM and Ford F-150. The GMC Sierra hasn't been redesigned since 2007, which means the 2014 GMC Sierra is a big deal. It's finally completely new inside and out.
So what's it like? Well, for one thing, its styling is surprisingly similar to last year's model. But don't be fooled: The Sierra is totally new inside, under the skin and under the hood. It offers three new engines, a redesigned interior and new features that range from a more compliant suspension to improved technology. Don't worry, though, the 2014 Sierra is still just as capable as it's ever been. If we had to sum it up succinctly, we'd say this: The 2014 Sierra and its Chevrolet Silverado twin are the best full-size trucks on the market.
What's New for 2014?
The GMC Sierra is all-new for 2014. Styling is updated, while everything else -- including the pickup's engines -- are completely new. Handling is improved, there's a stiffer chassis for improved capability and there's more technology inside the cabin and out. Fuel economy is boosted, too.
What We Like
Class-leading interior; vastly improved steering and handling; technology tops rival pickups
What We Don't
Styling is a little too similar to last year's truck
How Much?
$27,000-$51,100
Fuel Economy
The 2014 GMC Sierra offers three engines: a 4.3-liter V6 that makes 285 horsepower and 305 lb-ft, a 5.3-liter V8 that makes 355 hp and 383 lb-ft and a 6.2-liter V8 that makes 420 hp and 460 lb-ft. All use a 6-speed automatic as the only available transmission.
Not surprisingly, fuel economy is best with the 4.3-liter V6. That engine returns 18 miles per gallon in the city and 24 mpg on the highway with 2-wheel drive, or 17 mpg city/22 mpg hwy with 4-wheel drive. Pick the 5.3-liter V8 and you'll find fuel economy doesn't drop as much as you might think. The Environmental Protection Agency rates that engine at 16 mpg city/23 mpg hwy with 2-wheel drive, or 16 mpg city/22 mpg hwy with 4-wheel drive. Topping the range is the mighty 6.2-liter, which returns 15 mpg city/21 mpg hwy with 2-wheel drive, or 14 mpg city/20 mpg hwy with 4-wheel drive.
Standard Features & Options
Like all full-size pickups (and its Silverado sibling), the Sierra comes with a wide array of choices, ranging from bed sizes to cab preference, drivetrain, engine and trim level. We've simplified things and organized the truck's features by trim level. But choosing the right Sierra for you will likely involve more than simply picking a trim.
Pick a base-level Sierra ($27,000) and you're stuck, as you might expect, with the basics. That means power locks, cruise control, air conditioning and an AM/FM stereo -- but no such luxuries as a CD player or power windows.
For those features, you'll need to move up to the SLE ($33,500), which adds all the base model's missing luxuries (keyless entry, power windows, SiriusXM satellite radio, a CD player) and a few more goodies. Such items include GMC's IntelliLink infotainment system, a backup camera, LED lighting in the bed and a few miscellaneous appearance items.
Next up is the Sierra SLT ($41,500), which is only offered as a double cab or crew cab pickup. The SLT offers a long list of standard features, including leather upholstery, dual power front seats, heated mirrors and a locking rear differential. SLT models also come standard with the Sierra's 5.3-liter V8, while base and SLE models offer it as an option.
Topping the Sierra lineup is the Denali, which comes standard with the pickup's 6.2-liter V8 engine. While pricing has not yet been announced, we expect the Denali to start in the upper-$40,000 range, or maybe a bit higher. But it'll include a long list of standard features, from chrome accents and leather seats to a heated steering wheel and an upscale Bose surround sound system.
As for options, the Sierra has several. Extras include a power sunroof, a navigation system, cooled seats, power adjustable pedals and 4-wheel drive. Additionally, drivers can add safety features such as forward collision alert and a lane-departure warning system, both of which are new for 2014.
Safety
All GMC Sierra pickups include dual front airbags, front side airbags, side curtain airbags, daytime running lights and a tire pressure monitor. Options include a lane-departure warning system, a forward collision alert system and GM's OnStar system, which can call for help if there's an accident.
While the National Highway Traffic Safety Administration (NHTSA) has not tested the Sierra, we expect it to perform exactly the same as its Chevrolet Silverado twin. The Silverado was the first to receive a 5-star overall crash-test rating by the NHTSA, which consisted of a 4-star score in the rollover assessment, and 5-star scores in frontal and side-impact tests.
Behind the Wheel
There's absolutely no doubt the Sierra rides and handles better than the old model. That's largely due to the new fully boxed frame, which clearly makes the truck feel more rigid and stable than last year's model. It also helps in towing, as do the fully integrated trailer brakes. And we couldn't live without the tow/haul mode, which takes the guesswork out of manually operating the automatic transmission when you'd rather be focusing on things such as guiding the pickup safely up a hill.
We were further impressed with the Sierra's interior. One major plus is the center-mounted 8-inch LCD screen, which is perfectly positioned so you don't have to take your eyes far off the road to use it. The same is true of the LCD screen mounted in the gauge cluster. It's far better than the Sierra's former pixelated display. And we enjoyed the huge sunroof, though wind noise got a little loud.
We also loved the Sierra's gadgets. Compared to just a few short years ago, it's hard to believe a truck now has USB ports, navigation, in-vehicle apps and a center-mounted touchscreen. The only gadget we didn't enjoy was the voice control system, which we had trouble using for both navigation and audio functions.
Other Cars to Consider
Ford F-150 -- The Sierra's top rival still has a lot to offer, though it's starting to show its age in the wake of new competition from General Motors.
Ram 1500 -- Formerly the Dodge RAM, the Ram 1500 offers available air suspension and famous HEMI V8 power. And there's still no other light-duty pickup with an available diesel engine.
Toyota Tundra -- The Tundra is refined and muscular, offering a strong rival to the Sierra. But the Tundra still can't trump the Sierra's wide range of bed, cab and engine configurations.
AutoTrader's Advice
You can't go wrong with any 2014 Sierra, assuming you pick the truck that works for your lifestyle. That means we don't suggest the base-level Sierra if you're the kind of driver who enjoys gadgets. And we don't suggest the Denali if you're going to visit dirty job sites or rutted country roads. Our dream Sierra is probably a Sierra SLT or a well-equipped Sierra SLE, though we certainly wouldn't turn down the Sierra Denali if we had the cash.