New Car Review
2014 Honda Accord Hybrid & Plug-In Hybrid: New Car Review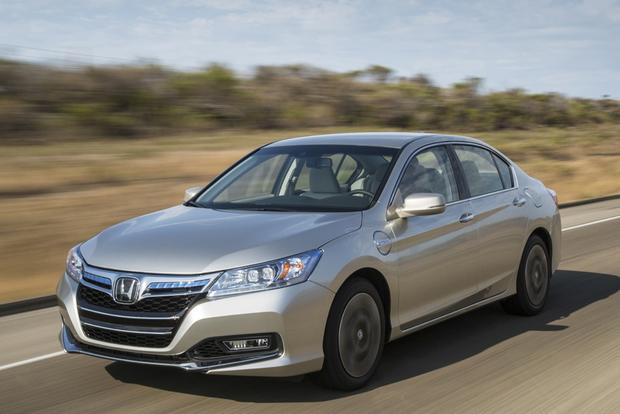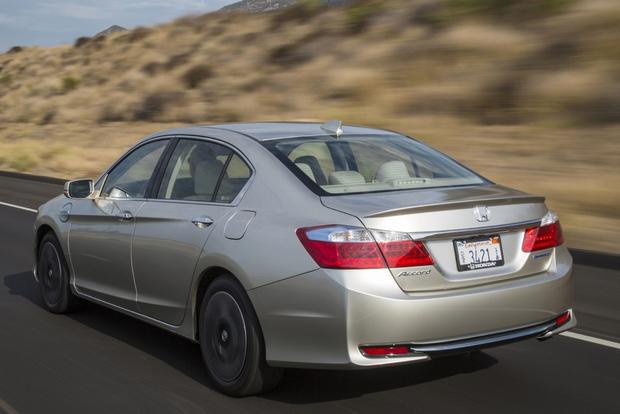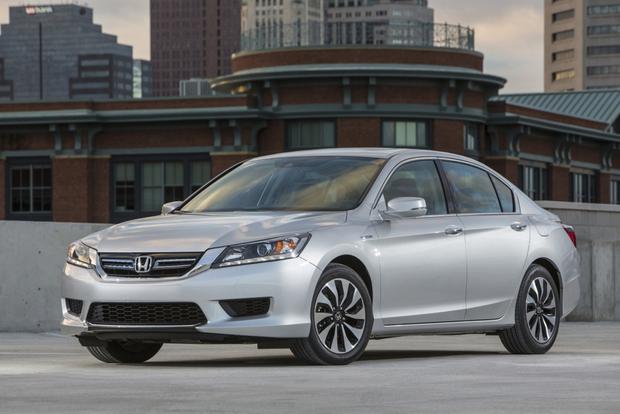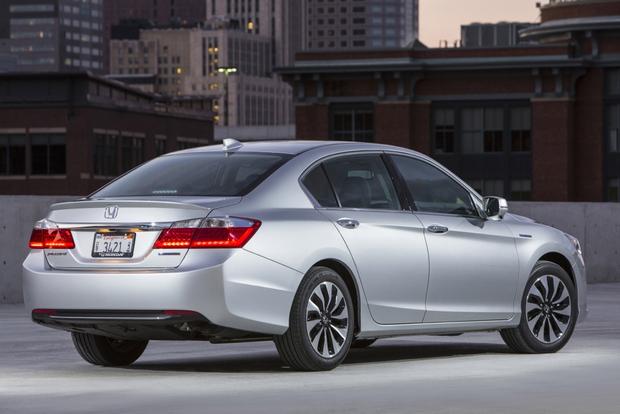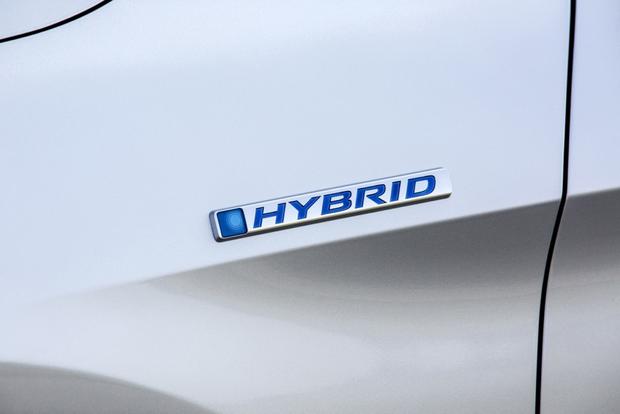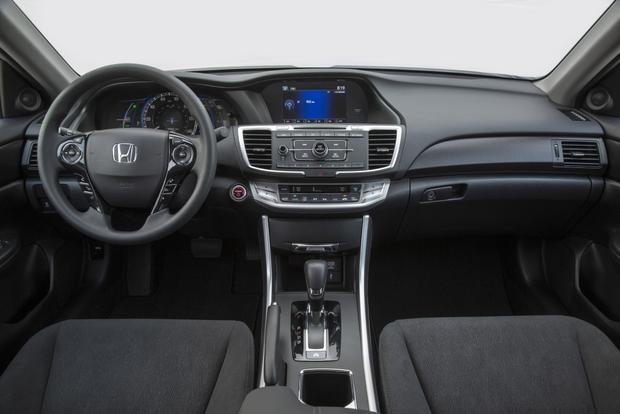 For years, Honda has been a major player in hybrid cars. The brand kicked off the hybrid frenzy nearly 15 years ago with the release of the Insight, and its compact Civic Hybrid remains one of the most popular hybrid vehicles around. But Honda has never had a strong hybrid midsize sedan to rival the highly popular Toyota Camry Hybrid.
Oh, sure, Honda briefly offered an Accord Hybrid from 2005 to 2007 -- but it was nothing like the frugal new 2014 Honda Accord Hybrid. Instead, it was billed as a performance hybrid. It offered more power than any other Accord model, and fuel economy couldn't top rival hybrids, which were designed for efficiency rather than speed. Shoppers weren't convinced, and the model didn't last.
But Honda is finally making up for its lack of participation in the hybrid midsize sedan game for the 2014 model year. The latest Accord Hybrid brings gas and electric technology -- and it even gives shoppers two hybrid options. For drivers who don't mind spending a bit more to get the best available technology, there's a plug-in hybrid that can travel on electric power alone. For more mainstream shoppers, the standard Accord Hybrid should do the trick.
Regardless of which Accord you choose, both models represent the arrival of fuel-efficient hybrid technology in one of our favorite midsize sedans.
What's New for 2014?
The Honda Accord was redesigned for the 2013 model year. For 2014, the Accord Hybrid and Accord Plug-In Hybrid models debuted, bringing hybrid technology to the Accord lineup for the first time since 2007.
What We Like
Seamless hybrid experience; truly exceptional city fuel economy; no compromises for hybrid powerplant; Accord Hybrid priced well for the features
What We Don't
Plug-In Hybrid is expensive; Plug-In Hybrid range isn't long enough; Camry Hybrid has much lower entry price
How Much?
$29,800-$35,500 (Accord Hybrid); $40,500 (Accord Plug-In Hybrid)
Fuel Economy
Drivers who opt for the traditional Accord Hybrid get a 196-horsepower 2.0-liter hybrid 4-cylinder. It's mated to a continuously variable automatic, and it returns 50 miles per gallon in the city/45 mpg highway.
Choose the plug-in model and you'll get roughly the same engine, except with a twist: It can operate on electric power alone. City fuel economy drops to 47 mpg, while highway mileage increases to 46 mpg -- but the real benefit is an Environmental Protection Agency-rated 13 miles of fully electric range. If you have a short commute -- or if you can plug in at work -- you may only rarely need to use the gasoline engine.
Standard Features & Options
The regular Accord Hybrid is offered in three trims, which roughly mirror the top three trims of the traditional Accord lineup. There's an unnamed base trim (similar to the Accord EX), a mid-level EX-L model and a top-end Touring. Meanwhile, the Accord Plug-In Hybrid is offered with one trim level only.
Choose the base-level Accord Hybrid ($29,800) and you'll get dual-zone automatic climate control, 17-inch alloy wheels, cruise control, a rearview camera, Bluetooth and Bluetooth Audio, a power driver's seat, Honda's LaneWatch blind-spot camera and keyless entry with push-button start.
Upgrade to the EX-L ($32,500) and you get leather seats, a sunroof, heated front seats, auto-dimming mirrors, a power passenger's seat, satellite radio and a host of safety equipment such as an improved rearview camera, a forward-collision warning system and a lane-departure warning system.
Topping the Accord Hybrid lineup is the Touring ($35,500), which adds LED headlights, a navigation system with voice control and adaptive cruise control.
If you choose the Accord Plug-In Hybrid ($40,500), you'll get the same level of equipment in the Accord Hybrid Touring. That includes navigation, adaptive cruise control and all the features in the standard Accord Hybrid and the mid-level Accord Hybrid EX-L. Of course, you'll also be able to run on electric power alone, which the Accord Hybrid doesn't offer.
Safety
Standard on the 2014 Honda Accord Hybrid and Plug-In Hybrid are anti-lock brakes, stability and traction control and curtain-side airbags. Hybrid models offer standard rearview and blind-spot cameras, along with available forward-collision warning and lane-departure warning systems. All those features are standard on the Accord Plug-In Hybrid.
While the government's National Highway Traffic Safety Administration has not yet tested the Accord Hybrid or Plug-In Hybrid, standard Accord models received five overall stars in the agency's crash tests. The rating includes five stars in the frontal-impact test, five stars in the side-impact test and four stars in the rollover test. We expect the Accord Hybrid and Plug-In Hybrid to receive substantially similar ratings.
Behind the Wheel
The Accord Hybrid delivers exactly the driving feel you're looking for in a hybrid vehicle. In other words, the driving feel where you can't tell you're driving a hybrid vehicle at all. The system doesn't intrude, it isn't loud and you'd be forgiven if you forgot that you were driving a hybrid at all.
Acceleration in the Accord Hybrid is excellent -- though it suffers at higher speeds, like most hybrids. We'd say it's a little faster than the Camry Hybrid or the Fusion Hybrid, which are its two main competitors. Handling is a little better than the Camry and similar to the Fusion, though none of the cars boast sports-car-like drivability.
Other Cars to Consider
Ford Fusion Hybrid -- Like Honda, Ford offers two versions of the Fusion Hybrid: a traditional hybrid and a plug-in model that can be driven on electric power alone. Fuel economy is similar, though the plug-in Fusion has a range that's nearly 50 percent longer. The Fusion is also less expensive, though base-level Fusion Hybrid models are nowhere near as well-equipped as the Accord Hybrid.
Toyota Camry Hybrid -- There's no plug-in Camry, but the traditional model remains the most popular midsize hybrid around. We think that should change, though, since both the Fusion Hybrid and Accord Hybrid boast better gas mileage and newer designs. But there's no budget-priced Accord Hybrid, which means the base-level Camry Hybrid is less expensive.
Toyota Prius -- The Prius may be smaller than the Accord Hybrid, but its hatchback design means it's nearly as practical. And its fuel economy is just above the Accord Hybrid's, whether you consider the regular Prius or the Plug-In model.
AutoTrader's Advice
The Accord Hybrid is an excellent contender in the midsize hybrid sedan game. Unless you really want to drive on electric power, we'd recommend a standard hybrid model over the plug-in version. Among the Accord Hybrid trim levels, we'd choose the mid-level EX-L. It's one of the best luxury hybrids on the market, even though it's "just" a Honda.