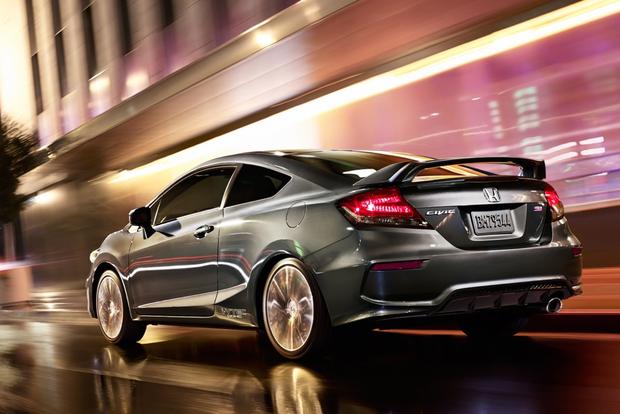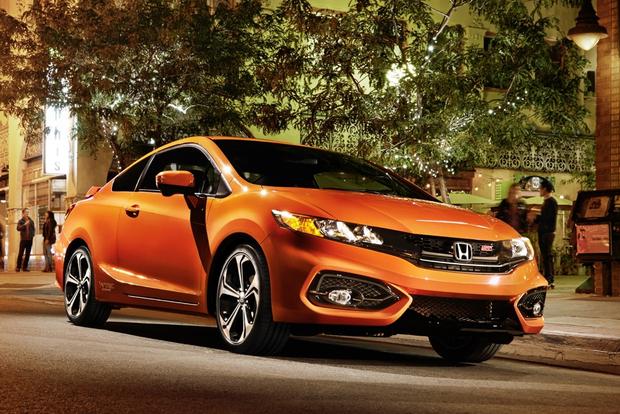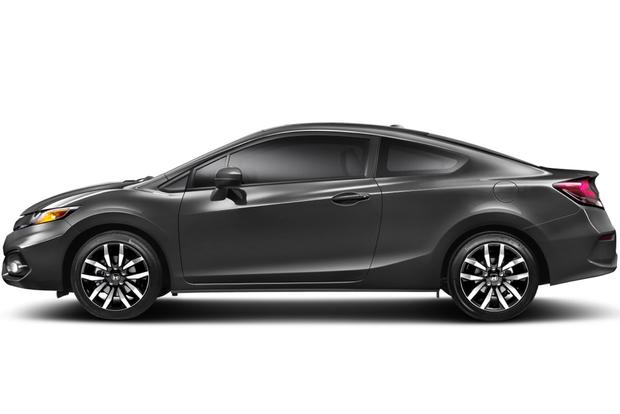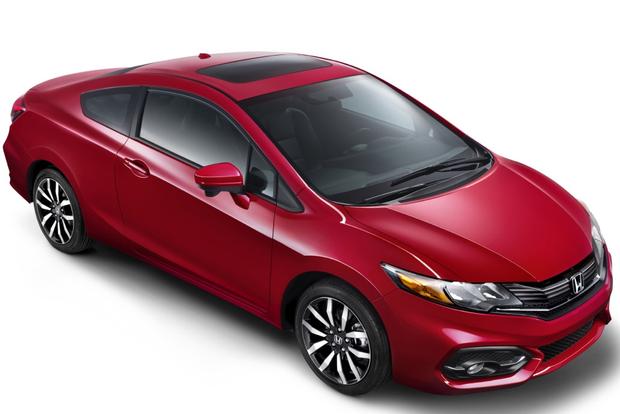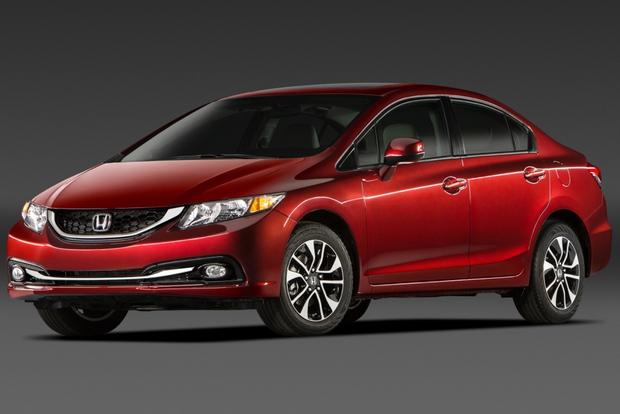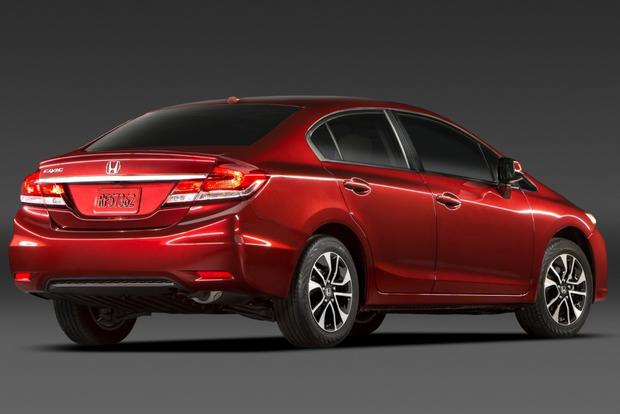 Despite a full redesign for the 2012 model year and updates for 2013, Honda still isn't letting the Civic lineup rest. The 2014 Honda Civic offers even more changes in new styling for the coupe, a few interior upgrades and a new CVT automatic to make things smoother -- and more fuel efficient.
While the Civic has seen a few changes, the model still offers the same old lineup that's proven popular for years. For the masses, there's the 4-door Civic sedan. Drivers interested in a sporty flair can get the Civic coupe or the more powerful Civic Si. For fuel efficiency, there's the Civic Hybrid. And Honda still offers the Civic Natural Gas, for drivers wanting a true alternative-fuel vehicle.
Honda has certainly done well in keeping the Civic excellent, and the upgrades for 2014 only seem to enhance the car's positive traits.
What's New for 2014?
Updates for 2014 include a re-styled front and rear end on coupe models, interior upgrades and, most importantly, a new CVT automatic that replaces last year's 5-speed. There are also a few new upscale features, such as keyless ignition, a blind spot camera and a larger center-mounted touchscreen.
What We Like
Plentiful model variations; good fuel economy; lots of standard features; CVT is an improvement
What We Don't
Uninspired driving experience; pricey compared to some competitors
How Much?
$18,800-$27,100
Fuel Economy
The Civic comes with a wide array of engine and transmission choices. Most civic models are powered by a 143-horsepower 1.8-liter 4-cylinder that makes 129 lb-ft of torque. It returns 28 miles per gallon in the city/36 mpg hwy with a standard stick shift, or 30 mpg city/39 mpg hwy with the new CVT automatic. HF models focused on fuel economy do even better, returning 31 mpg city/41 mpg hwy. HF models only offer the CVT.
If you want more performance, you'll be interested in the sporty Civic Si. That model uses a 201-hp 2.4-liter 4-cylinder, and comes only with a 6-speed manual. It returns 22 mpg city/31 mpg hwy.
Topping the Civic's fuel economy range is the gas-electric Civic Hybrid. While it only makes 110 hp and 127 lb-ft combined, the Civic Hybrid makes up for its lack of power with exceptional gas mileage of 44 mpg city/44 mpg hwy with a standard CVT automatic. Finally, the natural-gas-powered Civic Natural Gas returns 27 mpg city/38 mpg hwy.
Standard Features & Options
The Civic is offered in seven trim levels. Traditional Civic models offer LX, HF, EX and EX-L trims, while sport-minded drivers can pick the Civic Si. For fuel economy buffs, there's the Civic Hybrid and the Civic Natural Gas.
Available as a sedan or a coupe, the base-level Civic LX ($18,800) includes air conditioning; power accessories such as power windows, power locks and power mirrors; a 5-inch center display screen; a rearview camera; Bluetooth and a sound system that boasts a CD player, an auxiliary plug, Pandora Internet radio and an iPod interface.
Step up to the Civic HF ($20,500) and you get a model designed to maximize fuel economy. The sedan-only HF boasts low-rolling-resistance tires, aerodynamic wheels and underbody panels, and a rear spoiler.
Next up is the Civic EX ($21,000), which again is offered as a sedan or a coupe. It adds automatic headlights, alloy wheels, keyless ignition with push-button start, a power sunroof, Honda's LaneWatch blind spot camera, HondaLink smartphone integration and a 60/40 split-folding rear seat back.
Topping the traditional Civic range is the EX-L ($23,200), which includes larger alloy wheels, leather upholstery, heated front seats and fog lights. EX-L sedan models also include a power driver's seat.
Shoppers who go for the sporty Civic Si ($23,200), offered as a sedan or a coupe, get a more powerful 4-cylinder engine, along with a limited slip differential, sport suspension and fog lights. Many of the Si's features mirror the Civic EX's equipment.
If it's fuel economy you're after, the Civic offers two choices: the Civic Hybrid ($25,000) or the Civic Natural Gas ($27,100). The Civic Hybrid's equipment roughly mirrors that of the Civic EX, though some EX-L features are optional. The Civic Hybrid also adds standard forward-collision warning and lane-departure warning systems. The Civic Natural Gas boasts the same features as the Civic LX.
Like most Honda models, the Civic offers few options. The exception is for Hybrid, Si, EX and EX-L trims, which are available with a voice-activated navigation system.
Safety
The 2014 Honda Civic comes standard with stability control, side curtain airbags, front side airbags, a rearview camera and 4-wheel anti-lock brakes. EX and EX-L models also boast Honda's LaneWatch blind spot camera, while the Civic Hybrid includes forward-collision warning and lane-departure warning systems.
In government testing, the Civic earned five overall stars -- a score made up of 4-star ratings on frontal and rollover tests and a 5-star rating in the National Highway Traffic Safety Administration's side-impact assessment.
Behind the Wheel
The simplicity of the Civic is palpable, and it has a wonderfully effortless driving feel. While it's not the most entertaining car in terms of performance, it exhibits a feeling of lightness that inspires confidence in the driver.
The braking is forgiving but firm. The steering is light but exact. The climate control is laid out in a highly intuitive fashion. The drivetrain barely makes noise. And although it's a very fuel-frugal vehicle, it has the power to get up and go if you need it. Viewed with a positive attitude, this is a Zen-like driving experience.
Small touches such as silver trim and more obvious changes such as black carpeting give the Civic's interior a more upscale appearance. More soft-touch surfaces and better material for the seats, door panels and headliner improve the look and feel, too.
Still, the interior of the Civic remains simple and sturdy. All its bits are robust and well-built, with no extraneous items to worry about ruining or breaking. While modern, its sturdiness is reminiscent of vehicles from an earlier time.
The Civic isn't a big car, but delightfully the interior isn't small. Even tall drivers will find it roomy and comfortable in every direction. That's truly rare in small, fuel-efficient vehicles.
Other Cars to Consider
Ford Focus -- The Focus comes as a sedan or a 5-door hatch, making its lineup more practical than the Civic's. The Focus also boasts a plug-in hybrid model and a sporty ST version, which offer advantages over the Civic Hybrid and Civic Si, respectively.
Hyundai Elantra -- Hyundai's compact contender was redesigned for 2011 and remains highly competitive. Some shoppers like its flowing lines, while others appreciate several body-style choices, including a hatchback and a coupe.
Toyota Corolla -- Offered only as a sedan and not available with a hybrid model, the Corolla is fully redesigned for the 2014 model year. Prices, interior room and equipment are similar to the Civic -- so we suggest you drive both models.
AutoTrader's Advice
We recommend buyers look past the base model to the HF, which starts at $19,765. The HF looks sleeker than the standard Civic because it shares its body panels with the Civic Hybrid. It also offers 41 mpg hwy without adding thousands of pounds of hybrid components and batteries. Its simplicity makes the HF the version that's truest to the spirit of the Civic.