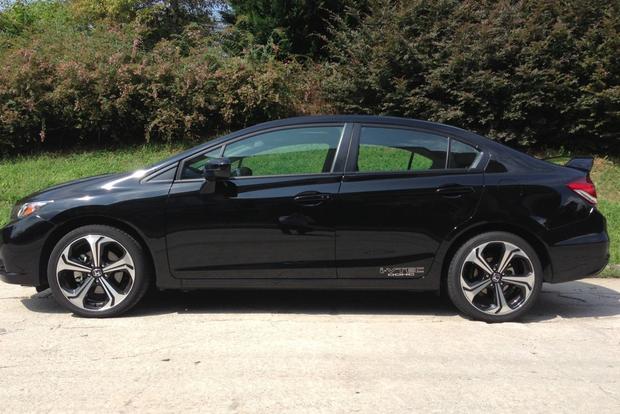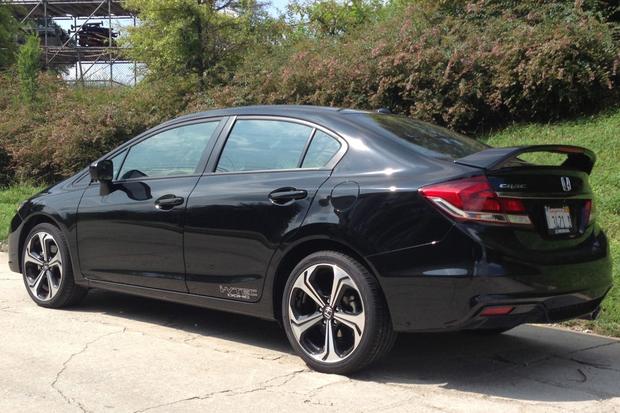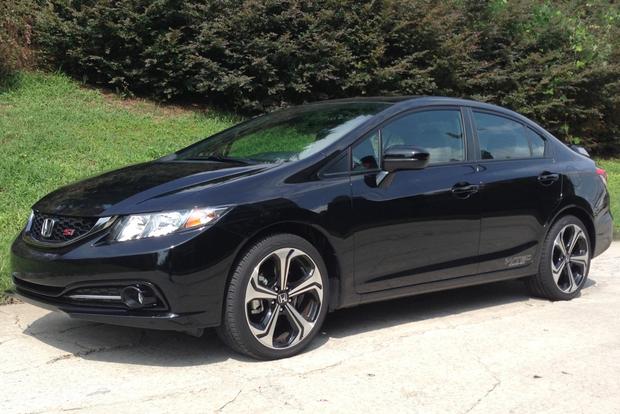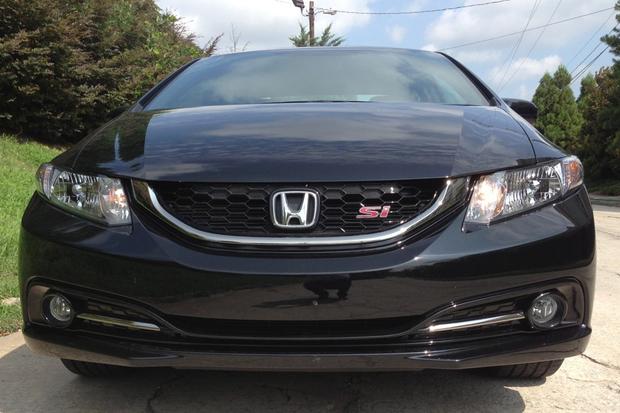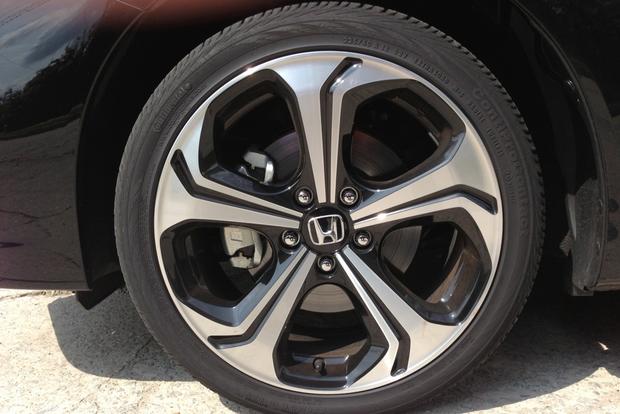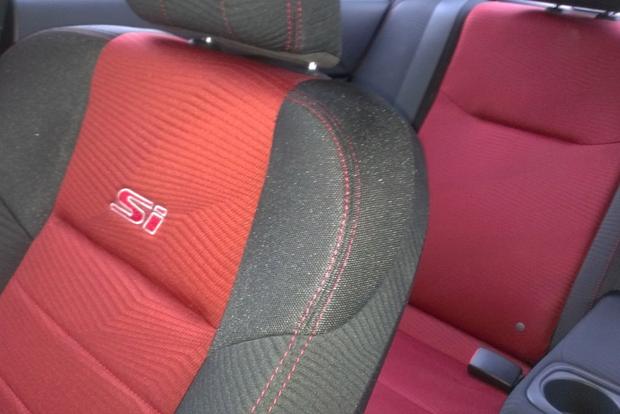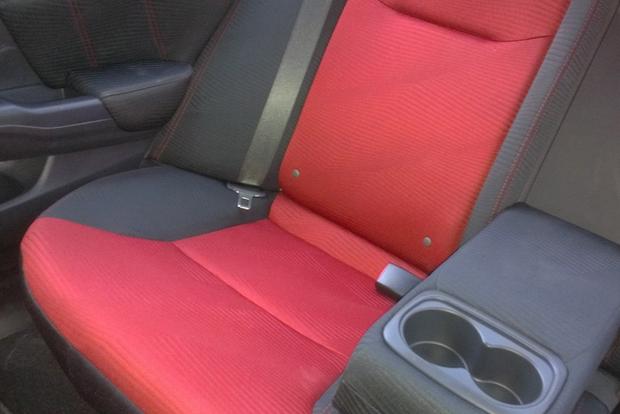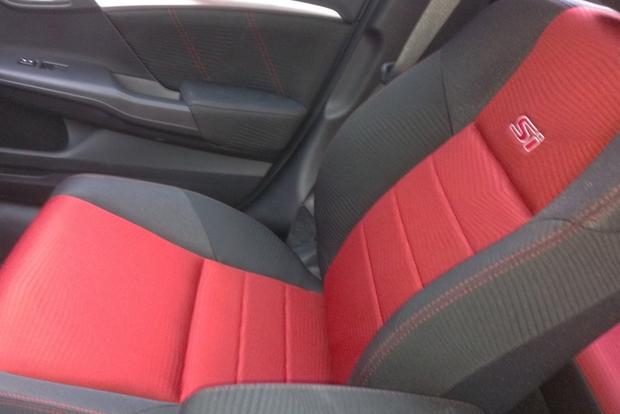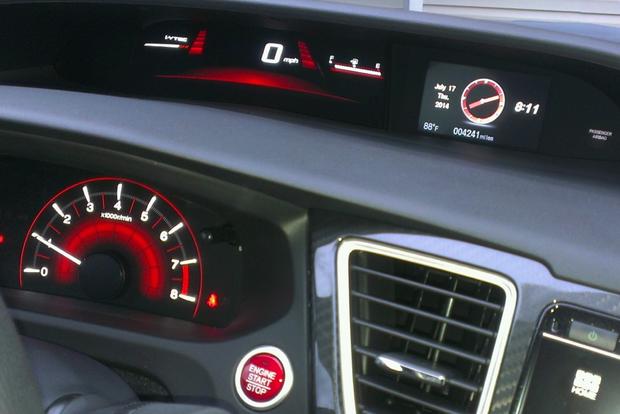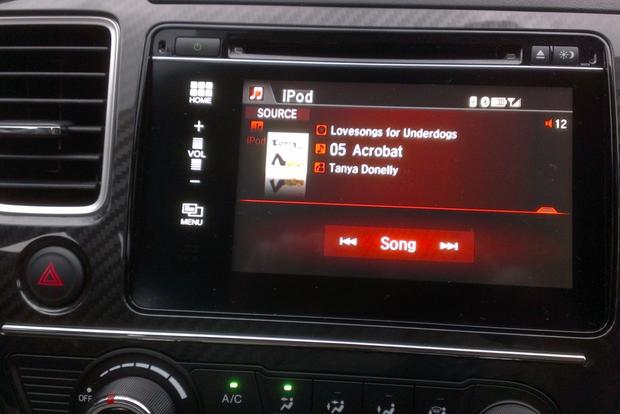 The 2014 Honda Civic is once again updated for the new model year in an attempt to keep up in the ultracompetitive compact-car market. Automatic-transmission cars are now equipped with a continuously variable transmission -- replacing last year's traditional 5-speed -- and the coupe version gets a redesigned front end. Higher trims receive Honda's excellent LaneWatch system, which is viewed on the new 7-inch touchscreen in-dash display. The sporty Si model receives larger wheels, a retuned suspension and a slight horsepower bump. We spent a week behind the wheel of the sporty Si sedan to find out if Honda is merely keeping up or if the Civic can once again regain the compact-car crown.
Interior Updates
You'll feel Honda's sporting intentions as soon as you open the door. The Si stands out from the rest of the Civic lineup with touches such as red accent stitching, faux carbon-fiber trim, aluminum pedals, and black and red 2-tone seats. The seats are a new design for 2014. They still continue to hug you in all the right places, although some AutoTrader editors think they're a little flat.
All switches and controls fall within easy reach and continue the Honda tradition of being both intuitive and easy to use. This includes a new 7-in touchscreen which incorporates a smartphonelike display, allowing users to swipe, pinch and tap their way through audio and navigation screens, among others. While many agree that incorporating technologies like this is a must even in compact cars, most editors think that there needs to be a round volume knob on the radio head unit in addition to the volume control on the steering wheel.
Improved Performance
Along with the interior and technological updates, the 2014 Honda Civic Si also gets some performance upgrades. Larger 18-in wheels feature a new, more stylish design and give the Civic a more aggressive look. The same 2.4-liter engine carries over but now pumps out 205 hp (up from 201 in 2013). As usual, the power really comes on much higher in the rpm range when Honda's i-VTEC system joins in, so you really have to wind the engine up to feel like you're in the sporty Civic.
Luckily, Honda's tried-and-true 6-speed manual remains the only transmission option and continues to perform with quick shifts and perfect clutch engagement. While it's a real pleasure to drive hard and push the engine into the power band, doing so turned off some passengers. More than one tester was faced with questions such as, "Why are you driving like that?" and "Is it really necessary to shift like a maniac?" Enthusiast drivers may want to opt for the coupe version and leave the passengers at home.
Our Take
When the ninth-generation Civic debuted in 2012, it was initially a disappointing effort from one of the compact segment's front-runners. A substantial emergency overhaul for 2013 and more updates for 2014 have remedied most of the earlier deficiencies.
Unfortunately for Honda, there are many more serious compact contenders than ever before. Vehicles such as the Kia Rio, Ford Focus and Mazda3 took advantage of the Civic's slight stumble, leaving Honda to play catch-up for the first time in years. Of those cars, only the Mazda3 and Ford Focus ST come close to the Civic Si's look and feel. We like the Corolla S, but it isn't really a performance-minded compact.
Still, the Civic in general has improved, and the 2014 edition has really narrowed the gap between the Civic and other compact cars. Now it's time to see if Honda can regain the lead. And when we say lead, we just mean in terms of quality -- Honda has never had a problem selling Civics, and we suspect that won't change any time in the near future.