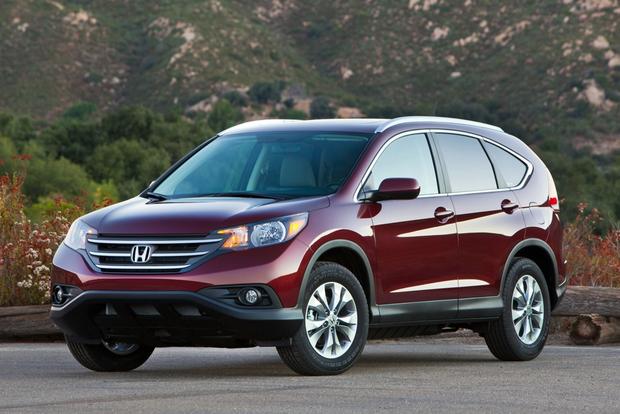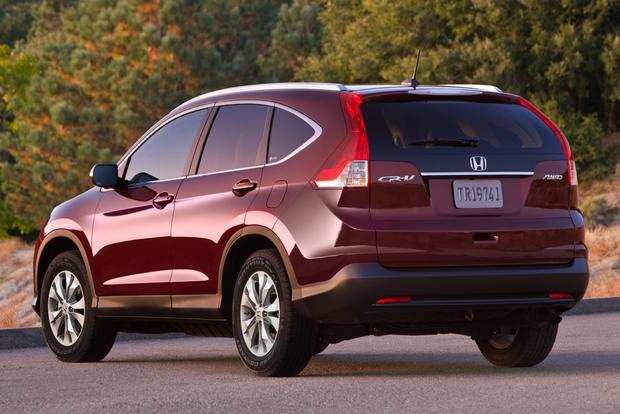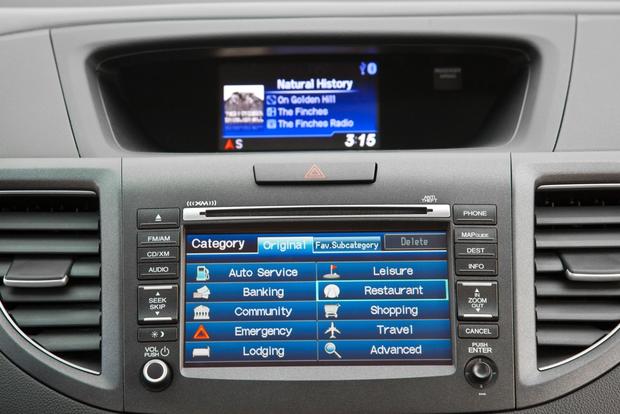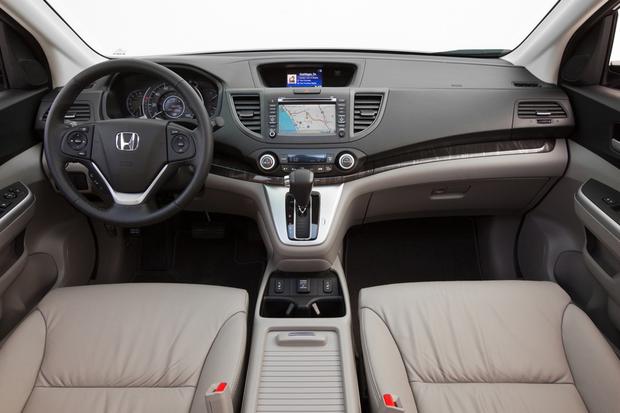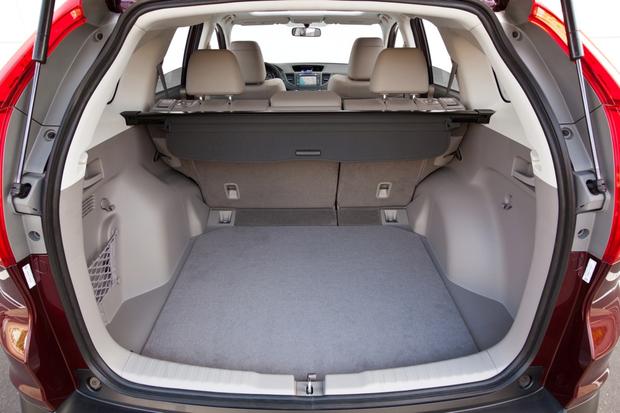 The 2014 Honda CR-V is a compact, 5-passenger crossover vehicle that builds on the success of its predecessors. Arriving in the U.S. in 1995, the CR-V was an early player among crossovers. The 2012 model introduced the current, fourth-generation version of the CR-V, and the 2014 model is largely unchanged.
The latest CR-V still offers shoppers more than it did when it arrived as a 2012 model. It's now rated with five stars for safety by the National Highway Traffic Safety Administration, the federal agency that handles vehicle crash tests.
The 2014 CR-V is available in LX and EX versions with various available options, including full-time all-wheel drive, leather and navigation. The fourth-generation CR-V uses an updated version of the 2.4-liter 4-cylinder engine and 5-speed automatic transmission found in the third-generation model.
What's New for 2014?
Though the CR-V is mostly unchanged for 2014, there are a few updates. They include newly standard Pandora Internet radio connectivity on all models and automatic headlights for the upscale CR-V EX.
What We Like
Honda reliability; comfortable driving position; big interior space
What We Don't
Outdated powertrain; uninspired looks
How Much?
$23,500-$29,500
Fuel Economy
The 2.4-liter 4-cylinder engine in the 2014 CR-V produces 185 horsepower and 163 lb-ft of torque. Although these power output numbers are higher than the figures for the third-generation CR-V, fuel economy has actually improved slightly. The Environmental Protection Agency estimates the fuel economy rating for the front-wheel-drive CR-V is 23 miles per gallon in the city and 31 mpg on the highway. The all-wheel-drive CR-V is rated at 22 mpg city/30 mpg hwy.
Standard Features & Options
The 2014 Honda CR-V is offered in three trim levels: base-level LX, mid-level EX and upscale EX-L.
The LX ($23,500) comes standard with a long list of features, including luxury items such as a rearview camera, Bluetooth, a USB audio interface and Pandora Internet radio connectivity. Other standard features include keyless entry, cruise control and a split-folding rear seat.
Drivers who step up to the EX ($26,000) receive a power sunroof, 17-inch alloy wheels, fog lights and an upgraded sound system. For 2014, the EX also has automatic headlights as standard equipment.
Topping the range is the EX-L ($29,500), which adds dual-zone automatic climate control, leather upholstery with heated front seats, a power driver's seat and a leather-wrapped steering wheel. The EX-L can also be outfitted with an optional rear-seat entertainment system or a touchscreen navigation system.
Safety
Every 2014 CR-V has standard electronic stability control, ABS with brake assist, and side-curtain and front-side airbags. There is also an occupant position detection system on the passenger's side, and the front seats help reduce injury severity in case of an accident.
Both 2- and 4-wheel-drive versions of the 2014 CR-V earned a top 5-star rating in government crash tests. The Insurance Institute for Highway Safety also rated the 2013 CR-V a Top Safety Pick, with the highest possible scores in each of its crash tests.
Behind the Wheel
With significant size and weight but only modest, 4-cylinder power, the CR-V may not sound as if it's equipped to deliver a thrilling driving experience. And because it's a popular seller, it may not turn heads in a valet stand like a premium brand vehicle. But the CR-V isn't intended to be either a performance or luxury model. Instead, it delivers reasonably peppy acceleration, good handling and a pleasurable ride. From the driver's seat, it feels both spacious and solid. The CR-V delivers confidence in virtually any weather, especially with 4-wheel drive.
The CR-V's interior is not much like that of any other crossover on the market. Other small crossovers' interiors replicate the space and utility of larger SUVs, but the CR-V's interior is more like that of a three-quarter-scale Honda Odyssey minivan. Front passengers enjoy a tall seating position but have plenty of headroom. The gearshift juts out from the center of the dash much like the minivan, and Honda includes several storage spaces beneath it. Between the two front seats is a large center console storage unit with a sliding top, which, again, is just like the Odyssey.
In the back, the CR-V resembles a more conventional crossover and features a 60/40 split rear seat that folds almost flat. With the rear seats up, the CR-V provides 37.2 cu ft of storage space. With the rear seats folded, that space is increased to a substantial 70.9 cu ft.
Other Cars to Consider
Mazda CX-5 -- Starting at $20,695, the 2014 CX-5 is among the newest additions to the crossover market. The base CX-5 features Mazda's 2-liter SKYACTIV 4-cylinder engine and a 6-speed manual transmission. Impressively, the CX-5 is rated at 35 mpg hwy.
Ford Escape -- Starting at $22,470, the Escape is a recently redesigned compact crossover and a best-seller in the segment. Ford also offers a hybrid version of the Escape and high-tech extras such as an automatic parallel parking feature.
Chevrolet Equinox -- Starting at $25,015, the Chevrolet Equinox is a surprise contender in the compact crossover game. The Equinox is bigger than the CR-V but just as fuel efficient, thanks to its 6-speed automatic transmission. For those who prefer more power, Chevy offers a V6.
AutoTrader's Advice
Customers who are looking for a roomy, fuel-efficient crossover with proven reliability will be happy with the CR-V. We recommend upgrading to the better-equipped EX-L to get features such as leather, a moonroof, automatic climate control and upgraded audio. We'd recommend sticking with 2-wheel drive unless you really need all-wheel drive, but we'd opt for the rear entertainment system over navigation.