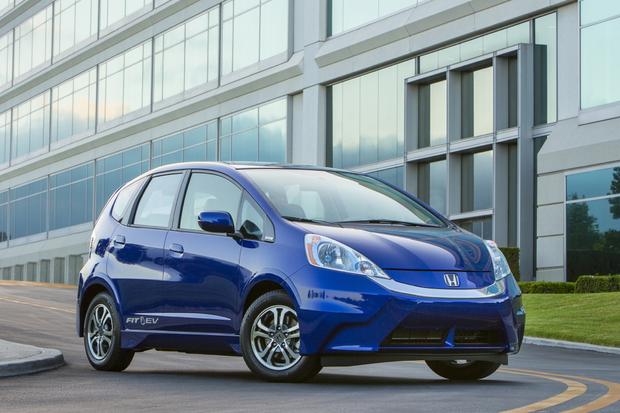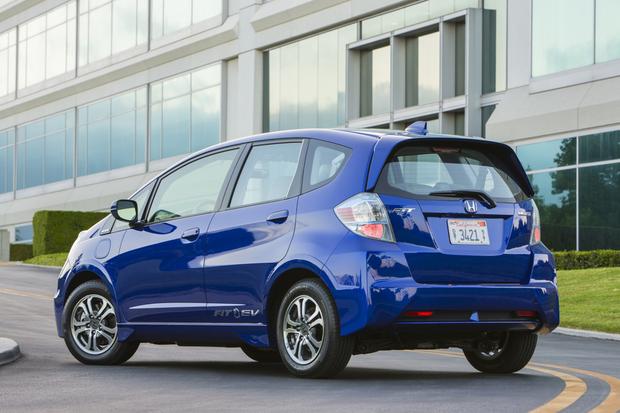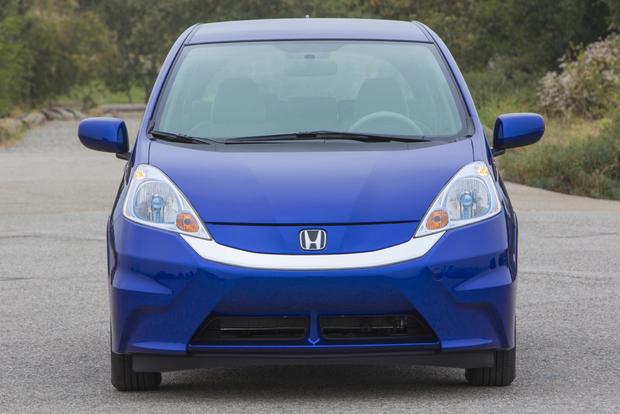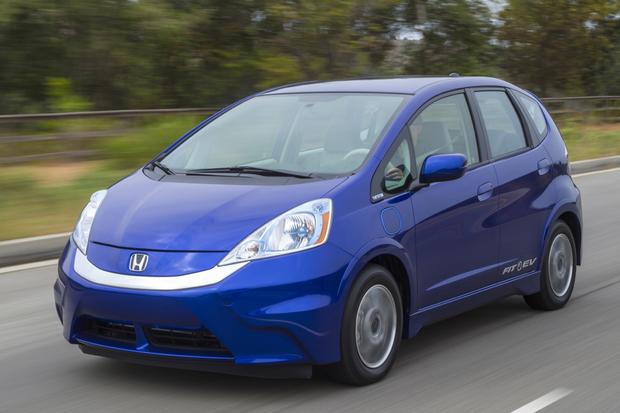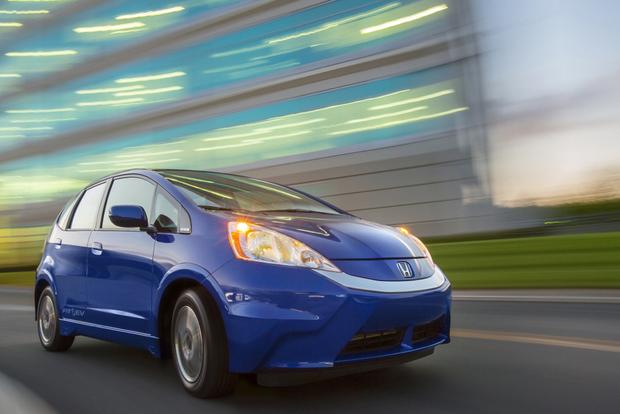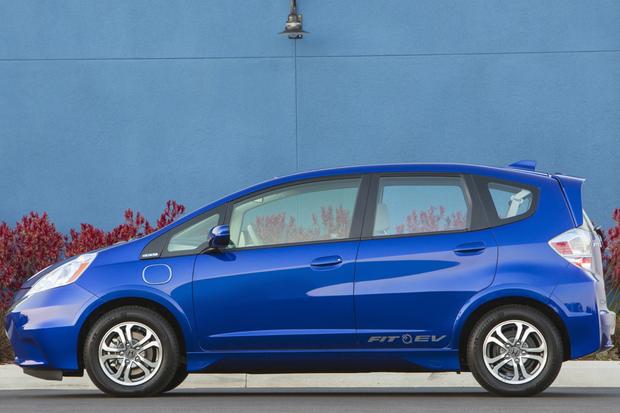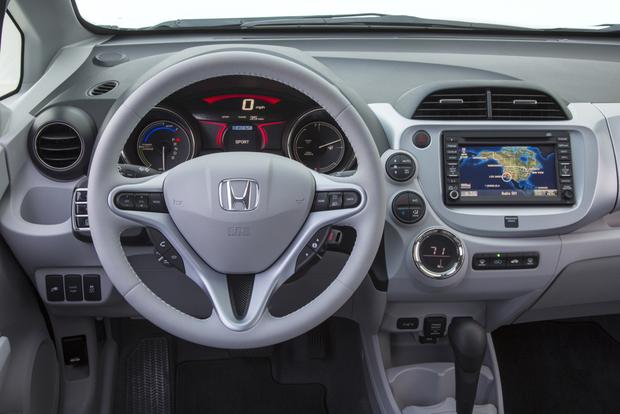 The 2014 Honda Fit EV is among the newest electric vehicles, joining an increasingly long list that includes rivals from Ford, Nissan, FIAT, Mitsubishi, Smart, and if you count plug-in models, Chevrolet, Toyota and others. If that sounds like a crowded segment, it is. So how does Honda plan to distinguish its challenger?
The automaker's plan seems to be simple: capability. While drivers may have turned their backs on other EVs, the Fit offers one of the longest ranges in the business, an Environmental Protection Agency-rated 82 miles, which bests the Nissan Leaf. It also offers a whopping 118 combined miles per gallon equivalent, which makes it one of the most fuel-efficient cars for sale. And a roomy interior from the regular Honda Fit (minus some space for the batteries) means it can carry people and things, too.
So how does the Fit EV fare against the latest crop of fully electric cars? We've examined it in detail below.
What's New for 2014?
After its 2013 debut, the Fit EV is unchanged for the 2014 model year.
What We Like
Excellent range; excellent fuel economy; more practical than many EVs; cool HondaLink EV app
What We Don't
Very expensive; cargo volume suffers with EV conversion; not as roomy as a Chevy Volt
How Much?
$37,500
Fuel Economy
Since the Fit EV is fully electric, fuel economy is calculated in an equivalent mpg system that rates the mileage as if it were a gas-powered vehicle. To that end, the Fit EV returns an impressive 132 mpg in the city and 105 mpg on the highway: big numbers that top nearly all rivals.
The Fit's electric motor boasts a 20-kWh lithium-ion battery, 123 horsepower and 189 lb-ft of torque. It also offers a 6.6-kW onboard charger, which means that recharging a depleted battery can be done in as little as three hours with 240-volt power.
Standard Features & Options
The Fit EV comes in just one trim level, and it's loaded with everything. Starting around $37,500 with shipping, the Fit EV boasts an impressive list of features that includes 15-inch alloy wheels, LED taillights, a voice-controlled navigation system, heated front seats, automatic climate control, Bluetooth and an iPod/USB interface. The Fit EV's key fob can also activate charging and turn on the car's air conditioning from around 100 feet away.
Safety
The 2014 Honda Fit EV comes standard with anti-lock brakes, stability and traction control, a rearview camera and front and curtain-side airbags. While the government has not yet crash tested the Fit EV, gas-powered Fit models earned four stars overall in National Highway Traffic Safety Administration tests. That rating consisted of four stars in frontal, side and rollover assessments.
Behind the Wheel
The Fit EV's electric motor provides just enough muscle to reach highway speeds in a reassuringly short time and enough push to send the front wheels chirping under enthusiastic acceleration. The latter aspect might also be the result of special Michelin tires with low rolling resistance. These are on 15-in alloy wheels designed to enhance aerodynamic efficiency.
The steering feels quite informative, there's a tight turning circle and the chassis is poised. The Fit EV doesn't just feel like a regular car, it feels like a good regular car. Without the drone of a combustion engine, other sources of noise might come to the fore, but the Fit EV's cabin remains relatively subdued even over the concrete slabs of a highway's surface. There's a slight whoosh when accelerating and braking, which is supposed to let pedestrians know there's an electric vehicle around, but it's understated.

If there's an element of sacrifice, it's in the cargo area. The seating and stowage versatility for which the Fit is renowned is still more or less in place, it's just that the floor is a touch higher and the rear seats don't fold completely flat. Whereas the regular Fit can accommodate a maximum of 57.3 cu ft, the electric model offers 49.4. This may seem like a significant drop, but that's still more than the next-size-up Ford Focus Electric's 44.8 cu ft.
Other Cars to Consider
Chevrolet Volt -- The Chevrolet Volt is a great choice for shoppers who don't insist on a fully electric car. Yes, there's an electric motor, but it can only take you about 30 miles. Then the gas engine kicks in, meaning you'll never suffer from range anxiety. The Volt is also a little larger and cheaper than the Fit EV.
Ford Focus Electric -- Ford's all-electric Focus is a little larger than the Fit EV, which means it's bigger on the inside. It's also cheaper, but the range is a little shorter, charge times are longer and there aren't as many standard features.
Nissan Leaf -- The Fit's biggest rival is the Nissan Leaf. Not only does the Nissan offer a similar range and lower pricing, but it boasts a dedicated look that screams "electric car" much louder than the Fit's subtle revisions.
AutoTrader's Advice
The Fit EV presents a compelling choice among electric cars thanks to its long range, high fuel economy and impressive list of standard equipment. We also like the practical interior, even if the electric model sheds some cargo room to accommodate the batteries. We're not sure we'd choose the Fit over its compelling rivals, but it would certainly make our short list.