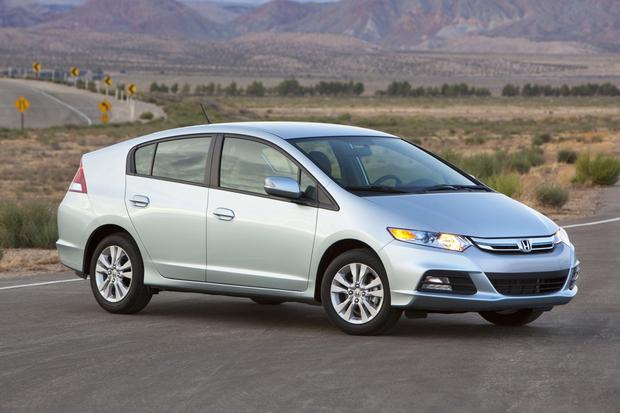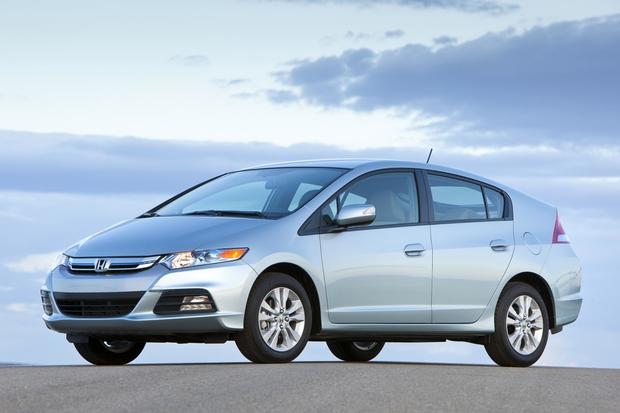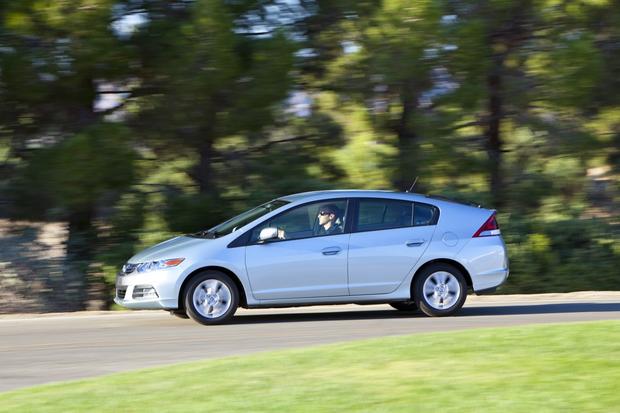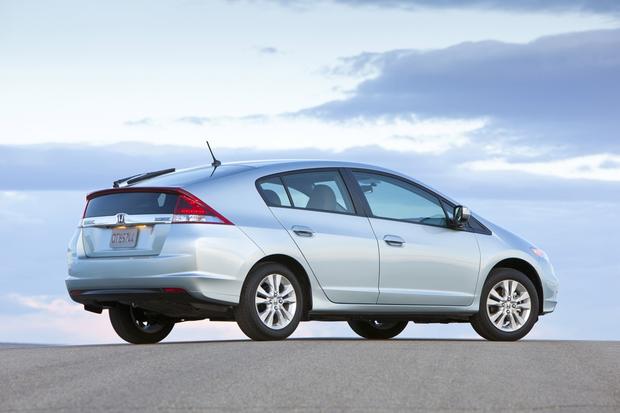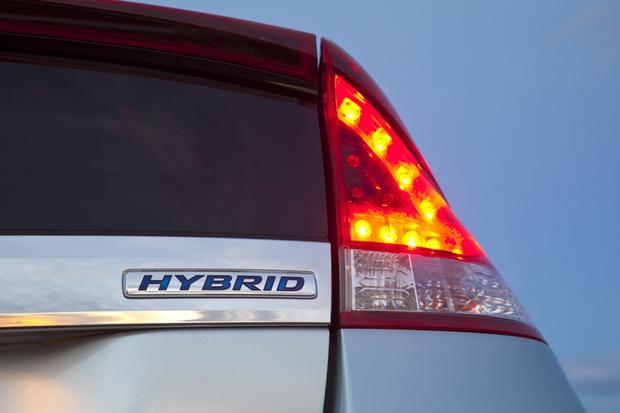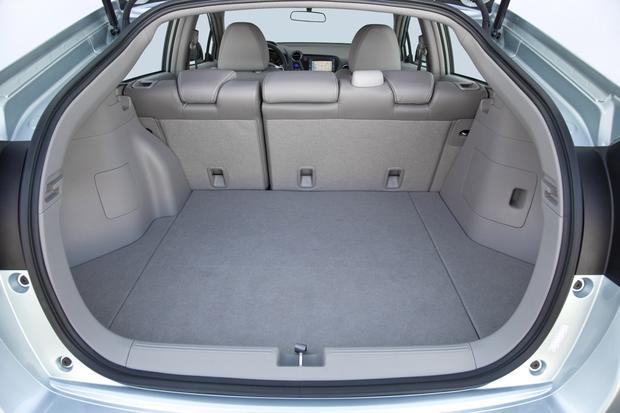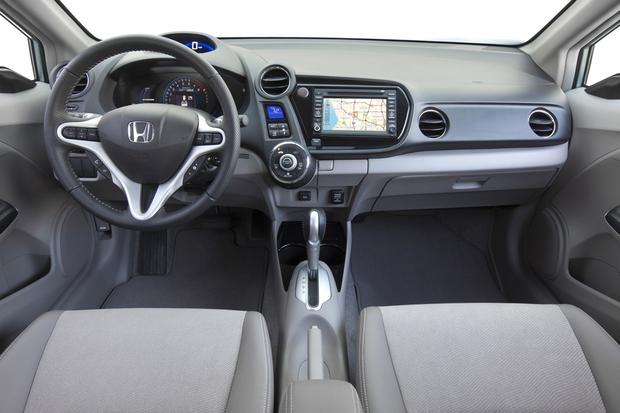 The 2014 Honda Insight may seem a lot like the Toyota Prius. It's a 5-door hatchback with compact-to-midsize proportions. It offers only a hybrid drivetrain. And it's popular due to a combination of family-car practicality and frugal fuel economy.
But there are a few key differences between the Insight and Toyota's popular Prius. One is immediately obvious when you check the numbers: gas mileage. While the Prius manages over 50 miles per gallon in the city, the Insight makes do with just 41 mpg in town and 44 mpg on the highway. That means it's no Prius when it comes to the pump.
So why would any shopper choose the Insight over the Prius? Simple: The Insight is far less expensive. In fact, with a starting price of just over $19,000 with shipping, the Insight is the least expensive hybrid on the market, beating out even Toyota's compact Prius c. And it's around $5,000 cheaper than the traditional Prius.
The result? The Insight may not give you Prius gas mileage, but it can save you big money. That makes it a good choice for shoppers who want a new car with very affordable running costs.
What's New for 2014?
The Insight is unchanged for the 2014 model year.
What We Like
Affordable pricing; light and relatively nimble; good fuel economy; well-used interior space
What We Don't
Underpowered; unoriginal body style
How Much?
$19,200-$22,900
Fuel Economy
Coupled with a continuously variable transmission, the Insight's 1.3-liter inline 4-cylinder and Integrated Motor Assist hybrid system together produce only 98 horsepower and 123 lb-ft of torque. Although 98 hp is modest, the Insight weighs only 2,747 pounds -- one reason that it's so efficient. The Insight receives an Environmental Protection Agency rating of 41 mpg city/44 mpg hwy.
Standard Features & Options
The Insight is available in three trim levels: an unnamed trim level called Insight, a mid-level LX and an upscale EX.
Choose the base-level Insight ($19,200) and you get 15-inch steel wheels with hubcaps, automatic climate control, full power accessories (windows, mirrors, locks), split-folding rear seats and an audio system that boasts both a CD player and an auxiliary plug.
Shoppers who step up to the mid-level Insight LX ($21,200) get cruise control, an upgraded sound system and an interface for iPod and USB music connectivity.
Topping the Insight range is the EX ($22,900), which adds automatic headlights, 15-in alloy wheels, Bluetooth, heated mirrors, a leather-wrapped steering wheel and a further upgraded sound system. Optional on EX models is a voice-activated touchscreen navigation system that also includes a reversing camera.
Safety
The Insight has dual-stage, multiple-threshold front airbags, front and side airbags with a passenger's side-occupant-position detection system and side-curtain airbags. There's also ABS with electronic brake distribution, active front head restraints and Honda's Advanced Compatibility Engineering, a front body structure designed to distribute energy evenly in a crash and limit pedestrian injuries.
In National Highway Traffic Safety Administration testing, the Insight has not yet been rated for overall crash safety. However, the hatchback scored four stars (out of a possible five) in the government's rollover test. The Insight earned a Good score and a Top Safety Pick designation after crash testing by the Insurance Institute of Highway Safety.
Behind the Wheel
Despite its Prius-like outward appearance, the Insight doesn't drive much like the Prius. It's more like its stablemate, the Honda Fit, with which it shares underpinnings. With only 98 hp, the Insight is arguably slow. But it's 500 pounds lighter than the Prius, and drivers will notice the weight difference during cornering. Its lightness gives the Insight driving characteristics not common in the hybrid market and easily makes up for its slow acceleration. Most hybrids feel as if they are suffering under their own weight. The Insight feels lighter and freer.
The Insight also features an Econ setting on the dash, which modifies vehicle system use to minimize energy use, and Honda's Eco Assist system. Eco Assist displays feedback about your driving efficiency through color coding behind the speedometer. When the driver is driving most efficiently, the background will appear green. If fuel efficiency drops, the background changes from green to blue.
Other Cars to Consider
Honda Civic Hybrid -- Honda's own Civic Hybrid serves as tough competition for the Insight. It's not as practical, offering a smaller interior, but the Civic Hybrid boasts better gas mileage. However, the Civic's pricing is higher than the Insight's.
Toyota Prius c -- The smallest Prius model costs nearly the same as the Insight. It's smaller than the Honda, but fuel economy is better -- though neither model matches the gas mileage of the traditional Prius.
Volkswagen Golf TDI -- If it's gas mileage you're after, the Golf TDI does an excellent job. In fact, its highway fuel economy nearly matches the Insight's. But city fuel economy isn't as strong, and the Insight is far less expensive than a diesel Golf.
AutoTrader's Advice
We recommend customers opt for the 2014 Honda Insight EX with Navigation. Priced around $24,000, it's still relatively inexpensive and just as fuel efficient, but it offers many more creature comforts than either the base model or the mid-range LX, which has cruise control and a USB input but no Bluetooth hands-free.