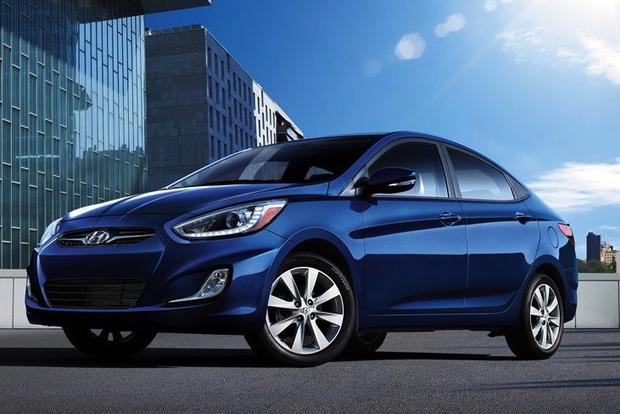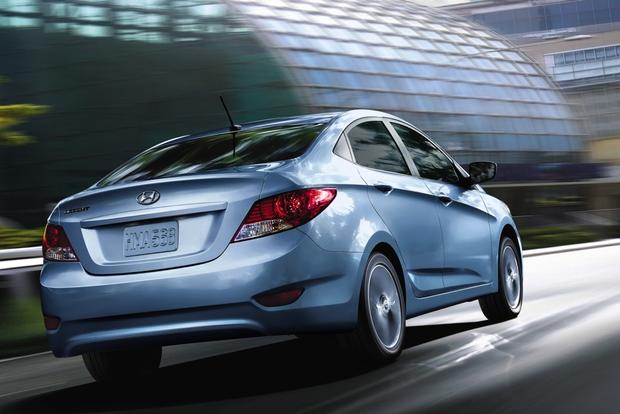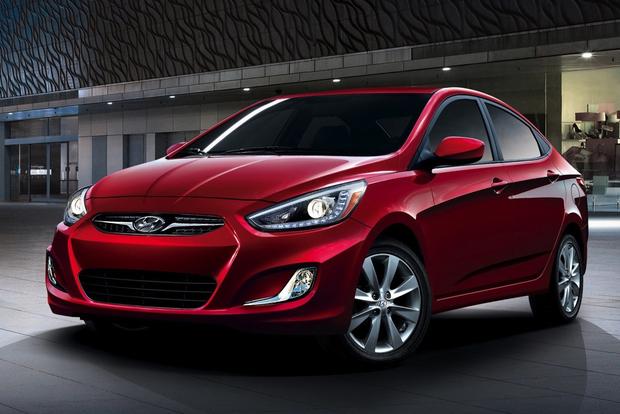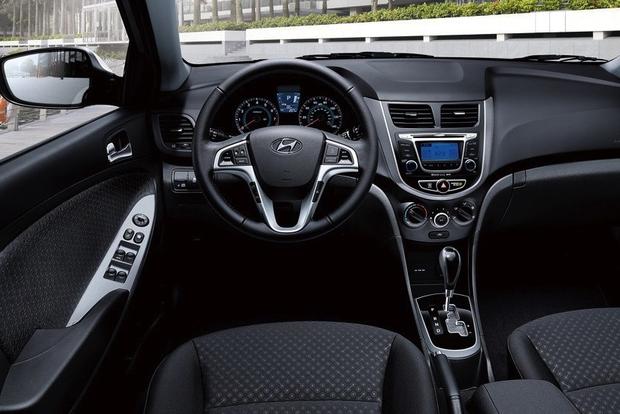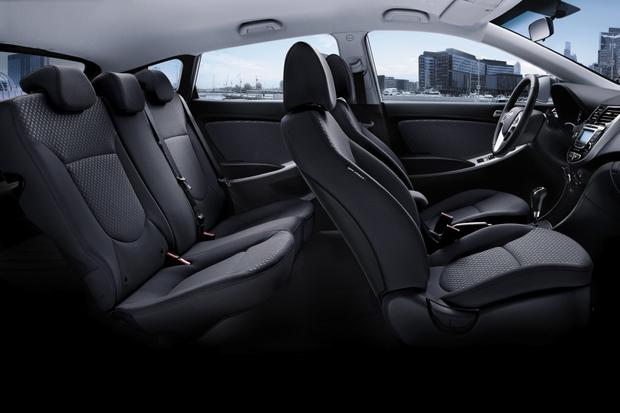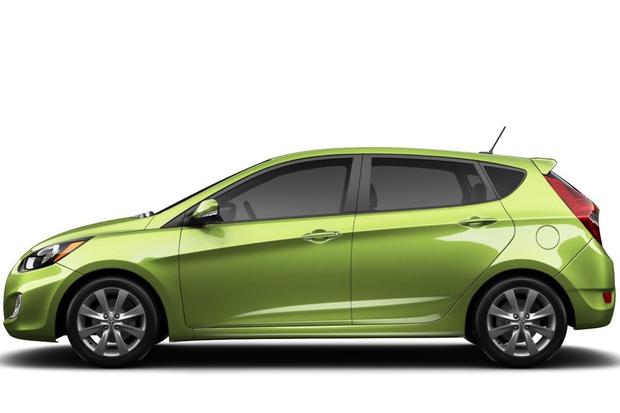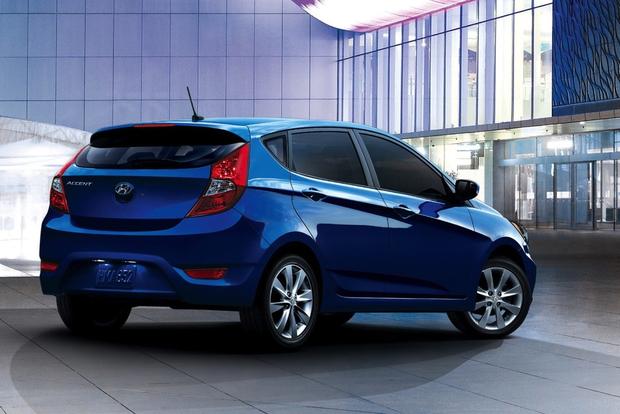 The 2014 Hyundai Accent is pretty much the same car that debuted in 2012, but we're still charmed by how it feels like a bigger car than it really is. The ride is smooth, with less harshness over rough surfaces than some other subcompacts. There's adequate room for adults in the back seat, and the hatchback model's rear seat backs fold down to yield a whopping 47.5 cu ft of maximum cargo space. Cars like this are supposed to be just basic transportation devices, but the 2014 Accent makes a case for itself as a substitute for a number of larger vehicles, especially in hatchback form.
Although it hasn't changed a lot, the Accent has received a couple notable tweaks since 2012. Last year, it unfortunately lost its standard rear disc brakes -- rear drums became standard on GLS and GS -- but in brighter news, the Accent gains an optional tilt/telescoping steering wheel for 2014. That's a relief for longer-legged drivers, even though the GLS and GS still come standard with the non-telescoping tilt wheel.
There are plenty of capable small cars vying for your monthly payment, so we recommend test-driving the competition before deciding. But if you're looking for a subcompact that acts like something more, make sure the 2014 Hyundai Accent is on your radar.
What's New for 2014
The Accent gets a standard one-touch triple passing signal this year, as well as sliding sun visors (for side sun protection) and a driver-side blind spot mirror. The GLS Premium and SE models receive LED headlight accents, a driver-side auto-up window and a tilt/telescopic steering wheel. The SE is also available with a B&M Racing Sport Shifter.
What We Like
Solid fuel economy; nice looks; pleasant ride quality; hatchback's impressive cargo capacity; usable back seat
What We Don't
Steering wheel doesn't telescope on all models; 4-wheel disc brakes not standard on all trims; crash-test scores aren't stellar
How Much?
$15,455-$17,205
Fuel Economy
Every Accent is front-wheel-drive and powered by a 1.6-liter inline 4-cylinder rated at 138 horsepower and 123 lb-ft of torque. The available transmissions are a 6-speed manual and a 6-speed automatic.
Fuel economy has an Environmental Protection Agency (EPA) rating of 27 miles per gallon city/38 mpg hwy with the manual transmission and 27 mpg city/37 mpg hwy with the automatic. Those are solid numbers, but they used to be even better. EPA downgraded the Accent this year from its previous rating of 30 mpg city/40 mpg hwy.
Standard Features & Options
The 2014 Hyundai Accent is offered as a sedan (GLS) or hatchback (GS and SE).
The GLS sedan ($15,455) comes standard with a 6-speed manual transmission, 14-inch steel wheels, front-disc/rear-drum anti-lock brakes, a height-adjustable driver seat, heated outside mirrors, keyless entry, power accessories, air conditioning and a 6-speaker audio system with iPod/auxiliary audio connectivity.
Optional on the automatic-transmission GLS only is a Premium package with 16-in alloy wheels, LED headlight accents, rear disc brakes, fog lights, cruise control, Bluetooth connectivity, a tilt/telescopic steering wheel, premium cloth upholstery, piano-black interior accents and a sliding armrest storage box.
The GS hatchback ($15,705) features roughly the same standard equipment as the GLS sedan.
The SE hatchback ($17,205) gets the items in the GLS model's Premium package plus a rear spoiler, integrated turn signals in the side mirrors and a leather-wrapped steering wheel. A sunroof and a B&M Sport Shifter are optional.
Safety
The Accent comes with standard stability control and active front head restraints, as well as six airbags (front, front-side, full-length side curtain). All Accents have anti-lock brakes, of course, but the GS and GLS trim come standard with less advanced rear drum brakes, whereas the GLS Premium and SE feature 4-wheel disc brakes.
In government crash-testing, the Accent scored four stars out of five across the board. The independent Insurance Institute for Highway Safety gave the Accent its highest rating of Good in all tested categories except side impacts, where it garnered the second-highest Acceptable rating.
Behind the Wheel
In our interior evaluation, we found the Accent's front seats rather soft (we wonder how they'll age), and their upholstery is a little cheesy, especially the base version. The standard tilt-only steering wheel likely won't work for long-legged drivers unless they like driving with their elbows locked. With the optional telescoping column installed, the Accent becomes more viable for the lanky crowd.
We have no complaints about the gauges, which look crisp and frame an attractive LCD trip computer in every Accent. The controls are mostly straightforward, and the 3-knob climate controls are a model of ergonomics. Materials quality is about average for this class, highlighted by the usual hard plastics. (Check out the related Kia Rio for a more inspired cabin.)
We generally don't have high hopes for subcompacts in the technology department, and the Accent illustrates why. It's nice that you can get Bluetooth in the sedan, for example, but it costs extra, and it's not even available in the cheapest hatchback model, the GS. At least the 6-speaker stereo sounds decent and includes an iPod/USB hookup. If you keep those high-tech expectations low, you'll probably find the Accent satisfying enough.
The Accent's back seat is one of its strongest suits, accommodating normal-sized adults with unusual ease. Cargo space is impressive across the board, ranging from 13.7 cu ft in the sedan's trunk to 21.2 cu ft behind the hatchback's back seat -- and an enormous 47.5 cu ft with the rear seat backs folded, dwarfing the maximum cargo capacity of rivals like the Sonic and Fiesta.
Under the hood, the little 4-cylinder remains quiet and reasonably well-behaved even at high rpm, though it sometimes feels a little short on energy for passing or merging. The automatic transmission will be the most popular choice, but it blunts the engine's performance. We recommend the more responsive manual if you can shift your own gears.
On the road, the Accent's compliant suspension makes for a fairly smooth ride, while the cabin is respectably quiet at highway speeds. Due to those soft underpinnings, however, the Accent isn't as entertaining in corners as athletes such as the Sonic and Fiesta. That may not bother you, but do pay close attention to the Accent's steering and see if it feels alright. We think it's a little too light and numb for its own good.
Other Cars to Consider
Chevrolet Sonic -- The Sonic's optional turbocharged engine is one of the best in this class, but even the simplest Sonic boasts a comfortable ride along with responsive handling. Also, its motorcycle-inspired instrument panel is pretty nifty.
Ford Fiesta -- The Fiesta seems lost in the shuffle these days, and that's not fair, as Ford's subcompact is a pleasure to drive thanks to its Euro-inspired suspension and exceptionally smooth inline 4-engine. Strong fuel economy, too.
Kia Rio -- If you want more style and character than the Accent offers, try its cousin from Kia. The Rio feels better from behind the wheel, and we like its attractive, good-quality cabin.
AutoTrader's Advice
We'd go with the SE hatchback, as we love the extra hauling capability and smart-looking alloy wheels -- and we couldn't do without Bluetooth. For less than $2,000 more than the base GLS sedan, it's a smart buy.