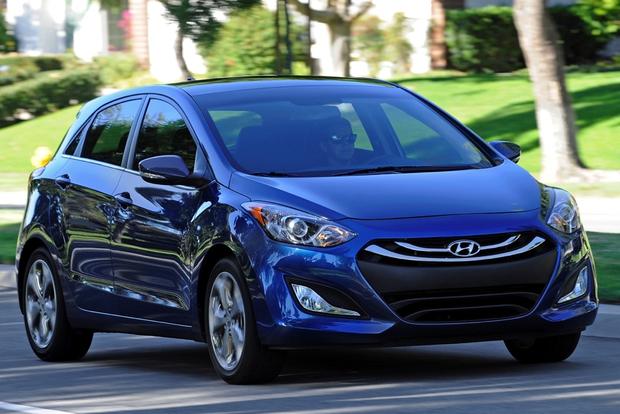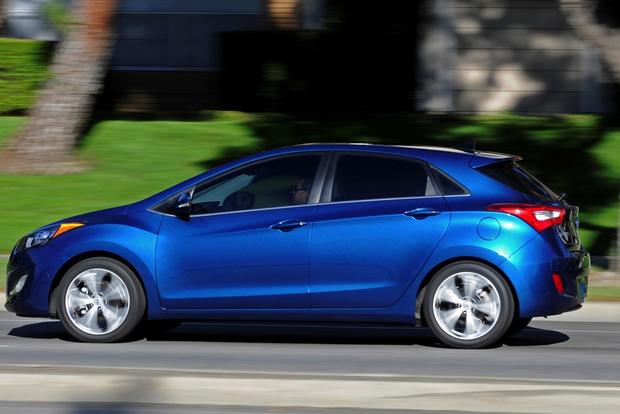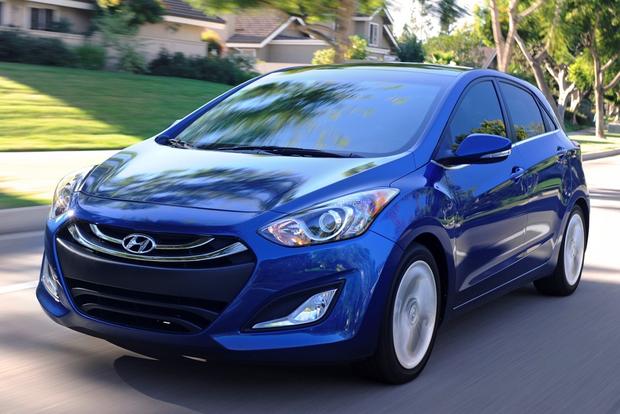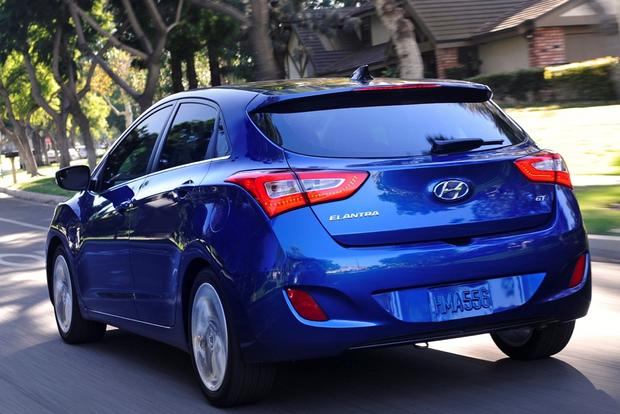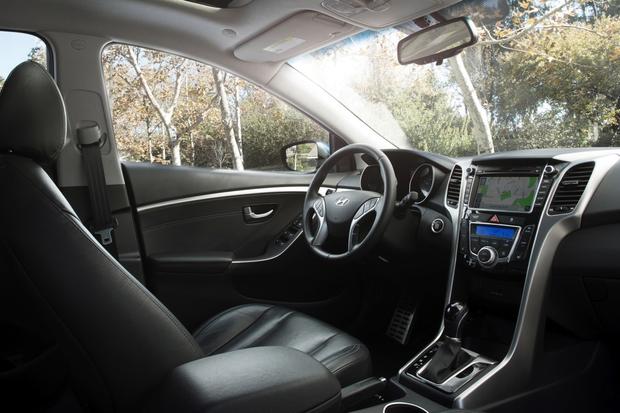 The 2014 Hyundai Elantra GT is one of the best examples of the current hatchback renaissance. Curmudgeonly critics like us have carped for years about America's hatchback-averse driving public, but we'd better find a new routine, because our fellow Americans have apparently seen the light. The affordable-hatchback segment is an embarrassment of riches these days, teeming with sexy specimens that boast all the latest technology. And with the arrival of the Elantra GT, the most appealing hatchback of all might be a Hyundai.
Derived from the Euro-market Hyundai i30 hatchback, the Elantra GT has a shorter wheelbase than the Elantra sedan, and it's tuned for sportier handling. Unlike the sedan's bare-bones starter model, the base Elantra GT comes with plenty of equipment, and plenty more is available via the two simple options packages. Plus, just look at the thing. The Elantra GT is an exceptionally attractive economy car, is it not? Throw in a punchier engine for 2014 -- a 2.0-liter inline 4-cylinder that adds 25 horsepower and 23 lb-ft of torque -- and you have a surprisingly complete package, especially given the low price.
There are so many competitive hatchbacks now that you really owe it to yourself to test drive as many as possible. But if you're looking to narrow down the field, the Elantra GT is one you'll definitely want to keep on your list. The hatchback is back and, as we've come to expect, Hyundai's at the front of the pack.
What's New for 2014?
The Elantra GT gets a new engine, a 2.0-liter 4-cylinder that makes 173 hp. That's significantly more punch than last year's 1.8-liter 4-cylinder, though fuel economy drops by a few miles per gallon. Also new are a standard driver-side blind spot mirror and available LED taillights.
What We Like
Rich feature set; attractive styling; generous cargo space; sportier handling than Elantra sedan
What We Don't
Lacks sedan's stylish dashboard; so-so fuel economy
How Much?
$19,560
Fuel Economy
The front-wheel-drive Elantra GT upgrades to a 2.0-liter 4-cylinder engine this year, with output rising to 173 hp and 154 lb-ft of torque -- increases of 25 hp and 23 lb-ft compared to last year's 1.8-liter motor. The transmission choices are a 6-speed manual and a 6-speed automatic.
Not surprisingly, fuel economy is notably worse with the bigger engine. The 2014 Elantra GT receives an Environmental Protection Agency rating of 24 mpg city/34 mpg hwy with the manual and 24 mpg city/33 mpg hwy with the automatic. That's not very impressive for a compact hatchback these days. For comparison, last year's Elantra GT was rated at up to 27 mpg city/37 mpg hwy.
Standard Features & Options
The 2014 Hyundai Elantra GT comes in one well-equipped trim level.
Standard items include 16-inch alloy wheels, driver-selectable steering effort, a height-adjustable driver's seat, full power accessories, a trip computer, air conditioning, a tilt-telescopic steering wheel, cruise control and a 6-speaker audio system with satellite radio and Bluetooth/USB connectivity.
The optional Style package ($2,550) adds 17-in wheels, LED taillights, a panoramic sunroof, a power driver's seat, heated front seats, aluminum pedals, leather upholstery and a leather-wrapped steering wheel.
The Tech package ($3,250) tacks on automatic headlamps, dual-zone automatic climate control, keyless entry with push-button start and a navigation system with a 7-in touchscreen, a rearview camera and premium audio.
Safety
The 2014 Hyundai Elantra GT comes with standard stability control, 4-wheel anti-lock disc brakes and seven airbags (front, front-side, driver knee, full-length side curtain).
The Elantra GT received five stars out of five in government crash tests, including four stars for front impacts and five stars for side impacts.
Behind the Wheel
The Elantra GT's front seats have been beefed up from regular Elantra duty with more aggressive side-bolsters, a nice touch in an inexpensive compact. The available power driver's seat is exceptionally adjustable and supportive. The deeply hooded gauges feature Hyundai's standard-issue clear numerals and blue accents. Surprisingly, the Elantra GT's dashboard and control layout is less stylized than the Elantra sedan's. Compare the two side-by-side and you'll find that the GT plays it safe with fewer complex curves and surfaces. Happily, most of the controls are no-nonsense and easily learned, while materials quality is satisfactory.
The Elantra GT's shorter wheelbase takes a small bite out of backseat space, but there's still room for full-size adults back there if the adults in front play nice. Trunk space is 23 cu ft, while folding down the rear seat backs opens up a very healthy 51 cu ft.
Under the hood, the new 2.0-liter 4-cylinder delivers reasonably peppy performance in most situations. Shared with the Elantra Sport sedan, the bigger engine feels strained at times, but it's a definite improvement over the old 1.8-liter unit. Transmission-wise, the precise 6-speed manual gives a more responsive feel, but at least the optional 6-speed automatic's downshifts are quicker than the norm these days. We do wish the 1.8-liter motor were still available, as we're sure there are folks who would rather have less power and an extra 3 mpg.
On the road, the Elantra GT handles crisply atop its sport-tuned suspension. The Elantra GT's standard driver-adjustable steering is a first for this class, and it illustrates one of the main technological advantages of electric power steering: customizability. We'd still pick a Ford Focus or Mazda3 first for enthusiastic driving, but those models don't offer the Elantra GT's value. The Elantra sedan is already a nimble little car, and the shorter Elantra GT feels even more resourceful in tight spots. In part because of its relatively light weight, the Elantra GT can get a little out of sorts on rough roads, but we're generally impressed with the smoothness of its ride.
Other Cars to Consider
Ford Focus -- You usually get what you pay for when it comes to economy cars, and the Focus is one of the most expensive. Sure enough, it drives almost like an entry-level luxury car, with uncommon refinement and athleticism for this class.
Mazda3 -- With its smooth SkyActiv 2.0-liter engine, the redesigned 3 has vaulted to the head of the class in fuel economy without losing Mazda's traditional performance edge. Plus, the new styling is much more pleasing to the eye.
Volkswagen Golf -- The 2015 Golf feels amazingly solid at highway speeds, and it has top-notch interior quality. We like the new turbocharged 1.8-liter engine, too.
AutoTrader's Advice
The Elantra GT's looks really come together with the optional 17-in wheels and LED taillights, so we'd add the Style package, for sure. But since the Tech package jacks up the price even more, we'd consider just sticking with the Style package and enjoying all the Elantra GT's standard features.