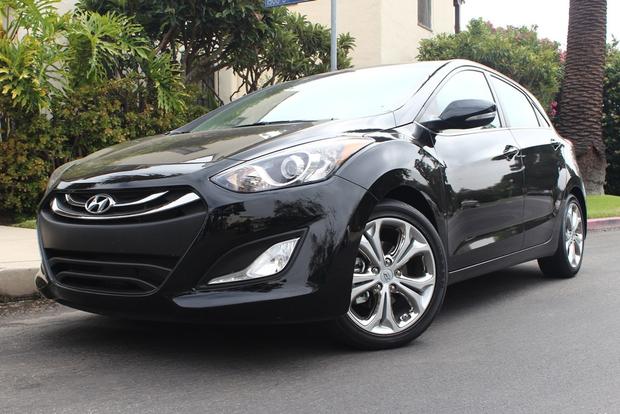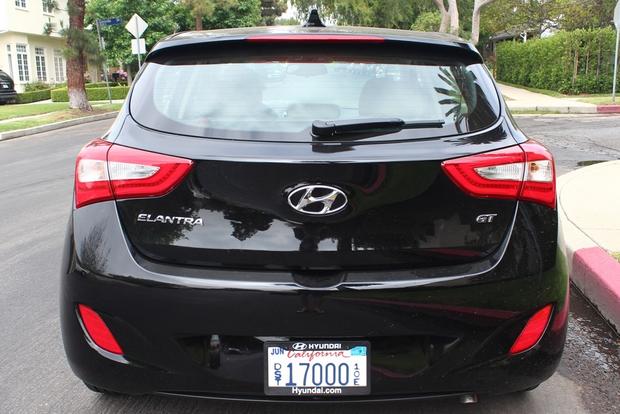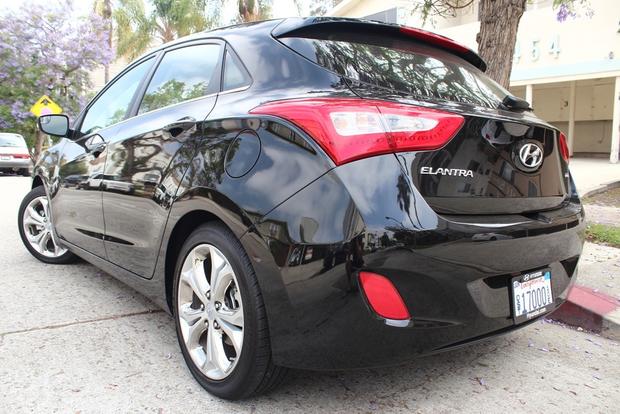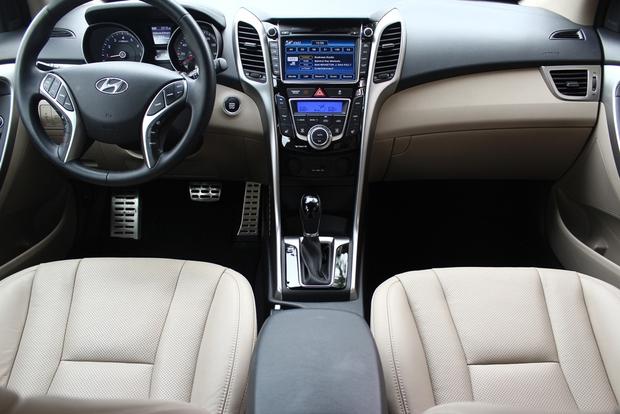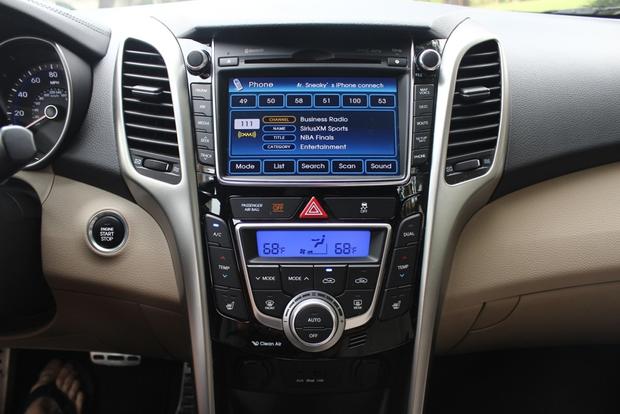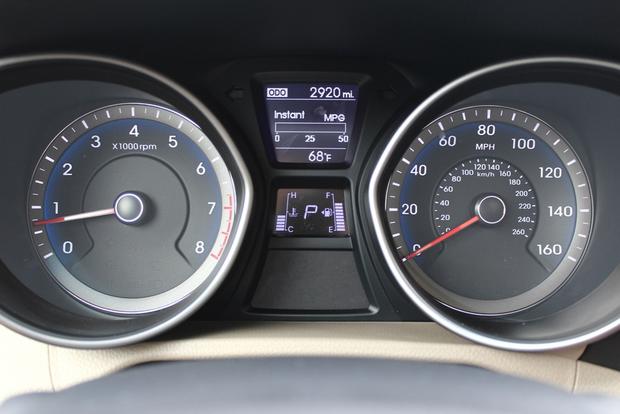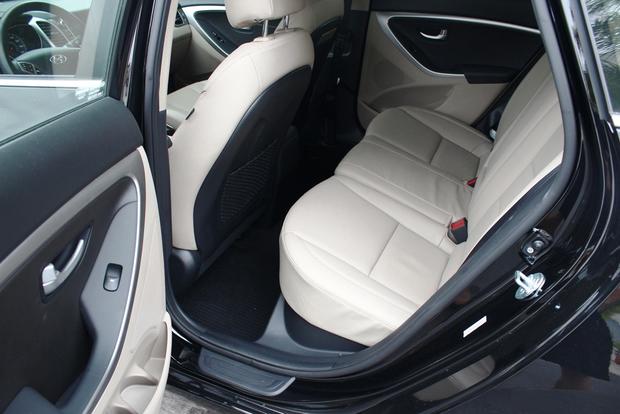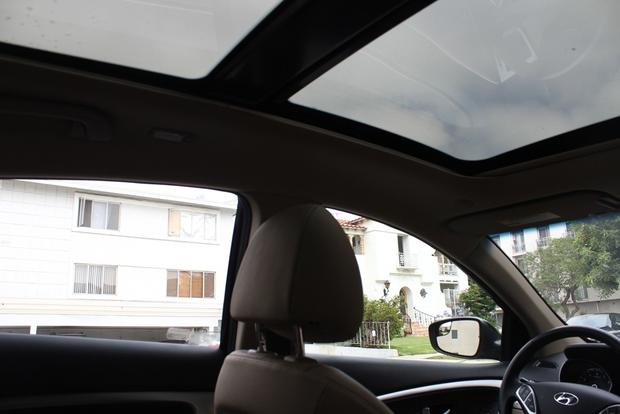 Often overlooked, the 2014 Hyundai Elantra GT hatchback is one of my favorite Hyundai products. The "Elantra" part is a bit misleading, because the GT is actually based on the Euro-market Hyundai i30, a more sophisticated car aimed at premium hatches like the VW Golf. That means the GT's got European priorities baked in, including responsive handling and confident composure at all speeds. I drove my Black Noir Pearl test car from Los Angeles to Santa Barbara, and a bunch of places in between, and here's why I came away so impressed.
It Just Feels Right
Remember those old Toyota ads with that tag line? These days, Hyundai's the one delivering a just-right feel at a price you can't refuse. The Elantra GT starts at just $20,560 with the 6-speed automatic transmission, which is what my car had, and you can go even cheaper if you opt for the satisfactory 6-speed manual (I would).
But there's nothing cheap about the driving experience.
When I'm driving an economy hatchback, I usually don't find myself settling into a road-trip groove and seeking out new destinations, but that's exactly what happened in this Hyundai. From Santa Barbara, I improvised and headed north into Santa Ynez wine country, seizing the opportunity to pick up some rare Foxen Vineyard Pinot Noir straight from the source. The Elantra GT tracked straight and true on the iconic 101 freeway, with surprisingly little road noise and a general sense of confidence. That's exceedingly rare among affordable hatchbacks. And once I hopped onto the winding secondary roads leading to the vineyard, the GT surprised me again with its nimble, flat cornering and indifference to rippled pavement.
This is a car I could drive every day, and I don't say that very often -- particularly at this price point.
Inner Monologue
The Elantra GT also distinguishes itself in terms of comfort and feature content. The Elantra sedan's interior is nice enough, to be sure, but the GT does it one better with one of the most supportive driver's seats I've sat in this year. The bolstering is just right -- snug without being confining -- and the bottom cushion tilts independently of the backrest, which enabled me to dial in perfect under-thigh support for the long haul. Now, if you want it, you'll need to ante up for the Style package ($2,550), which also includes 17-inch alloy wheels, a sport-tuned suspension, leather upholstery, aluminum pedals, keyless entry/ignition and LED taillights. But that's quite a list, isn't it? I typically advise against pricey options packages, but in this case, there's so much value that I think it's a no-brainer.
I'll tell you what I'd pass on, though: the Tech package, which comprises a navigation system, automatic headlights, dual-zone automatic climate control and a panoramic sunroof. My car had it, and while I do dig the sunroof, I just don't think it's worth spending a total of $3,250 for the other stuff as well -- particularly given that I just used my smartphone for navigation on the trip. My car's sticker price was $26,470, and that's frankly too much. I'll take a Volkswagen GTI for that kind of coin. But subtract the Tech package from that total and I'm listening.
So-So Engine
Here's the one thing that would hold me back from considering the Elantra GT: the 2.0-liter 4-cylinder engine under the hood. Fuel economy is subpar at 33 miles per gallon on the highway, and the engine note is boomy and industrial, kind of like a Dustbuster. It actually detracts from the driving experience, in my opinion. To be fair, it's got a healthy 173 horsepower, which is a lot more than the previous 1.8-liter engine that was specified for 2013. But truth be told, I'd rather have the weaker 1.8, as it sounds sportier and gets better fuel economy besides. Hey, Hyundai, here's an idea -- just swap in the turbocharged, 201-hp 1.6-liter four from the Veloster Turbo, and tell me where to sign.
The Bottom Line
Don't put too much stock in my engine critique; that's a minor point, and it certainly doesn't keep the 2014 Hyundai Elantra GT from being a top pick in this category. I'd definitely look at the new 2015 VW Golf and the Mazda3 hatchback as well, but the Elantra GT absolutely belongs in this conversation. It's legit.