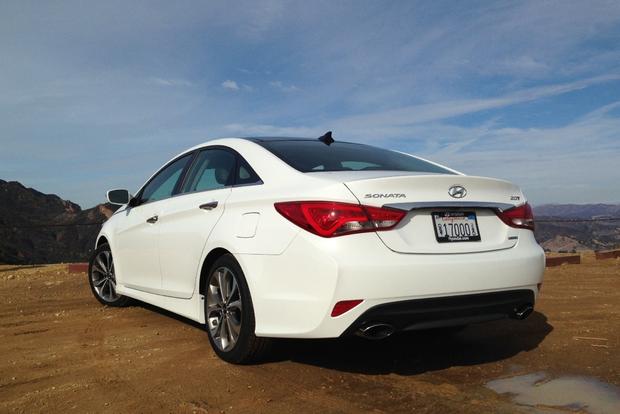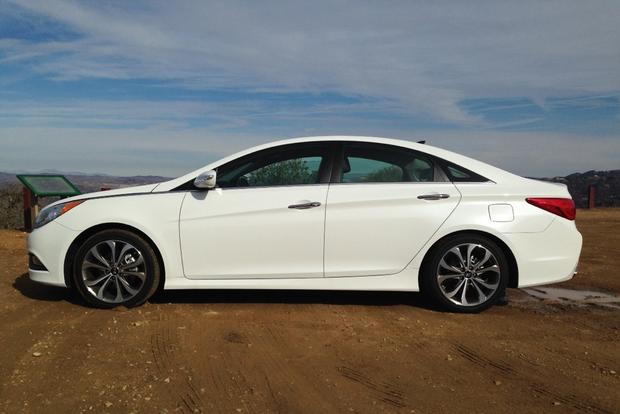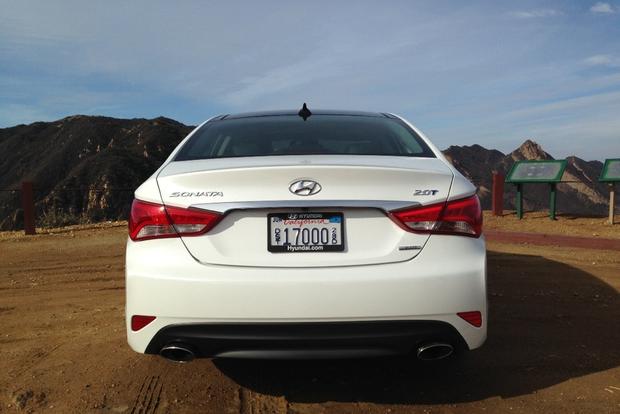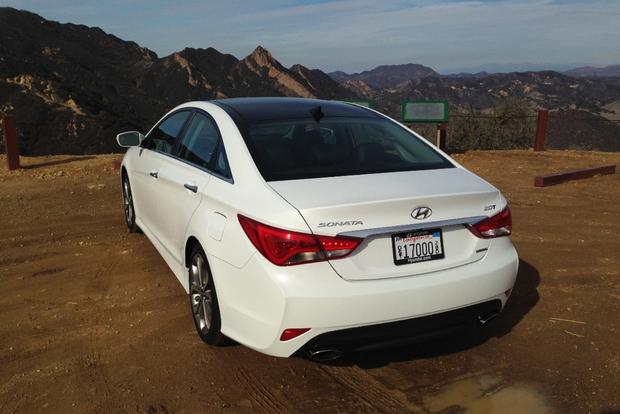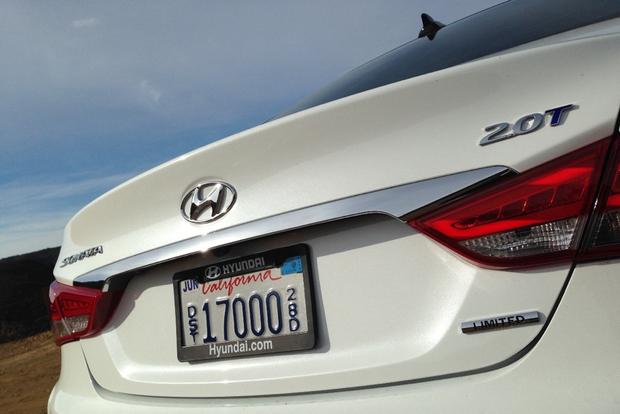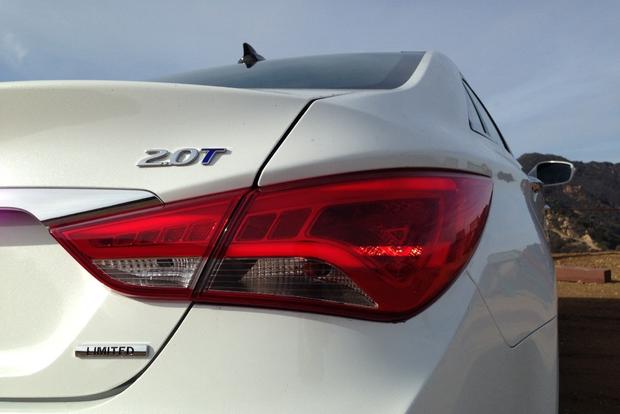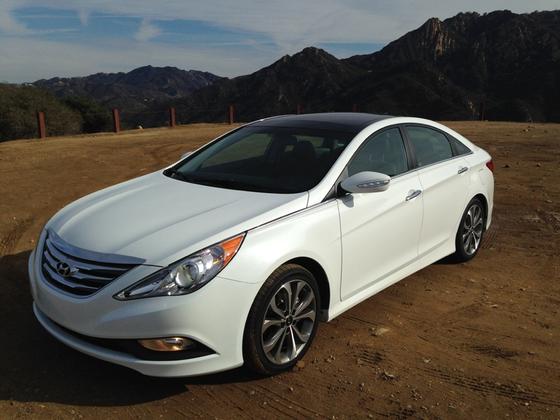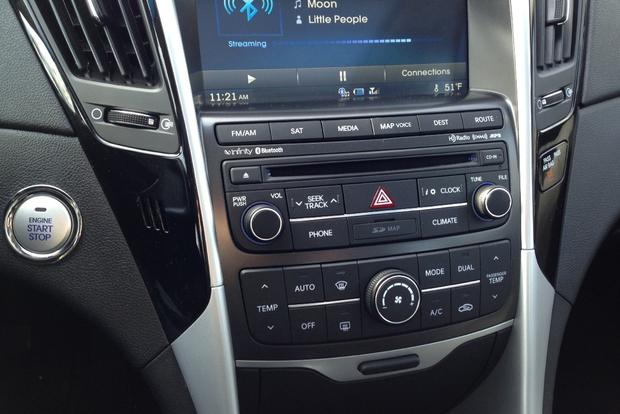 When I first heard about all the changes baked into the facelifted 2014 Hyundai Sonata, I'll admit I was skeptical. After all, this is still fundamentally the same car that debuted at the LA Auto Show in 2009 -- yet Hyundai's press release claims that "more than 50 Sonata major sub-systems are new or redesigned." I wasn't sure what they meant by major sub-system, but it sounded like a tricky way of saying, "We tweaked a bunch of stuff but kept the core intact." Guess what: That's what every automaker does for a model's so-called mid-cycle refresh. Color me unimpressed.
But then I had a chance to spend a week with a 2014 Hyundai Sonata Limited 2.0T, and it left me with a newfound respect for this aging star. The real story here isn't those 50 major sub-systems or the 32 bullet points (I counted) that the press release provides for illustration. Here's the long and short of it: The 2014 Sonata's formerly wonky steering doesn't feel that weird anymore; it's quieter at speed; and its updated 8-inch infotainment display has the graphics and features that modern-day shoppers expect. The subtly nipped-and-tucked styling doesn't hurt, either.
Oh, and there's one major sub-system, if you will, that hasn't changed a lick: At $32,755 as tested, the 2014 Sonata Limited 2.0T is easily one of the best values I've encountered this year.
Sharper Steering
One thing I've appreciated from the beginning about the current-generation Sonata is its relatively firm, buttoned-down suspension, which stands in stark contrast to the previous Sonata's spongy underpinnings (SE model aside). It's like the engineers sat down and said, "Forget Camry, we're aiming for Accord this time." As a man who likes to drive, I consider this progress. Unfortunately, the chassis was hamstrung by a distractingly artificial-feeling electric power-steering system. You don't have to take my word for it; go read some consumer reviews, which are full of complaints to this end. Dynamically speaking, the Sonata was almost there, but the strange steering kept it from being a legitimate driver's car.
Happily, there's a new steering system for 2014, and I could definitely feel the difference on the demanding canyon roads of Malibu, Calif. Hyundai calls it "Driver Selectable Steering Mode," with three settings -- Comfort, Normal and Sport -- that provide distinct effort and response characteristics. Sport mode was just fine on that spirited Malibu drive, and that's high praise for Hyundai steering. Aside from the performance-oriented Genesis Coupe, I haven't been in a Hyundai that inspired more confidence from the helm -- and I've been in a bunch that inspired less. Kudos to the company for making a meaningful change.
Quieter Cruising
Less dramatic but still noticeable is the quieter interior for 2014. This is a subjective assessment; I didn't hook up a decibel meter. But the current Sonata has always struck me as too noisy -- both wind and road noise -- at highway speeds, and that thought hardly crossed my mind in this 2014 test car. Glancing through the press release, I saw "Improved carpet for a quieter interior," "Additional foam in the A and B pillars for improved NVH" and "Additional dynamic damper for improved NVH." (NVH stands for noise, vibration and harshness.) To my ear, at least, these new elements seem to be doing their job.
Up-to-date Infotainment
I'm not generally a fan of paying extra for fancy computer screens in the dash, but in the 2014 Sonata's case, I'd make an exception. Mainly the reason is that the Sonata's Technology Package, which includes the new 8-in touchscreen, is a pretty good deal. For $3,000, according to my test car's window sticker, you also get a panoramic sunroof, xenon headlights, LED taillights and a 400-watt Infinity audio system with a subwoofer -- all features I'd want. But I also like that the touchscreen has been updated for 2014, featuring improved software and contemporary graphics that add sophistication to the cabin.
If you don't get this package, you're stuck with a new-for-2014 but relatively basic 4.3-in screen that sits in the middle of the stereo faceplate. It doesn't look bad, but it's a perpetual reminder that you didn't ante up for the good stuff. Seeing as the car's so reasonably priced in the first place, I think the extra $3,000 is easy to justify.
The Bottom Line
Hyundai wisely left some stuff alone for 2014, including the energetic 274-horsepower turbocharged 4-cylinder engine that comes in every Sonata 2.0T model. I wouldn't drive a Sonata without it. The power comes on strong after 2,000 rpm -- if you floor it from a dead stop, the front tires will belatedly squeal at 15 to 20 miles per hour -- yet highway fuel economy is more than respectable at 32 miles per gallon. This is an excellent all-around motor that makes the base engine, a perfectly competent 2.4-liter 4-cylinder, seem dull by comparison.
And as noted, the Sonata's value proposition remains compelling, with the high-end Limited 2.0T starting at $29,385 sans Technology Package.
The 2014 Hyundai Sonata Limited 2.0T is a sedan I'd be happy driving every day, and I couldn't have said that about last year's model with the same conviction. I'm still not clear on what a major sub-system is, but whatever Hyundai's engineers were up to behind the scenes, they've managed to produce a genuinely better car.