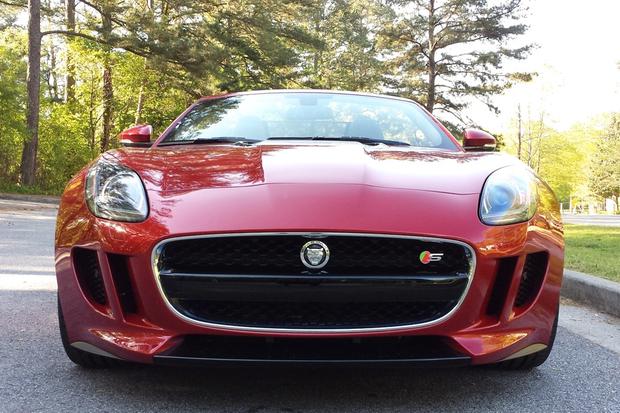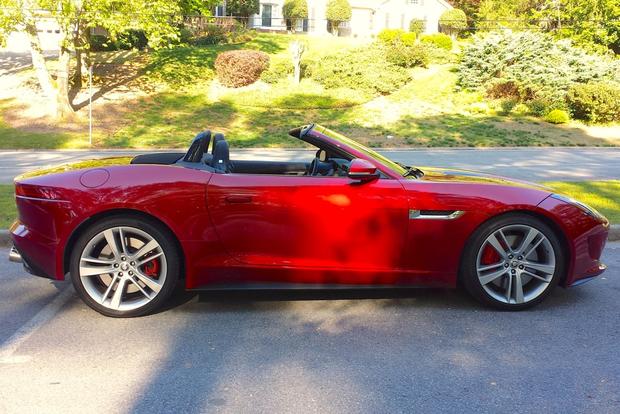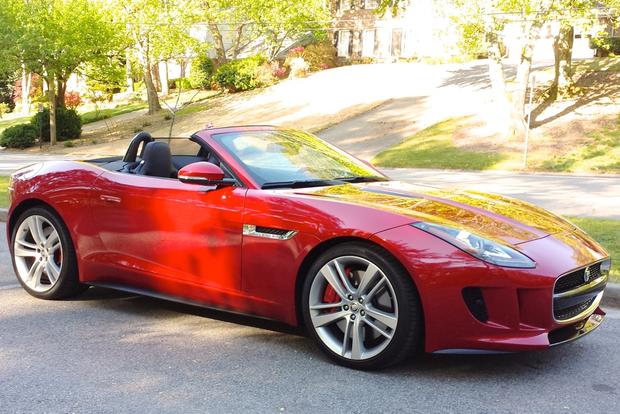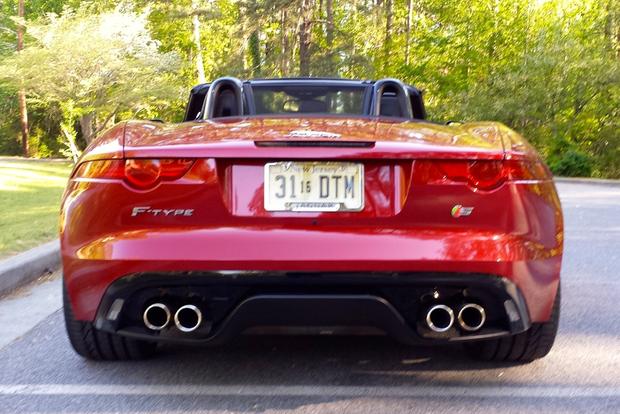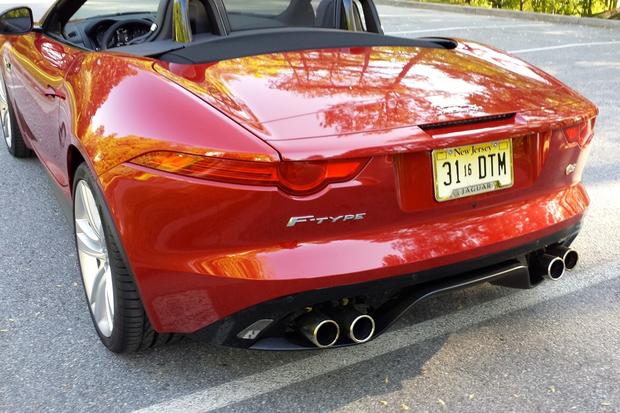 Few cars have generated more buzz in recent years than the 2014 Jaguar F-Type. Featuring eye-catching stylingand exciting performance, the F-Type breaks the mold for Jaguar, often known for staid luxury sedans and plush interiors. So does the F-Type live up to the hype? We spent a week driving a top-of-the-line V8 S model to find out.
In a Word: Expensive
Let's get one thing out of the way quickly: The 2014 F-Type V8 S isn't cheap. In fact, the base price on a V8 S is a whopping $93,000, and that's before you start adding options, which are plentiful. Our test car easily topped $100,000 with shipping, which is a lot to ask for a brand-new sports car built by a company that, lately, hasn't been known for building sports cars.
Of course, one way to lower the entry price is by dropping down to a less-expensive model. The base-level F-Type, which uses a 340-horsepower supercharged V6, costs $70,000 with shipping. By comparison, a Porsche Boxster S starts at $63,000 with shipping. Although some may perceive it as less prestigious, a new Chevrolet Corvette starts at about $53,000.
Worth It?
So, the F-Type is expensive, but most of our editors who spent some time behind the wheel came to the conclusion that the high-dollar luxury roadster might actually be worth the lofty dollar figure.
One reason -- possibly the most compelling of all -- is the exhaust note. Put the F-Type in competition mode and you'll hear one of the most enjoyable, raucous engine notes in the entire automotive industry. It sounds angry, and powerful and just awesome. There's no question that this is how a sports car should sound; it's just surprising that Jaguar, not Ferrari or Porsche or Lamborghini, is the automaker to deliver it.
Beyond the sound, the F-Type also drives exactly like you'd hope a small, high-powered 2-seat convertible would. It's tremendous around corners, more like a Porsche or BMW M model than a typical Jaguar. Acceleration is mind-blowing, courtesy of a 495-hp V8 that scoots to 60 miles per hour in 4.2 seconds. And the standard automatic transmission fires off upshifts so fast that you'd swear it's a dual-clutch. Unfortunately, downshifts don't come quite as quickly, but who cares when they're accompanied by a throttle blip that summons the car's amazing engine note?
Day-to-Day Driving
So, the F-Type is excellent to drive, which is no surprise given its impressive engine and high-performance looks. But how is it to live with? After all, most of us don't commute on the racetrack, and that means we'll need a car that's not only fun but capable of being driven every day.
Fortunately, the F-Type is surprisingly good for daily driver duty. Turn off competition mode, silence the sport exhaust and put the top up, and you'll find that the F-Type is peaceful and easy to drive on normal roads. In fact, you'd hardly realize it's the same muscle car that comes alive with the push of a button and the lowering of the power-operated soft-top.
The F-Type's cabin is also a surprisingly comfortable place to be. The seats are firm but supportive and well-contoured. Wind noise is contained very well with the top up and more muted than we expected even with the top down. The interior materials leave us with the feeling that they were designed for use in a high-dollar luxury car.
We do, however, have a few gripes with the F-Type. The largest issues relate to simple engineering oversights that most German rivals don't possess. For instance, the backup camera doesn't provide a very clear view behind the car. The windows don't automatically roll up when you put up the power top. The stereo sound quality is good, but not good enough for a car at this price point. And entry and exit is surprisingly hard, thanks to a rather high door sill.
Our Take
In the end, these issues are relatively minor compared to the many benefits of the 2014 Jaguar F-Type. We weren't expecting to love the latest Jag as much as we did, but we really think it's an excellent car. From its acceleration to its styling, its interior and its driving experience (and that glorious noise), we think the F-Type is one of the most exciting new cars on the road.