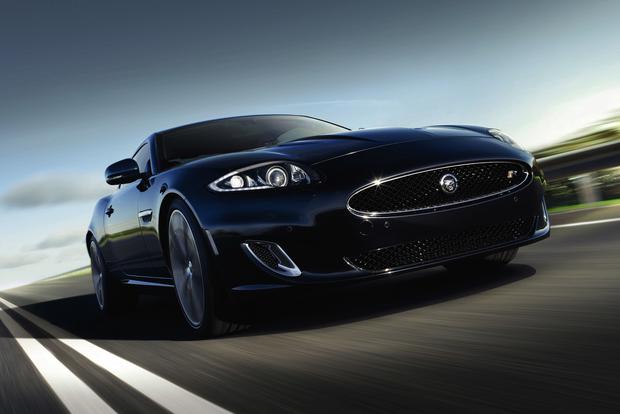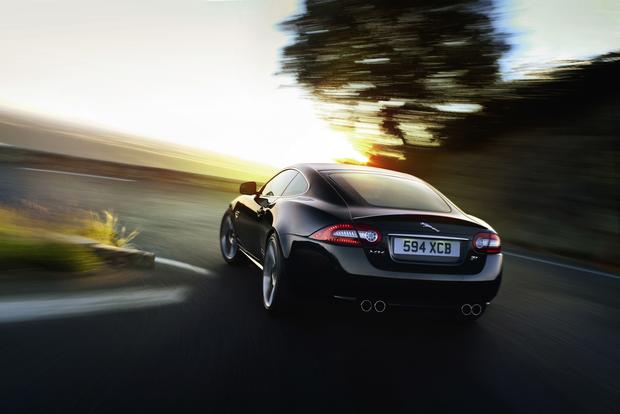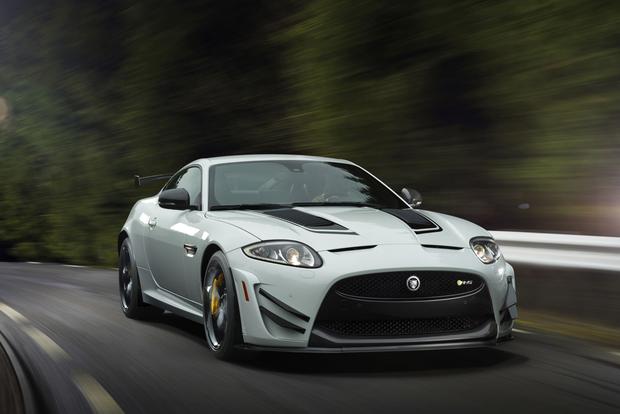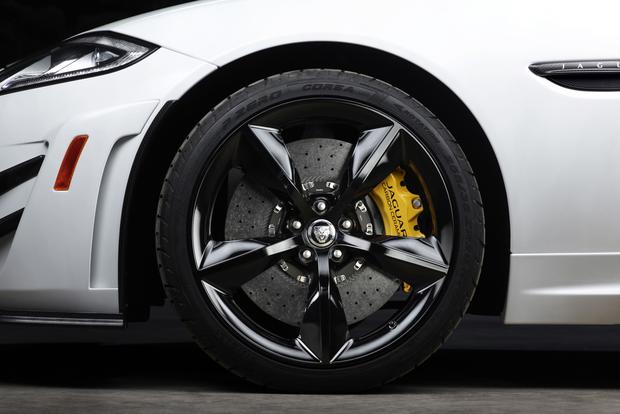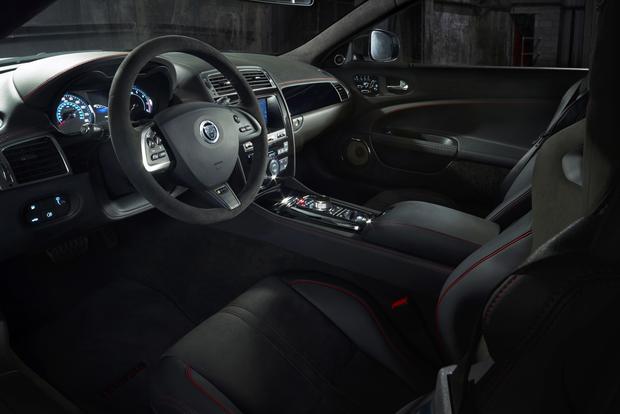 It would be nice if everything aged like fine wine, but the 2014 Jaguar XK is aging like, well, an automobile. That's not surprising. After all, the XK is in its eighth year of production, and it's hard for a car to stay relevant after all that time. Truth be told, Jag's 2-door model was technology-deprived even when it debuted back in 2007, and that gap has only widened in this fast-moving luxury segment. The XK's interior also lacks the unbridled opulence that comes to mind when we think of British luxury.
But if you're someone who's all about style and performance, the XK may still appeal. We felt the XK had too much Ford Taurus in its snout at the outset, but Jag has made subtle revisions over the years, and the 2014 XK is easily the sexiest model yet. It looks like an Aston Martin red-tag special, and we mean that as a compliment. As for performance, the XK is a much faster car now than it used to be, from the 385-horsepower base model to the nuclear 550-hp XKR-S and race-ready XKR-S GT. It's not bad through the corners, either.
Overall, we'd say the XK is still worth a gander. Just don't expect it to have cheated Father Time as successfully as some of Jaguar's Hollywood clientele.
What's New for 2014?
The XK stands pat except for the addition of the limited-production XKR-S GT, which is basically a street-legal race car. Just 25 examples will be sold in the U.S.
What We Like
Distinctive and timeless styling; glorious V8 engines; surprisingly nimble handling
What We Don't
Dated cabin technology; transmission needs an upgrade
How Much?
$79,000-$174,000
Fuel Economy
The rear-wheel-drive Jaguar XK starts with a naturally aspirated 5.0-liter V8 rated at 385 hp and 380 lb-ft of torque. The coupe returns 16 miles per gallon city/24 mpg hwy, while the convertible gets 16 mpg city/22 mpg hwy.
The XKR steps up to a supercharged 5.0-liter V8 rated at 510 hp and 461 lb-ft of torque, while the XKR-S and XKR-S GT go bonkers with a 550-hp, 502-lb-ft version of this engine. All supercharged models are rated at 15 mpg city/22 mpg hwy.
Standard Features & Options
The 2014 Jaguar XK is offered in five trim levels -- XK Touring, XK, XKR, XKR-S and XKR-S GT. All except the coupe-only XKR-S GT are offered either as a coupe or a fabric-roofed convertible.
Standard features on the base XK Touring ($79,000) include 19-inch alloy wheels, a mechanical limited-slip differential, electronically adjustable adaptive dampers, xenon headlights with LED accents, push-button start, rosewood interior trim, a power tilt-telescopic steering wheel, heated 10-way power front seats, leather upholstery, driver memory functions, Bluetooth, a hard-drive-based navigation system with a 7-in touchscreen interface and 525-watt Jaguar premium audio system with iPod/USB connectivity and satellite radio. Note that XK Touring models are mono-spec, which means that no options are available other than interior and exterior color choices.
The standard XK ($84,500) comes with 20-in wheels, softer leather upholstery, heated/cooled 16-way front seats, a heated steering wheel and a 525-watt Bowers and Wilkins stereo with 14 speakers.
The XKR ($97,500) adds a supercharged engine, 20-in alloy wheels, adaptive xenon headlights, an electronic limited-slip differential, performance brakes with larger discs and aluminum calipers and HD radio.
The XKR-S coupe ($132,000) comes with 20-in wheels, quad exhaust tips, a lowered sport-tuned suspension (optional on XKR), a rear spoiler, unique exterior and interior trim and special sport seats that gain bolstering but lack the cooling function (also optional on XKR).
The exclusive XKR-S GT ($174,000) is a race-prepared version of the XKR-S with carbon-ceramic brakes, an exclusive track suspension, adaptive dampers with adjustable ride height, unique carbon-fiber accents and suede upholstery.
All convertible models cost $6,000 more than their coupe counterparts and feature a fabric roof that can be ordered in seven colors to either match or contrast with the body to your liking. When not needed, the top disappears into the body in 18 seconds, and can be operated at speeds of up to 15 miles per hour.
Trunk capacity is 11.7 cu ft in the XK coupe and 11.1 cu ft in the convertible, though the latter figure drops to about 7 cu ft with the soft-top folded down.
Safety
The Jaguar XK comes with standard stability control, 4-wheel anti-lock disc brakes and four airbags (front and front side). The convertible also features two roll hoops that pop up automatically if a rollover is imminent.
Like every car in this low-volume segment, the XK has not been crash tested in the U.S.
Behind the Wheel
The XK is the oldest car in Jaguar's stable, and it shows when you're sitting inside. Some of its buttons and switchgears have a downmarket vibe. What's more, the quality of the interior materials is merely adequate compared to some of its competition, detracting from that special feel it had from behind the wheel when it was a new design. At least it has Jaguar's distinctive rotary-shift knob, which dramatically rises out of the center console upon ignition. Cool.
All versions of the XK model's V8 are simply brilliant, with seemingly endless thrust and a NASCAR-grade wail when floored. The R and R-S versions add an endearingly audible supercharger whine as they pin your ears to your head. The standard XK is said to hit 60 mph in just 5.2 seconds from a standstill, with the XKR hitting mile-a-minute speeds in 4.6 seconds and the XKR-S in an even quicker 4.2 seconds. Only you can decide if the XKR-S model's modest acceleration edge and slightly louder noises are worth additional tens of thousands -- if you can even find one -- but we wouldn't dissuade you from spending the dough if you have it.
Whichever version you select, a 6-speed automatic transmission will handle the shifting duties, and it's unfortunately a poor match for the sensational V8 engines. Kick-downs are sometimes delayed and then abrupt when passing, while downshifts in manual mode can feel rough. To be fair, it's seamless in relaxed driving. But kick things up a notch and it sometimes feels a step behind.
Other Cars to Consider
BMW 650i -- Boasting a beastly twin-turbo V8, the 650i is a very fast car (not to mention the even beastlier M6), and its interior is vastly superior to the Jaguar's. But if attractive styling is a priority, we think the Jag wins without a fight.
Mercedes-Benz SL-Class -- The latest SL's styling hasn't grown on us yet, but its retractable hardtop, delectable engine choices and Mercedes-Benz prestige make for one tough rival.
Porsche 911 -- The iconic 911 is more of a luxurious grand-tourer than a pure sports car these days, which means it's more of a threat to the XK. But if you're looking for a comfortable cruise, the XK still takes the cake.
AutoTrader's Advice
The XKR seems to occupy the sweet spot in the XK lineup. In addition to the customization that the Touring doesn't offer, the XKR offers supercharged power that's too alluring to resist. And we just couldn't see spending another $30,000 or so to get an XKR-S.