Car Review
2014 Jeep Grand Cherokee vs. 2014 Ford Explorer: Which Is Better?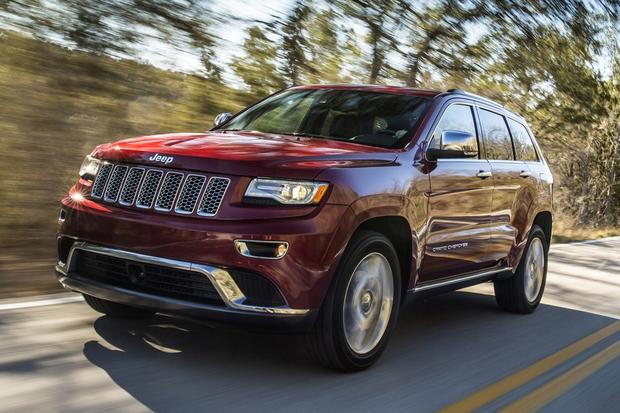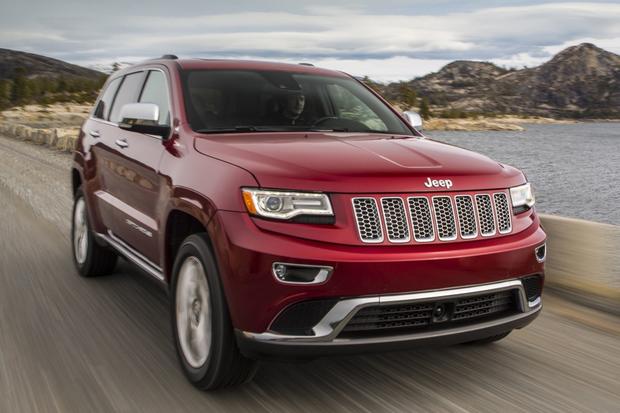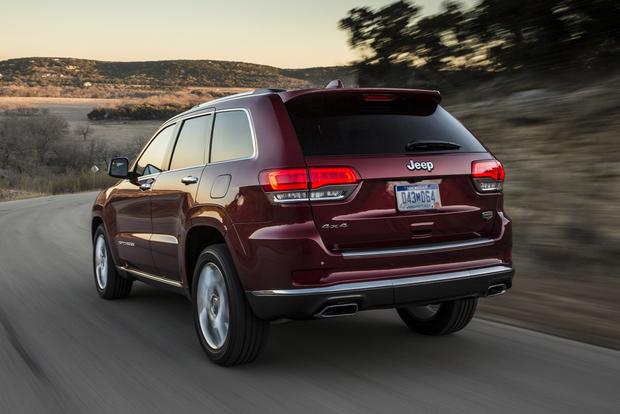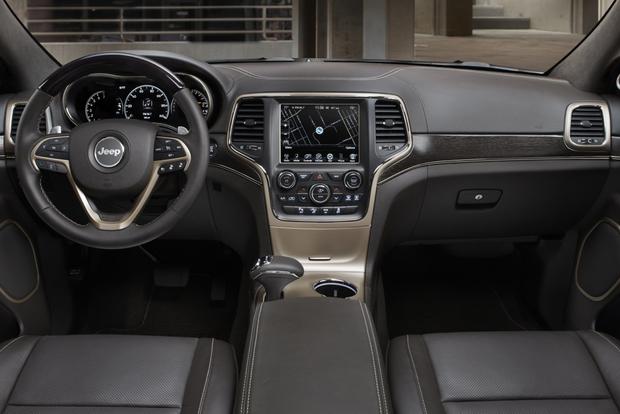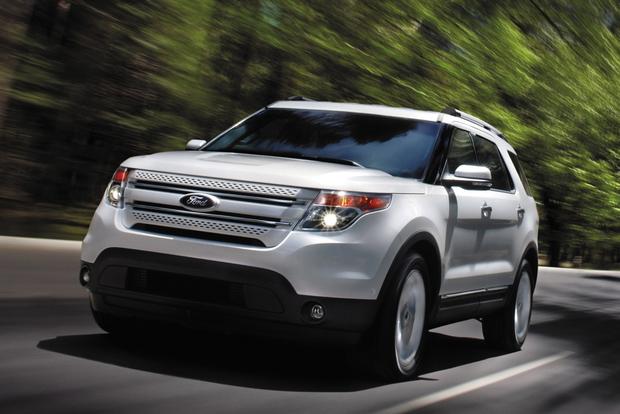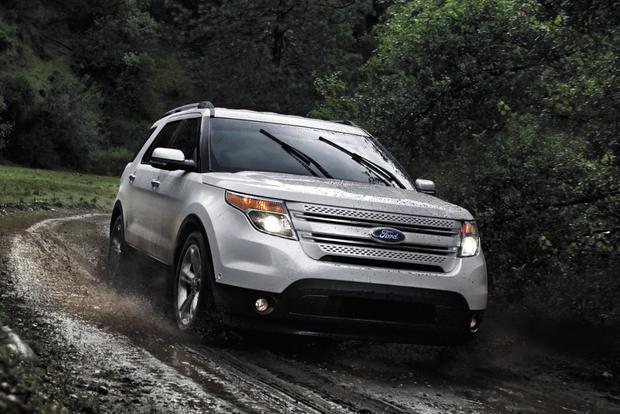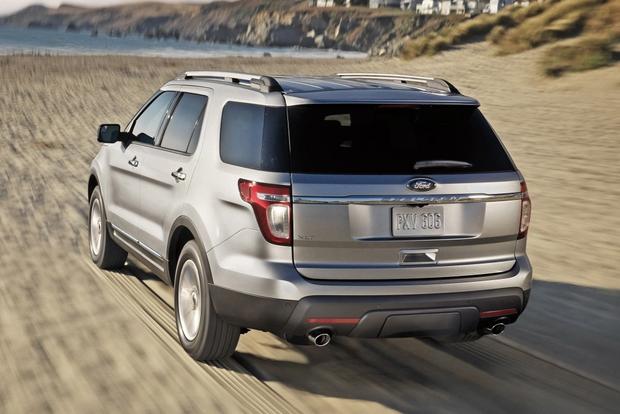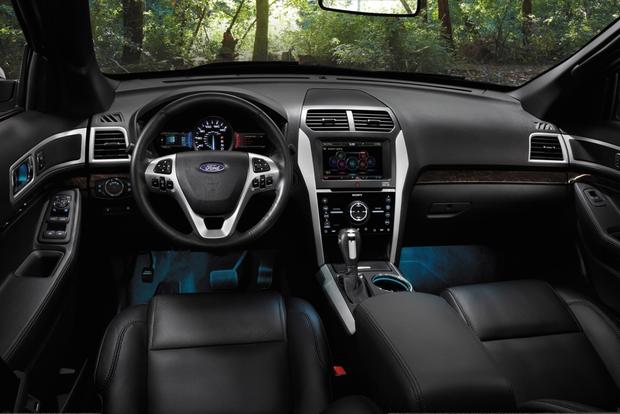 If you're searching for a midsize SUV, chances are good that you have the 2014 Jeep Grand Cherokee and the 2014 Ford Explorer on your shopping list. Not only are they similar in size and price, but they're both among the most popular midsize SUVs on the market. But which one is better? We find out below -- right after we check out some of the updates to both SUVs for the 2014 model year.
2014 Jeep Grand Cherokee Changes
The Jeep Grand Cherokee is face-lifted for 2014. Not only are there a few subtle exterior updates, the Grand Cherokee also boasts a new 8-speed automatic transmission and a newly available 3.0-liter turbodiesel V6. There are also a few new interior gadgets.
2014 Ford Explorer Changes
The 2014 Explorer doesn't include as many updates. The only major changes to this year's Explorer include newly standard automatic headlights and, for Limited models, standard heated seats for the second row.
Reliability
When it comes to reliability, the latest Grand Cherokee and Explorer are close competitors. In J.D. Power's Power Circle reliability surveys, both vehicles earned the exact same score: three circles (out of five) for overall quality and three circles for predicted reliability. That suggests that both vehicles are about average, according to J.D. Power.
In terms of warranty, the Grand Cherokee takes a slight edge over the Explorer. Both SUVs have the same basic warranty (also called a bumper-to-bumper warranty) of 3 years or 36,000 miles. The Grand Cherokee's powertrain warranty lasts 5 years or 100,000 miles, while the Explorer's is 5 years or 60,000 miles. Of course, both warranties cover the same length of time, meaning that the Grand Cherokee only holds an advantage for those who drive a lot.
Fuel Economy
Fuel economy for the Grand Cherokee and Explorer can be a little tricky to figure out. Both models use a wide variety of engines, and they both offer 2- or 4-wheel drive, which can have a slight effect on gas mileage.
Comparing the most popular engine for each model is easy. In the Explorer, that's a 290-horsepower 3.5-liter V6 that's mated to a 6-speed automatic transmission. With front-wheel drive, it returns 17 miles per gallon in the city and 24 mpg on the highway; all-wheel drive (AWD) changes things to 16 mpg city/22 mpg hwy.
With its most popular engine, the Grand Cherokee's gas mileage is a little better, largely thanks to a new 8-speed automatic transmission for the 2014 model year. The Grand Cherokee's 290-hp 3.6-liter V6 makes 17 mpg city/25 mpg hwy with 2-wheel drive or 17 mpg city/24 mpg hwy with AWD.
If you're especially interested in fuel economy, both the Grand Cherokee and the Explorer offer powertrains designed for saving gas. In the Explorer, it's a 2.0-liter turbocharged 4-cylinder that makes 240 hp. Only offered with 2-wheel drive, that engine returns 20 mpg city/28 mpg hwy. Once again, the Jeep offers a slight edge here: Its new 240-hp 3.0-liter turbodiesel V6 returns 22 mpg city/30 mpg hwy with 2-wheel drive or 21 mpg city/28 mpg hwy with 4-wheel drive. Of course, both the Grand Cherokee and Explorer also offer more powerful engines, though we'd advise you to skip them if it's fuel economy that you're thinking about.
In the end, it's the Jeep with a slight edge over the Explorer when it comes to fuel economy, though we should stress that this edge is very slight; both SUVs are usually within 1 or 2 mpg of each other.
Safety
As you might expect, the family-oriented Grand Cherokee and Explorer both offer a long list of safety features. Both SUVs include all the usual items: side-curtain airbags, front-side airbags, anti-lock brakes, traction control and stability control.
While both SUVs offer a long list of safety options -- such as forward-collision warning, rear cross-traffic alert, a blind spot monitoring system, a backup camera and park assist -- the Explorer adds a few unique items. For instance, the Explorer boasts curve control, which can slow the SUV down if you're going into a corner too quickly. It includes a standard MyKey system, which allows drivers -- especially concerned parents -- to program speed limits or radio-volume limits with spare keys. And it offers inflatable rear seat belts, which can reduce neck and chest injuries in a serious collision.
In crash tests, the Explorer seems to increase its safety advantage. While the 2014 Grand Cherokee received a strong 4-star overall score from the National Highway Traffic Safety Administration, the Explorer earned a perfect five stars. In tests conducted by the Insurance Institute for Highway Safety, the two SUVs performed roughly the same.
If it's safety you're interested in, you'll probably find that the Explorer holds a slight edge over the Grand Cherokee. While neither vehicle is unsafe, the Explorer boasts a few extra safety features than the Jeep and slightly higher crash-test ratings.
Technology
The 2014 Explorer and the 2014 Grand Cherokee offer many of the same features. For example, adaptive cruise control is optional on both cars. So is a power tailgate, a navigation system, and a wide variety of safety features such as forward-collision alert and rear cross-traffic detection.
The two cars do differ in a few areas. The Explorer offers automatic high beams, which aren't available on the Grand Cherokee. Meanwhile, audiophiles will prefer the Grand Cherokee's available 19-speaker Harman Kardon sound system, which trumps the Explorer's optional 12-speaker Sony unit. The Jeep has more off-roading features, but the Explorer holds the edge in terms of safety equipment.
Where the two cars really diverge, however, is their infotainment system. We like Ford's MyFord Touch unit, which has improved dramatically over the years, but we love the Grand Cherokee's available Uconnect system with its 8.4-inch touchscreen. It's the best infotainment system in the business, and if you spend a lot of time in your car, you'll come to appreciate its ease of use, clear messages and excellent readouts. For this reason alone, we'd have to give the technology category to the Jeep.
Value
The Explorer and Grand Cherokee are very similar in a lot of ways, but pricing isn't one of them. Base pricing is similar; both vehicles start around $31,000 with shipping. But as you move up in the trim levels, you'll find that the Explorer has lower starting prices, while the Grand Cherokee has more standard equipment. For instance, the Explorer XLT starts at just under $34,000, while the Grand Cherokee Limited is $37,500.
Next up, the Explorer Limited starts at a much lower price -- $39,100 -- than the Grand Cherokee Overland, which starts at around $44,000 with shipping. Interestingly, the Grand Cherokee boasts an even more upscale trim level, dubbed the Summit, which starts at a whopping $49,000 and includes nearly all options as standard equipment.
Because the Explorer's trim levels are less expensive than the Grand Cherokee's, you have to add extra features to the Explorer to equal the Jeep's level of content. For shoppers who don't want much stuff, that means the Explorer is probably the SUV to get, since you don't necessarily have to take all the luxury goodies you don't want or spend extra money to get features you don't need.
The Explorer also offers two other advantages when it comes to value. One is interior room: There's no way around the fact that the Grand Cherokee still only offers 2-row seating. For some shoppers, that automatically eliminates the Grand Cherokee from contention, since the Explorer features a standard third row.
The Explorer's other value advantage relates to gas mileage. While the Grand Cherokee's EcoDiesel engine gets slightly better fuel economy than the Explorer's 4-cylinder, the EcoDiesel isn't cheap to buy. You have to choose a Grand Cherokee Limited, and you have to spend an extra $4,500 for the diesel powerplant. So the base price of a diesel-powered Grand Cherokee is close to $42,000 compared to just $32,000 for a 4-cylinder Explorer.
Value is a tough call because it largely depends on what you're looking for. Grand Cherokee trim levels are more expensive, but they come with more equipment. The Jeep also boasts off-road capabilities and more aggressive styling, but the family-friendly Explorer boasts reasonably priced fuel economy, a third-row seat and lower-priced trim levels, making it easier for most shoppers to choose a model that they want.
AutoTrader's Advice
Ultimately, it's hard to choose between the Grand Cherokee and the Explorer. Not only do both have a lot of positive traits, the two SUVs are also similar in many ways. Fuel economy, reliability and equipment, for example, are each close battles with no clear winner.
In the end, though, we prefer the Explorer. It offers standard 3-row seating, improved safety features and better pricing. The Explorer also offers excellent gas mileage in its 2.0-liter EcoBoost engine for much less than the Jeep's diesel. With that said, you won't go wrong with either SUV, especially considering the Jeep's excellent technology, its longer warranty and its slightly better gas-mileage ratings.
There is one big caveat, however. If you intend to use your SUV to go off-road, we recommend the Jeep. The optional Quadra-Trac II and Selec-Terrain systems make the Grand Cherokee more capable off the beaten path.
Find a Jeep Grand Cherokee for sale