Car Comparison
2014 Jeep Grand Cherokee vs. 2014 Toyota 4Runner: Which Is Better?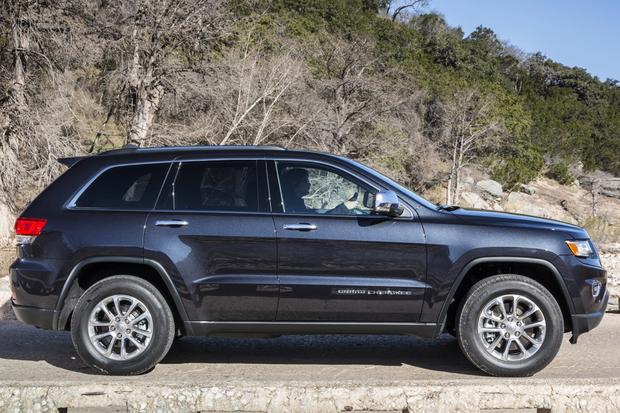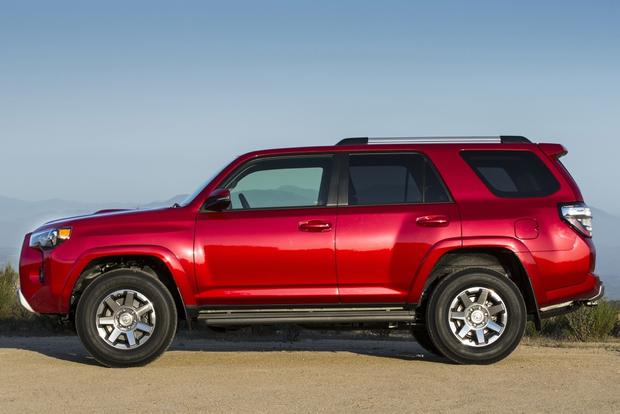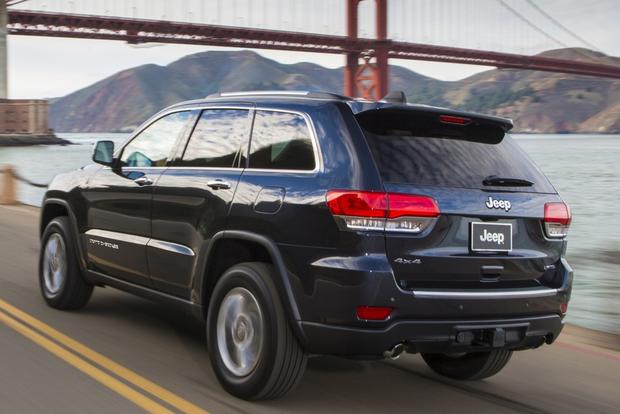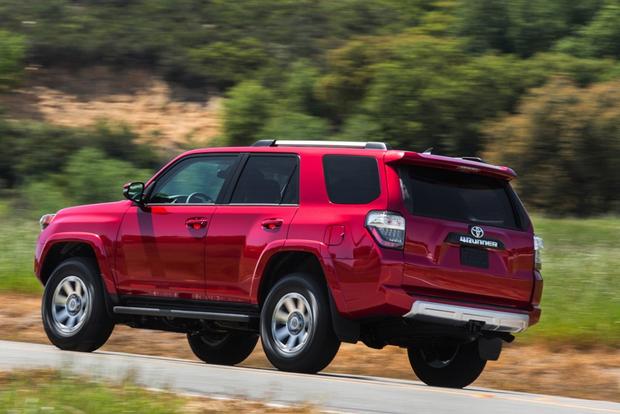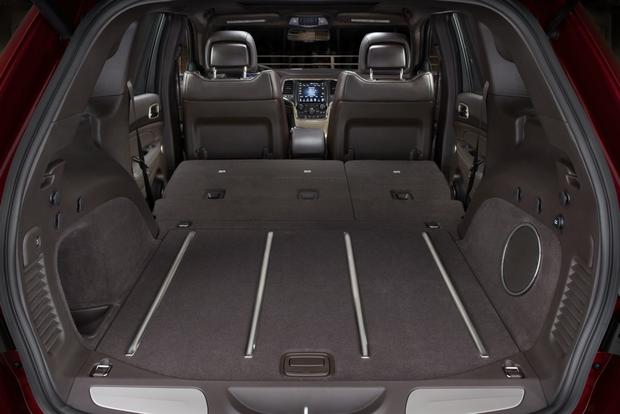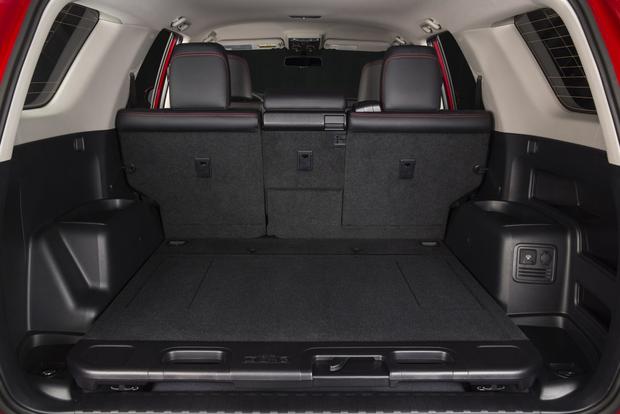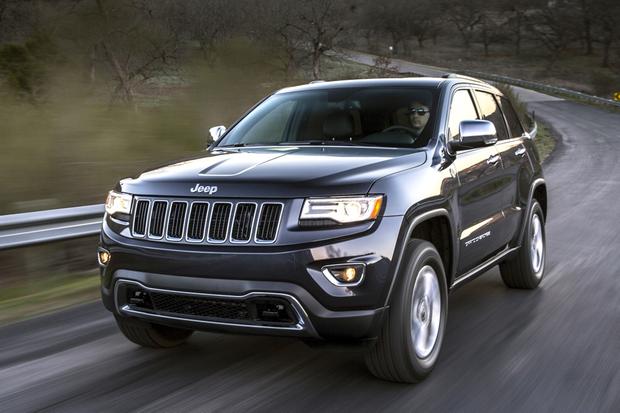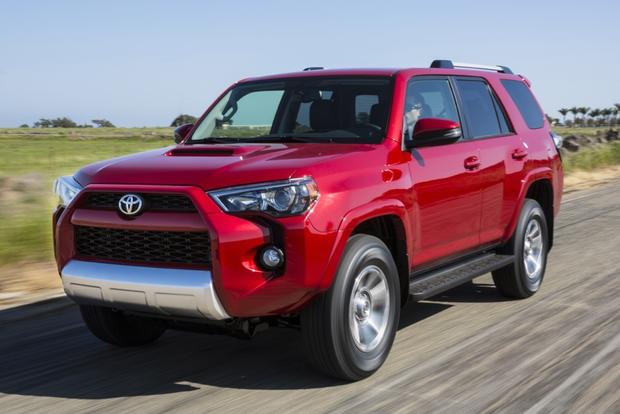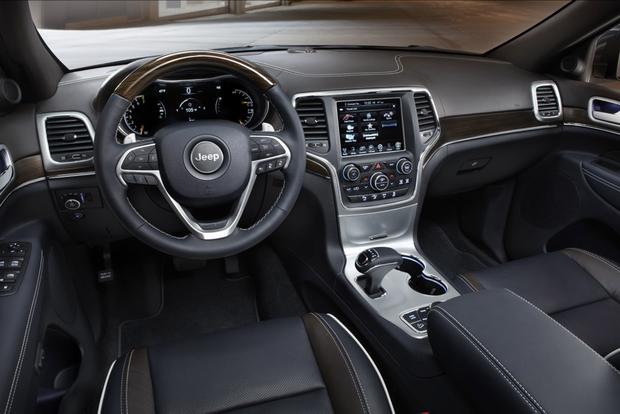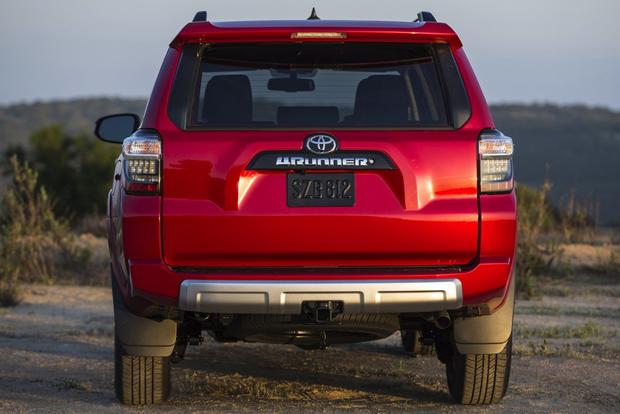 If you're looking for a midsize SUV that skews a little more toward muscle than minivan, the Jeep Grand Cherokee and the Toyota 4Runner should be on your shopping list. Both offer impressive off-road capabilities along with brawny styling and powerful engines. Which one is better? We've compared the two SUVs to find out, but first, we're taking a look at what's changed for the 2014 model year.
2014 Jeep Grand Cherokee
The Jeep Grand Cherokee is facelifted for the 2014 model year. In addition to revised styling inside and out, the Grand Cherokee adds new technology, a newly available 3.0-liter turbodiesel V6 engine and a newly available 8-speed automatic transmission.
2014 Toyota 4Runner
Like its Grand Cherokee rival, the 4Runner is also updated for 2014. Styling revisions go even further than the Grand Cherokee's updates, with the Toyota boasting an entirely new front end and new headlights. The 4Runner also adds a touchscreen Entune infotainment system and a standard backup camera.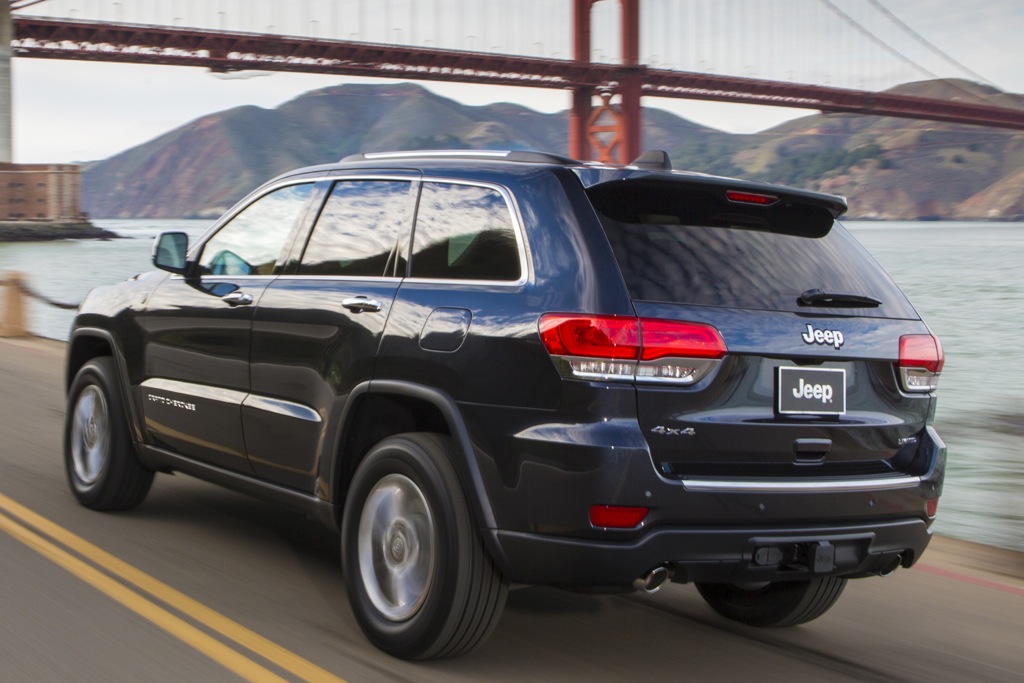 Reliability
Although it can be hard to predict reliability for new vehicles, J.D. Power offers estimates for shoppers interested in dependability numbers. Both SUVs perform well, though the 4Runner's above-average score outshines the Grand Cherokee's rating of merely average. As for warranty length, the Jeep's 5-year/100,000-mile powertrain warranty provides a slight advantage over the Toyota's 5-year/60,000-mile plan, though the Toyota evens things up with 2 years or 25,000 miles of free maintenance. Because of the J.D. Power ratings, we think that the 4Runner holds a slight reliability advantage.
Fuel Economy
Although fuel economy may not be the main concern of shoppers interested in these SUVs, both the Grand Cherokee and 4Runner offer better mileage than their predecessors did. The 4Runner's sole engine is a 270-horsepower 4.0-liter V6, which returns 17 miles per gallon in the city and 22 mpg on the highway with rear-wheel drive or 17 mpg city/21 mpg hwy with 4-wheel drive. The Jeep's comparable V6 is a 290-hp 3.6-liter unit that returns 17 mpg city/25 mpg hwy with rear-wheel drive or 17 mpg city/24 mpg hwy with 4-wheel drive. That gives a slight advantage to the Grand Cherokee.
For shoppers who want even better gas mileage, the Grand Cherokee is offered in the form of a new 3.0-liter turbodiesel V6. Though an expensive proposition, that powerplant makes 22 mpg city/30 mpg hwy with 2-wheel drive or 21 mpg city/28 mpg hwy with 4-wheel drive. As a result, the Grand Cherokee is easily our pick when it comes to gas mileage.
Safety
In National Highway Traffic Safety Administration crash-testing, both the Grand Cherokee and the 4Runner earned the same score: four stars overall, a rating that's comprised of four stars in the frontal test, five in the side-impact test and four in the rollover assessment. The 4Runner and Grand Cherokee also earned the same slightly above-average score in testing conducted by the nonprofit Insurance Institute for Highway Safety, though the Jeep adds a slightly higher crash-test rating due to its available front crash-prevention system.
And speaking of that system, the Jeep takes a huge lead on safety when the discussion turns to features and equipment. While the 4Runner includes everything that you need -- such as a driver's-knee airbag, side-curtain airbags, anti-lock disc brakes and traction control -- the Grand Cherokee adds a long list of desirable options, including adaptive cruise control, rear cross-traffic alert, front crash prevention and a blind spot monitoring system. None of those items is available in the 4Runner.
As a result, we'll have to give the safety category to the Jeep. For drivers who don't want to spend extra on high-tech safety gadgets, we suspect you'll find that the two vehicles offer similar crash protection.
Technology
Similar to its huge advantage in the safety section, the Jeep offers a huge leg up when it comes to technology. Once again, the 4Runner has everything that you might need, including a newly standard backup camera, Toyota's Entune infotainment system, and such available options as a navigation system and an iPod/USB interface. The Jeep, however, boasts a wide range of cutting-edge new features, from adaptive cruise control to the brand's impressive Uconnect infotainment system and its accompanying huge touchscreen. The Jeep also offers exclusive features such as a power lift gate, rain-sensing wipers and xenon headlights, none of which is offered in the utilitarian 4Runner. If you value technology, the Grand Cherokee is the SUV that you'll want.
Value
To us, there's little question that the Jeep Grand Cherokee offers a better value than the Toyota 4Runner. One reason is its starting price, which is around $3,000 lower than the Toyota's -- even though the 4Runner offers about the same level of equipment. The Jeep's price advantage continues throughout the two SUVs' trim levels, with the Grand Cherokee offering a more attractive price at nearly every level of equipment.
The Jeep also touts several benefits that the 4Runner doesn't offer, including available V8 and diesel power, a high-performance version and a long list of exclusive technology. Perhaps the 4Runner's only real holdout is its available third-row seat, although it's cramped, optional and not available on several 4Runner trim levels. In the end, our choice is clear: The Grand Cherokee offers a better value than the 4Runner.
AutoTrader's Advice
Although we admire the 2014 Toyota 4Runner for its toughness, legendary durability and off-road capability, the simple truth is that the 2014 Jeep Grand Cherokee offers all that and more -- for less money. In the end, the Jeep boasts more technology, better infotainment, a longer list of equipment, and available diesel and performance models. Compared to the Grand Cherokee, the 4Runner is positively archaic, which probably explains why the Jeep vastly outsells its muscular Toyota rival.