Real-World Review
2014 Jeep Wrangler Unlimited Willys Wheeler Edition: Real World Review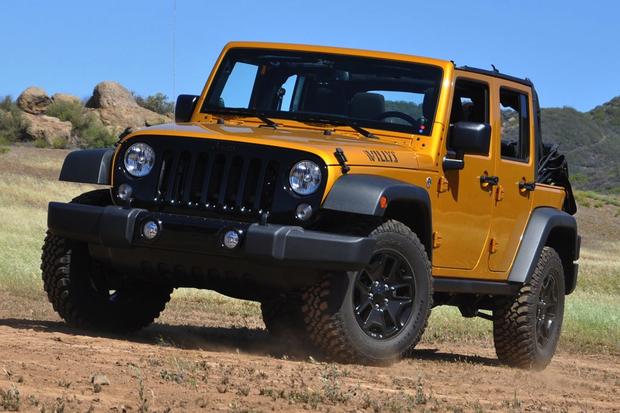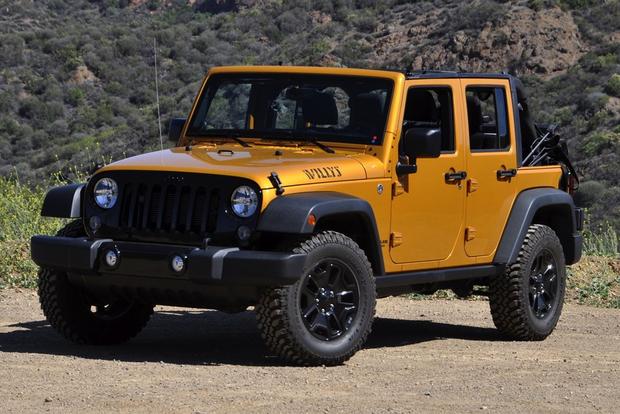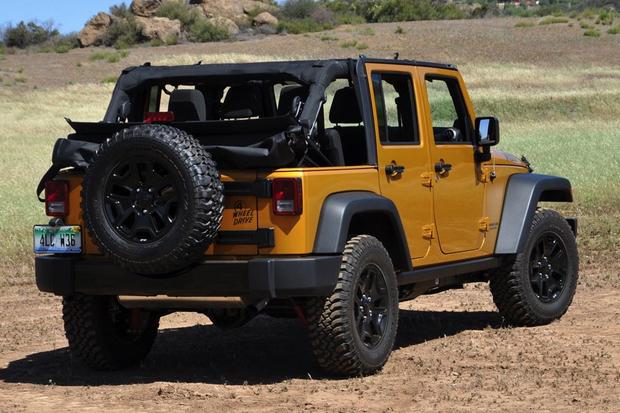 As I've aged, my patience for and tolerance of a Wrangler's shortcomings has worn thin, which is why one day spent driving the 2014 Jeep Wrangler Unlimited Willys Wheeler Edition is enough for me. The newest Wranglers are the most sophisticated yet but still require levels of compromise that I increasingly have trouble accepting.
Made for Off-Roading
Then again, I'm not a guy who goes off-roading, and that's what a Wrangler is made for -- especially the remarkably capable Willys Wheeler Edition. New for 2014, the Willys Wheeler Edition is based on the affordable Wrangler Sport and starts at just $30,790. The black 17-inch wheels and the rock rails come from the rugged Wrangler Rubicon model, and the Willys Wheeler Edition is equipped with off-roading tires, a more capable 4-wheel-drive system, a limited-slip rear differential, a more robust rear axle and off-roading grab handles for the interior. Lots of blacked-out trim and retro-styled decals complete the package.
Take the 2014 Jeep Wrangler Unlimited Willys Wheeler Edition off the road, and you'll find it nearly unstoppable. On the tough trails laced atop the Santa Monica Mountains, the Wrangler effectively shrugged as it scrambled up and crept down hillsides, with its variable-speed hill-descent-control system ensuring a safe return to civilization. The only glitch? The Wrangler Unlimited is long, making it tough to get around sharp kinks in the trail.
Easily Convertible
Jeep spokesman Scott Brown reminded me that a Wrangler is the only convertible that can be driven off-road and that the Wrangler Unlimited is the only 4-door convertible in America. He's right, but that doesn't mean it makes sense on the paved roads where most people spend their time.
Peeling back a 2014 Jeep Wrangler Unlimited's roof isn't a speedy operation, which is one reason why the standard Sunrider top is such a nice feature. Think of it as a sunroof for a convertible top, one that bathes the front seat in light and warmth that can be quickly closed when the clouds roll in. On the hot, sunny day that I tested the Willys Wheeler Edition, the top was completely off, the windows were rolled down, and the sun and wind relentlessly blasted the cabin. If this doesn't appeal to you, a removable hardtop is optional.
Urban Performance
Just as the Wrangler is perfect for bombing down a trail, it works well in cities suffering from crumbling infrastructure. The rugged underpinnings take potholes with ease, and you need not worry (much) about blowing a tire or curbing a wheel. The standard 285-horsepower, 3.6-liter V6 generates 260 lb-ft of torque, and the Wrangler's optional 5-speed automatic transmission is geared to take the most advantage of it. If using a Wrangler primarily for urban warfare, though, I recommend getting the optional hardtop for added security.
Downsides
A 2014 Jeep Wrangler becomes increasingly harder to accept the faster you drive it. It will cruise at 80 miles per hour on the freeway, but not happily or quietly. Twisty roads? Forget them, unless they're leading to a favorite off-roading spot. The Wrangler's steering is slow and vague, commendable traits when traversing rock fields but not so much on pavement. Plus, the handling is pretty squishy on the Willys Wheeler Edition's BFGoodrich Mud-Terrain T/A tires. Fuel economy isn't good, either. I averaged 14.9 miles per gallon, and that was before hitting the trails.
There are other downsides to Wrangler ownership. It is loud inside pretty much all the time. It's hard to climb into and out of this Jeep, and the removable metal doors are on straps and swing back on you without warning. Crash-test and rollover resistance ratings fail to impress, as well (probably a result of the thin, removable doors and a tall center of gravity).
Despite my long list of complaints, I still love the 2014 Jeep Wrangler. I love the commanding view over the hood. I love how it makes me feel like it can go anywhere at any time (because it can). I love the design, the image that the Wrangler projects, and the feeling of invincibility that any middle-aged guy with atrophying muscles and worn joints can appreciate.
So, sign me up for another torrid affair with a Jeep Wrangler (at least for a day or two).