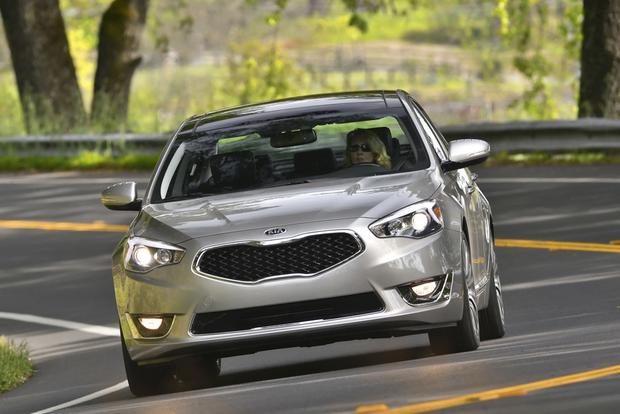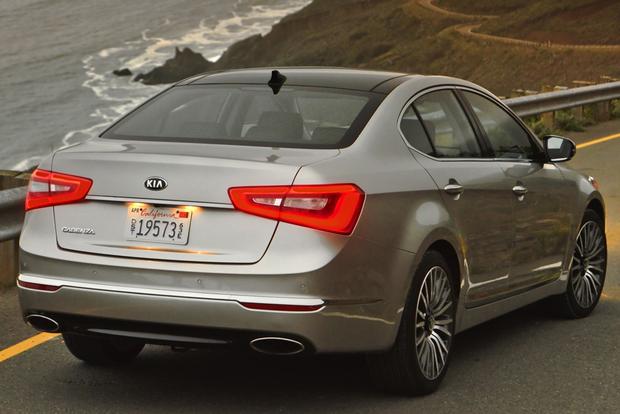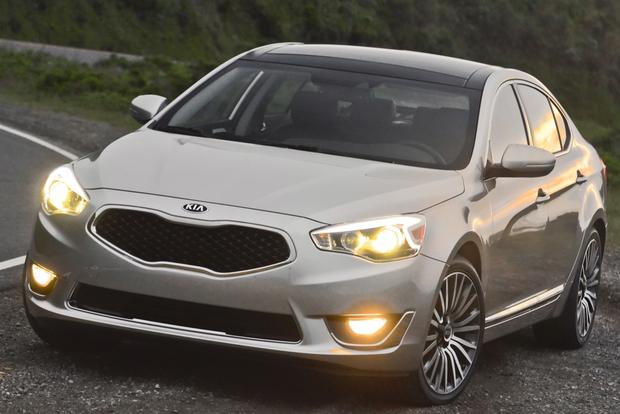 Is America ready for a $41,900 Kia? It's a question I kept coming back to during my week with the 2014 Kia Cadenza premium sedan. The window sticker doesn't lie: The Cadenza starts at $35,100, and my test car had both the Technology Package ($3,000) and the Luxury Package ($3,000). Throw in an $800 destination charge and you have a Cadenza that costs more than a BMW 328i with a Technology Package of its own. It's getting real at your local Kia dealership.
Don't get me wrong, the Cadenza's got game. From its sophisticated styling and plentiful luxuries to its surprisingly strong V6 engine, this is a special car. But can it hold its own against luminaries like Chevrolet's reinvented Impala and Toyota's aggressive Avalon, or the previously mentioned 3 Series and the excellent new Infiniti Q50? For that matter, is it worth the price premium over the rewarding (and structurally similar) turbocharged Kia Optima? These were the thoughts running through my head as the Cadenza and I cruised the mean streets of L.A.
Power to Spare
To me, the Cadenza's most memorable trait is its eager power delivery, which is something I didn't expect at all. I knew the Hyundai/Kia corporate 3.3-liter V6 was under the hood, and my memories of this motor in the previous-generation Hyundai Sonata sedan were not positive ones. But I had overlooked a crucial detail: The 3.3 now features direct fuel injection, and I can report that it makes a world of difference. Deprived of direct injection, the old Sonata motor only made about 250 horsepower and felt soft relative to rival V6s. But the Cadenza's direct-injected version ups the ante to 293 hp, and the difference in driving feel is astounding. When you punch it in this car, you're going places -- throttle response is quick, energetic and generally a threat to your driving record. The Q50 is considerably faster, of course, but no Cadenza driver will ever grouse about a power shortage.
First-Class Ride
My Cadenza had hefty 19-inch wheels (part of the Luxury Package), and I figured they wouldn't take kindly to L.A.'s post-apocalyptic pavement. I figured wrong. Kia's chassis engineers have done an excellent job with the Cadenza's suspension, as they've created a compliant ride that's never harsh yet rarely floaty. That's a tough balance to strike when you're almost rolling on 20-inchers, and it makes the Cadenza's hefty price tag go down a little easier. Oh, and you can forget about road noise; on most surfaces, this Kia's about as quiet as it gets.
High-Quality, High-Tech Cabin
If you're playing in the $40,000 league, you better bring rich materials to the table, and that's mostly what you'll find inside the Cadenza. There are supple surfaces practically everywhere you touch, and I saw no obvious signs of cost-cutting from the driver seat. On the technology front, the crisp 7-in LCD gauge readout was a pleasant surprise, reminding me of a Jaguar XJ I'd driven recently -- except the Cadenza's display is higher-resolution with a faster frame rate. If I could change one thing about this cabin, I'd give it a better stereo. Although the Infinity sound system isn't bad, it's not one I'll remember fondly, either. It's just kind of there.
Okay, but $41,900?
First and foremost, there's no doubt that the 2014 Kia Cadenza is a competitive car in its class. The Impala and Avalon are strong rivals, of course -- and you also have the Chrysler 300 to consider -- but the Cadenza is unquestionably a legitimate player. And to be fair, cars like the 3 Series and Q50 technically compete in a different segment, so the target Cadenza buyer might not even be interested in those sportier models.
If there's one thing that gives me pause about the Cadenza, it's the simple fact that the cheaper Optima exists. Unlike the Camry, say, which is clearly a class down from the Avalon, the Optima is nice enough to blur the boundary between family sedan and premium sedan. And as good as the Cadenza's V6 is, I still prefer the Optima's engaging turbo four. Honestly, if it were my hard-earned cash, I'd pick up a turbocharged Optima SX for $30,000 or so and keep the change.
But if the Cadenza is more your style, I couldn't fault you for choosing it. Kia has a pair of highly appealing sedans on its hands, and that's a pretty good problem for an upstart automaker to have.