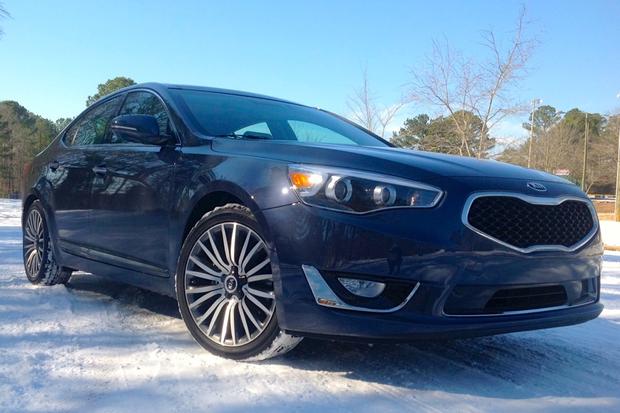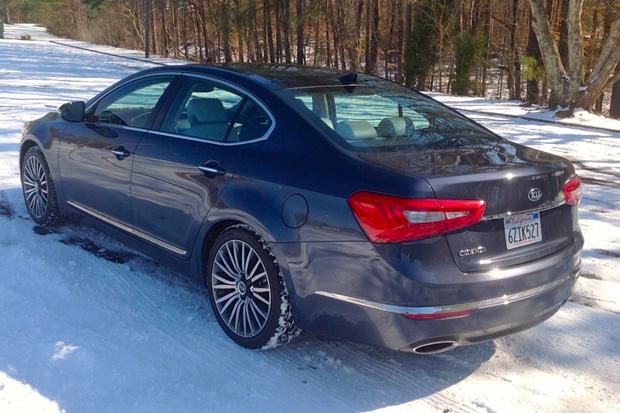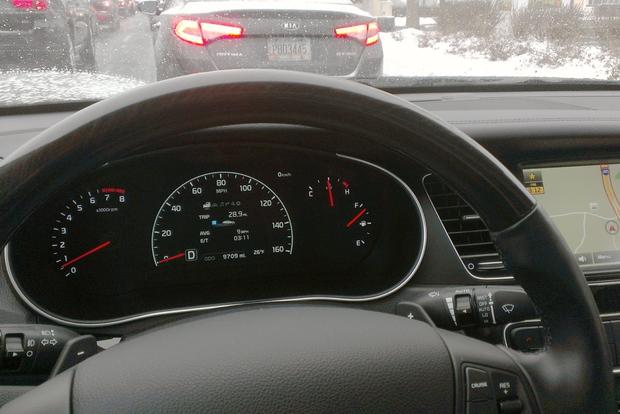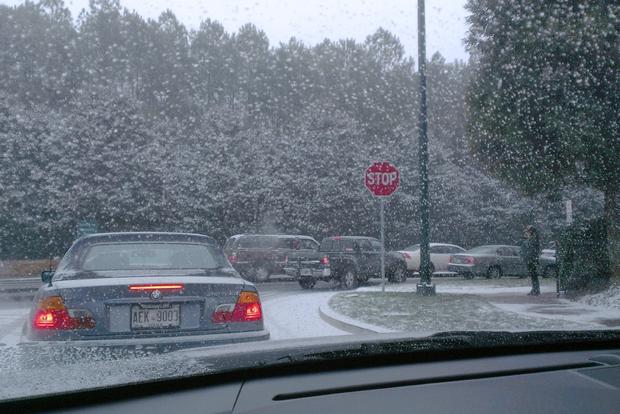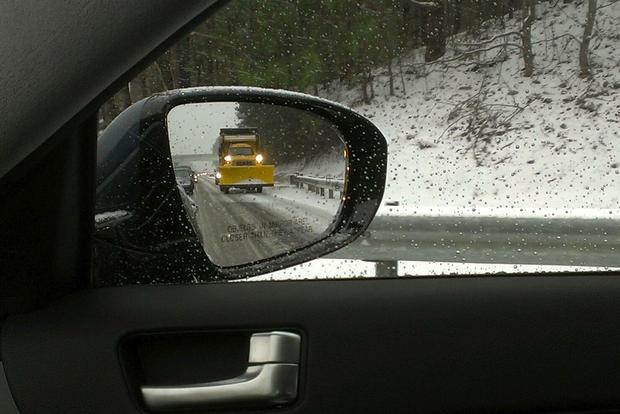 I didn't intend to spend seven hours straight behind the wheel of the 2014 Kia Cadenza. It just worked out that way. When the city of Atlanta was essentially crippled by three inches of snow, I was in the Kia Cadenza. It could have been worse.
Fights the Cold
Thankfully, the Cadenza Limited seems more prepared for real winter weather than half of the Deep South.
The Limited version includes a heated steering wheel, which is nice when outside temps drop below freezing, plus a 3-level heated and ventilated driver's seat kept me as comfortable as possible.
The Cadenza also has an automatic defrost system that works very well. Kia says it "removes moisture from the front windshield and front-door glass, controlling glass fogging and interior humidity for maximum comfort." It's not the sexiest feature, but when you're stuck in slow-moving traffic, the outside temperature is 25 degrees F and the interior temperature is closer to 70, it's good to have.
Comfortable Seats
I must admit I was a little worried at first. After the first two hours behind the wheel, my right thigh started to ache a little. The seat bottom in the Cadenza was too short for me, and the end of the seat bottom was at about my mid-thigh and cutting into my leg.
Thankfully, the Cadenza Limited has a power-adjustable seat-bottom extender that basically makes the seat bottom longer and much more comfortable. This is one reason why compact cars generally don't have comfortable seats: They're not deep enough.
With the Cadenza's seat bottom all the way out, it's much more comfortable but remains supportive even when you spend hours behind the wheel.
In-Car Entertainment
The 12-speaker, Infinity surround-sound audio system also helped pass the time, but all those hours in the car did reveal the true limits of my iPad-stored library. I'm not entirely sure how The Wiggles and a good chunk of Madonna tracks made it onto my tablet.
Once my playlists started to wear thin, satellite radio kicked in. Thumbs up to whoever designed the Cadenza's audio-system display screen. The font is perfect and easy to read at a glance, album and station art is nice and big, and iPod playlists are easy to navigate. This one feature alone gives the car a more premium look and feel.
A few editors did not like what seemed like an odd combination of touchscreen controls and hard buttons. We'd really like to see the Kia K900's centrally mounted control knob in the Cadenza.
Also, several drivers noticed that the center part of the steering wheel and feel of the steering wheel overall weren't as nice as expected.
On the Road
Despite the ice, the Cadenza's traction and stability control systems worked perfectly: They were never intrusive or clunky, interfering just enough to keep the car going straight.
Thanks to the Cadenza's standard 3.3-liter V6, a remarkably quiet highway ride and respectable handling, the car feels like the premium sedan target Kia is trying to hit.
That V6 engine makes 293 horsepower and delivers that power in a smooth and linear manner. If you like ultra-sharp handling, this Kia might be a bit of a letdown. Acceleration, cornering and braking aren't as direct as a BMW 5 Series, but the car is more responsive than a Lexus ES.
The Cadenza is an excellent highway cruiser.
Price and Value
The one thing that's going to be tough for shoppers to get is that this Kia isn't inexpensive. It's a $35,000 car.
But don't compare the Cadenza to a Toyota Camry. Instead, compare it to an Acura TL, Audi A6, Lexus ES, Toyota Avalon or even a loaded VW Passat.
If you're still having trouble with the $35,000 base price, consider the car's generous standard features list, which includes an Infinity surround sound audio system, navigation, a rear-parking camera, heated front seats (cooled seats are optional), front fog lights, 18-inch wheels, power-folding outside mirrors and sharp-looking dual chrome-tipped exhaust outlets.
The Limited adds more high-end features, such as 19-in wheels, LED headlights, adaptive cruise control, lane departure warning, a heated, power-tilt and telescoping steering wheel, and memory features for the driver's seat, mirrors and steering wheel.
Doesn't really sound like your typical Kia options list, does it? Typical or not, these features all work well. It would be easy to assume Kia just haphazardly slapped a bunch of features on a midsize car, but the 2014 Kia Cadenza is better than that.
Clearly, Kia is attempting to change its image, and the Cadenza is just one step in that process. Even the budget-friendly Kia Forte has available features that no other compact has.
If you can't see paying more than $25,000 for a Kia, you need to see the Cadenza in person. The luxury is convincing, the features work well and the car drives as well as or better than other premium midsized sedans -- just don't expect it to be a razor-sharp sport sedan. Kia intentionally tuned the Cadenza to highlight the car's luxurious side and we think it's the right move.
The Cadenza's ride and handling balance is similar to a car like the Audi A6 -- comfortable, but with enough edge to be fun.
However, if you want real luxury car features and decor for about the same base price as a fully loaded Honda Accord, the 2014 Kia Cadenza will fit your needs perfectly. And you don't need to be in a snowstorm to appreciate it.