Car Review
2014 Kia Optima Hybrid: First Drive Review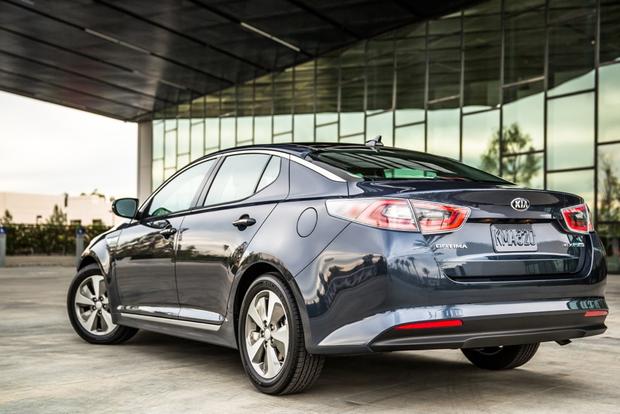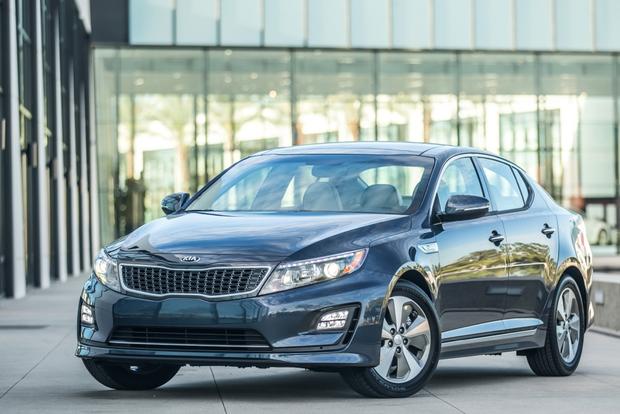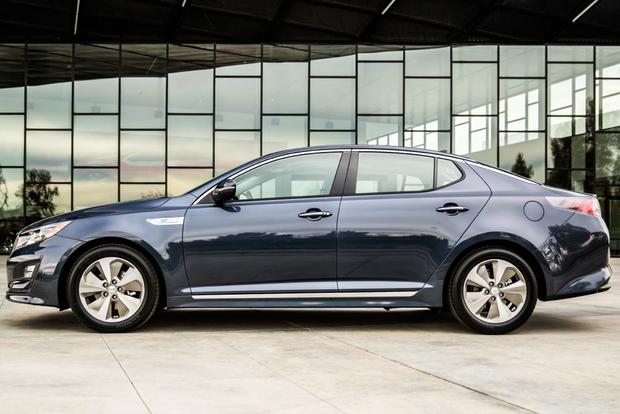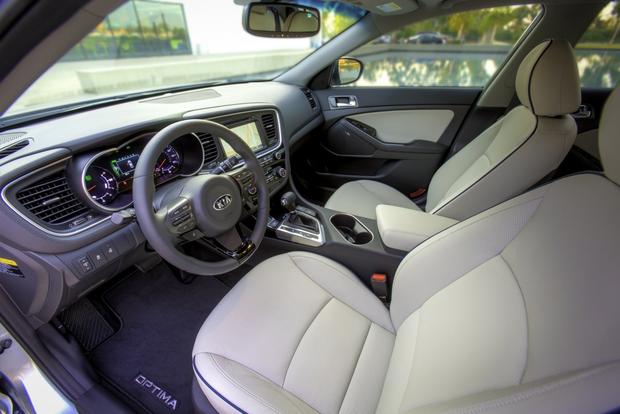 The 2014 Kia Optima Hybrid isn't just a midsize sedan with a clever method for saving gas. It's also a pleasant way of getting around. For this model year, the Optima Hybrid receives a freshened look and builds on changes from 2013, which amounted to a refinement of the gasoline/electric powertrain it shares with its sister car, the 2014 Hyundai Sonata Hybrid.
Hey, Good-Looking

One recognizable aspect of the company's styling is the so-called tiger nose. Look at any Kia and there's some version of it, but it's never identical from one model to another. On the Optima Hybrid, it's big and somewhat rounder than the conventional sedan, although not unattractive.
This remodeling -- along with the revised front bumper, lower lip and vents -- are all in the service of optimum aerodynamic efficiency, while model-specific LED headlamps and LED tail lamps (found on more cars in Kia's lineup) underline the car's modernity and technology.
A choice of 16-inch or 17-in wheels display new designs, chosen not only for their looks but also by how they contribute to the car's fuel consumption and drag coefficient of 0.26 (a Toyota Prius has a coefficient of 0.25).
What's Cooking?

A 2.4-liter, 4-cylinder gasoline engine and electric motor bring a tasty 199 horsepower and 235 lb-ft of torque. Getting up to freeway speed is as simple as prodding the throttle pedal and riding the wave of acceleration. It never feels out of puff on uphill stretches and packs a decent punch for overtaking. Drive goes to the front wheels via a 6-speed automatic transmission.
Smooth operation and improved fuel consumption -- 36 miles per gallon in the city, 40 mpg on the highway and 38 mpg combined, compared with the earlier model's' 34/39/36 numbers -- are a result of the refinements mentioned earlier. Under normal driving conditions, it's virtually impossible to perceive when the engine stops or fires back up. That's how smooth it is.
You can tell if the engine goes off by the EV Mode light shining in the instrument panel or by looking at the special hybrid-related graphics display in the center console, neither of which is a good idea when driving, especially in stop-start traffic where the hybrid system really comes into its own.
Don't bother trying to listen for it, either. The cabin is super-quiet, with only some subdued tire rumble. The car runs on low-rolling-resistance tires, which usually involve some degree of compromise with handling (extremely little in this case) and noise. With a set of good-quality regular tires, however, sound levels would probably decrease to a barely audible whisper.
Another hybrid trait is the potential for a weird brake-pedal feel, because the system captures braking energy and stores it in the battery. It takes around one stab of the Optima's pedal to become familiar. Even if it doesn't feel exactly like conventional braking, it's not so far off to be in any way unnerving.
How About Something for Me?

Bluetooth, airbags, a rearview camera, leather seating, a heated steering wheel, the MyUVO infotainment system and a long list of other available features can all be found in a cabin that deploys soft-touch plastics and molds them into agreeable shapes. This feels like a car at least one pay grade above its middle-class level.
Trunk space still amounts to a useful 10.78 cu ft., despite accommodating the lithium-polymer battery pack. A nonhybrid Optima's trunk is 15.4 cu ft.
Just one gripe: The seat cushions for the driver and front passenger seem a touch on the short side, not providing enough under-leg support for adults of average height. It may not be an issue for everyone, but pay attention to this area on a test drive.
The 2014 Kia Optima Hybrid comes in LX and EX trim levels. Please note that the better-equipped, and therefore heavier, EX trim returns slightly inferior fuel-consumption figures: 35/39/37 mpg. On a route including freeway, suburban and town driving, our test car averaged 36 mpg according to the on-board trip computer.
Kia had not announced pricing at the time of writing, but a Hybrid falls in the upper half of the Optima range. Last year's LX version started at $26,700 (including destination charges), so think in those terms.