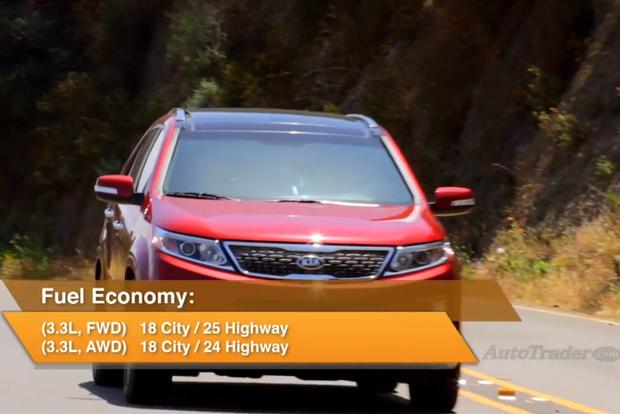 The midsize crossover segment continues to flood showrooms with shoppers, so keeping up with the competition is important to every manufacturer. That message hasn't been lost on Kia. And so the 2014 Kia Sorento comes with over 80 percent new or improved parts. Most of the changes are beneath its skin, and we think Kia should have given the Sorento a more eye-catching upgrade to the exterior styling to reflect the improvements underneath.
A Nice Interior Package
The latest style updates have taken a positive direction inside the Sorento. There's an extra helping of luxury with quality materials and an almost endless list of standard or optional features spread over four well-packaged trim levels.
Of those trims, the almost top-level Sorento SX is our favorite. It comes with Kia's UVO eServices along with an 8-inch touchscreen Navigation system and SiriusXM satellite radio. UVO is an optional feature as part of a package in the lower trims, but with its cutting-edge Google technology and advanced voice recognition, you should definitely consider getting it. It even has a Parking Minder that helps locate your parked Kia from your smartphone.
But the downside of having these neat features tied up into packages is that, if you're not careful, the price for a base-model Sorento LX could climb by up to $9,000, which could put it out of reach for value-minded shoppers.
Crossover Performance
The Sorento offers either 4- or 6-cylinder power with either front-wheel or all-wheel drive. The 2.4-liter inline 4-cylinder yields a respectable 191 horsepower, while the 3.3-liter V6 outputs a robust 290 hp. The only transmission is a 6-speed automatic. The V6, in particular, makes the Sorento quick and powerful, and with the chassis upgrades for 2014, the driving experience is responsive and entertaining.
And there's also an available Flex Steer system that gives the Sorento's new electric steering system three modes -- Normal, Sport or Comfort. We found Normal mode to work best. The other two are either too light or too heavy.
In terms of fuel economy, the 4- and 6-cylinder engines are not very far apart, yielding 20 miles per gallon city/26 mpg hwy and 18 mpg city/25 mpg hwy, respectably. Those figures are for front-wheel-drive models. All-wheel-drive mpg is slightly lower for each.
Sophisticated Value
With a base price of $24,100, the least-expensive Sorento is the front-wheel-drive LX trim that's fairly well-outfitted. The new luxury-equipped SX Limited with all-wheel drive is at the top of the heap and starts at $39,800, moving well into the 40s with options. The Honda CR-V, Mazda CX-5 and Toyota RAV4 are all worthy alternatives to the Sorento. The midsize CUV segment is a crowded field, indeed.
The Last Word
We like what Kia has done to the 2014 Sorento. It now benefits from more power, a plusher interior and real handling talent. The exterior styling is underwhelming, and adding too many options really fattens up the price, but the 2014 Kia Sorento is a midsize crossover that deserves a closer look in a category loaded with strong choices.