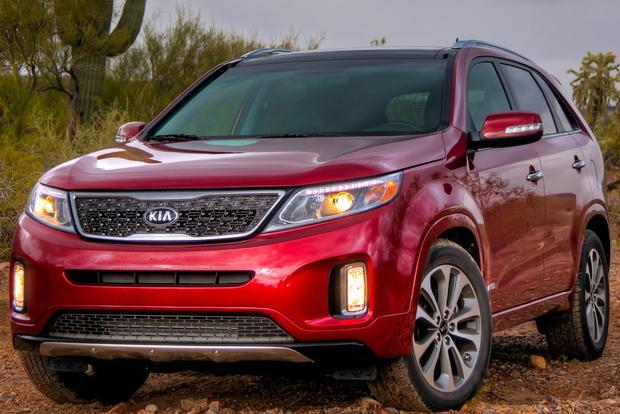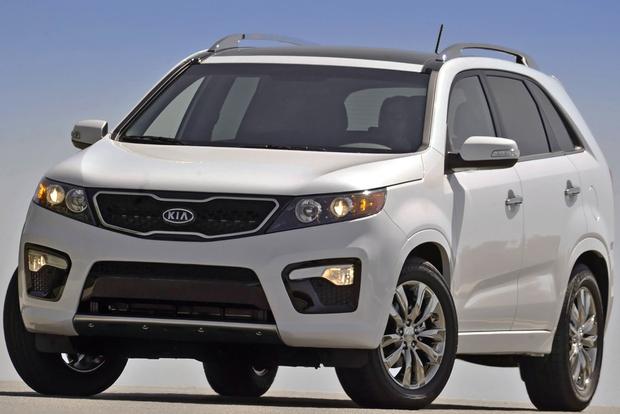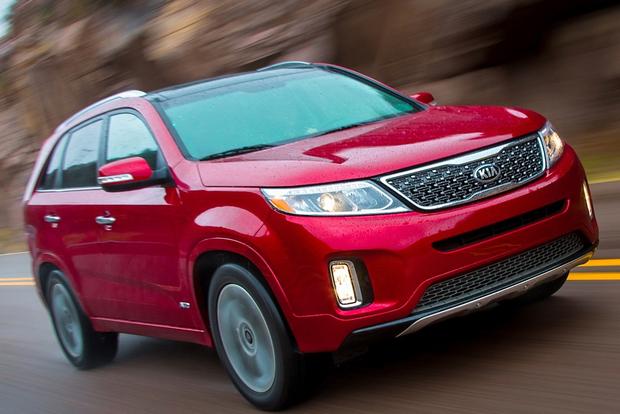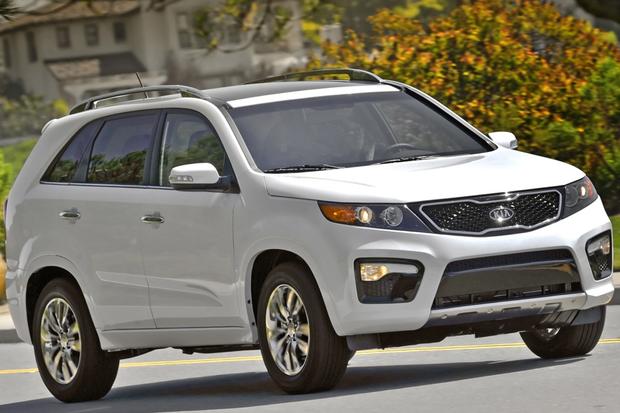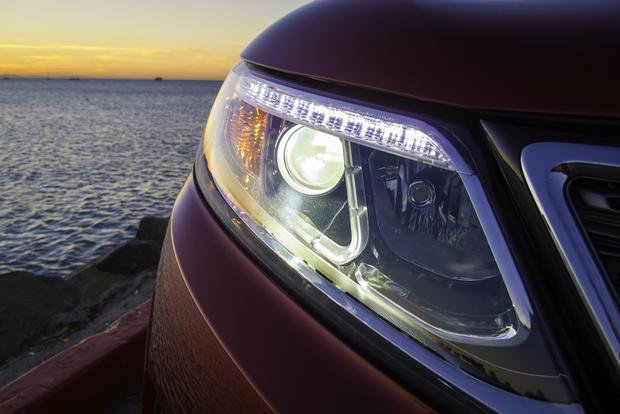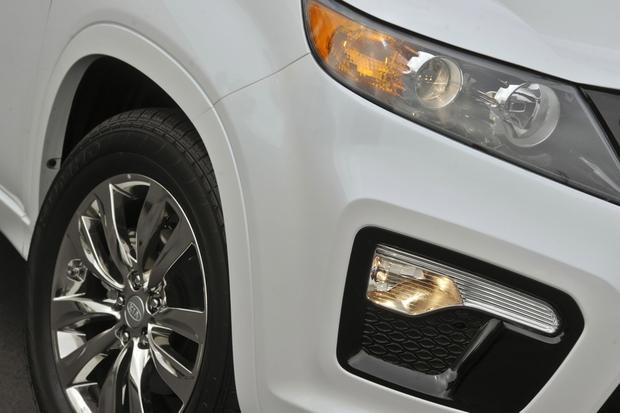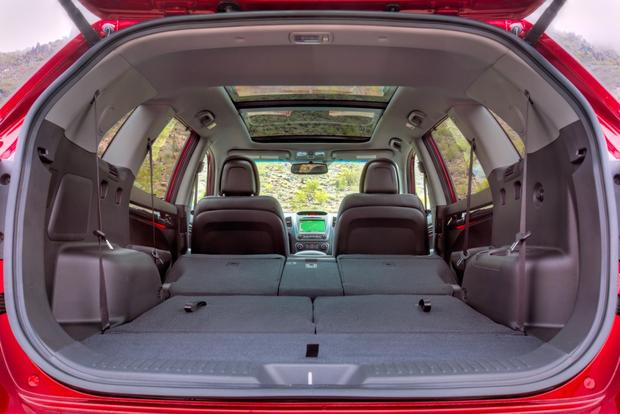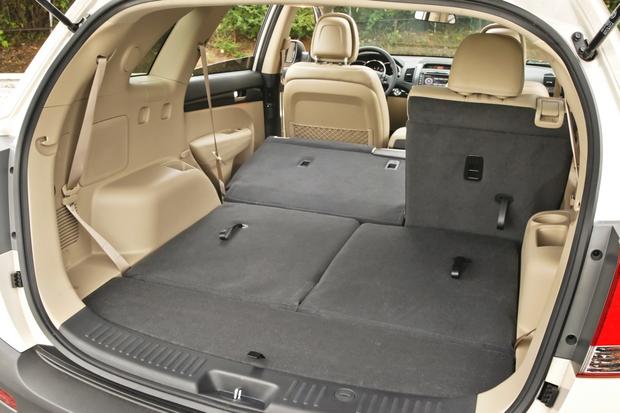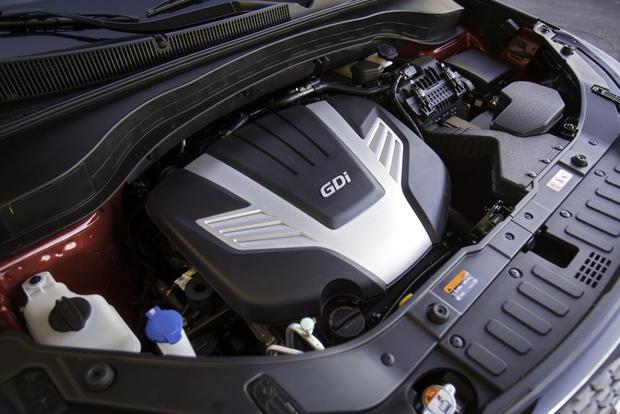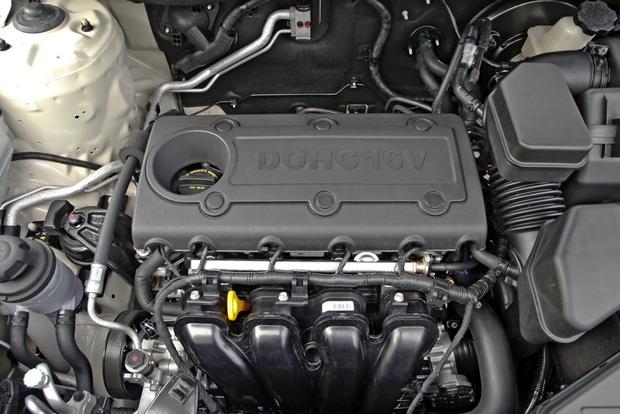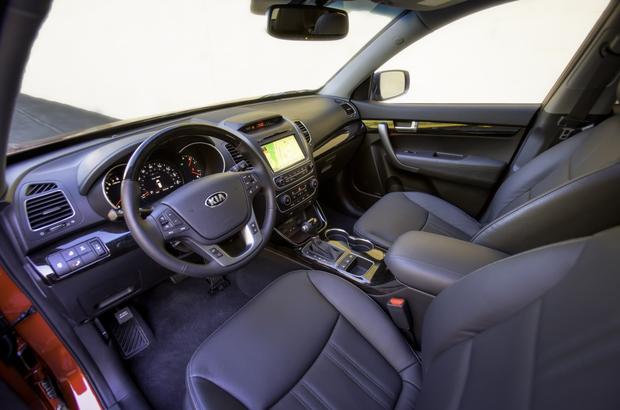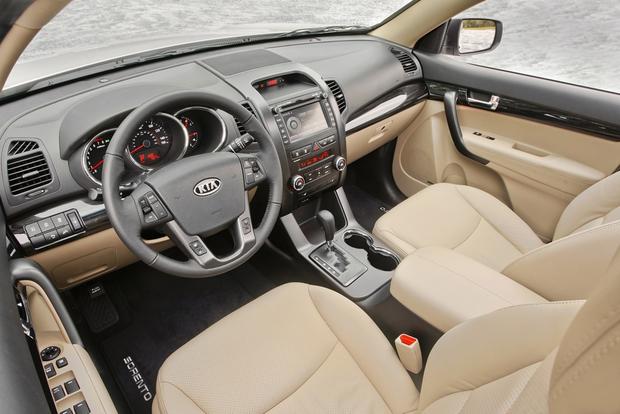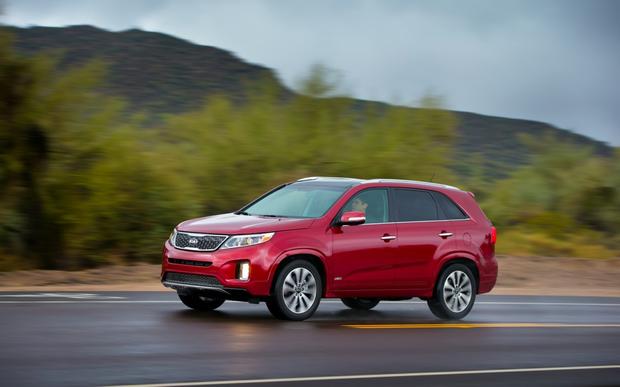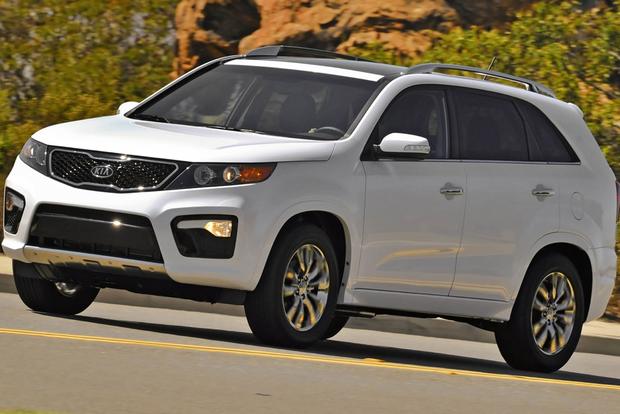 Introduction:
Line up the revamped 2014 Kia Sorento with the 2013 version and you might find it difficult to identify the differences, which makes the automaker's assertion that the majority of this midsize crossover SUV's bits and pieces are either new or redesigned that much harder to believe. Kia insists, however, that 80 percent of the 2014 Sorento's parts are exactly that, from a new chassis and a new V6 engine to a new top-of-the-line Sorento SXL trim level that wears a price tag north of $43,000 with all the option boxes checked.
Given the extent of the upgrades, combined with the fact that the previous version of the Sorento wasn't terribly old in the first place, we wondered if the significantly modified 2014 Kia Sorento is an improvement over the older 2011-2013 version. Let's take a closer look.
Fuel Economy:
From 2011 to 2013, the Kia Sorento was originally offered with a choice between a 4-cylinder and a V6 engine. The 2.4-liter 4-cylinder generates 175 horsepower in the standard format. In 2012, Kia added a more fuel-efficient, direct-injected version of the 4-cylinder, which makes 191 hp. The 3.5-liter V6 engine is rated to deliver 276 hp. In the base version of the Sorento, a 6-speed manual transmission feeds power to the front wheels. A 6-speed automatic transmission is available, and required for the optional all-wheel-drive system.
By 2013, there were seven different powertrain combinations for the Kia Sorento. The most fuel-efficient model contained a direct-injected 2.4-liter 4-cylinder engine, a 6-speed automatic transmission and front-wheel drive. According to the Environmental Protection Agency (EPA), this version could get 21 miles per gallon city/30 mpg highway and 24 mpg in combined driving. The least fuel-efficient model had the V6 engine and the all-wheel-drive system, resulting in EPA fuel economy ratings of 18 mpg city/24 mpg hwy and 20 mpg combined.
For the 2014 Sorento, Kia makes the direct-injected 4-cylinder engine standard, the 6-speed automatic transmission standard and swaps the previous 3.5-liter V6 for a more powerful 3.3-liter V6. The new V6 engine is standard on all Sorento models except for the LX and is rated to generate 290 hp at 6,400 rpm and 252 lb-ft of torque at 5,200 rpm. Versions with all-wheel drive now include Torque Vectoring Cornering Control (TVCC).
The 2014 Sorento is not as fuel efficient as the 2011-2013 Sorento models, an odd direction for Kia to take at a time when automakers are striving to meet stringent new fuel economy standards. For example, the standard 2.4-liter 4-cylinder engine is now rated to get the same fuel economy as last year's V6 model at 20 mpg city/26 mpg hwy and 22 mpg in combined driving. Estimates for the 2014 Sorento with the V6 engine and front-wheel drive also drop, but the all-wheel-drive model matches last year's SUV at 18 mpg city/24 mpg hwy and 20 mpg in combined driving. Kia recently came under scrutiny for inflated gas mileage claims, so the new numbers likely reflect a more realistic approach to fuel economy estimates.
While we applaud Kia's simplification of the Sorento's powertrain lineup for 2014, limiting the 2.4-liter 4-cylinder engine to the base Sorento LX model with front-wheel drive could cost Kia customers if they strongly value fuel economy. Therefore, we think the 2011-2013 Sorento lineup offers buyers greater opportunity to mix and match drivetrains and trim levels to derive greater value at the gas pump.
Safety:
The 2014 Sorento is offered with a new Blind Spot Monitoring System, a useful technology that, when the turn signal is used to change lanes, alerts the Sorento's driver to the presence of vehicles traveling in adjacent lanes and hidden in the SUV's blind spots. An all-new chassis also debuts on the 2014 Sorento, providing an 18 percent increase in torsional rigidity. The stronger frame is designed to improve ride and handling, but could have safety implications as well.
We say the new chassis could have safety implications because, at the time this article was written, neither the National Highway Traffic Safety Administration (NHTSA) nor the Insurance Institute for Highway Safety (IIHS) has performed crash tests on the 2014 Sorento. Previously, the 2011-2013 Sorento models received a Top Safety Pick rating from the IIHS. In NHTSA testing, the 2011 Sorento received a 3-star rating for rear seat passenger protection in a side-impact collision, but scored either 4 or 5 stars in all other evaluations. In 2012 and 2013, the Sorento was upgraded from 3 stars to 5 stars for rear seat passenger protection in a side-impact collision.
Though the 2014 Sorento has not been subjected to crash tests at the time this article was published, it is likely to prove to be just as safe as the previous model, thanks to its stiffer platform and the availability of a Blind Spot Monitoring System, which is a significant improvement over the old model. Likely advantage: 2014 Sorento. However, it remains to be seen if the chassis upgrades help the 2014 Sorento pass the new small overlap frontal-impact crash test conducted by the IIHS, which will allow Kia to retain the Sorento's Top Safety Pick rating.
Reliability:
Reliability data for the previous version of the Sorento is not easy to come by. Available information indicates that this SUV provides average levels of quality and returns average reliability, which makes Kia's excellent warranty a consideration which is that much more important.
Every new 2014 Sorento is protected by a 10-year/100,000-mile powertrain warranty and a 5-year/60,000-mile bumper-to-bumper warranty with 24-hour roadside assistance. The same level of protection covers all certified pre-owned (CPO) Sorentos, and they add a 150-point vehicle inspection, a CarFax report and travel breakdown coverage in the event the SUV requires repair on a trip.
Given that new and CPO Sorento models share the same warranty coverage and because owner-reported quality and reliability survey data reflects a merely average performance in this regard, we lean toward recommending a new Sorento over a used Sorento.
Value:
Speaking of used Sorentos, at the time this article was written, there are 675 certified pre-owned Sorento models listed on AutoTrader, ranging from a 2011 Sorento LX with almost 38,600 miles and priced at $16,995, to a 2013 Sorento SX AWD with 3,000 miles and a price of almost $35,000. As the research for this article is completed, Kia is offering CPO Sorentos at low interest rates ranging between 1.99 percent for 36 months and 3.99 percent for up to 60 months.
In addition to good deals on CPO Sorentos, Kia dealers are offering better deals on the outgoing 2013 models, from low-interest financing as low as zero percent for 36 months to low-payment leases. Cash-back rebates, loyalty rebates and competitive bonuses are also in effect, amounting to as much as $2,750 depending on the version of the Sorento purchased. Sticker prices range from $23,950 for a 2013 Sorento LX with front-wheel drive to $34,200 for a 2013 Sorento SX AWD.
The least expensive 2014 Sorento LX with front-wheel drive starts at $24,950, $1,000 higher than the 2013 model, while the 2014 Sorento SX jumps to $37,500. Kia also offers a new luxury-themed Sorento SXL model at the top of the lineup, which starts at $40,500 with all-wheel drive and costs $43,105 with every option box checked.
Combine price increases with fuel economy decreases and the updated 2014 Sorento doesn't make a strong value argument compared to 2011-2013 CPO versions, let alone heavily discounted brand-new 2013 Sorentos that dealers are eagerly brooming from inventory. That's why we think the previous Sorento offers better value.

Technology:
To entice buyers, Kia adds technology upgrades to the 2014 Sorento. Electric steering is standard this year, offering driver-controlled Flex Steer settings of Comfort, Normal and Sport. Most models are equipped with a new 7-inch LCD information screen in the gauge cluster and a larger 8-in color touchscreen for the center control panel, while Sorento AWD models feature new Torque Vectoring Cornering Control (TVCC) technology. New options include a next-generation UVO infotainment system with eServices technology, a new Blind Spot Monitoring System, a new programmable power rear lift gate, a 115-volt power inverter and ventilated front seats. The luxury-themed Sorento SXL model is equipped with self-leveling Xenon headlights, a heated steering wheel and a heated rear seat, among other features.
While we think the most significant of these new features are the Blind Spot Monitoring System and new UVO eServices technology, there's no denying that the new 2014 Sorento is a more technologically sophisticated vehicle than the SUV it replaces.
AutoTrader's Recommendation:
Certified pre-owned versions of the 2011-2013 Kia Sorento would provide undeniable value to midsize crossover SUV shoppers, if not for their average quality and reliability ratings. For this reason, despite the fact that a CPO Sorento is equipped with an equally impressive warranty, we think consumers would do well to purchase a brand-new version of the Sorento. Try to find a leftover 2013 model while supplies last, or choose the 2014 Sorento for its impressive technology upgrades.