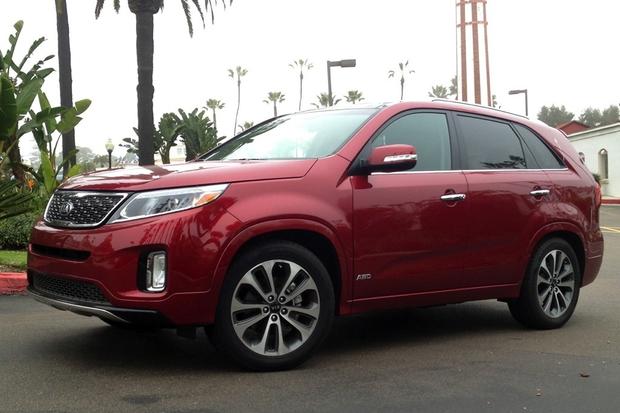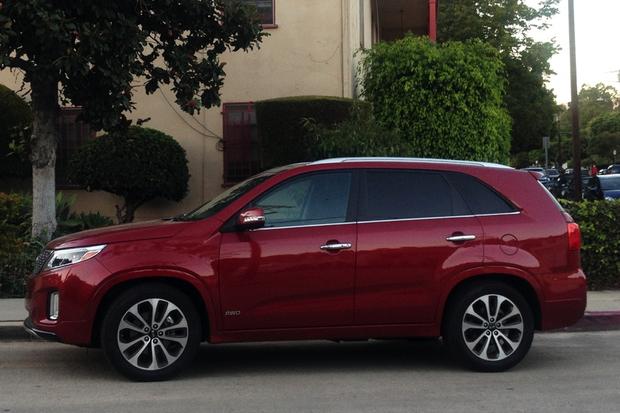 After the sobering experience of banging up our long-term 2014 Kia Sorento SX tester and walking away impressed with its crashworthiness, we were eager to have the Korean crossover repaired so we could jump back into the saddle and carry on our test. But as it turns out, sometimes things don't go as planned (again) and cars aren't fixed as quickly as you might hope.
After waiting a couple of weeks for the body shop and being told that the damage was more extensive than we initially thought, Kia kindly decided to send us an entirely different test car so we could resume our evaluation anew.
Different, But the Same
AutoTrader's replacement car was of identical spec -- that is, a fully loaded SX model in Remington Red with a black leather interior. For having a tisk over 10,000 miles on the clock, this freshly detailed example was in impressively good shape, and had roughly 2,400 fewer miles than the SX we crashed.
Though several minor wear points (like the thinly scratched plastic steering wheel cover and rear gate guard) betrayed this Sorento's mileage, it was in otherwise excellent shape, ready to take on kid hauling, errand running and cross-city commuting duty.
SX, Revisited
Having time in between Sorentos to sample other cars enabled us to examine the new long-term loaner with fresh eyes -- and, for the most part, we liked what we saw when we came back to Kia. Having spent time in several sterner, more back-to-basics crossovers from other manufacturers made us more deeply appreciate the creature comforts in our SX model, such as heated and ventilated seats, a blind spot warning system, a pleasant soft-touch interior treatment and a sliding panorama roof.
We'll be darned if the new tester didn't drive better, as well. Seems the second car has more sure-footed handling and more confidence-inspiring dynamics, which is especially appreciated given its taller center of gravity. Was it perhaps a car that rolled off the assembly line later, or maybe one with a recent suspension alignment? Regardless of the reason, the new car felt better behind the wheel, particularly thanks to its more stable driving characteristics.
What's Next?
As we settle back into the 2014 Kia Sorento SX, we'll be coming back with updates on how it carries on through daily life with reports on fuel economy, day-to-day practicality, another upcoming move and an impending routine service.
If the Sorento continues to perform this solidly, we expect nothing but smooth sailing.