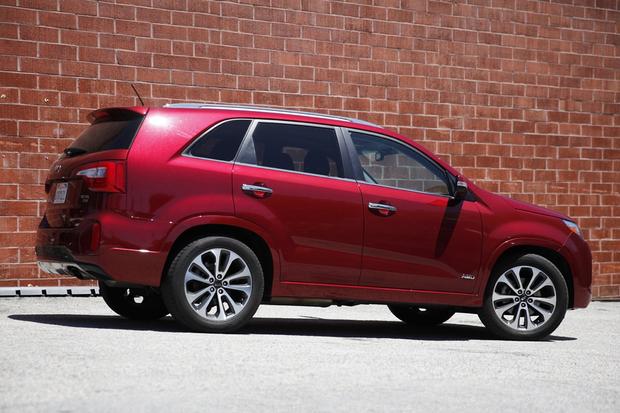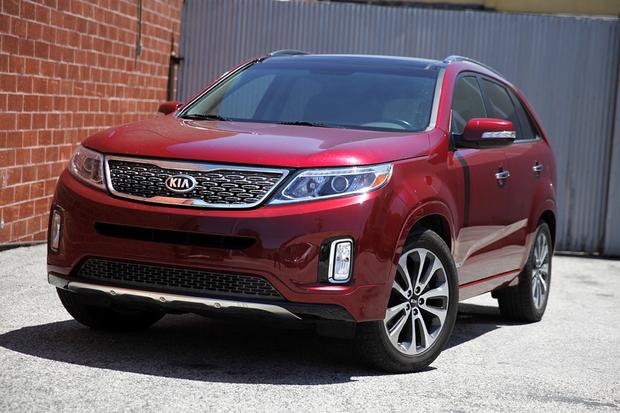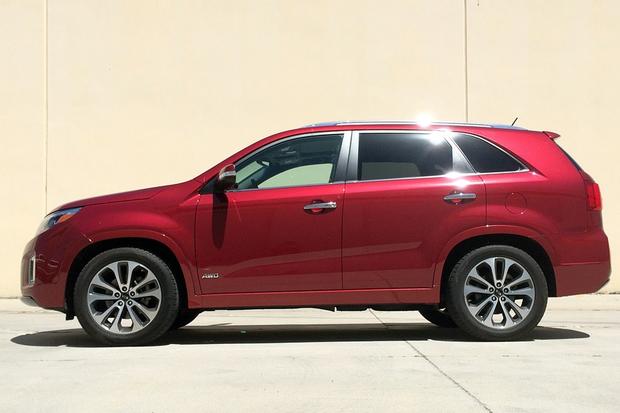 A year is a long time to spend testing a car, and that generous time frame allows more than enough opportunity to find any number of flaws, hiccups and annoyances that you're likely to encounter within the full range of the ownership experience. With our 2014 Kia Sorento SX long-term test officially over, it's finally time to look back at our year and evaluate where the Korean crossover excelled and where it fell short.
In the Beginning: Cautious Optimism
The start of our 12-month loan had us admittedly curious about how the Kia Sorento would fare during daily use that included hauling plenty of stuff (not the least of which was our 2-year-old boy), which presents its own unique set of ergonomic requirements. Having previously long-term tested the BMW 328i and Volvo S60 sedans and found that their body styles were well suited to our daily needs, I also felt that the Sorento's extra bit of space might be useful.
Truthfully, my biggest concern while living with the Kia centered around brand anxiety; I was less worried about the Sorento's reliability and durability and more concerned about whether or not I was really a Kia kind of driver.
Testing Through Moves, Road Trips and (Potentially) Life-Changing Events
Throughout the course of the year, I ran the Sorento through a variety of typical and not-so-run-of-the-mill scenarios: I used it as a mobile office, looked at it through the eyes of a passenger, road-tripped it repeatedly, and used it to assist with a household move.
Despite minor things that we'd change if given the chance, the Kia was a trustworthy road partner. The Sorento's successes managed to squash any remaining stereotypes about Korean cars. They have come a long way since the early days, when dumpy subcompacts from Hyundai and Kia were the punch line of the car industry, and they have proven that they can run with the big boys when it comes to styling, technology and amenities. Two services experiences -- one that felt a bit less premium than the other -- revealed affordable scheduled maintenance and generally friendly, helpful dealership personnel.
But the most formative experience came due to a collision that left the Sorento seriously damaged but my wife completely untouched, which is the ultimate testimony to the car's ability to deflect danger (a quality reflected by its exemplary crash-test scores).
Bottom Line
Though it suffered a couple of rather minor lapses (including a brief navigation glitch that just as quickly fixed itself), the 2014 Kia Sorento eventually proved to be a workhorse of a car that held up remarkably well over its 26,000 miles in my household. It has no shortage of creature comforts, including heated and ventilated seats and a huge panoramic sunroof, but the aspects that were most impressive were its solid build quality, easy-to-live-with sense of comfort and utility, and its general durability.
While it couldn't be confused with a pure driver's car (especially when driven hard), the Sorento nonetheless exceeded expectations with its solid road manners, welcoming interior and deep list of amenities, all of which make it an excellent value for its sub-$40,000 price point.