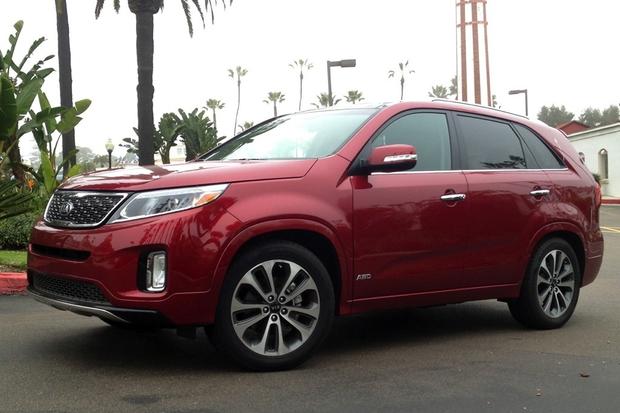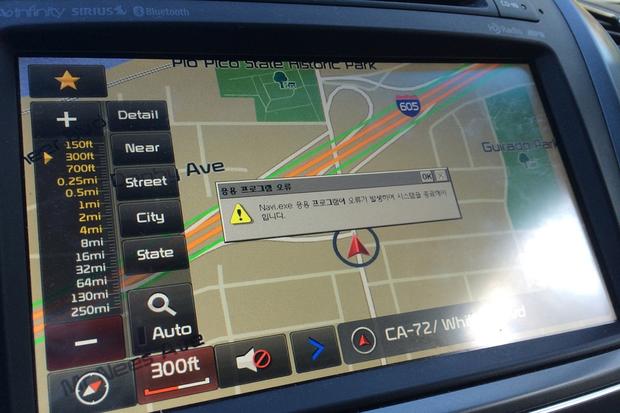 Just as we were singing the praises of our 2014 Kia Sorento SX's trouble-free tenure in our long-term garage -- which, incidentally, is approaching its sunset -- a curious thing happened on the way back home: The nav system developed a glitch.
What Happened
Though we're well acquainted with Los Angeles streets and freeways, we also rely pretty heavily on the Sorento's nav system for getting around. It's not just insurance against time-wasting missteps -- the system also offers a relatively accurate estimation of how long it will take to get around based on traffic conditions, a handy feature that helps us plan our seat time on the road. We also like the nav system's bright colors, large screen and easy to use touchscreen features.
The glitch happened after entering a destination via the touchscreen. While plotting our course, the screen displayed a message that read, "Navi.exe," followed by a sequence of Korean characters. The nav system's touchscreen was unresponsive, and attempting to switch display modes via hard buttons didn't help. The glitch resolved itself when car was switched off and back on. For now, the problem seems to have gone away.
Is Navigation worth the Extra Cash?
Though the nav screen glitch isn't exactly debilitating, we'll be taking our 2014 Kia Sorento SX in to the dealership to evaluate. And while we're at it, we'll have the dealer perform a long-overdue service of the car (which went swimmingly well during our last dealer visit).
We're curious to see how it will all work out, or if there's even a record of the nav system glitch. We'll keep you posted on our next 2014 Kia Sorento SX long-term update.
This does raise a larger issue -- we opted for the loaded Sorento with the navigation system and think it's money well spent, but what do you think? Are cars becoming too complex with electronics like navigation and Bluetooth? Are they worth the extra money or do you prefer a back to basics car?