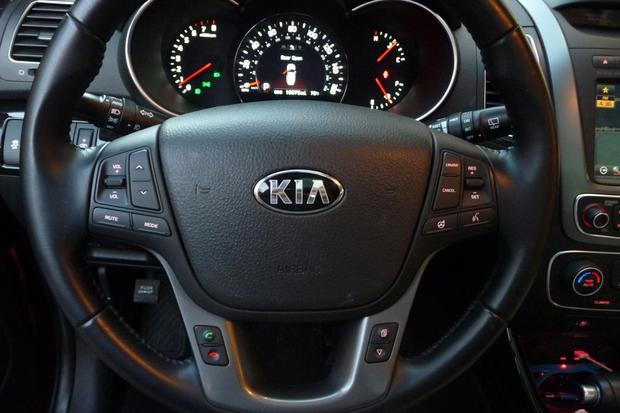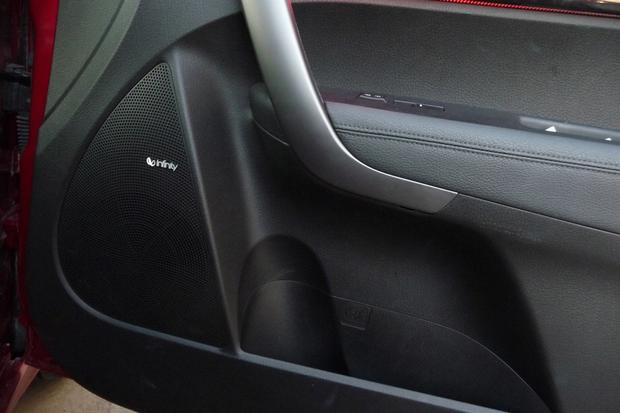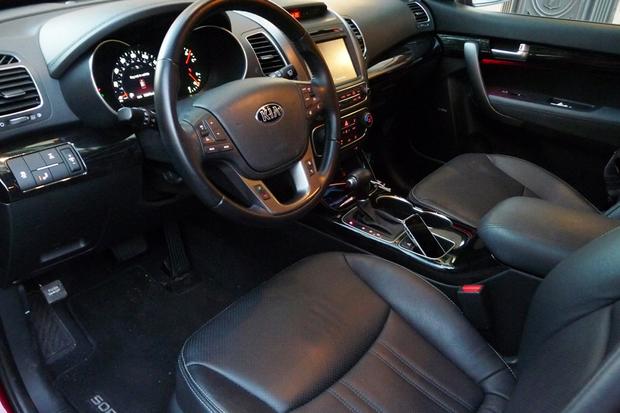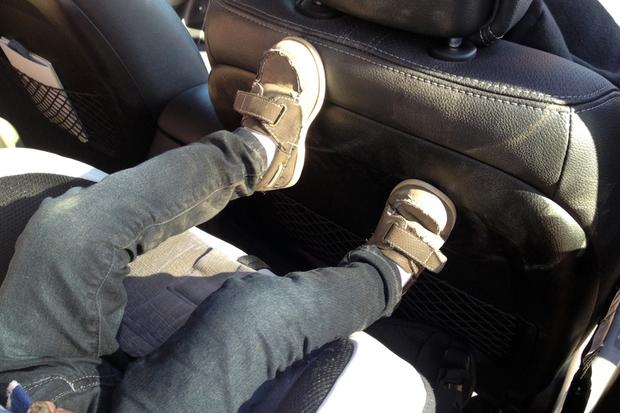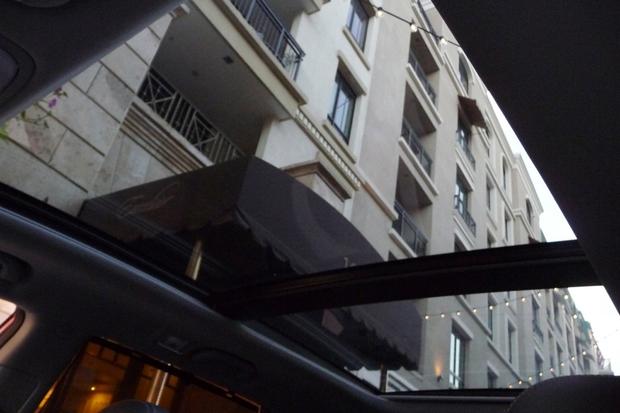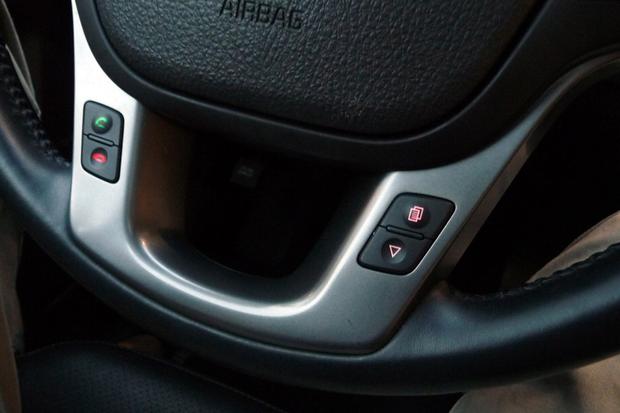 As automotive editors, we often find it easy to fixate on describing the experience behind the wheel. And while there's plenty to talk about with the 2014 Kia Sorento SX from a driver's perspective -- from its user-adjustable steering effort to driver aids such as blind spot monitoring -- there's also a slew of features focused on the passenger.
Comfort: Slightly Firm, but Long-Haul-Friendly
Several road trips in the 2014 Kia Sorento SX have revealed the cabin to be comfortable, though perhaps not quite as plush and accommodating as you'll find on domestic sport 'utes. While the seats, for instance, are agreeable over the long haul, there's also a bit of European influence in their cushion design that leans more towards sporty supportiveness than sofalike softness. Of course, a certain amount of firmness can actually aid comfort over the long haul by keeping the spine straight, but that balance between support and softness requires striking just the right balance to achieve the optimum ergonomics. Evaluating its seats on those terms, the Sorento manages to satisfy more often than it disappoints on long trips, though there invariably comes a point where it's best to pull over, get out and stretch.
Amenities: The Little Things
Sometimes it's the little things that make passengers happy. Sure, the Sorento has the usual creature comforts you'd expect given its nearly $40,000 price tag -- such as heated and cooled seats, dual zone climate control and a 10-speaker Infinity sound system -- but what we started noticing on long trips were the little things. We appreciated features such as visors with extendable tips, which helped keep the sun out of our eyes, and integrated rear sunshades that reduced the fatiguing effects of solar heat.
The reclining rear seats can be tilted at two different angles, due to the split, fold-down function. These seats make it less likely that passengers will complain about extended seat time, though the feature can be a frustrating tease when cargo in the rear bay blocks the seat from leaning back. One particular stint in the back seat enabled me to use the Sorento as a mobile office, thanks to the built-in 115-volt power inverter, which enables easy laptop plug-ins. Power is only activated when a button is pressed on the center console, and that activation resets every time the engine is switched off. Rear passengers also have their own air-conditioning controls as a standard feature on the SX and Limited models, while the feature is available as an option on the LX and EX versions.
The Kid Factor
No description of passenger ergonomics would be complete without covering the kid factor, and our Sorento experience with our 2-year-old has (knock on wood) been positive. The LATCH anchor points are easy to reach. Once a baby seat is installed, there's enough room back there to accommodate those eager arms and legs -- though the front seat is often close enough to encourage kicking and/or grabbing by toddlers.
Other items that make life easier for parents include a power lift gate, easy sight lines and good visibility looking at the back seat.
Downsides
Though the Sorento's interior is vastly improved for 2014 with soft-touch materials, there are still a few bits that haven't aged as gracefully as the plusher pieces, such as some of the kick panels and the plastic trim on the steering wheel. These complaints are minor, though. The interior has generally been aging well, considering our car's 15,000-mile odometer reading.
The Bottom Line
What's the bottom line when it comes to evaluating the passenger experience in a car? Well, the bottom line is usually that: how comfortably a vehicle drives when it's been driven for mile after mile after mile. Amenities aside, the Sorento has proven to be a place that it's easy to spend several hours in, even if its seat cushions aren't optimally cushy. Add the bells and whistles that come standard on the SX model and this Korean sport 'ute proves to be a better road warrior than you might expect for a challenger brand.