Car Review
2014 Kia Sorento SX: Road Trip to Ski Country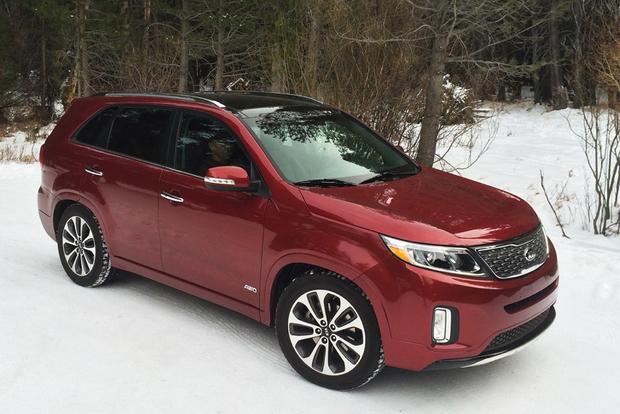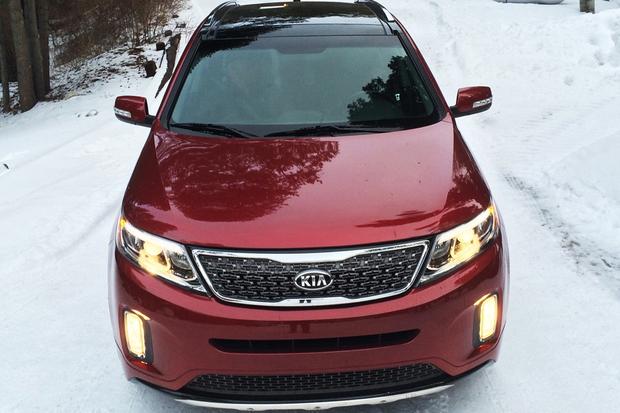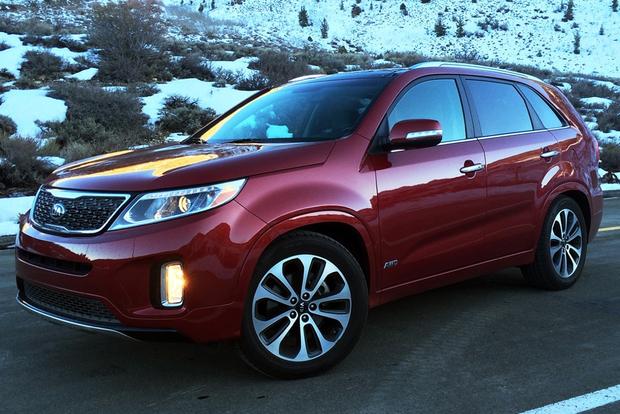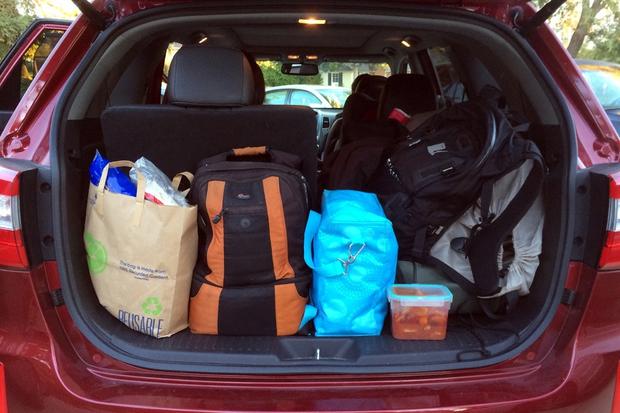 Aside from several quick jaunts from Los Angeles to San Diego and Palm Springs, our 2014 Kia Sorento has largely been relegated to city driving, where it has proved to be quite the urban workhorse thanks to its smooth road manners, generous cargo area and baby-friendly rear-seating arrangement. But when it came time for a family road trip to the ski destination of Mammoth Lakes, near the Sierra Nevada mountain range, I couldn't raise my hand quick enough for the opportunity to drive the Sorento and see how it handled heavy-duty touring.
Cramming ... er, Packing for the Occasion
Any good road trip involves the right crew, a worthy destination and the proper provisions to make the trip as pain-free as possible. In the case of our central California excursion, we had a total of five adults and one 2-year-old, not to mention a trunk full of luggage, plenty of food and an inflatable air mattress. The volumetric feat of packing all that stuff into the Sorento's 36.9-cu ft storage area (when measured with the third row folded down) was a challenge, especially considering that space was further reduced when we folded up two-thirds of the third-row seat for my rather petite mother-in-law. But all factors considered, the Sorento managed to hold a decent amount of stuff, especially considering its midsize classification and that it was carrying six passengers -- one of whom required a relatively bulky kid's seat.
As for the third row? My mother-in-law said the space was surprisingly roomy and comfortable. Full disclosure: She's just shy of five feet tall. She did, however, sample the front seat later, which triggered seat envy since that made her realize that the rear didn't offer nearly as much lumbar support. Larger adults be forewarned: Your happiness levels in the third row may vary.
Interior Dynamics Over the Long Haul
What makes a good road trip car? The answer depends on your journey. College students might be fine with a 4-seat convertible, while some families might demand multimedia screens for entertainment and perhaps a killer sound system. Our needs for this particular road trip were simple: The 2014 Kia Sorento's satellite radio came in handy for background music (mostly classical), and the sport 'ute's relatively quiet interior enabled plenty of relaxed conversation.
Certain features seemed particularly handy under these circumstances, such as the built-in shades that helped block harsh sunlight and the panoramic sunroof that helped distract our kid when the hours wore on. We also appreciated the rear climate-control switches (even the third row gets a vent and fan control), as well as the front seat's heat/ventilation function.
The Driver's Seat (and Gas Card)
While the Sorento performs reasonably well when driving solo, we learned that when loaded to capacity with people and cargo, the 290-horsepower V6 can feel taxed during overtaking and uphill routes. We used standard 87-octane fuel for the first half of our trip, and while the Sorento still had enough oomph to get out of its own way, by the time we arrived at Mammoth's 8,000-foot elevation, the car's spunkiness further subsided. Filling up with premium gas seemed to help matters, though there was still no mistaking that the Sorento wasn't packing a high-powered V8 under the hood. We also felt that the car's cruise control system was a bit jerky, especially when we tapped the "Accelerate" toggle on the steering wheel, which jerked the car ahead like a lead-footed rookie driver. We learned to cancel cruise during passing, accelerate using the throttle and then switch it back on for seamless overtaking.
The Sorento performed admirably fuel-wise, considering our 75 miles per hour cruising speeds and full load. On the way up to Mammoth, we calculated 23.5 miles per gallon, while the return route's downhill trajectory bumped the number up to 27.9 mpg, for a combined average of 25.7 mpg.
Bottom Line: Extreme Loads, Not-So-Extreme Circumstances
While we certainly put our 2014 Kia Sorento to the test with our full load of humans and cargo, our destination wasn't as cold and snowy as we expected, thanks to an unseasonably warm winter climate. So while we weren't able to fully put its snow and ice traction to the test, the 300 or so miles between Los Angeles and Mammoth Lakes proved to be comfortable and pleasant, providing a conducive atmosphere for family banter and taking in the visuals of California's stunning outdoors.
The Sorento never wore out its welcome. In fact, when we returned to the big city, we looked forward to giving it a well-earned wash, filling it up again and getting back into our daily routine.