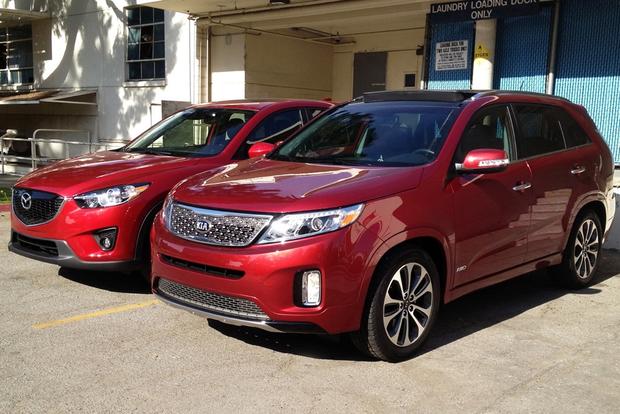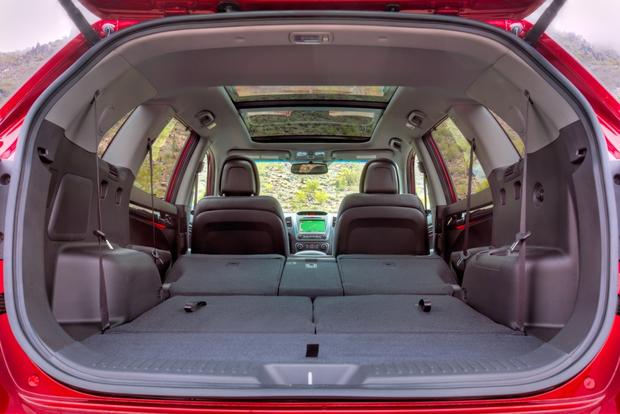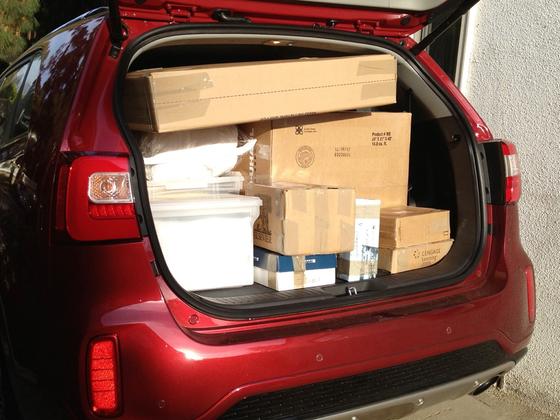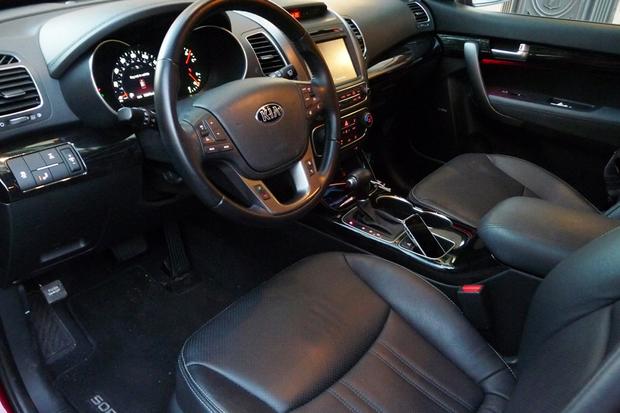 Finding the perfect crossover often involves careful comparisons of fuel economy, performance and, of course, cabin and cargo space. After all, most buyers gravitate toward SUV/sedan hybrids for their elevated visibility and their interior volume.
How do the 2014 Kia Sorento SX's spacial capacities compare to other crossovers? And more importantly, how does it fit into our lives?
Let's take a closer look.
Sorento vs. the World: Comparing the Specs
Technically speaking, the Kia Sorento SX is classified as a midsize crossover. It slots in at a larger size than its Soul and Sportage stablemates but is smaller than the Sedona minivan. Outside of the Kia family, the Sorento's interior volume trumps smaller compact crossovers such as the Volkswagen Tiguan and the Honda CR-V (though the CR-V does claim .3 more cu ft of cargo capacity). The Toyota RAV4 has 5.3 fewer cu ft of interior space but 1.5 more cu ft of cargo stowage.
The Sorento happens to share a similar silhouette with the Ford Edge. Though its passenger space is only 1.2 cu ft smaller, its cargo capacity is 4.7 cu ft greater. Compared to the Mazda CX-9, Kia loses the passenger war by a long shot (a difference of 32.2 cu ft) but wins the cargo battle by a considerable margin (19.7 cu ft).
You might notice a trend based on these seesaw battles between manufacturers: Midsize crossovers tend to ride a delicate balance between the space allotted for passengers and the volume offered for cargo. And incidentally, as we mentioned in a previous update, the third row of seating is pretty much only suitable to very petite people -- which, in the case of that particular road trip to central California ski country, meant my rather diminutive mother-in-law.
First-Hand Experience in the Real World
Spec sheets aside, there's no substitute for loading up a crossover and testing its cargo- and people-hauling capacities in the real world. In the case of our long-term Sorento, that meant using it for grocery runs, road trips and moving to a new home.
How did it perform?
Well, in the case of a road trip involving five adults and a 2-year-old in a car seat, the Sorento performed surprisingly well in terms of space, getting packed to the gills with provisions but managing to carry us all comfortably. In the case of extreme volumetric capacity, you can see from this photo that the cargo bay can be crammed with quite a bit of stuff before it's full.
Needless to say, more routine trips around town with two or three passengers were a piece of cake. The remote-operated rear hatch made it easy to load up with cargo. And if anything, having a decent amount of space back there made it tempting to leave junk in the trunk, much to the detriment of fuel economy (not to mention general tidiness). Aiding the cabin's feeling of spaciousness is the panoramic roof, which makes the space feel more open and airy when it's retracted.
As previously outlined in this update, life is generally good for those who ride along in the back seat, though my 2-year-old's feet sometimes found themselves kicking the front passenger seat, unless it was moved uncomfortably close to the dash.
Bottom Line: How Much Space Do You Need?
As anyone who's bought real estate in a prime location can tell you, space is a luxury. And though it's not a full-sized SUV, the Sorento manages to suit the needs of most folks without leaving a mammoth-sized footprint.
As for our experiences with the Sorento, this midsized sport 'ute came along at just the right time in our lives. We went through a move with a young kid in tow, needing to move all of our personal belongings into a new space, not to mention a number of large-scale items such as furniture and housewares. It didn't hurt that we also chose it for a family vacation, even though my father's gargantuan Lincoln Navigator would have done the deed just fine.
Now that we're settled into our home, will I feel as compelled to drive such a big car the next time around? My honest answer would be "not necessarily." I will admit to enjoying the spirited driving that comes with handling such a voluminous wagon. Its low center of gravity and maneuverability make it a more fun experience behind the wheel.

At the end of the day, the 2014 Kia Sorento SX has proved to be just the vehicle for a certain stage in my life, but I won't necessarily need so much space in my next car. That's not a negative point against the Sorento but rather a straightforward assessment of where I'm at in my personal life. Your mileage, as they say, might differ, and in this case, it all boils down to where you're at with your personal preferences and needs.