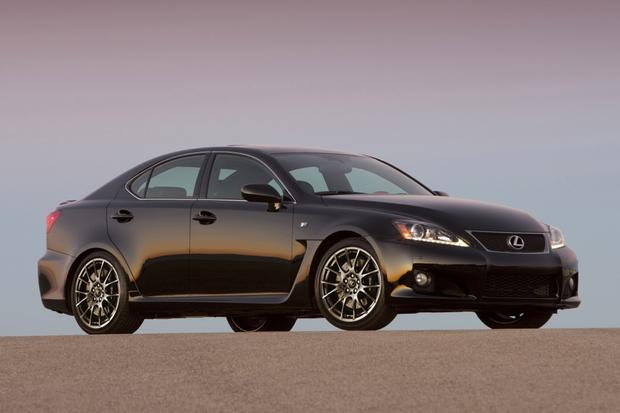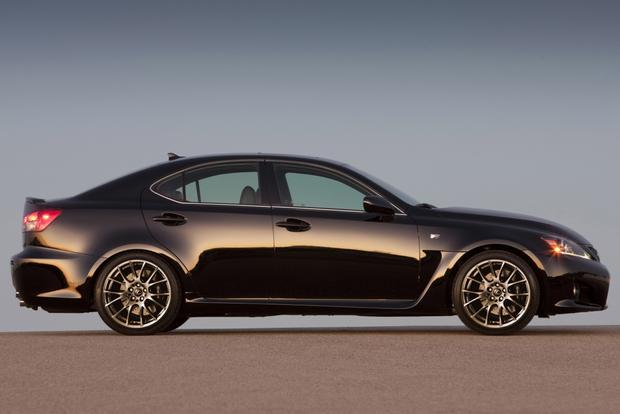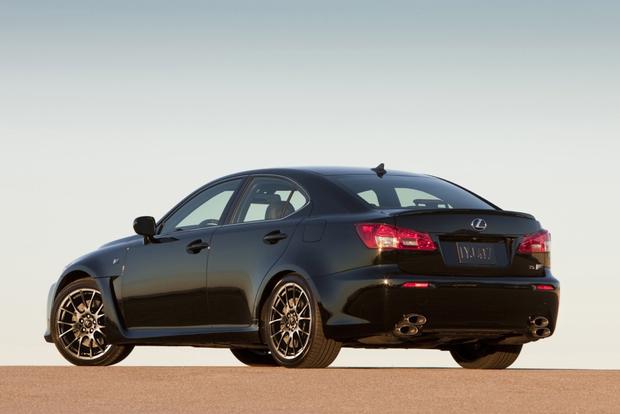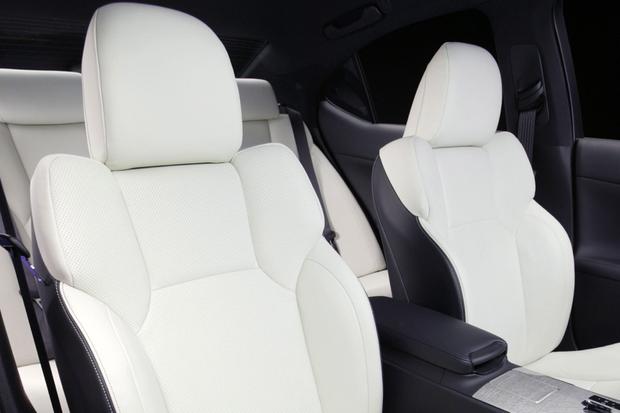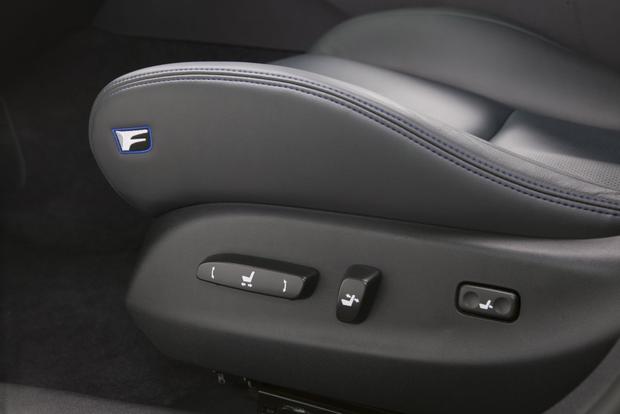 The 2014 Lexus IS 250 sedan and its buffer brother, the 2014 Lexus IS 350 sedan, face a difficult task. They compete against polished rivals such as the BMW 3-Series, Infiniti Q50 and Mercedes-Benz C-Class in a segment that depends as much on brand image as it does on amenities, driving performance and sharp handling. It's hard to get a seat at this table, but Lexus has been inching closer since the IS first came out in 2001.
The fully redesigned 2014 IS sedan lineup represents Lexus's strongest, most focused effort yet. Outside, the IS sedan's fresh lines give it a bold, purposeful look. Inside, it offers a list of standard features that arguably outshines the competition. The only thing missing is a convertible to match, as the retractable-hardtop 2014 IS C is a carryover, previous-generation model that's sold alongside the reinvented sedan.
Of course, some shoppers are looking for something more -- namely, a top-notch driving experience. For these enthusiasts, handling has to be razor-sharp, and a lot of power doesn't hurt, either. Fortunately, Lexus makes the IS 350 F Sport, which boasts 306 horsepower and a sport-tuned suspension that should satisfy all but the most demanding drivers. Lesser IS models, particularly the base IS 250 with its modest 2.5-liter V6, are more concerned with luxury and value -- and if you care less about performance, that may suit you just fine.
Overall, the 2014 IS may face its share of challenges, but we like its chances. This is a strong all-around car that every shopper should take for a spin.
What's New for 2014?
The IS sedans are fully redesigned, though the IS C convertible is a carryover from last year.
What We Like
Stylish inside and out; upscale cabin; adult-friendly back seat; strong acceleration in IS 350; generous equipment list
What We Don't
So-so fuel economy; outdated engine in IS 250; convertible is an older design
How Much?
$36,860-$47,900
Fuel Economy
The IS 250 sedan is powered by a 2.5-liter V6 rated at 204 hp and 185 lb-ft of torque. Fuel economy, according to the Environmental Protection Agency, is 21 miles per gallon city/30 mpg hwy with rear-wheel drive, which is unimpressive given the 250's modest output. Opting for all-wheel drive lowers those numbers to 20 mpg city/27 mpg hwy.
The IS 350 sedan upgrades to a 3.5-liter V6 that pumps out 306 hp and 277 lb-ft. Fuel economy doesn't suffer much, checking in at 19 mpg city/28 mpg hwy with rear-wheel drive and 19 mpg city/26 mpg hwy with all-wheel drive.
The rear-wheel-drive sedans feature an 8-speed automatic transmission, while the all-wheel-drive sedans get an older 6-speed automatic.
The IS C employs the same two engines but offers only rear-wheel drive and the 6-speed automatic. Fuel economy is 21 mpg city/30 mpg hwy for the IS 250 C and 19 mpg city/27 mpg hwy for the IS 350 C.
Standard Features & Options
The 2014 Lexus IS model is offered in two trim levels: IS 250 and IS 350. All-wheel drive is optional on both (sedans only). The high-performance IS F sedan is reviewed separately.
The IS 250 sedan ($36,860) includes standard perks such as 17-inch alloy wheels, xenon headlights, LED running lights, selectable driving modes that alter the car's feel, paddle shifters, dual-zone automatic climate control, synthetic leather upholstery, the mouselike Remote Touch Interface with a 7-in central display, a color 4.2-in TFT driver information display and real-time traffic and weather with no subscription required. The audio system is an 8-speaker setup with Bluetooth/USB connectivity.
The IS 350 sedan ($40,375) adds the larger V6 engine but is otherwise similarly equipped.
Options include 18-in wheels (mesh-style for IS 250, 5-spoke for IS 350), a navigation system (which includes a rearview camera), a 15-speaker Mark Levinson audio system, a blind spot monitor with rear cross-traffic alert, a lane-departure warning system, front and rear parking sensors and adaptive cruise control with collision mitigation
There are also a few packages on offer. The Premium package adds LED headlights and heated/cooled seats. The Luxury package consists of the Premium package plus rain-sensing wipers, enhanced exterior mirrors, leather upholstery, a power tilt/telescoping steering wheel, driver memory functions and wood interior trim. The F Sport package starts with the LED headlights and adds 18-in staggered-width alloy wheels, unique front-end styling, a sport-tuned suspension (with adaptive dampers on IS 350 RWD), exclusive TFT instrument displays, heated sport front seats, an F Sport steering wheel, aluminum pedals and optional variable-ratio steering (IS 350 RWD only).
The IS 250 C convertible ($43,620) gets some of the same standard features as the sedan, such as 17-in wheels and dual-zone climate control. However, its previous-generation interior does not come with the Remote Touch Interface, and it also lacks the sedan's standard xenon headlights and LED running lights (they're optional), upgraded instrumentation, nicer materials and the various other elements of the redesign.
The IS 350 C convertible ($47,900) gets the bigger V6 but is otherwise similarly equipped.
IS C options roughly mirror those of the IS sedan, though the optional navigation system is a much older version with a touchscreen display and different software.
Safety
The 2014 Lexus IS sedan comes standard with stability control, 4-wheel anti-lock disc brakes and no fewer than 10 airbags. The IS C convertible has four airbags. The available adaptive cruise control feature includes a collision-mitigation system that senses imminent frontal impacts and can apply the brakes if necessary.
In government crash tests, the 2014 IS sedan scored five stars out of five overall, including four stars for front impacts and five stars for side impacts. The independent Insurance Institute for Highway Safety deemed the IS sedan Good (its highest rating) in the two tests conducted (the moderate-overlap front and side tests). The IS C convertible has not been crash-tested.
Behind the Wheel
The IS sedan's standard front seats were exceptionally well-bolstered and comfortable. They could easily be the best standard seats in any entry-level luxury sedan. The F Sport's chunky sport seats are snugger, but they're not a huge upgrade. Thanks to a longer wheelbase this time around, the sedan's rear seats can actually accommodate full-sized adults, though several taller testers hit their heads on the sloping roofline. It's a mistake you'll make only once, but it illustrates the IS model's smaller size compared to the Lexus ES and GS sedans.
Materials and construction are significantly better than in the previous sedan, showing near-Germanic attention to detail. Overall, the IS sedan's cabin is one of the nicest you'll find for the money. The IS C's cabin is less impressive, as it dates back to the mid-2000s and lacks many of the sedan's contemporary features. Nonetheless, the materials are class-appropriate -- it's still a nice car.
Under the hood, the base 2.5-liter V6 provides leisurely acceleration. This is an aging motor that should be more fuel-efficient than it is. If you can swing it, the excellent 3.5-liter V6 in the IS 350 models is well worth the price premium, as it serves up authoritative acceleration at any speed.
On the road, it's true that the IS 350 isn't quite a dynamic match for segment leaders such as the BMW 335i in a high-performance, racetrack setting. But for most shoppers, track driving won't matter. To that end, the IS combines refinement that's close to the Mercedes C-Class with drivability that's close to the 3-Series. It's a pleasant mix of good handling and good ride quality, with a sport-coupe feel from the driver seat that enhances the experience.
Other Cars to Consider
BMW 3 Series -- The 3 Series is the dynamic star among the IS model's rivals. Pricing is generally higher, but some will happily pay the premium for its badge and handling prowess.
Infiniti Q50 -- The Q50 doesn't offer an IS 250 competitor, but it now touts a hybrid variant that may interest environmentally conscious shoppers.
Mercedes C-Class -- While it's not as sporty as the IS, some shoppers prefer the Mercedes brand cachet and its upscale interior.
AutoTrader's Advice
The best IS really depends on your driving needs. For drivers who don't need power or performance, the IS 250 may be fine. Shoppers who need a little more muscle will upgrade to the IS 350, while those who want the ultimate in handling and performance will find the IS 350 F Sport an easy choice. Best of all, shoppers who live in areas with harsh weather or rough roads can get each of these models with all-wheel drive.