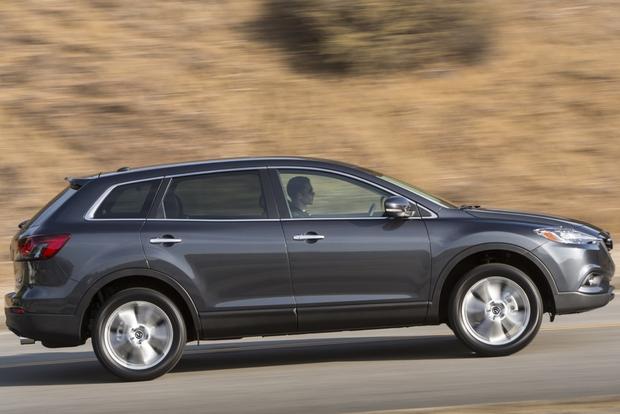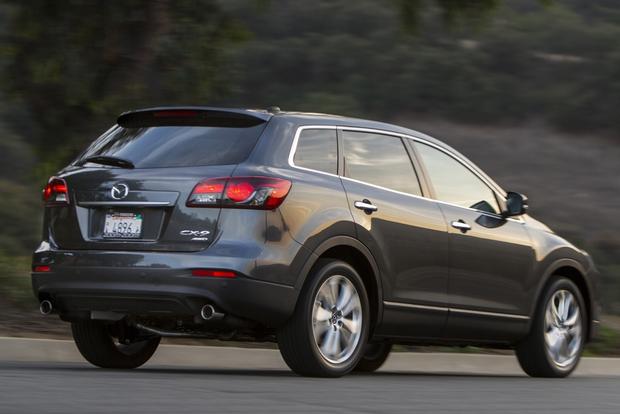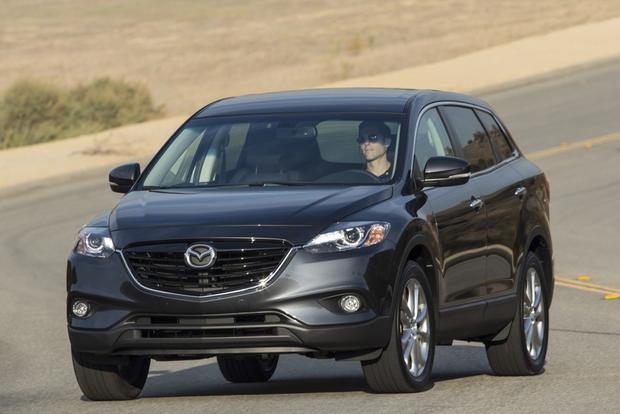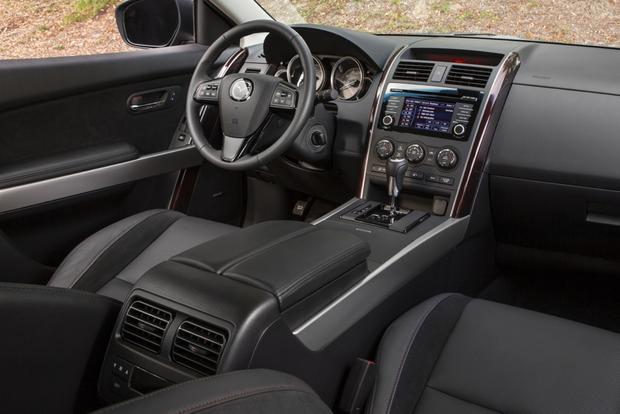 When I saw that a 2014 Mazda CX-9 Grand Touring was coming my way for a week-long loan, two things came to mind. First, I wondered how obvious it would be that Mazda's been making this thing forever. Believe it or not, the CX-9 debuted in 2007 and hasn't been redesigned since. Second, I questioned whether a full-size, 3-row crossover SUV could really take corners like a proper Mazda. Clearly, I needed to spend quality time with my Zeal Red family hauler, so I scheduled a road trip from Los Angeles to Julian, the apple-picking capital of Southern California. Here's what that trip taught me about Mazda's largest crossover.
The Drive
The road to Julian is full of twists and turns. But, true to Mazda's claims, the CX-9 felt right at home. That's amazing when you consider that CX-9 is as long as executive-class luxury sedans such as the Lexus LS. The small steering wheel helps get you in the mood for spirited cornering, but it's the taut, nimble chassis that really delivers the goods, aided by strong, snarling acceleration from the 273-horsepower V6. It's impossible to appreciate how capable this beast is until you've experienced it firsthand. I went in expecting good performance by enormous SUV standards, but I came out thinking, "That's just good performance, period." As the pace picks up, the CX-9's imposing dimensions melt away, and it's like you're driving a Mazda3 with full-body elephantitis. That's about the highest praise I can think of for a 3-row behemoth such as this.
The Ride
One aspect of the CX-9 Grand Touring that I'm on the fence about is its standard 20-inch wheels. On the one hand, they look great -- much better than the base-level 18s, which really don't fill out the wheel wells enough for my taste. I think that a vehicle this big doesn't look right without a set of big wheels to match. But that's easy for me to say, because I don't have to live with the sometimes jarring ride on those sidewall-deprived 20-in tires. If I was buying my own CX-9, I'd probably go with the Sport or Touring trim level, both of which come standard with the more compliant 18s. Fortunately, the Touring can be equipped with most of the Grand Touring's desirable features (including keyless entry/ignition, leather upholstery, a power lift gate and the Bose audio system), so you can downsize on wheels without compromising in other areas.
The Age Issue
Generally, vehicles that are eight years old have a hard time keeping up with the technology of newer models. Sure enough, if the CX-9 has one weak spot, it's the infotainment system. Although the 5.8-in touchscreen display is technically new for 2014, it's actually smaller than the previously available touchscreen. It doesn't have the sleek look or responsive interface of, say, Ford's MyFord Touch system (in the Explorer and Flex) or Hyundai's latest navigation interface (in the Santa Fe). On the bright side, it appears to be an old-school "double DIN" unit, which means you could slide it out and pop in an aftermarket unit with better features. Nonetheless, the system doesn't make a strong first impression, and if you're test-driving all the top models in this segment, that could be a difference-maker, for sure.
The Bottom Line
But if the worst thing about the 2014 Mazda CX-9 is its dated touchscreen, that means it's doing pretty well for an 8-year-old. Although the styling hasn't changed much, the CX-9 still looks fresher than most rivals, and families will love the adult-friendly third-row seat. If I were shopping in this segment, I'd also take a hard look at the well-rounded Dodge Durango, which has improved in numerous ways for 2014. But the CX-9 would be at the top of my list, and that's a testament to the enduring goodness of this venerable CUV.