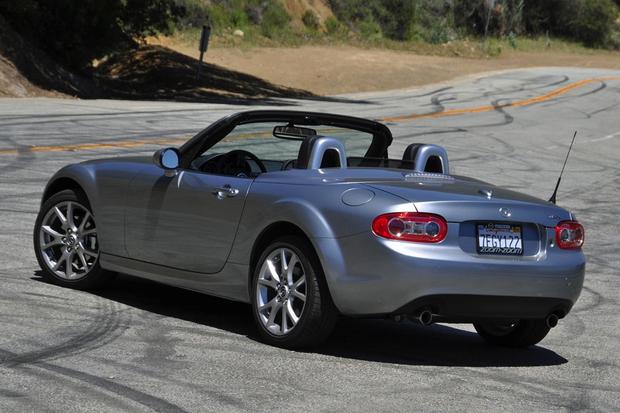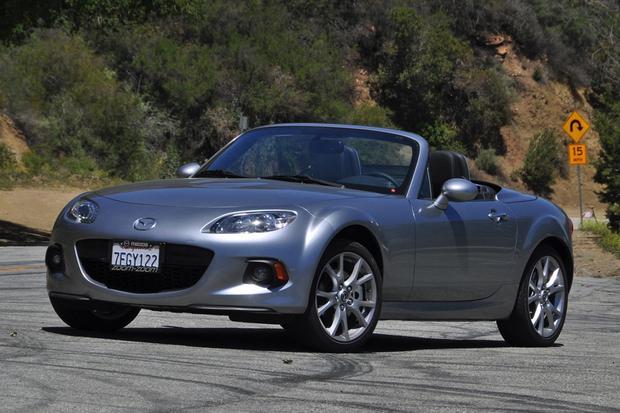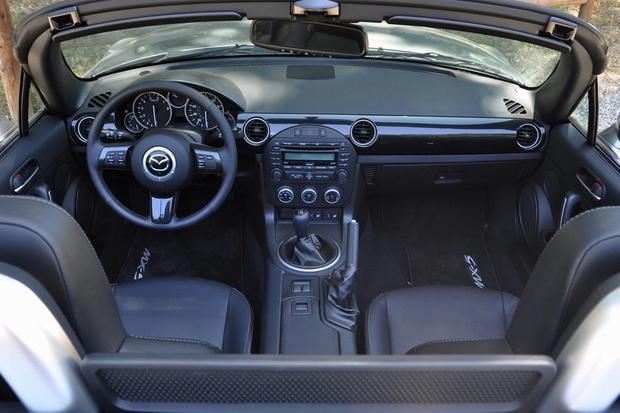 Despite what you may think you know about the 2014 Mazda Miata, or what you may think of the MX-5 Miata in general, this is a purpose-built sports car that delivers an exceptionally rewarding driving experience.
Look, we can understand why you might write this car off. We agree, a 4-cylinder engine isn't normally any driving enthusiast's idea of a good time unless it's got a turbocharger bolted onto it. But when you install a good 4-cylinder engine in a balanced, lightweight car, match it to a manual gearbox and rear-wheel drive, and then make it super-easy to peel off the roof, you've got something genuinely special.
The Miata's 2.0-liter 4-cylinder engine is rated to make 167 horsepower with the standard manual transmission. If you can't use a clutch pedal, you can opt for the 6-speed automatic. So equipped, the Miata makes less power at 158 hp, but paddle shifters and adaptive shift logic help the driver make the most of it.
For the Sports-Car Purists
It's true that the powertrain specs don't sound very impressive. Consider, however, that a Miata weighs around 2,500 pounds, and you'll better understand that -- despite what appear to be meager power ratings -- this little 2-seat roadster is quick, if not downright fast. In fact, our only substantial complaints about this engine has to do with the fact that premium fuel is reqiured.
In any case, think of a 2014 Mazda Miata as a street-legal go-kart. The engine loves to rev, which is a good thing since hp peaks at 7,000 rpm. The manual transmission offers precise, short-throw shifts, and the clutch is exceptionally easy to use. When the time comes to slow down or stop, the brakes are equally impressive, faithfully scrubbing speed and bringing the roadster to a rapid halt even under the harshest conditions.
Pitch the Miata into a corner, and it simply sticks on its standard set of summer performance tires. A sport suspension is included for the Club model and is optional for the Grand Touring model, adding stiffer shocks and a limited-slip rear differential that helps get what power there is to the ground in a more effective manner.
Dynamically, the only flaw that I can report is steering, which is too quick to respond just off center, making the car feel darty when you're driving it the way it should be driven. You never quite get used to its sensitivity, either. Otherwise, the 2014 Mazda Miata represents sports-car purism at its best.
Decent, Not Perfect, Everyday Capability
If you don't enjoy the luxury of owning a Miata as a second car, it works well enough as a daily driver. Speaking from experience, the Miata comfortably holds adults who are up to 6 feet tall and who weigh up to 250 pounds, but the car is loud inside even when the top is raised. On road trips, frequent stops to stretch are strongly recommended.
A soft convertible top is standard for the 2014 Mazda Miata -- one that you manually unlatch and toss over your shoulder to fold down. To raise it, reverse the process. You can do it while sitting in the driver's seat, especially if your right arm contorts in the right way and is strong enough to then lift the top into place. Our test car had the power retractable hardtop, which better seals the cabin from wind, weather and thieves with sharp knives. It stows in just 12 seconds, fitting into the same storage well as the standard soft-top, which means trunk space and access aren't compromised.
Speaking of trunk space, at 5.8 cu ft. the Miata's cargo area is small but is shaped to handle a roll-aboard suitcase, a sizable backpack and a few other strategically placed items.
It's All About the Fun Factor
Obviously, practicality is not a good reason to buy a 2014 Mazda Miata, even if it can handle most daily-driver duties. Neither is its appealingly affordable price tag, which starts at $24,515 and is almost always discounted thanks to generous rebates and lease programs, especially in the dead of winter as dealers are trying to unload whatever's left in stock from the previous model year. The Miata's bulletproof reliability record pales in importance compared to the main reason why anyone should buy one.
What is that reason? The Mazda Miata defines what an elemental sports car should be and is an absolute blast to drive almost anywhere and at almost any speed.