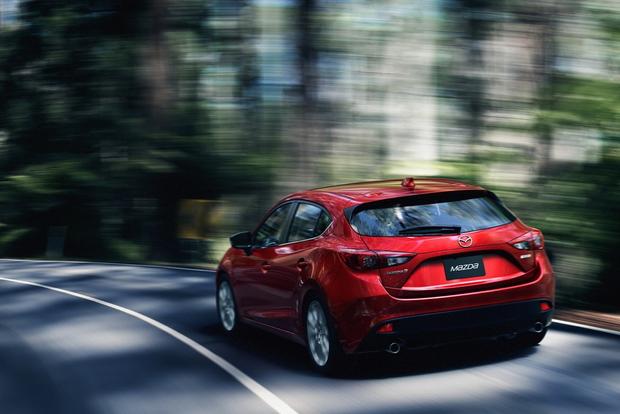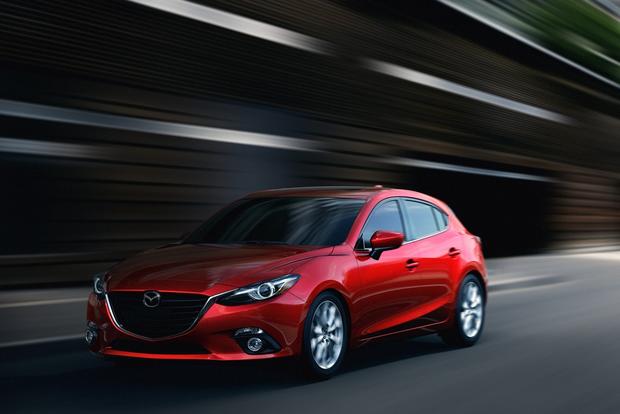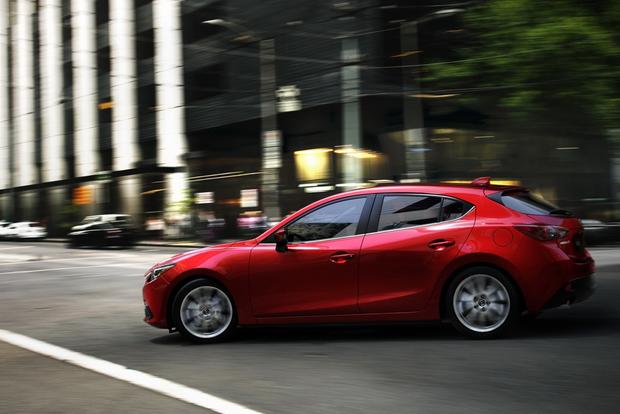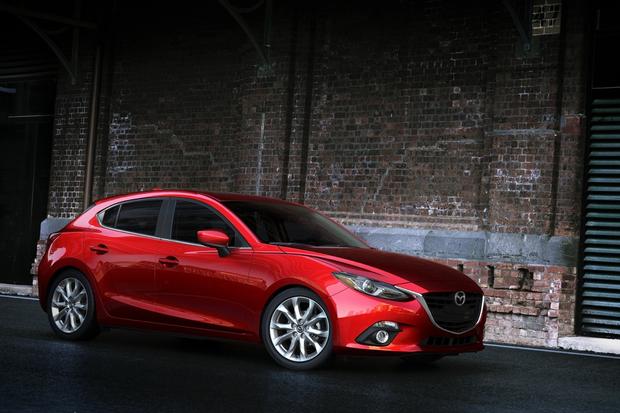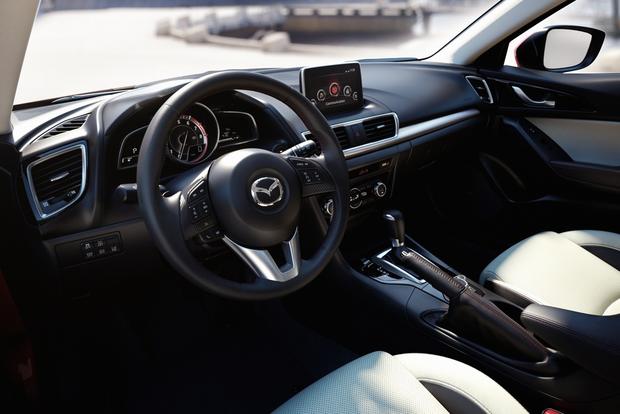 The compact car segment isn't really known for driving excitement. Instead, most people buy compact cars to get from point A to point B as efficiently, and inexpensively, as possible. As a result, compact cars are often low on features -- and on fun.
Not so with the 2014 Mazda3. For one thing, it's a lot of fun to drive. Yes, its acceleration is excellent -- especially with the optional 2.5-liter engine. But the real fun comes in turning corners, where the Mazda3 boasts some of the best driving prowess around.
But the Mazda3 isn't only about handling and acceleration. If you're considering a Mazda3, forget everything you've ever heard about sparse interiors and low content in the compact car world. Not only does it offer upscale features such as leather, a navigation system and heated seats, but you can even get high-end luxuries such as a radar-based adaptive cruise control system that slows you down and speeds you up depending on the speed of traffic.
In all, the Mazda3 is an excellent compact car package. And whether you choose a sedan or a 5-door hatchback, we happen to think it's pretty handsome, too.
What's New for 2014?
The Mazda3 is fully redesigned for the 2014 model year. It offers new equipment, thoroughly revised engines, and new styling inside and out. Fuel economy is also improved, as is interior room.
What We Like
Handsome styling; great performance; upscale luxuries; attractive pricing
What We Don't
Slightly sluggish with the 2.0-liter engine; pop-up infotainment screen looks a little cheap
How Much?
$17,900-$27,500
Fuel Economy
The Mazda3 offers two engines. The base-level Mazda3i uses a 155-horsepower 2.0-liter 4-cylinder, which can be mated to a 6-speed manual or an optional 6-speed automatic. Gas mileage with the manual is 29 miles per gallon city and 41 mpg highway (29 mpg city/40 mpg hwy for the hatchback), while the automatic transmission boasts 30 mpg city/41 mpg hwy (30 mpg city/40 mpg hwy for the hatchback).
Opt for the 185-hp 2.5-liter 4-cylinder and you'll get improved acceleration without much gas-mileage penalty. Fuel economy for the larger engine is 28 mpg city/39 mpg hwy for the sedan, regardless of whether you choose the 6-speed stick or the automatic. Pick the hatchback and mileage numbers drop to 27 mpg city/37 mpg hwy with the manual, or 28 mpg city/38 mpg hwy with the automatic.
Standard Features & Options
The Mazda3 is offered in four trim levels. Base-level SV models are only available as sedans, while the Sport, Touring and Grand Touring are available on sedan or hatchback body styles. Shoppers also have the choice between two engines. Mazda3i models use the 2.0-liter, while the Mazda3s models use the 2.5. The Mazda3s is confined to Touring and Grand Touring trims.
The base-level, sedan-only Mazda3i SV ($17,900) includes only the basics. That means 16-inch steel wheels, power accessories, a folding rear seat and a stereo with USB integration and an auxiliary jack.
Step up to the Mazda3i Sport ($19,400 for the sedan; $19,900 for the hatchback) and you get a few more luxuries. Such items include cruise control, Bluetooth and Bluetooth Audio, a split-folding rear seat and a CD player.
Above the Sport is the Mazda3i Touring ($20,600 for the sedan; $21,100 for the hatchback). The Touring model adds alloy wheels, keyless access with a push-button starter, a blind spot warning system, a rear cross traffic alert system and heated side mirrors.
Choose the Mazda3i Grand Touring ($23,700 for the sedan; $24,200 for the hatchback) and you'll get heated front seats with premium vinyl upholstery, a power driver's seat and a rearview camera.
If you want the larger engine, there are two options. The Mazda3s Touring ($25,600 for the sedan; $26,100 for the hatchback) is equipped similarly to a Mazda3i Grand Touring, but with a few other luxuries. They include 18-in alloys, xenon headlights and a head-up display directly in front of the driver.
At the highest end of the lineup is the Mazda3s Grand Touring ($27,000 for the sedan; $27,500 for the hatchback), which offers luxury-car levels of equipment. Think rain-sensing wipers, a power sunroof, adaptive headlights and true leather seats.
In addition to its standard features, many Mazda3 models offer options available on more expensive trim levels in the car's range. There are also several further options, including a regenerative braking system, adaptive cruise control, an automatic high-beam control feature and a forward-collision warning system.
Safety
Each Mazda3 model is equipped with 4-wheel anti-lock brakes, front and side-curtain airbags, stability control and traction control. Opt for a Mazda3i Touring or above and you'll get a blind spot monitoring system with rear cross-traffic alert, while the Mazda3i Grand Touring and all Mazda3s models include a rearview camera. Options include a Smart City Brake Support feature to help you slow down, a forward-collision alert system and a lane-departure warning system.
Because it's so new, neither the National Highway Traffic Safety Administration nor the Insurance Institute for Highway Safety has crash-tested the 2014 Mazda3.
Behind the Wheel
With any Mazda3, the handling is crisp and well-balanced, especially for a small car. That's because Mazda engineers placed an emphasis on the steering feel, even in a time when electronic power steering is the norm. The result is that the Mazda3 responds exactly how you'd expect in corners, with almost no understeer and very little drama in even the tightest turns.
Acceleration is also a strong point. While the 2.0-liter Mazda3 isn't especially fast, we also didn't find it slow. But we're more impressed by the 2.5-liter engine, which feels truly quick. Combine the large engine with the Mazda3 model's strong handling and you have a compact car with a truly sporty side.
Inside, the Mazda3 also stands out for its high-quality materials -- and the sheer number of features. We're less than impressed by the pop-up infotainment screen, which looks a little flimsy, but most other surfaces are top-notch. And tall people will be pleased to discover there's a lot of headroom and legroom, both in front and in back.
Other Cars to Consider
Ford Focus -- Once a mediocre contender, the Ford Focus was recently transformed to become one of the top compact cars around. Like the Mazda3, it's offered as a sedan or a hatchback.
Honda Civic -- With its 2013 refresh, the Honda Civic now feels at home in the midst of the compact car segment. Base models aren't as sporty as the Mazda3, but the performance-oriented Civic Si will give any Mazda3 a run for its money.
Toyota Corolla -- The Corolla is among the most popular compact cars around. It's not as fun-to-drive -- or as good-looking -- as the Mazda, but the Corolla is a perennial favorite for its no-nonsense approach to the small sedan.
AutoTrader's Advice
Virtually every Mazda3 offers a long list of positive traits. We'd avoid the base-level Mazda3i SV, but we recommend practically any other model. If we were buying, we'd choose the Mazda3s, largely because its fuel economy is hardly penalized by the bigger engine. Our favorite trim level is the Touring, as it combines the big engine with everything you might want from a compact car -- and a few things you probably weren't expecting. That said, we wouldn't fault you from splurging on a Grand Touring model with all the options. You'd be driving a $30,000 car with the luxury features you would expect from a car that costs twice as much.