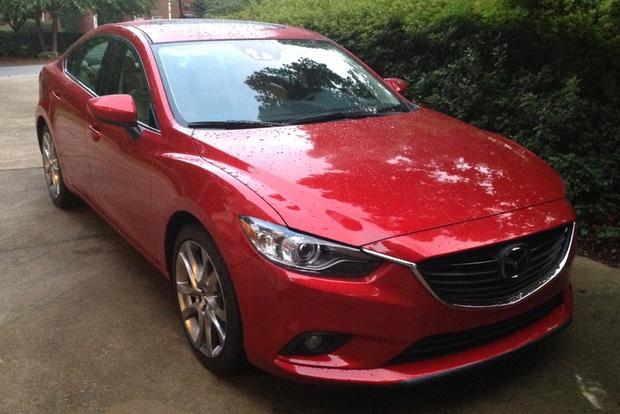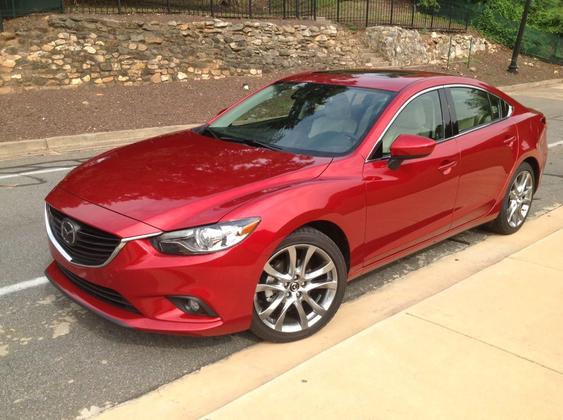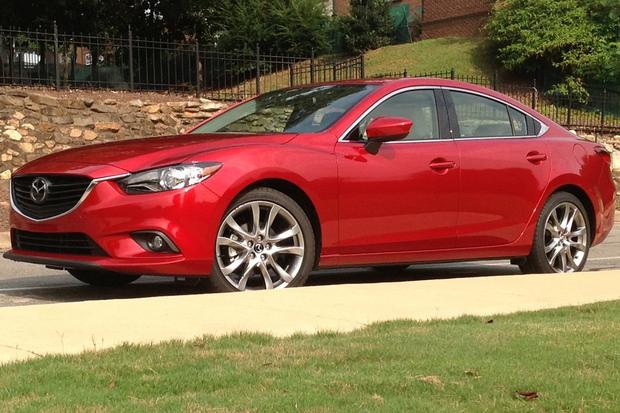 We recently passed the 15,000-mile mark in our 2014 Mazda6 long-term test car, which made us wonder: Exactly how well is the Mazda holding up? After all, it's constantly subject to new drivers, new road conditions and a huge variety of driving styles. We asked around the office, and we've collected our staff members' thoughts on how the Mazda6 is doing, now that it's no longer brand new.
Interior Still Excellent
Despite more than 15,000 miles of use, the interior in our Mazda6 long-termer still remains mostly showroom-fresh, and that includes virtually every surface that you can see or touch. One possible exception is the seats, which have taken on something of a light-bluish hue after a wide range of jeans-wearing drivers and passengers have spent time in the car. We're still impressed, however, that the seats aren't showing any major stains or visible wear, given their light color and our car's heavy use. We're also impressed with stereo controls, window switches, cupholders and other trim pieces, which look exactly as they did the day that our Mazda6 rolled off the factory floor.
Navigation Still Isn't
While the interior has held up to our demanding routine, the navigation system hasn't. One tester, Kris, says that the system actually seems to be getting slower, noting that it seems to be taking longer than usual to recognize the car's current location once it starts up.
Worse, we still haven't gotten used to the complexities of the system. Canceling a route is highly difficult, and simple tasks such as selecting menu options are a challenge. Unfortunately, we still think that this is among the worst navigation systems in the business -- so bad, in fact, that we often find ourselves using a smartphone rather than the car's navigation features.
Still Sporty, Still Handsome
Several other new midsize sedans have reached the market since we started driving our Mazda6 -- including an all-new Hyundai Sonata, Chrysler 200 and Subaru Legacy, along with a facelifted Toyota Camry -- yet we still think that the Mazda6 is the most attractive of the bunch. One tester, Tommy, noted that he still "loves the exterior styling with the flowing lines," while another, Dwight, says that he still notices people admiring the car. Although our feelings may change as the Mazda6 becomes more commonplace, we still think the sedan is as handsome as ever.
As for sportiness, our opinions are starting to change, though most of us still think that the Mazda6 offers a fun-to-drive character. Others admit the handling is good but suggest that the Mazda6 could use more power -- a complaint we're hearing more often now that the newness of the car has worn off.
Still, our 2014 Mazda6 long-termer remains impressive after 15,000 miles, and in spite of our issues with its navigation system, we'd happily recommend the Mazda6 to anyone interested in a sporty midsize sedan with standout styling.