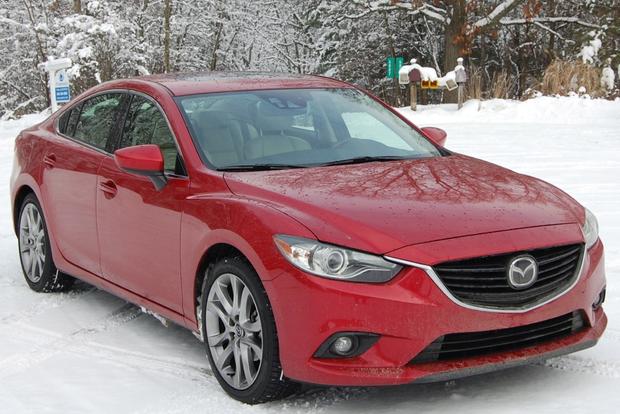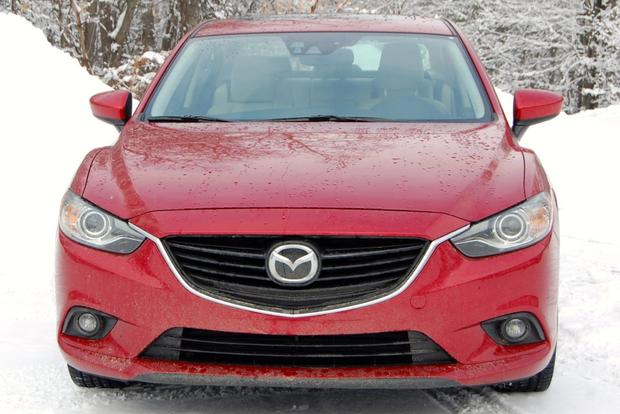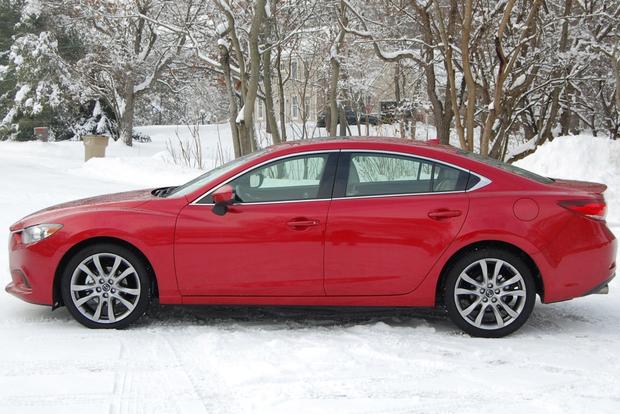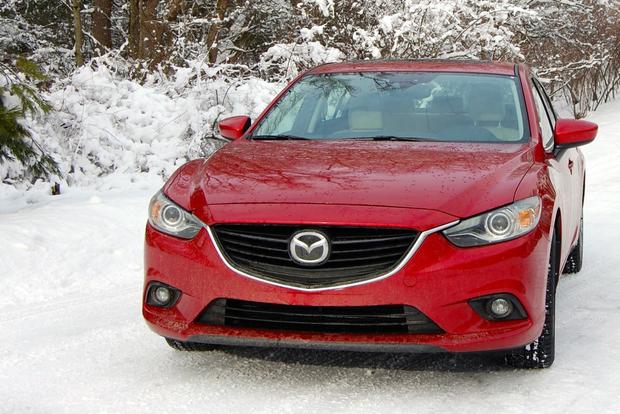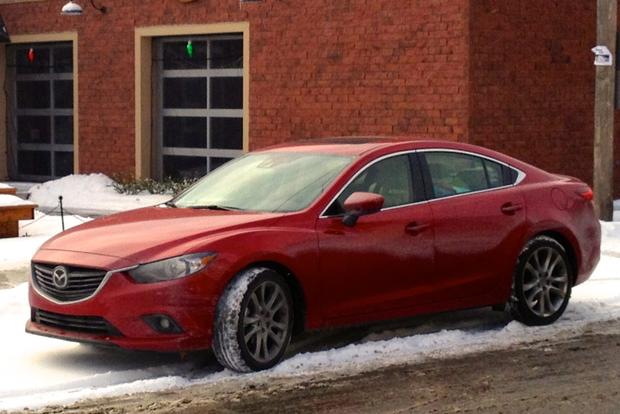 We recently had the chance to drive our long-term 2014 Mazda6 test car back to back with the newly redesigned Honda Accord. It's a choice many drivers are likely considering, so which is better?

Mazda6 for Looks
If finding the best-looking car is your sole objective, the Mazda6 is the one to pick. We're continually enamored with its styling, both outside, where it employs beautiful sweeping lines, and in the cabin, where it offers a functional yet handsome design with elegant equipment and materials.
That's not to say the Accord isn't a looker. On the contrary, we appreciate the sedan's styling, but there's no denying that it's not as fluid and exciting as the Mazda's. Inside, the Accord is clearly laid out with function in mind rather than appearance.
Similar Driving Experience
Given Mazda's focus on performance and handling, you'd think that the Mazda6 would easily run away from the Accord in terms of driving experience, but there are two main reasons why it doesn't. The first is that the Accord performs surprisingly well and maybe just as well as the Mazda, if not slightly behind. Both cars offer little body roll and nicely weighted steering not often found in the midsize sedan world.
The Mazda's other problem is that acceleration is merely lackluster. Worse, drivers who want a quicker Mazda6 aren't able to get one, since there's no more powerful version of the sedan (a diesel verion of the Mazda6 is in the works). That's not true of the Accord, which offers a 278-horsepower V6 in addition to its standard 4-cylinder. We also noted better gas mileage in the Accord, despite fairly similar Environmental Protection Agency ratings.
Technology Could Be Better
No matter which version you get, the Mazda6 and a similarly-priced Honda Accord will offer a lot of features that were once exclusive to the luxury segment. But when it comes to technology, neither car really shines.
In a world of excellent infotainment systems such as Chevrolet's MyLink, Toyota's Entune and Chrysler's Uconnect, neither the Mazda's system nor the Accord's really stands out. Both systems are clunky to use, and the Accord's is especially outdated. If technology is highly important to you, you might want to look elsewhere.
With that said, both cars offer some unique features that we really enjoy. The Mazda6 has radar-based or "adaptive" cruise control, while the Honda Accord's exciting LaneWatch system effectively removes your blind spot and makes changing lanes a breeze.
Overall Choice: It Depends
We hate to say "it depends" when it comes to a car review, but there's no clear winner here. The 2014 Mazda6 might drive slightly better than the Accord, and it certainly looks better, but the Accord's driving experience isn't bad, and it offers a comfortable, roomy interior that remains a great place to be. Also, Accord shoppers can pick from coupe or sedan, six or four-cylinder engines, hybrid or plug-in hybrid and automatic or manual transmission.
In the end, both the Mazda6 and the Accord are among the best cars in the segment, and we find it hard to believe that you'd be disappointed with either one.