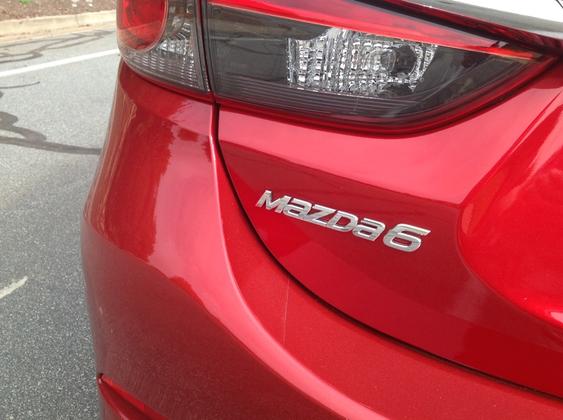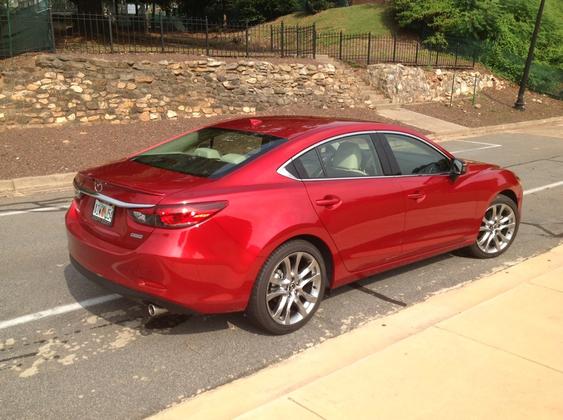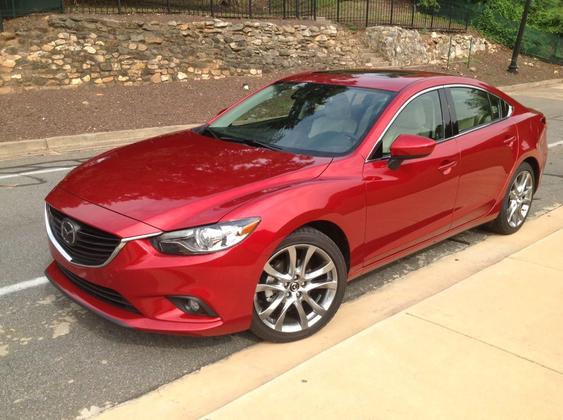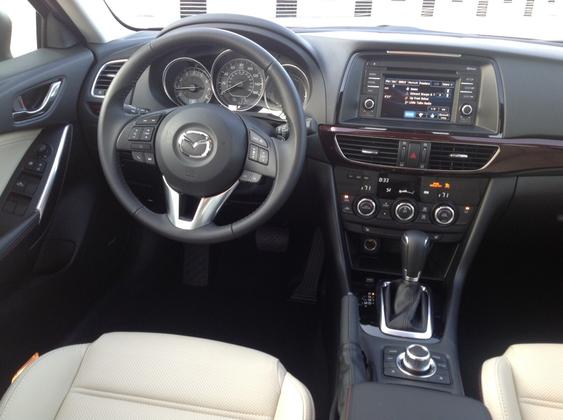 The time has come to return our 2014 Mazda6 long-term test car, and nearly everyone in the office is disappointed to see it go. Not only has it been a faithful, reliable sedan, we've enjoyed it a lot more than we expected to -- save for a few issues here and there. So why did we like it so much? After spending a year behind the wheel and taking a little time for reflection, here are our thoughts.
Handsome Inside and Out
Although we know that styling -- and especially automotive styling -- is subjective, we couldn't find a single person who didn't appreciate the lines of our Mazda6 long-termer. We loved approaching it in parking lots, and we even loved walking away from it after parking, which few staffers could do without turning around at least once in admiration. It's no secret that we think this is the most attractive midsize sedan on the market, and we even recommend paying $300 extra to get the attention-grabbing Soul Red exterior color of our test car.
The 2014 Mazda6 isn't just gorgeous on the outside. We also loved the interior, which really seemed to mimic the cabin of a more expensive vehicle. The materials used were good but not perfect. Our favorite part was the cabin's design, which included a sporty, modern look that we're just not used to seeing in traditional family sedans. Most of us also appreciated the cream-colored seats, though they've started to show a little blue tinge after a year of use.
Exciting and Well-Equipped
Our appreciation for the Mazda6 didn't stop with its styling. In fact, we also highly enjoyed the time we spent behind the wheel of the midsize Mazda, which offers some of the best handling of any family sedan available today. Indeed, the Mazda6 boasts excellent steering, great dynamics around corners, and a far more connected feeling than you'll get in most rivals that are tuned for comfort and convenience over performance. If that matters to you, the Mazda6 deserves a spot on your shopping list.
It's also worth noting that we were highly impressed with the level of equipment in our Mazda6 test car. While some midsize sedans have added more of its features since we first started driving it, the Mazda6 impressed us with adaptive cruise control, a navigation system, a blind spot monitoring system and other high-tech safety gear. It's very advanced for a new model that isn't technically a luxury car.
And the Drawbacks?
While our 2014 Mazda6 was excellent, it wasn't perfect. In fact, it had a few crucial drawbacks that drew the ire of nearly everyone who got behind the wheel, and we think they're worth sharing for the benefit of other midsize sedan shoppers.
The low point of our test car was absolutely the infotainment system. Confusing, slow and downright outdated are some of the words we used around the office to describe it -- and we don't just mean the navigation technology. Even the music player had trouble loading devices, and it included an unusual playback strategy that rarely gave us what we wanted to hear.
But the Mazda6's biggest flaw is under the hood. While most drivers appreciated the sedan's 184-horsepower 2.5-liter 4-cylinder engine -- and the 37 miles per gallon on the highway rating that went along with it -- few could comprehend why this remains the only engine in a car designed to be the "Zoom-Zoom" leader in its class. To us, this car needs a V6 -- or at least a turbocharged 4-cylinder -- to be properly enjoyed. Disappointingly, every single competitor offers a more powerful engine, while the Mazda soldiers on with its 4-cylinder.
Still, these aren't fatal flaws -- especially since we've heard the infotainment system is being updated for 2015. As a result, we highly recommend the Mazda6 to just about every midsize sedan shopper who isn't looking for a powerful V6. Yes, it's just that good, and we wish our year with it wasn't over so soon.